Please click here to view the schedule for this year's Scottish National Show.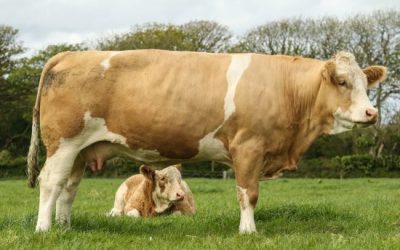 • Further cows and calves at 5500gns, and 5000gns• Cows and calves average £3382.50• Bulls sell to 4600gns• 27 lots gross £81,670 Cows and calves met with a strong trade and were led at 7000gns at the Reduction Sale of the noted Bosahan Herd of John & Bridget...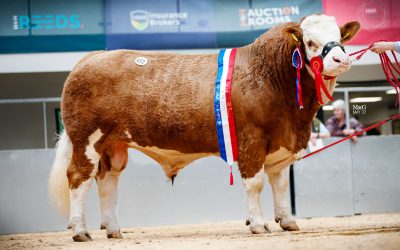 • 5000gns Tidkin Cow and Calf leads Tidkin & Jet Dispersal Sale• 15 Tidkin cows and calves average £3353• 28 Simmental lots in all gross £94,920• 4 Bulls average £5565 Bulls from the Chestermann herd of N&N Gwynne, Castlewigg Farm, Whithorn, Newton Stewart,...
Simmental female sells for 5000gns in Carlisle
Wishful Muffin, a Sacombe Wishful Thinking daughter out of Greenside Bella, sold for 5000 guineas at the British Simmental Cattle Society's sale at Carlisle on Friday 25 April.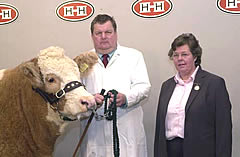 Bred by Mr and Mrs David Mills from Wellington in Somerset, Muffin has a Beef Value of SM30.
Muffin was Supreme and Female Champion and was purchased by Wesley Abraham for his Magheracrigan herd at Enniskillen, County Fermanagh, Northern Ireland.
Demand for Simmental bulls was also strong with all 14 bulls forward changing hands to level at £1950.
Leading the way again was David and Christine Mills' Wishful Neff that sold for £2940 to Mr T Keel from Thirsk in Yorkshire.
Neff, with a Beef Value of SM29, is the April 2002 born full brother of Wishful Muffin, the Supreme Champion.
In total, six bulls topped the £2000 price mark.
Beaghall Neolithic Man, coming with a Beef Value of SM25 from Messrs M Brears and Sons, Goole, North Humberside, sold for £2835 to Stobo Farms in Peebles-shire.
Annick Magnificent from Lauchlan Quarm, Irvine, Ayrshire realised £2730 with Miss McBryde from Lochmaben, Lockerbie being the purchaser of this Woodhall Dynamite son.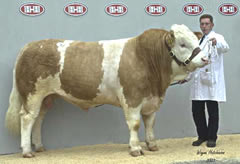 Also from Lauchlan Quarm, Annick Marksman fetched £2520.Out of Sterling Copelia's Farewell, Marksman sold to Mr JB Crow, Wellington, Telford, Shropshire.
Reserve Male Champion, Beechtree Noble equalled the price of £2520 for Messrs H and CW Burkhill of Driffield, East Yorkshire. With a Beef Value of SM22, Noble's successful purchaser was Messrs Gaskin from Barnard Castle, County Durham.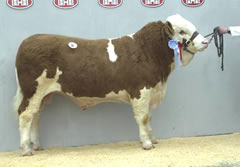 Blakewell Mercury, another entry form East Yorkshire, made £2100 for Mr and Mrs Ian Steele from Easington, Hull.Mercury comes with a Beef Value of SM24 and was bought by Mr EW Jolly, Rescobie, Forfar.
"It was excellent to see such demand for bulls and females alike," commented Roger Trewhella, general secretary of the British Simmental Cattle Society.
"Although the entry was smaller than last year, the clearance level was complete amongst the bulls. With such a growing demand across the country, it is essential that our breeders maintain the improved quality that is now on offer. Well fleshed bulls of a good conformation will continue to meet the requirements of commercial beef farmers."
Averages:
14 Bulls averaged £1995 ( 23bulls from 34 forward averaged £1580 in 2002);
3 In-calf heifers averaged £2415;
1 Maiden heifer at £780;
Midhope Draft, on behalf of Mr WJ Hollingsworth, 8 females averaged £957;
Stoneknowe Reduction, on behalf of Mr and Mrs I Lancaster, 7 females averaged £721.