Please click here to view the schedule for this year's Scottish National Show.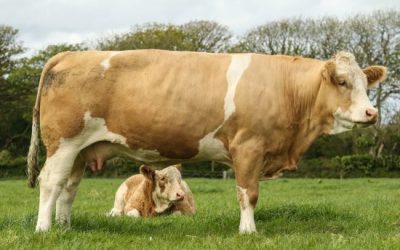 • Further cows and calves at 5500gns, and 5000gns• Cows and calves average £3382.50• Bulls sell to 4600gns• 27 lots gross £81,670 Cows and calves met with a strong trade and were led at 7000gns at the Reduction Sale of the noted Bosahan Herd of John & Bridget...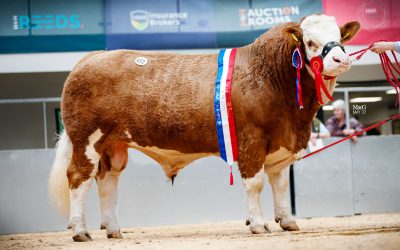 • 5000gns Tidkin Cow and Calf leads Tidkin & Jet Dispersal Sale• 15 Tidkin cows and calves average £3353• 28 Simmental lots in all gross £94,920• 4 Bulls average £5565 Bulls from the Chestermann herd of N&N Gwynne, Castlewigg Farm, Whithorn, Newton Stewart,...
The second Welsh Club sale at Welshpool Market on 19th May 2011

Top price at £4410 was overall Champion, Chestermann Alun, born November 2009, a son of Blackford Ringleader, from N&N Gwynne, Rhosddu, Crymych, Pembs and purchased by Mr Mercer, Bowley Court Farms, Hereford.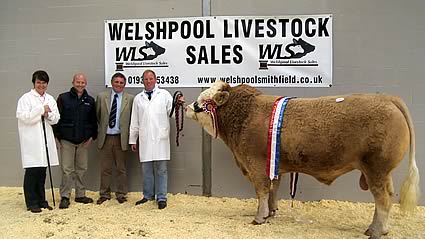 Reserve Champion, Dolwen Alwyn from B & R L Jones of Dolwen Abergele sold
for 3400gns to AP & L M Day of Gnosall Staffs.
Other notable sales:
Grangewood Alsonso from Mr and Mrs A S Leedham, 3900gns to Mr Mercer, Bowley Court Farms
Chestermann Arwyn 2700 gns to Nutting and Pugh, Tywyn
Fortress Atlas from Mr E T Greenow, Dinedor Hereford, 2800gns to Rhyg Estate, Corwen
Crugmelyn Builder from G & E LLoyd Glanrhyd, Carms 2500gns to Llanllyfni, Caernarfon
Collins Adonis from R J Vincent, Gelliwen, Carms 2100gs to ECI Jones and
Sons Pool Quay, Welshpool
Mountainside A Star from Arwel Jones 1800gns to K R Williams of Shrewsbury.
All females entered were sold with ten quality heifers selling to 1500gns, 1200gns and 1180gns, Cows and Calves 1850gns and 1380gns.