SIMMENTALS BREEDING QUALITY FEMALE REPLACEMENTS, AND TOP QUALITY STORE CATTLE
FOR THE MANSON FAMILY AT BRODIESHILL
Feature on Colin and Robert Manson, Brodieshill Farm, Alves, Forres and their 140 cow Simmental based suckler herd. The Mansons will welcome visitors on 8th July 2023, when they host a British Simmental Open Day at Brodieshill Farm.
Since introducing the Simmental as a dual-purpose sire, the Manson family from Morayshire has been able to produce home-bred, medium sized replacements which can sustain the type of ground on their unit.
Father and son team Colin and Robert Manson, farm at Brodieshill, Alves, and have built up a good reputation for selling hi-health commercial bulling heifers and store cattle sold through Aberdeen and Northern Marts' Thainstone Centre. The family has been at the 550-acre Brodieshill unit since 1947 and they now farm a total of 1100 acres which includes 400 acres of spring barley for malting, 25 acres of beans, 200 acres of rotational grazing and the rest permanent pasture, much of which is reclaimed hill ground.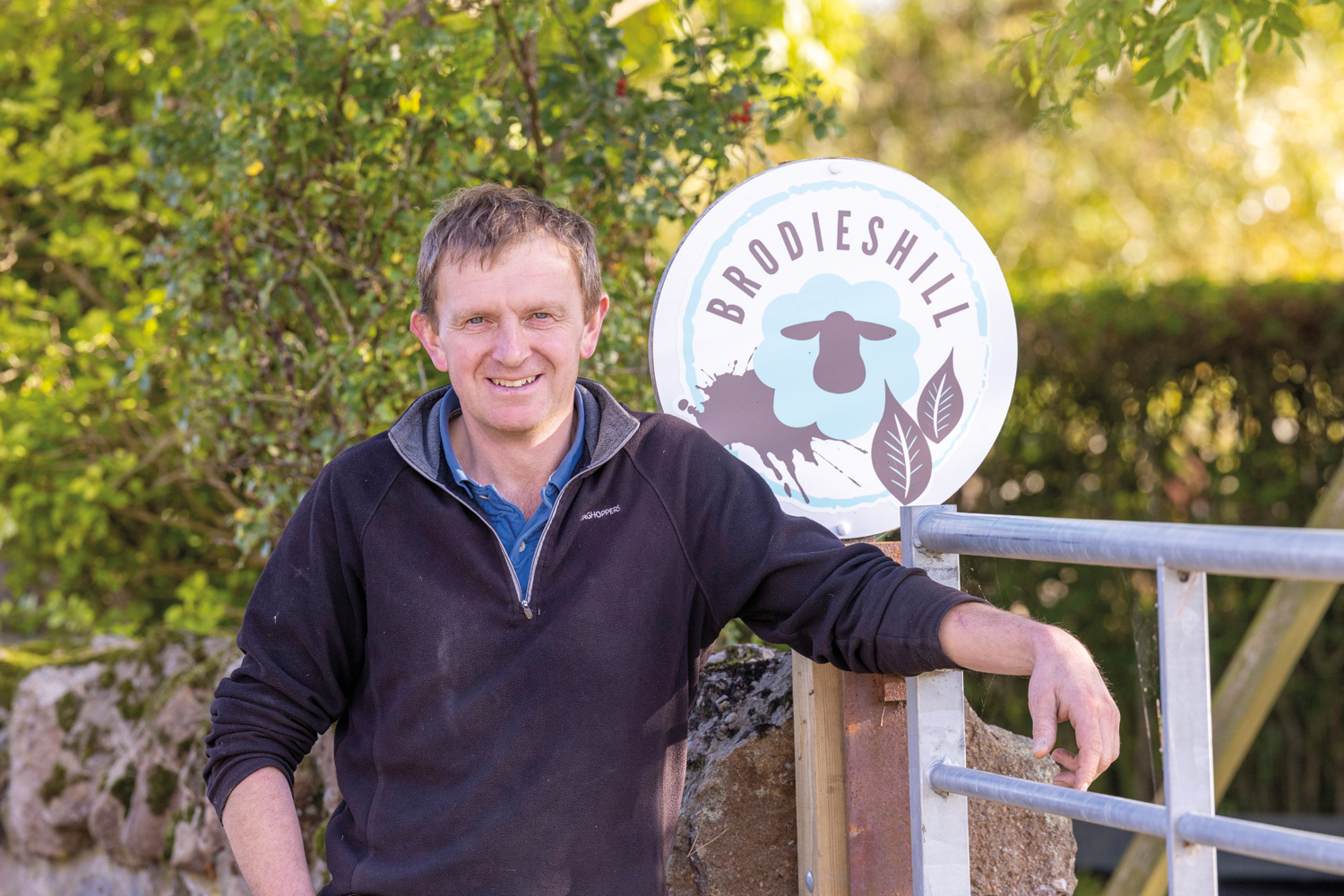 Outwith the commercial suckler herd of 140 cows, the family also keeps 500 breeding ewes, 100 of which are Suffolk cross Mules lambed early in February. The main batch lamb in mid-March, with the first lambs away by the end of June when sold direct to Woodhead Bros at Turriff or Dunbia. Roberts' wife Nicola has also diversified and opened a natural play area earlier this year, where she holds sessions for parents and children to explore, play and assist with animal care, and become more familiar with the farming seasons through information boards.
Colin and Robert previously used the Charolais as a terminal sire over Simmental crosses, producing bull beef and finished heifers, and bought in all replacements from other herds. "The first Simmental cross heifers were purchased 18 years ago from Bill and Garry Patterson, Upper Forgie, and we've never looked back since," said Robert.
"Simmentals are docile and good to work with, and we needed a big, framed female that was fit to handle bigger Charolais calves. The only downside was that we couldn't produce our own replacements with the Charolais, and we were having some difficult calvings so that's why we've now moved to Simmental bulls, with a Salers used over the heifers for easier calving."
The first Simmental bull used was Burghbridge Ricardo, purchased on recommendation from Gibby Scott, and the family now tend to buy top-quality bulls from local herds such as Islavale, Rockytop and Blackford. One of the dearest stock bulls to date is the 11,000gns Blackford Island Warrior, which is leaving more flesh and shape, with the recent Islavale sires doing equally well and bringing size into the breeding herd.
At present, the herd includes 140 suckler cows which are split calving from the end of February onwards and then from the end of July. All heifers have been pelvic measured since 2015 to cull out any not suitable for breeding.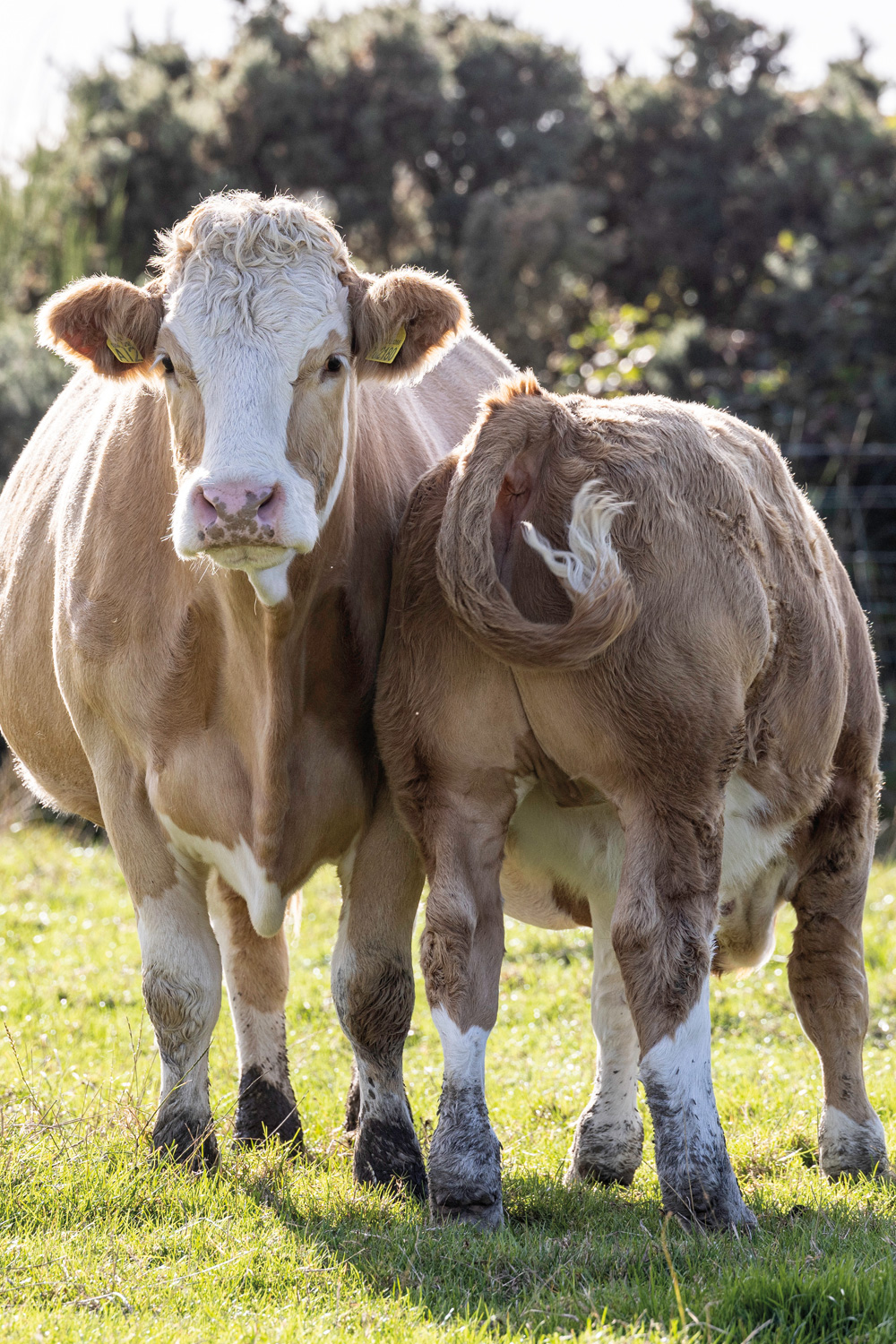 "

The Simmental is capable of thriving on this type of ground, but it helps that our cows are medium-sized and generally weigh around 800kg."
"We like to run a tight calving period, so bulls are out with the cows for 12 weeks and just 6 weeks with the heifers," commented Robert. "Since moving away from the Charolais, we haven't seen much of a difference in the weights of the calves, and we generally find that the Simmental calves are a good weight for age. The males used to be kept entire, but we soon realised that the stots could stand up to the other breeds in the store ring, so that's the system we are following now."
The spring cows are kept outside until the end of January, before coming inside and being wormed/fluked and blood tested for the Premium Cattle Health Scheme, which the herd has been a member of since 2016. They are also vaccinated with Rotavec prior to calving at the end of February and are then housed with their calves until May time, before calves are introduced to creep feed from mid-July. These cows and calves spend all summer on the reclaimed hill ground which Robert said is old grass and tough going.
"The Simmental is capable of thriving on this type of ground, but it helps that our cows are medium-sized and generally weigh around 800kg," said Robert. "If we were breeding bigger Simmental cows around the 900kg-1000kg mark, I don't think they would cope as well."
Calves are weaned in mid-October and receive the first vaccination and wormer in September when the cows are scanned, and then are brought inside one month later when they receive their second vaccination. They thrive on a mix of home-grown barley, silage, beans, and cattle 35 pellet from Harbro, before being sold in February at Thainstone, where last year's batch averaged 507kg at £1,197.57, and at 334 days.
More recently, autumn-born bullock calves have been weaned and kept inside for six weeks before being sold privately. The autumn calving cows calve outside next to the steading and they're housed from the end of November. Only the cows and heifer calves head outside in May, with heifer calf outfits weaned from their mothers and kept inside on feed until being sold six weeks later.
With the Simmental being the only terminal sire amongst the cows, the females at Brodieshill are almost pure. Around 15 is kept for each herd, with the remainder sold to returned buyers through Thainstone in May, at 18 to 19-months-old.
Last year's consignment averaged £1,625 (-£150 on the year) and the herd received a top price to date of £1,950. "We still have a fattening pen on the farm for any heifers that we don't think would make the grade for breeding," commented Robert. "We only sell what we would be happy to breed from ourselves."
Robert is finding the Salers to be a successful cross over the heifers, producing hybrid vigour and females with good udders and feet.
"I think it's important that breeders keep focus from a commercial point of view and focus on maternal traits," concluded Robert. "When buying stock bulls, it's important that they can produce replacements. As such we look for long, deep bulls with a bit of shape that will pass through onto our females."
*Look out on the Society's Facebook page for details of the 2023 British Simmental Cattle Society Open Day at Brodieshill Farm on Saturday 8th July.