'MODERN' KILBRIDE FARM
SIMMENTALS HIGHLIGHT A
50 YEAR COMMITMENT TO PROGRESSIVE PEDIGREE BREEDING
Feature on the highly regarded Kilbride Farm Simmental Herd of the Society's recently elected BSCS President Norman Robson, and the Robson family, based at Ballyclare, Co Antrim.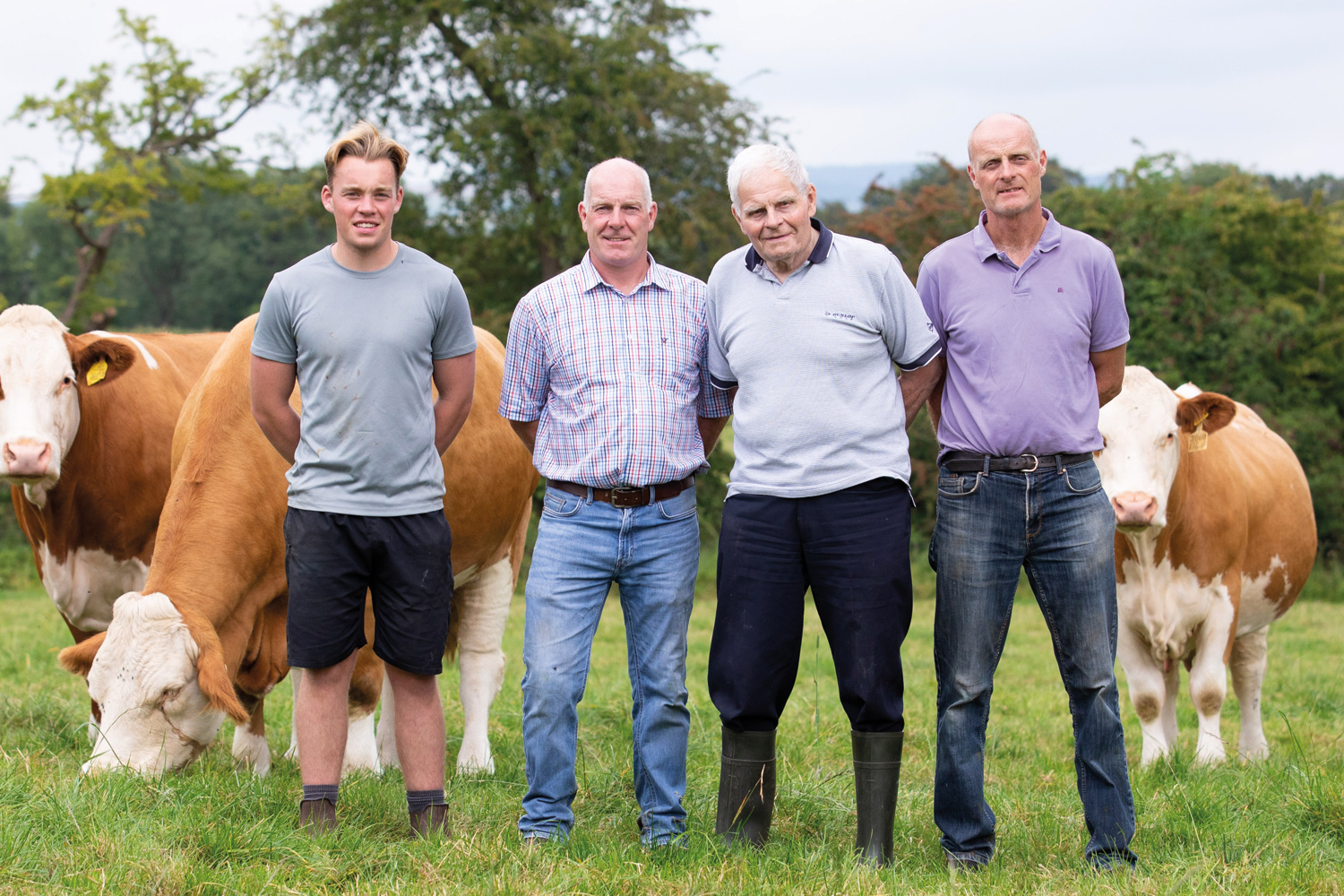 Elected in October 2022, British Simmental Cattle Society President Norman Robson is the third member of his family to hold this role – following in his father Billy and brother Michael's footsteps. It is testament to the family's enduring passion for the Simmental breed, which they've now been involved with for more than half a century.
Based in Ballyclare, Co Antrim, Norman and Michael run the Kilbride Farm herd in partnership, with Billy and Eileen officially retired, but still helping out – as do Norman's son Angus and Michael's son Matthew. It was founded in 1971,
with the purchase of four heifers from Germany, which formed part of the breed's first importation to Northern Ireland. A further six heifers were bought the following year, which formed the basis of the herd.
Norman explains: "My father wanted to get into pedigree cattle and he felt that the Simmental offered us the most opportunities, which proved to be the case. Much of the progeny of those first females were exported to America – there was a big demand for Simmentals over there, and at that point they couldn't import directly from Europe, but they could from us."
The family worked away at improving the herd, using the best semen they could buy at that time, until their first stock bull was acquired in 1980. Billy ventured to France to select the bull 'Orage', which did exactly what they hoped he would. "Orage certainly put a stamp on the herd. He helped us increase growth, conformation and milk within the herd, and sired our first champion at the Perth Bull Sales, Kilbride Farm Perry, which went on to sell for 6,000gns, in 1985," says Norman.
A few years later, the stock bull Moncur Sensation was bought privately and became the first Simmental to win the inter-breed title at Balmoral Show, also winning the breed's Male of the Year title the same year, in 1989. Another bull that proved particularly influential on the herd in the earlier days was Milnafua Graduate, bought at Perth in 1998, which sired sons to 11,000gns, in addition to many high performing daughters.
Norman says: "Graduate daughters were very square females that calved easily on any bull and had plenty milk – we've had a lot of good bulls out of Graduate cows. While we were using Graduate, he hurt himself, which resulted in us using a home-bred bull, Kilbride Farm Newry, a son of Dovefields Gallant. We used him for two years before selling him to AI Services." Newry went onto have a
huge influence on the breed and was one of the most used AI sires ever – topping the registration figures for several years in a row. For the Kilbride Farm herd, he sired successful breeding females and sons that made five-figure prices, including Kilbride Farm Strabane, which was champion at Perth in 2006 and sold for 10,000gns to the Blackford herd.
Another privately bought bull that performed well was Seaview Prince Charming, sire of the 2008 Perth champion Kilbride Farm Tarrant, which made 10,000gns to Corskie. And, Cairnview Snazzy, bought at Perth for 15,000gns, went onto be the sire or grand-sire to four Stirling champions, including Kilbride Farm Comber, the October, 2012 champion, which made 20,000gns.
The herd's top price to-date is the 22,000gns Kilbride Farm Foreman, sold at Stirling in February 2016, where he was placed reserve supreme champion. His sire, Crugmelyn Brenin, was bought privately after being spotted at the English National Show. In addition to Foreman, a further two sons of Brenin sold privately at five-figure prices and his daughters became some of the best in the herd, with a few still remaining. Norman explains: "We do a fair bit of research before selecting a stock bull; we look at breeding lines and which ones are consistently doing well. Based on his genetics, we bought the homozygous polled bull Sneumgaard Imperator, as a three-month-old calf from Denmark. Michael was over there judging and visited the herd – they had two exceptional cows and he was a son of one of them.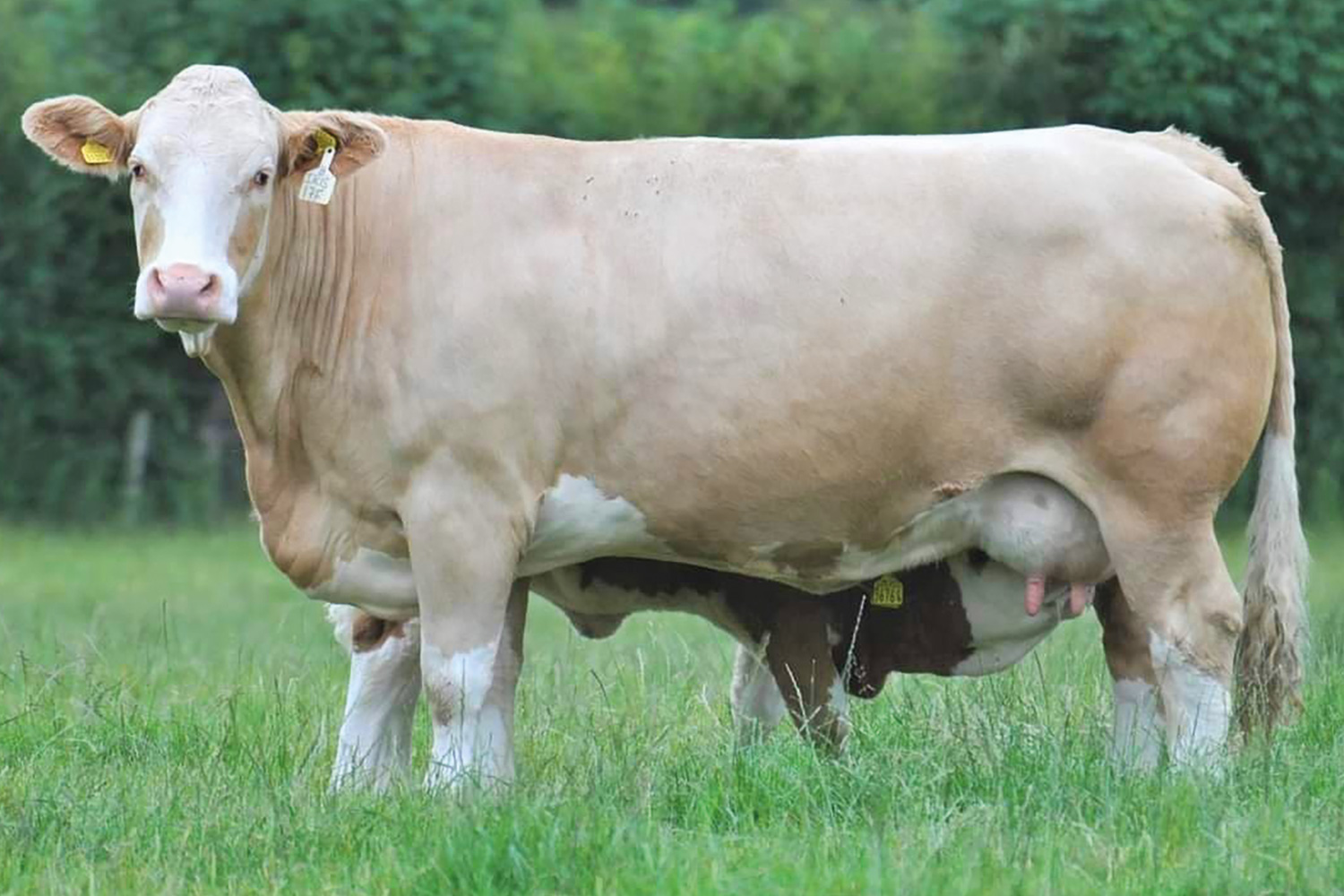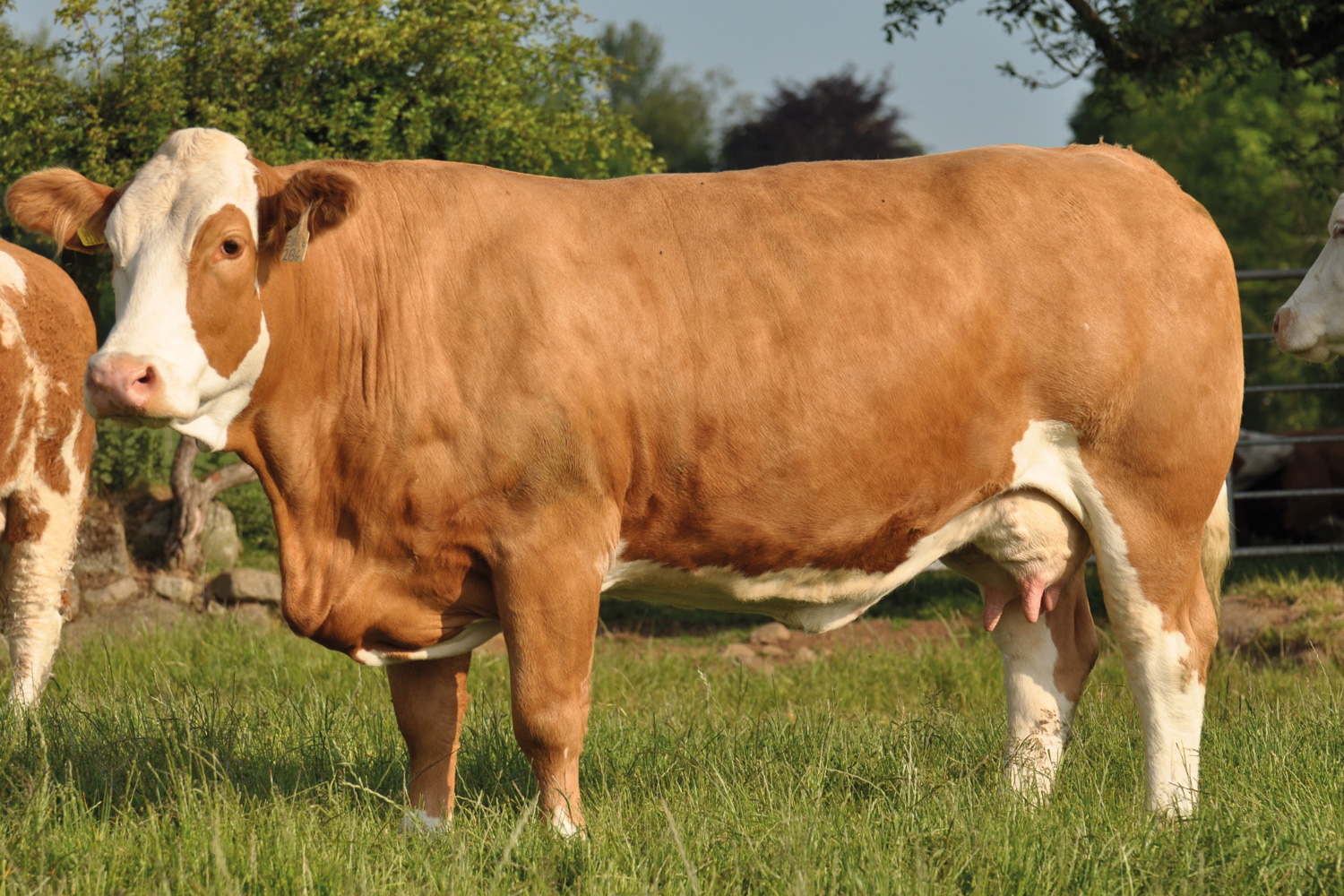 "

We have been gradually introducing the polled gene over the years, slowly, in order to also maintain the qualities that our herd has become known for. Imperator has helped accelerate this."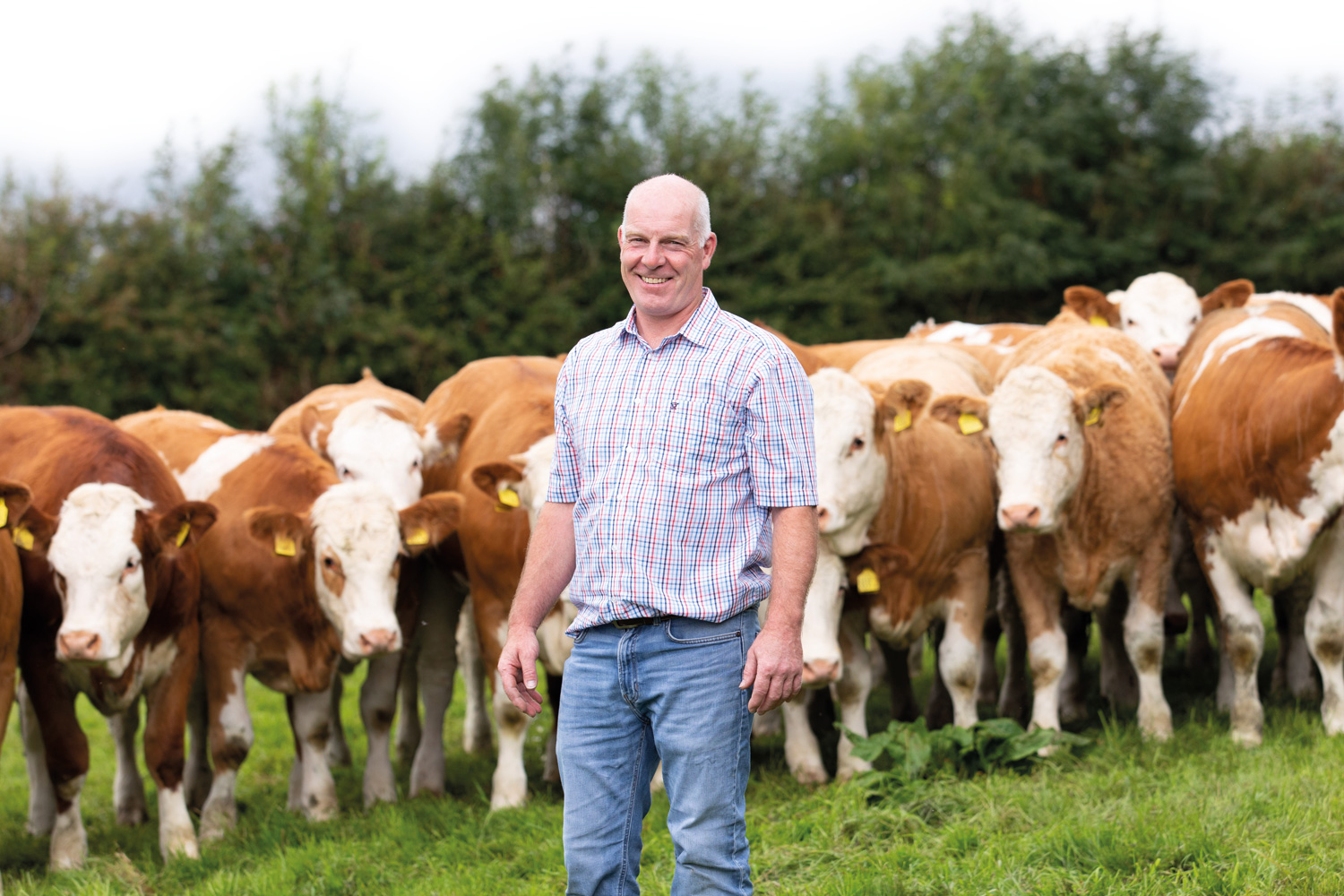 Imperator has been breeding well and as a result, 75% of the cows in the herd are now polled. The Robsons are also using a home-bred son of Imperator, Kilbride Farm Jetstream, which is out of a Brennin daughter. Of his first crop of calves, four sons sold to pedigree herds in 2022, and a further three are entered for the upcoming sale at Stirling in February '23.
In addition to realising the long-term benefits of breeding polled cattle, the Robsons also appreciate the advantages that new technology has brought to the breed. "We have always supported performance recording and can see the improvements that have been made in the breed as a result of having access to this information. If we're importing a stock bull, we always take into account the growth rates and calving ease, from whatever system that country has. We have a 300-sow pig unit and have witnessed the major improvements that the pig industry has been able to make by using this technology."
At present, the cattle herd comprises just short of 100 breeding pedigree cows, with half calving in the spring, from the end of March, and the rest between August and October. Norman says they run a commercial system and the cows are 'not pampered in any way'. "They are housed on slats through the winter and they need to be very structurally sound to hold up to those conditions. The cows are naturally fleshed so they are cheap to keep over the winter. The spring calves are speaned when they come in, at six to seven months old, with the early autumn-born calves speaned in April when they go out to grass and the later autumn ones kept on the cow until June," he adds.
Bulls and heifers have always been sold at Society sales at Stirling and Dungannon, but also privately, off the farm. This method increased in popularity during lockdown and Norman notes that the demand for private sales has remained high since then. Post-Brexit protocols with regards to movement rules, have resulted in Northern Ireland sellers being far more cautious when it comes to taking bulls across the water to sales. "There was a time when we would take a dozen bulls to Perth or Stirling, but there's no way we would risk that now, with the current movement restrictions. I'd say the bulls that we sell at home are a slightly different type to the ones we send to Stirling, where a slightly bigger framed bull is more in demand. We have a good market for polled bulls sold from home.
"Those that don't make the mark are kept entire and sold at just over a year old, direct to ABP. The last batch that went weighed an average 453kg and averaged out at £1,893 per head. Amongst them, there was one E grade, one R grade and the rest all U grades. The Simmental has always been renowned as a maternal breed, but it can also compete in the store market too, with impressive growth rates and days to slaughter."
However, the demand for Simmental females, both pedigree and commercial, continues and in 2021 the family held an online sale to celebrate the herd's 50th anniversary, where 13 heifers sold to average 4,500gns. At home, no bought-in females have been added to the herd for around 20 years. Instead, bulls are carefully selected to go on the five main cow families – Eunice, Dora, Laura, Iris and Fanni, which have all been breeding well for several generations.
Whilst Kilbride Farm stock often makes it into the top prize-list at pre-sale shows, the Robsons have not shown at summer shows for many years. Norman says they enjoyed their new-found free time the year of Foot-and-mouth when the shows were cancelled and haven't gone back to it since.
"It also helps us protect the health status of the herd, but I can definitely see the benefits of showing at the summer events, from a promotional and social point of view", he says.
"My father first got into Simmentals because he could see the potential of the breed and the opportunities for the breed to progress have never been greater.
"

We must build on the performance benefits the Simmental breed offers all types of farming systems – no other breed has the flexibility of the Simmental; from crossing on a Luing cow on the hill, to high output lowland suckler herds and as a crossing sire onto the dairy herd.
"With the environmental impact of beef farming under such scrutiny, the efficiency and sustainability of the Simmental will come to the fore – I'm proud to be President of the Society at this time and can hopefully help promote this message," adds Norman.