CELEBRATING 50 YEARS
OF SIMMENTAL BREEDING
Having been one of the founder members of the British Simmental Cattle Society, the Borlase family have stood the test of time in terms of being pioneers of the breed. Here we feature the family's Sacombe herd and take a look back through the history books of the herd.
Established on the 4th July 1970, with the importation of four Swiss Simmental heifers, the Sacombe herd, based at Watton at Stone, Hertfordshire began. From that day on, the herd has witnessed countless show wins, Perth Bull Sale championships, a Burke Trophy win and a drive to help new members, particularly the younger generation, excel in the breed.
Third generation breeder Bridget Borlase who manages the 350-acre arable and livestock farm recalls how her grandfather, Bert Borlase, was one of the initial breeders who went on a buying mission to Switzerland and selected a number of heifers, one being a cow called Kleeb, purchased for £400. "This was a huge investment at the time, but her progeny went on to sell to America, New Zealand and Australia averaging £4000."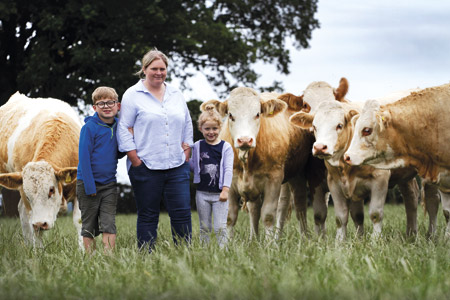 By the late 1970's the herd was running up to 80 pedigree cows with progeny being sold across the world for between £4000 and £7000. No stranger to the new European breeds, Bert was already running Charolais, Marchigiana, Chianina and Pinzguar cattle, but a shortage of new genetics meant he was looking in a new direction. "He ran the other breeds until the mid 80's, but a passion grew for the Simmental due to their ease of management and the other breeds were naturally phased out," comments Bridget.
Early bulls to leave a mark on the herd included an imported sire Kimberely, as well as a home bred sire, Sacombe Bernard, who went on to stand champion at the Royal Highland Show in 1977. A son of Bernard, Sacombe Edgar, stood Perth champion and went on to sell 100,000 plus straws for Star Machinery founder, the late Bertie Watterson.
Bernard produced amazing daughters including Sacombe Mame who went on to produce notable sires such as the Perth 1990 champion and prolific AI sire, Sacombe Wishful Thinking and Sacombe Shamus, the 1991 Royal Show champion. "Little did we know at the time Mame's granddaughter Perrywood Wispa, which is registered in my own herd, would be part of the Burke Trophy winning pair in 2012 alongside our stock bull at the time Clonagh World Class, a pinnacle in any pedigree beef breeder's career," comments Bridget.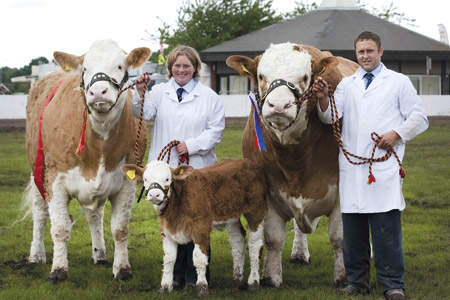 The mid 80's also saw the arrival of another major turning point in the herd's history pages when Bridget's parent's Paull and Judy purchased Hockenhull Marvel privately from the MacPherson family, alongside a son of his, Blackford Regent. "My mother and I often debate which has been the biggest turning point for the herd and for her it's Marvel. Without doubt this bull left his stamp on the herd," adds Bridget.
By the late 1980's to early 1990's the Sacombe herd was running up to 100 pedigree females having purchased 24 imported females and were selling some 40-50 bulls a year off farm. "Not only has the demand switched with the influence of the Limousin, Aberdeen-Angus and British Blue market share, but with TB and other health issues affecting pedigree breeders, I doubt we'll ever see that scale of sales off farm again."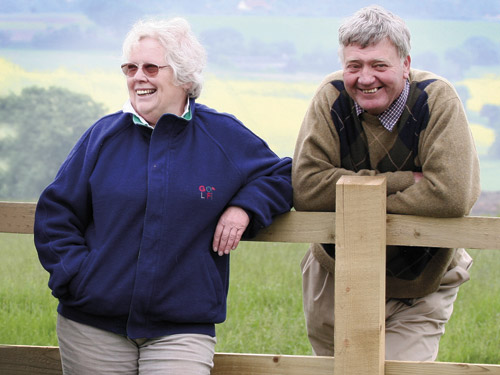 Having struggled to find suitable stock bulls, 1995 saw Paull and Judy Borlase, now at the helm of the business following the death of Paull's father, Bert, travel to France to the Paris Show. It was at this event that they were impressed with a cow called Charmonte who took her third consecutive championship title at the event weighing in at 1080kg and giving 11,000kg milk. "We returned to France to the Dijon area to view some farms including the home of Charmonte and were fortunate to buy a daughter of hers starting the next generation of imported females at Sacombe."
For Bridget the real turning point in terms of bull use for the herd came in 2009 when Clonagh World Class joined the herd. Bred in Ireland by Garrett and Lyndsey Behan, World Class was first spotted as a young calf at a show and was later secured at the couple's production sale. "He's certainly been a game changer for us and my favourite to date, stamping females across the herd. You don't have to read an ear tag to know it's a World Class daughter," says Bridget.
Equally, his show career certainly backed up his breeding credibility. In 2012 World Class stood overall breed champion at the Royal Norfolk Show where he also won the coveted Burke Trophy and was male and reserve overall champion at the National Show that year at the East of England.
Other bulls of note include Sacombe Nijinsky, Fordpoint Accord, Ranfurly Amigo and Glenturk Nomad, the latter proving to be an influential sire taking the Perth championship and winning the male championship at the Royal twice, and Grangewood William.
More recently the family have used Islavale Fagan, Wolfstar Flying Scotsman and Derrycallaghan Gambler and have since used an imported sire Langmose Ludvig, a Danish polled bull which has left tremendous natural muscle and produced a reserve junior interbreed winner at the Royal Welsh last year.
Looking back over the years, Bridget says there are a few memorable summers in the show ring. "Without a doubt, 2012 was certainly a fantastic year doing so well with World Class and my own personal favourite Perrywood Wispa, but in 2016 the herd saw another level of interest as we brought out three junior females all from our original Austrian imported Fani family. Sacombe Flora, Farah and Georgina either stood first or second on every outing and we certainly received some fantastic comments from other breeders," she recalls.
Having not brought any new females in to the herd for some time, 2017 marked a new chapter with the arrival of stockman Jimmy McMillan. That year two females were purchased from the Deerhurst dispersal and on the dispersal of the Sterling herd of Boddington Estates the record priced female, Sterling Bacardi's Hawaii, joined the herd for 28,000gns, as well as Sterling Petro's Cairo purchased for 6000gns who went on to win the Royal Welsh in 2018.
"I first saw Hawaii as a junior heifer at the English National Show at the Three Counties. I arrived late and saw a glimpse of her after she'd stood junior champion and from that moment, I knew I was going to buy her."
Hawaii's first calf, Sacombe Hawaii's Jessica, followed in her mother's footsteps by clinching the junior championship at the Royal Norfolk in 2019, meanwhile Hawaii's son, Sacombe Kestrel is destined to be an AI sire for Cogent Breeding while Hawaii herself is an integral part of the Sacombe flushing team.
Embryo work certainly forms a vital part of the herd's business structure as Bridget has embarked on an embryo partnership with breeders in Kazakhstan. "We're working with producers who have a nucleus herd for their 20,000 head feedlots to produce their own stock bulls and semen business." This has come from a relationship built up in the country by Bridget's brother William and his son Ben who run a worldwide farm consultancy and mechanisation business.
In July 2019, a year after Bridget's father Paull sadly lost his battle with ill health and on what would have been his birthday, Sacombe Dandelion Oma, a descendent of yet another influential Austrian import, was tapped out as Royal Welsh breed champion and later that day the interbreed champion.
Dandelion Oma has since proved her worth outside of the show ring as she is the dam of Sacombe Juggernaut 19, a bull sold recently to Cogent Breeding and she's also the dam of Sacombe Kite 19, which was sold privately to the Blackford herd.
It's clear when you speak to Bridget that the passion she has for the Simmental breed clearly runs through her veins. She's invested her time with the next generation helping the youth development programme, been a council member and judged many regional and national shows, the Stirling Bull Sales and all the major calf shows.
But on top of running the herd as well as keeping an eye on the management of her mother's farm in Shropshire, she is running a successful meat retail business under the name of Bridget B's alongside her partner James. Having started with a farm shop in 2005 with a turnover of £20,000 the business now has four retail outlets with a turnover of more than £2 million.
And it's this side of the business that makes Bridget feel that now more than ever the beef industry has to connect with the British public. "My butchery staff communicate with in excess of 10,000 customers each week and we need to be selling the story behind this great product. Where possible I take every opportunity to speak to anyone from young farmers clubs to the Women's Institute.
"While there's no doubt it's been a challenge, we're continuing to wear the Covid-19 storm well with increased sales for all meat products and the opening of a new meat retail outlet, but if we don't make the most of this change in perception and desire for quality British meat, we'll be shooting the next generation of farmers in the foot."
With a strong focus now on the beef retail enterprises, while running a smaller pedigree nucleus herd, the family's devotion to Simmentals shows no sign of waning as Bridget and Judy continue to run the herd with the passion and devotion which has been a hallmark of their half a century involvement with the breed.