'CONTINENTAL
BREED OF
CHOICE'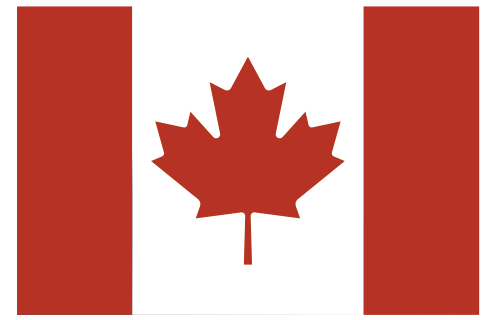 A commitment to genetic improvement and a focus on Calving ease, carcass traits and fertility, has seen Simmental become the continental breed of choice in Canada. Here Bruce Holmquist, the Canadian Simmental Association's General manager, and a past President of the World Simmental Fleckvieh federation, gives us a terrific overview of the breed's challenges and development to the present day.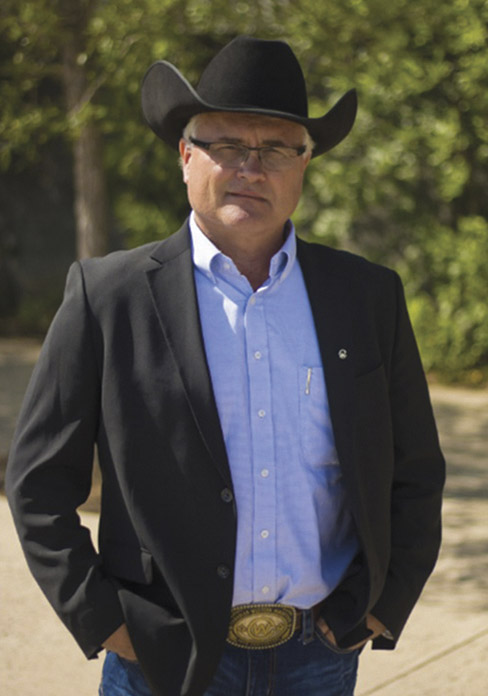 It is an honour to have been asked to contribute my thoughts on the Simmental breed as part of this publication which marks the milestone of 50 years of Simmental in the United Kingdom, and the formation of the British Simmental Cattle Society. I was fortunate to visit the United Kingdom in 2008 as part of the World Simmental Fleckvieh Federation (WSFF) Congress that toured England, Scotland and Northern Ireland. Great hospitality was enjoyed throughout the event and it was especially memorable for me as that was the year I began my four year term as President of the WSFF. Great times in a world that was much different than we are unfortunately experiencing today. It would be great if Simmental breeders in the United Kingdom would consider hosting the WSFF Congress again at some point in time.
When contacted to do this article it was suggested that I provide an overview of Simmental in Canada and where it currently sits in its development and position within the Canadian beef industry. In order to better understand the status of Simmental in Canada, we need to revisit where Simmental has come from and recognize both the challenges we faced over the last 53 years, as well as our current success. To do that properly we need to go back to 1967 when SBL Parisien 1A was imported to Canada, becoming the first Simmental bull to set foot on the North American continent. From that moment on it was apparent the Simmental breed was destined to change and improve the beef industry in North America. The "belt buckle" tall cattle of the 1960's were in desperate need of change and the timing was right for the infusion of Simmental genetics.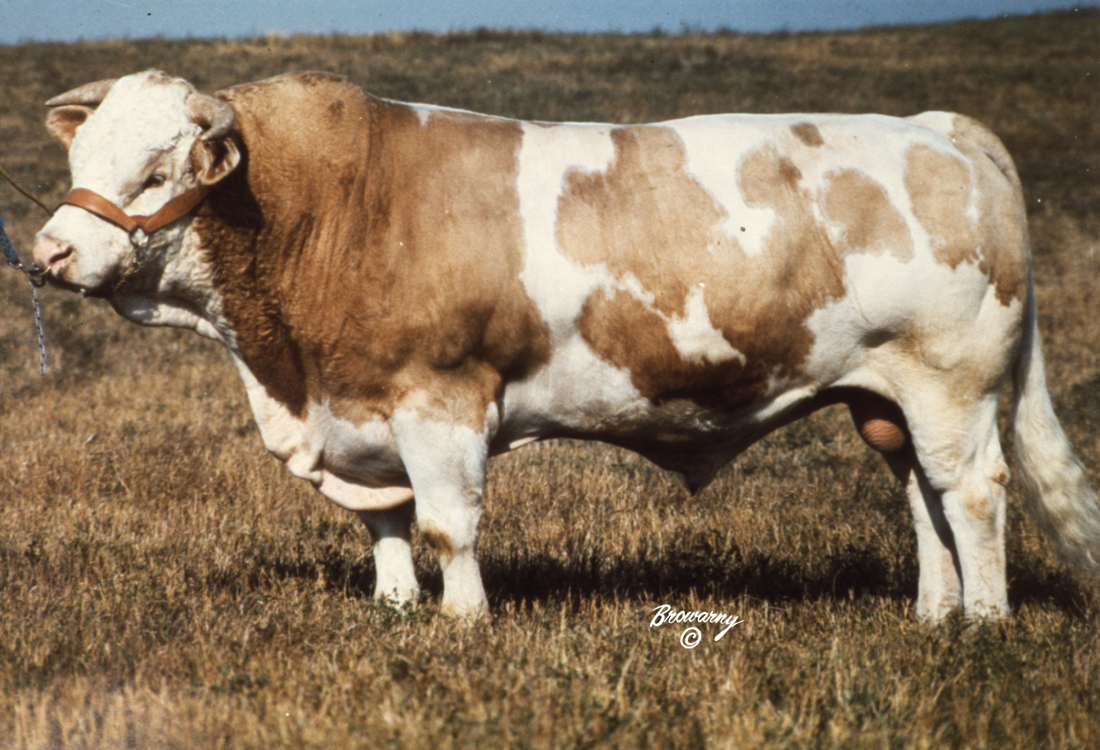 Although not fully understood at the time – heterosis manifested itself as the only thing that is truly free in beef production. Increased performance combined with superior maternal traits was thought to be an impossible combination, however Simmental was able to provide both. Later Canadian Simmental breeders became victim to the mindset that if something is good, then more of it must be even better. For some breeders, performance became a fixation and with that we saw a remarkable increase in mature frame size along with higher maintenance requirements. Many breeds of cattle went through a 'bigger is better' phase, especially in frame, and Simmental was no exception.
Through the 1980's many of the Simmental cattle in North America were of a type that had questionable economic value for the beef industry. Simmental breeders in both Canada and the USA countries had joined others in the purebred industry in producing cattle that fit a model of refinement and extremes that the show-ring favored. This left commercial cattle producers scratching their heads about the direction that the purebred sector had headed and Simmental ended up on the feedlots "do not buy list". Things had to change, and that they did!
The road back to practicality was not a successful path for all breeds in North America and there was a reshuffling of the ranking of popularity amongst them. Some breeds that had enjoyed initial
success after their importation during the "exotic boom" were pushed aside by breeds that changed more quickly and adapted to the North American beef industries evolving needs. Optimum performance became the goal replacing maximum gain; extreme frame was moderated and soundness of feet and legs along with overall structure was dramatically improved. Not surprisingly we also discovered that consumers expected a quality eating experience and on many occasions were disappointed with beef that was too lean. Carcass quality and tenderness traits became extremely important and the Simmental breed was among the breeds that lead the way in improving those qualities.
"Calving ease, carcass traits and fertility in a balanced performance package became the focus and Simmental has since grown in popularity to where we have become the continental breed of choice…"
How did Simmental make those changes quicker than some other breeds? It began with the recognition of the need for change. As a breed we were very fortunate that there were breeders that had not followed the path that many chose and quietly kept doing what they believed in; producing the type of cattle that made them money and were sought after by their commercial customers. The cattle they produced became the genetics that put us back on track.
The American and Canadian Simmental Associations also had boards of directors that focused on the implementation of programming and data collection programs which provided the data base for development of the genetic improvement tools for their members to use, and then worked diligently in promoting and educating those members on their use. Calving ease, carcass traits and fertility in a balanced performance package became the focus and Simmental has since grown in popularity to where we have become the continental breed of choice and is solidly number the number two breed in Canada based on registrations behind Angus. The elimination of the diluter gene through genetic selection also played an important role in making Simmental more acceptable in Angus commercial herds.
Some figures pertaining to the Canadian Simmental Association:
Simmental is the second most popular beef breed in Canada registering approximately 23,000 animals each year from a cowherd of approximately 40,000 Simmental females
Simmental is very complimentary to both Angus and Hereford cattle in cross-breeding programs which has driven much of the Simmental breed's success
There are 1880 active members of the Canadian Simmental Association which includes 350 Junior members in our Young Canadian Simmental program aged 6-25 years old 
The CSA registry system incorporates phenotypes, pedigree and performance data along with genomic data into genomically enhanced EPDs as part of our relationship with International Genetic Solutions (IGS)

https://www.internationalgeneticsolutions.com/

The CSA and American Simmental Association work together on a combined North American genetic evaluation.
The CSA registry system is comprised of Fullblood, Purebred and Percentage animals. At the present time our registrations are approximately 71% Purebred (red and black), 20% Fullblood (traditional), and 9% Percentage (3/4 Simmental blood or less)
A large part of the success and growth of Simmental in Canada can be attributed to the breeders and the CSA understanding that the Association must serve its membership and more importantly their customers in a practical and efficient manner. This has been accomplished by remaining committed to genetic improvement for the beef industry, combined with breed promotion, along with a strong focus on youth development. We invite you to learn more about Simmental in Canada by viewing our magazine online at www.simmentalcountry.com, and CSA programming through our website www.simmental.com
Congratulations to the British Simmental Cattle Society on your 50th Anniversary and wishing you much success as you continue to work towards the expansion and improvement of the Simmental breed around the world!