Please click here to view the schedule for this year's Scottish National Show.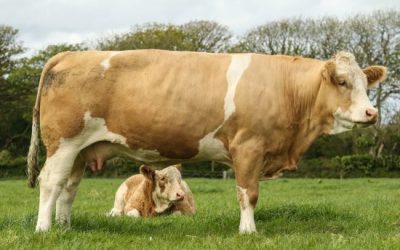 • Further cows and calves at 5500gns, and 5000gns• Cows and calves average £3382.50• Bulls sell to 4600gns• 27 lots gross £81,670 Cows and calves met with a strong trade and were led at 7000gns at the Reduction Sale of the noted Bosahan Herd of John & Bridget...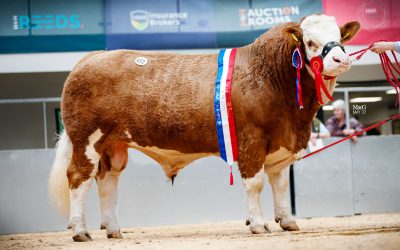 • 5000gns Tidkin Cow and Calf leads Tidkin & Jet Dispersal Sale• 15 Tidkin cows and calves average £3353• 28 Simmental lots in all gross £94,920• 4 Bulls average £5565 Bulls from the Chestermann herd of N&N Gwynne, Castlewigg Farm, Whithorn, Newton Stewart,...
Introduced to increase Power, size, milk and weight for age

Forsham  Farm,  Sutton  Valence,   Maidstone in  Kent  has  been  owned  by  the  Bates  family since 1945 and is run by Nick Bates. Originally
Pedigree Sussex cattle were the dominant breed but over time Limousin was introduced and most recently Simmental genetics were introduced to put power, size milk and growth into the herd. The farm extends to 324 acres of which 80 are arable the remainder is in grass, 1200 bales of silage are produced annually and a small amount of hay is produced for convenience to be used in calving pens etc.
Cow numbers total 120 with all now having an influence of Simmental blood, the cows calf from February through until mid April, four bulls are ran with the cows in groups of 30 and the bulls are taken out after 12 weeks, no passengers are carried, any empty cows are moved on.
There are no special requirements at calving, all calves navels are dipped in 10% iodine solution and male calves are castrated for ease of management, otherwise the natural maternal instincts of the Simmental take care of the rest.
Turn out occurs in mid April and the bulls are put in very soon after. Cows get a Hi-mag bolus prior to turn out. 18% protein creep is introduced to the calves from mid July onwards on an ad lib basis. All calves are vaccinated with Rispoval 4 , the first dose applied in late September/early October and the 2nd dose along with a pour-on wormer when they are housed in October-mid November depending on the
season, the cows then get an iodine bolus and are wormed at housing. Weaning then takes place once the calves have become acclimatised indoors and this has proven to reduce weaning stress enormously.
Winter rations are simple, a TMR of 50% silage and 50% straw with the addition of fruit which is sourced locally as supermarket waste, containing oranges, apples, bananas, grapes and even grapefruit.This simple ration is fed to the cows and all the young stock, the young stock get beef nuts twice a day and once calved the cows get beef nuts until turn out.
Weaned calves are grouped and stored over the winter on the TMR ration, 10-12 heifers will be selected every year as replacements the rest either sold privately for  further  breeding or through the auction market. Steer calves are sold  the  following  spring in time to make room for calving, periodic weighing takes place over the winter to monitor growth rates and feed conversion efficiency.
Recently batches of calves have been tested for BVD and have all been clear, there are plans to take the herd into a CHeCS health scheme in the future.
The herd has been the Hobbs Parker suckler herd of the year many times since introducing Simmental genetics and Nick said "if we hadn't introduced Simmental we wouldn't be where we are now" It can also be seen from the weekly report from Hobbs-Parker that the Simmental influence is growing fast in the South of England.
Below sale report from steer calves from 8 to 10 months old