Please click here to view the schedule for this year's Scottish National Show.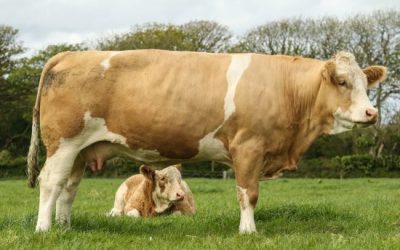 • Further cows and calves at 5500gns, and 5000gns• Cows and calves average £3382.50• Bulls sell to 4600gns• 27 lots gross £81,670 Cows and calves met with a strong trade and were led at 7000gns at the Reduction Sale of the noted Bosahan Herd of John & Bridget...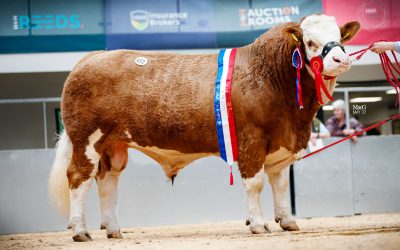 • 5000gns Tidkin Cow and Calf leads Tidkin & Jet Dispersal Sale• 15 Tidkin cows and calves average £3353• 28 Simmental lots in all gross £94,920• 4 Bulls average £5565 Bulls from the Chestermann herd of N&N Gwynne, Castlewigg Farm, Whithorn, Newton Stewart,...
Simmental finale at Fermanagh County Show
By Julie Hazelton 
The Armagh-based Kilmore Simmental Herd scored a hat-trick at Fermanagh County Show, scooping the breed's supreme and reserve overall championships, and the prestigious Ivomec Super Pair of the Year award.
Owned by County Armagh businessman Chris Traynor, the Kilmore Herd was founded five years ago and currently consists of 24 breeding females.
Breeders braved the wet conditions to attend the show season finale judged by Scotsman Michael Durno. "It has been an excellent show, with a strong turnout of quality Simmental cattle," said Mr Durno, whose 40-cow Auchorachan pedigree herd is managed alongside more than 100 commercial Simmental cows.
"I was really pleased with the junior bull class. It was a strong class with 10 good bulls, many of which I am sure will be destined for the forthcoming sales in Stirling."
The junior bull line-up was led by Chris Traynor's sixteen-month-old Kilmore Floyd. "He is an outstanding winner, and I had no hesitation in making him the day's male and supreme overall champion. This bull has it all – power, length, super confirmation, and his dark red coat completes the package!"
The second placed class winner Kilmore Fitz caught the judge's eye to secure the reserve male and reserve supreme awards. "He is a very similar bull with slightly more flesh, but lacking the power of the champion." Kilmore Fitz was the winner of the coveted DANI Rosebowl, awarded to the highest placed weight recorded bull.
Both bulls were born in April 2014, and are sons of the herd's 12,000gns stock sire Kilbride Farm Bantry – purchased at Stirling in February 2012.
Mr Traynor made his show ring debut earlier this year, winning the junior championship at Balmoral with Kilmore Franko; and the supreme championship at the club's Ballymena show and sale with Kilmore Finlay sold for 4,400gns. Both were sons of Kilbride Farm Bantry.
Leading the female line-up was the February 2014 born Mullyknock Forget-Me-Not bred by Robert and Lorna Forde, Tempo. She was sired by Anatrim Bodybuilder, and is out of a dam carrying the Glenturk prefix. "This is a big growthy heifer, and I'm sure she will mature into a good breeding cow," added the judge.
The reserve female championship went to Andrea and Keith Nelson, Rosslea, who exhibited the May 2013 Scribby Farms Elegant. She is a daughter of the herd's jointly owned 10,000gns stock bull Drumlone Anchor.
The hotly contested Ivomec Super Simmental Pair of the Year competition also reached a climax at Fermanagh County Show. Now in its 10th year, the competition is sponsored by Merial Animal Health, and attracts qualifiers from nominated provincial shows.
Merial's Philip Clarke said: "We are proud of our long association with the NI Simmental Club. It has been another fantastic competition, with six exceptional pairs of cattle competing at today's final.
Firm favourites for the 2015 Ivomec Super title were Chris Traynor's Kilmore Floyd and Kilmore Fitz. They qualified at Clogher Valley Show, where Floyd also took the reserve male and reserve supreme championship awards. "They are an outstanding and perfectly matched pair of bulls," commented the judge.
Claiming the runner-up award were the Castlewellan Show qualifiers Ballinlare Farm Edelweiss and Ballinlare Farm Esmeralda  from Joe Wilson's 60-cow herd at Newry, County Down. Born in October 2013 they were sired by the herd's 20,000gns stock bull Auchorachan Wizard – 2010 Perth junior and supreme overall champion. Michael Durno added: "They are two lovely heifers, like peas in a pod."
Philip Clarke congratulated the winners and presented the qualifiers with 200ml packs of Ivomec Super injection. "In warm wet weather it is vitally important that cattle producers use Ivomec Super endectocide to control fluke, worms and external parasites."
Rounding off the Simmental showcase was the presentation of Danske Bank's Male and Female of the Year Awards. This prestigious competition has been running since 1997, and the winners are determined using a scoring system which is collated at nominated shows throughout the season.
The 2015 Male of the Year award went to Ranfurly Formula 1 ET, a sixteen-month-old Carnkern Titan son from David Hazelton's herd at Dungannon. Bred from South Park King Kong Weikel 2nd, he was supreme champion at Clogher, male champion at Lurgan and Castlewellan, and reserve male champion at Ballymena and Armagh.
Reserve Male of the Year was Dermotstown Delboy ET, stock bull in Leslie and Christopher Weatherup's 35-cow Lisglass herd at Ballyclare. He was supreme champion at Balmoral and Ballymena shows.
Andrea and Keith Nelson, Rosslea, claimed the Female of the Year title with the May 2013 Scribby Farms Exquisiter. Sired by Drumlone Anchor, she is out of the Celtic Rock daughter Scribby Farms Cathy. This much admired heifer was first at Balmoral, supreme champion at Lurgan and Omagh, reserve champion at Armagh, female champion at Clogher, and reserve female champion at Ballymena.
Wesley Abraham from Irvinestown won the Reserve Female of the Year award with his September 2011 cow Raceview Cindy Matilda ET. This Kilbride Farm Newry daughter was supreme champion at Armagh, reserve champion at Balmoral and Ballymena, reserve female champion at Clogher, and a class winner at Omagh.
The crystal awards and commemorative rosettes were presented by John Henning, head of agricultural relations at Danske Bank, who was accompanied by Enniskillen agri-business managers Matthew Johnston and Rodney Brown.
NI Simmental Club chairman Richard Rodgers presented the Young Stockperson of the Year Award to Jason Whitcroft from the Whitdrum herd at Middletown in County Armagh. Jason is an enthusiastic young breeder who has won numerous prizes in the young handlers' classes throughout the show season.
Richard Rodgers concluded:"Its been a great show despite the weather, and I am delighted to see such an excellent turnout of cattle. Enniskillen Show attracts spectators from all over the country, and I was pleased to see several breeders making the trip from County Cork.
"Shows are a tremendous shop window for our breed, and I would like to congratulate all of the exhibitors on their achievements this year, especially Chris Traynor who has had a tremendous first year in the show ring. Finally, a special word of thanks to our sponsors for their continued and generous support.  "