Please click here to view the schedule for this year's Scottish National Show.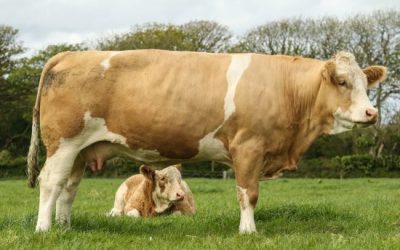 • Further cows and calves at 5500gns, and 5000gns• Cows and calves average £3382.50• Bulls sell to 4600gns• 27 lots gross £81,670 Cows and calves met with a strong trade and were led at 7000gns at the Reduction Sale of the noted Bosahan Herd of John & Bridget...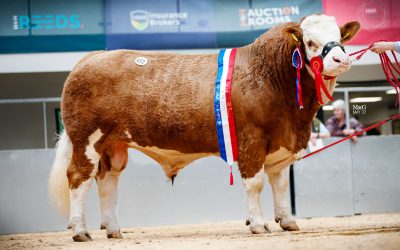 • 5000gns Tidkin Cow and Calf leads Tidkin & Jet Dispersal Sale• 15 Tidkin cows and calves average £3353• 28 Simmental lots in all gross £94,920• 4 Bulls average £5565 Bulls from the Chestermann herd of N&N Gwynne, Castlewigg Farm, Whithorn, Newton Stewart,...
1st Simmental Sired Suckler Calf Show – Truro 17th October 2018
SIMMENTAL-SIRED SUCKLED CALF JUDGED SALE RESULTS Judge: Mr. Graham Reed from the "Skylark" Herd at Bickleigh, Tiverton
Lodge & Thomas in conjunction with the Cornwall Simmental Club and the British Simmental Society were pleased to host a Special Judged Prize Sale of Simmental-Sired Suckled Calves on Wednesday17thOctober at Truro Market alongside our 2nd Commercial Suckled Calf Prize Sale. The   sponsorship of our Second Suckled Calf Prize Sale which was a great success!! There was a lovely show of Simmentals on offer and different buyers for each of the winning bunches which surely shows much confidence in the breed.
Prizes: £50 for each class winner as judged plus £25 for the buyer £75 for highest sale price achieved in each category:
Class 1: Steers born from 1st March 2018 Judged Winner: Mrs. P.E. Williams of Pendeen and  Top Sale Price: £700 Buyer: Miss L. Searle of Luxlyan
 Class 2: Heifers born from 1st March 2018 Judged Winner: Mrs. P.E. Williams of Pendeen & Top Sale Price: £545 Buyer: Messrs. I.R.& R.P.Downing of Rame Cross
 Class 3: Steers born 1st October 2017 – 28th February 2018 Judged Winner: Messrs. P.J. & B. Olds of Constantine & Top Sale Price: £870 Buyer: Treganhoe Farm Partnership of Sancreed
Class 4: Heifers born 1st October 2017 – 28th February 2018 Judged Winner: Messrs. A.P. & S.R. Hooper of Castle-an-Dinas & Top Sale Price: £540 Buyer: Mr. A.D. Orchard of Bugle