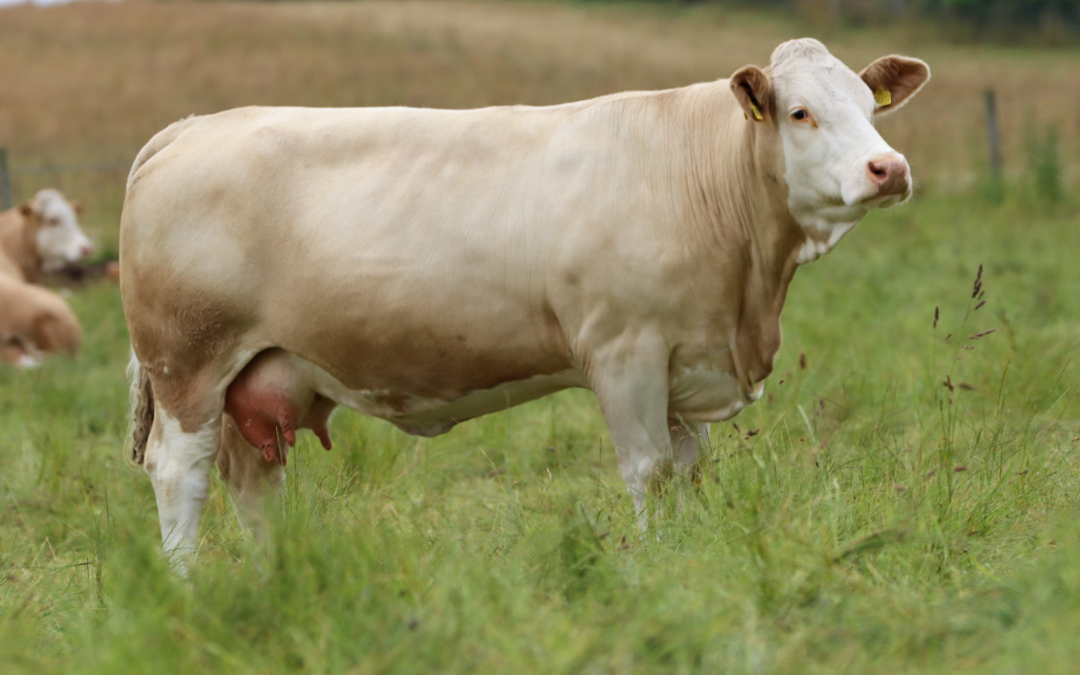 Corskie Heaven from Mr WJ&J Green, Corskie, Garmouth, Fochabers has been placed first in the 'huge' Cow class of the 2021 'Virtual' Simmental Show. In what has been the biggest class to date in the two years of the 'Virtual' show, the five-year-old Corskie Heaven, a Dirnanean Bradley daughter, prevailed from a class of 197 Simmental cows from breeders all over the UK. It was very much a 'Green Day' in the results with Garmouth Clover's Honeysuckle, a Bel Dhu Capercaillie daughter, from Laura Green, Corskie Farm, Garmouth placing second, with Corskie Flume placing third. Remarkably, five Corskie prefixed cows placed in the top twenty in the class.
Having the not inconsiderable job of judging this huge class was Thomas Hill, Daw Lane, Wadworth, Doncaster. Thank you Tom for a job well done and please look out for Tom's video comments that will be posted soon on Facebook.
The places in the Cow class are:
1st Corskie Heaven
2nd Garmouth Clover's Honeysuckle
3rd Corskie Flume
4th Vale Royal Heavenly Girlie
5th Newbiemains Iris
6th Kilbride Farm Eunice 195F
7th Vale Royal Annie
8th Starline Lorette 51st
9th Killiworgie Exotic Rose
10th Bosahan Heather Blossom
11th Newbiemains Jewel
12th Kilbride Farm Dora 75F
13th Tillyeve Diana
14th Kilbride Farm Eunice 213G
15th Mixbury Hall Holly
16th Corskie Hollywood P
17th Corskie Hopefull
18th Islavale Gucci
19th Corskie Jemstone
20th Ashfurly Weikel's Kate
So a mighty well done to the Green family and their Corskie and Garmouth herds for a tremendous performance. A massive thank you is extended to everyone who participated in this class. To get an entry of 197 cows has been exceptional and way beyond expectations. What a promotion for the breed to show the depth in quality of Simmental females in the British herdbook!
PLEASE NOTE: Entries for Class 5: Spring born bull calf. Born in 2021, close Midnight tonight, 29th July. Please send your entries in to information@britishsimmental.co.uk or kate@britishsimmental.co.uk