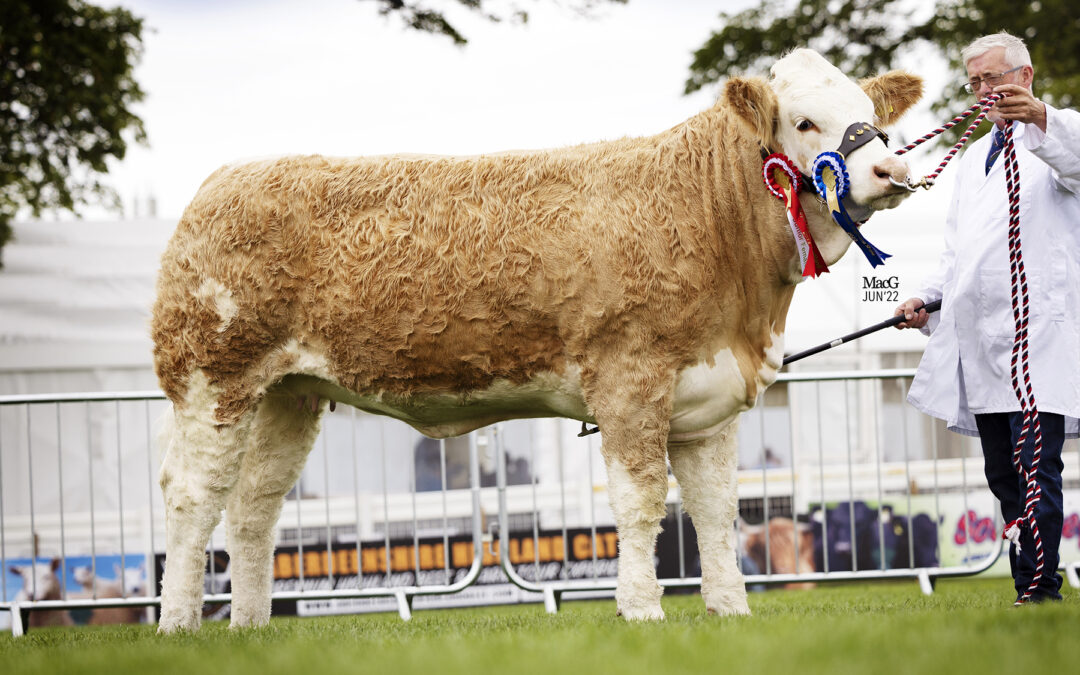 Records were broken when Jimmy & Kath McMillan, Bradwell Ash, Bury St Edmunds, sold the in-calf pedigree Simmental heifer Brandane Lu Lu for 18,000gns to lead the second staging of the Simmental Next Generation Sale of females and weaned calves at Carlisle's Borderway Mart on Friday 2nd December.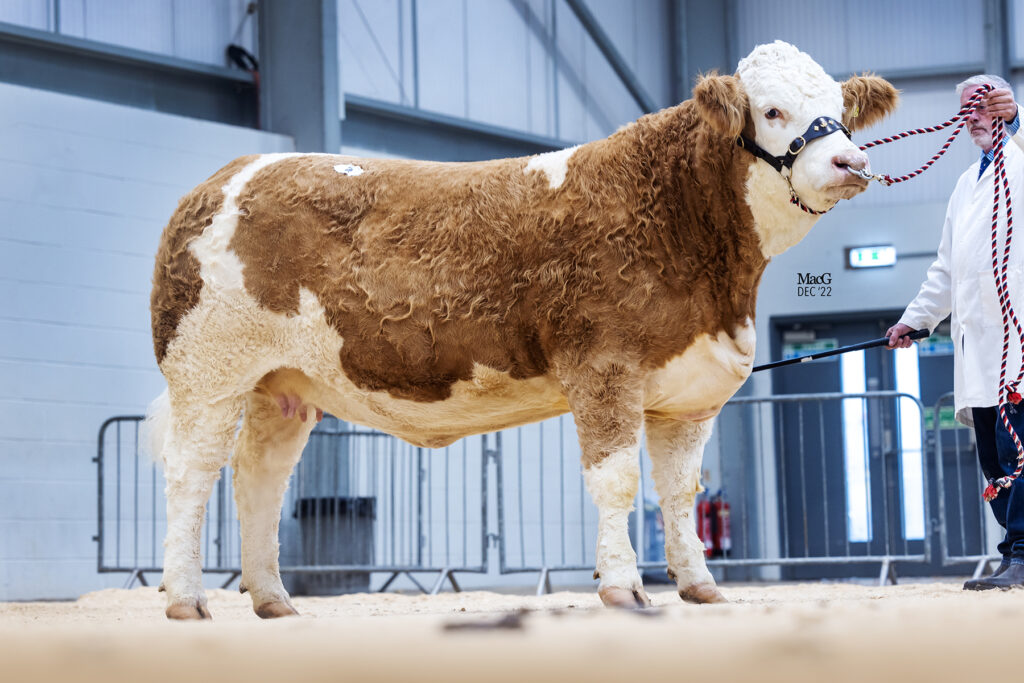 The 18,000gns was a new Simmental breed record at Carlisle, a new record price for the Next Generation Sale, and a new record price at sale for the eight-cow Brandane herd which was established in 2018. Purchasing Brandane Lu Lu was Reece and Andrew Simmers for their noted Backmuir herd at Keith, Abderdeenshire. Lu Lu is by Sterling Gino and out of Sterling Candy's FCUK, an outstanding cow who has produced five heifer calves who have all gone on to shine in the show and sale rings, including Lu Lu's full sister Sterling FCUK Impuls, who previously sold to the Backmuir herd for 13,000gns at Stirling in February 2019.
The long trip from Bury St Edmunds was made even more worthwhile for the McMillans when Brandane Mint sold for 4,500gns to Norfolk breeders RE & SHW Steggles, Honingham. Mint is a half-sister to Brandane Laura, who was tapped out as Female Champion at Stirling in February and sold for 6,000gns to the East Anglian base Cade Simmental herd of PA & SM Cade, Buckden.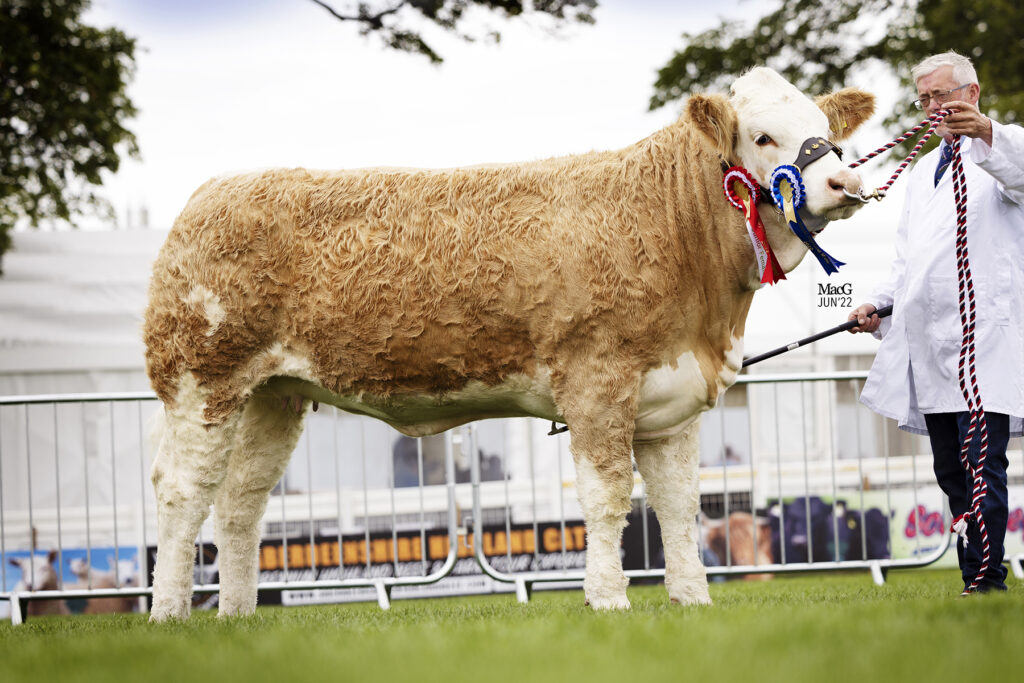 Preceding these terrific 2022 sales, Jimmy McMillan also met with considerable success in this year's 'major' show rings. Along with a plethora of red rosettes for Brandane Lu Lu and Brandane Mint, the summer has seen Jimmy win the Royal Highland show Junior Female Championship and Overall Junior Reserve with his heifer Brandane Millie, who was also crowned Reserve Interbreed Champion at Suffolk Show, Reserve Overall Champion at the Hadley Show, and Reserve Breed Champion at the Royal Norfolk. Sired by the AI bull Sterling Gino 15, this young February 2021 born heifer is bred is out of Sterling Candy's FCUK, a female bought at the Sterling Sale, and whose first calf was Sterling FCUK Impuls, the 2019 RHAS Reserve Supreme Champion. Brandane Mille was recently sold privately to Finlay Soutter, Ashby De La Zouch, a new young breeder in the Simmental breed, and with Jimmy commenting: "I think she's a tremendous heifer and she'll give the lad a great start in the breed."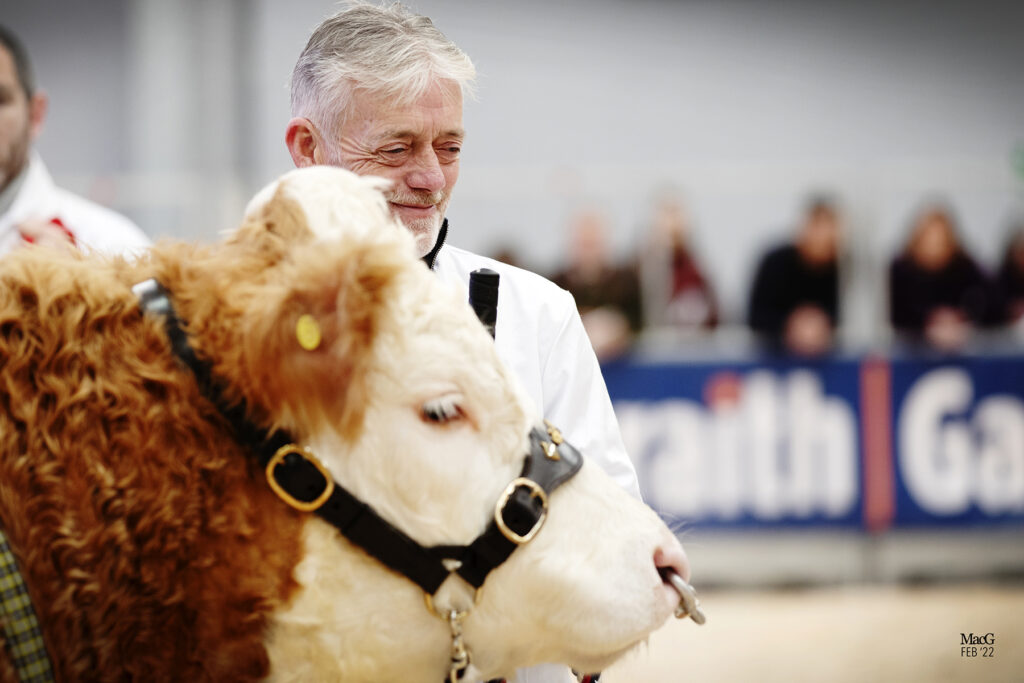 A well-known and highly respected figure in Simmental and pedigree show and sale rings around the UK for many years, Jimmy McMillan is no stranger to the winners' circle, and has been at the halter of a number of Supreme Champions at national and local events. A born and bred cattle man, Jimmy was born in the Isle of Bute. The family moved to Damside of Dun, Brechin, Angus, when Jimmy was three where he was raised on the family farm and won his first prize in the show ring at the tender age of eight. Proud of his roots, he later chose Brandane as his prefix as this is what you were known as if you were born on Bute. When Jimmy was 22 his father and auntie sold the family farm and his dad moved down to Towcester, Northamptonshire, to work for the now renowned Seawell Charolais herd of Peter Donger.
Jimmy has now been a resident of Suffolk for some 30 years and moved to the area by chance. Whilst on a busman's holiday at the East of England Show, Peterborough, he was approached by AR Clements of the Darsham Simmental and Charolais herds to see if he would like to come and progress the herds, and from there the rest is history! Jimmy looks back fondly at his time with the Clements; "I had great success with the herd and the best animal we bred was probably the famous Darsham Kit Kat. Selling to a record price for a Simmental female at the time of 18,000gns when the herd dispersed in 2006, she was by that time a winner of five 'Royal' championships and including the clean sweep of the Royal, Highland, Great Yorks, and Royal Welsh in 2005".
Jimmy then moved on to work for the acclaimed Boddington Estates, Sterling herd and again his wealth of experience bought the herd great success in the show and sale rings until it's dispersal in 2018. Roll on to today and the Sterling genetics have played a big part in the development of the Brandane herd: "All my foundation cows came from the Sterling herd and cattle that I bred and raised during my time there".
Enjoying his sales this year Jimmy's feet remain typically very firmly on the ground and with the simple forward ambition of continuing to breed quality Simmentals. "I love breeding Simmental females", Jimmy says, "they have got to have length, be feminine and breedy, have style in the head, good plates, good locomotion and just carry that little bit of jazz! I breed Simmentals as they are so easy to work with. Their temperament and milking ability is second to none. Adding to that, their weight for age is better than any other breed up to 14 months of age, and they really have a lot to offer the forward beef industry".
His passion for the Simmental breed also sees Jimmy being an active member of the growing East Anglia Simmental Breeders Club. Commenting on his recent successes, Zara Curson the Secretary of the East Anglia Simmental Club said: "Jimmy has so much experience in the Simmental breed and he is always ready to help and encourage young and establishing breeders with tips and advice on cattle breeding, feeding, and preparation for shows and sales. He's a great character and asset to the Club, and we're really delighted for Jimmy and Kath that they've had such tremendous success this year."