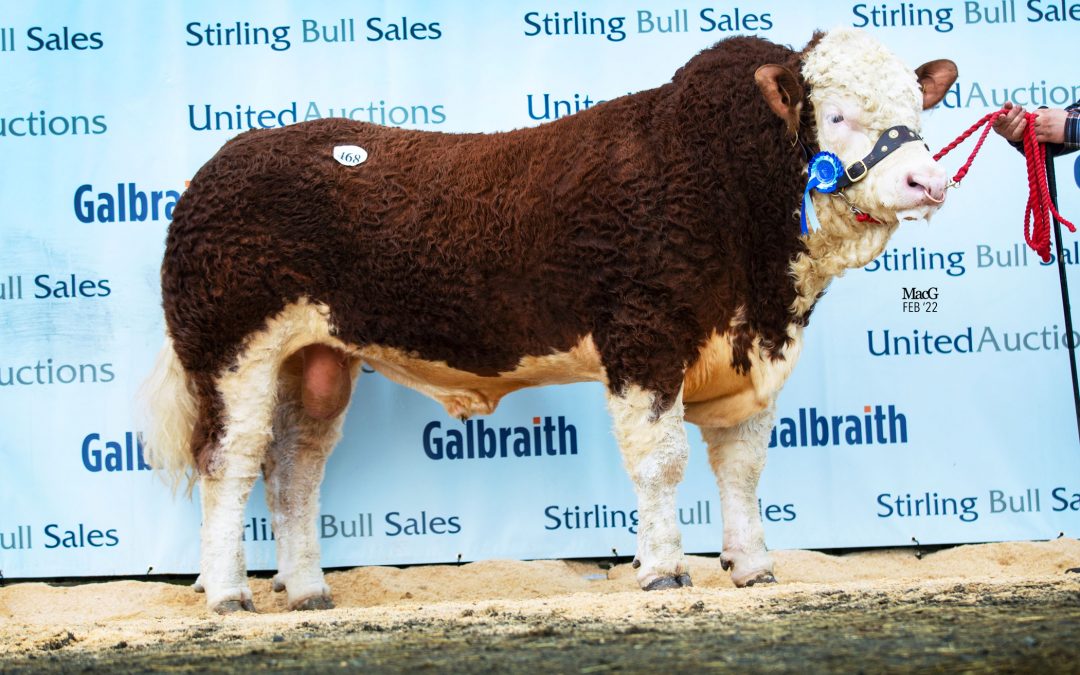 30,000gns is the second top price for a Simmental bull sold at auction in the UK
Sale average sets a new breed record of £6835, up by £353
89 bulls sell, up by 25 on the year, and with a clearance rate of 86%
Eight bulls made over 10,000gns, with 25 in all making 7000gns or more.
Orkney buyers purchase ten bulls
Brandane leads the females at 6000gns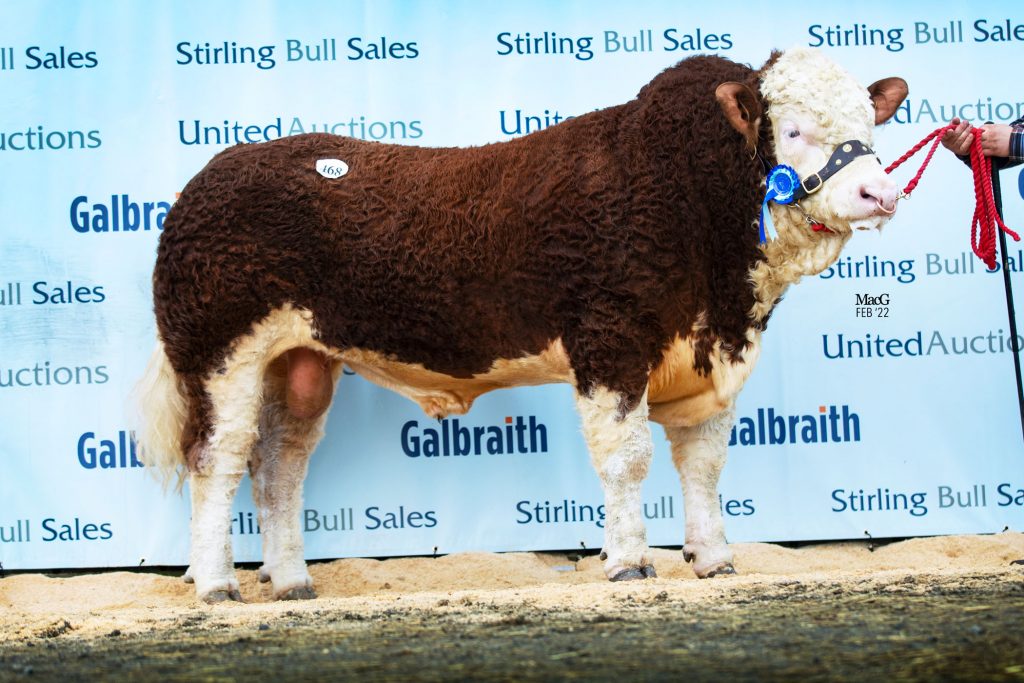 The May 2020 born Denizes Lancelot from Lancashire breeders MA Barlow & Sons, Four Oaks, Ulnes Walton Lane, Leyland, sold for 30,000gns to lead an electric Simmental bull trade at United Auction's Stirling Agricultural Centre on Monday 21st February.
Under the gavel of auctioneer Raymond Kennedy, some fierce bidding saw the bull race to 30,000gns before being knocked down to Richard McCulloch for his noted 160 cow Overhill House Simmental herd at Armadale, West Lothian. Commenting on Denizes Lancelot after the sale Richard McCulloch said: "Very much a modern Simmental he's a tight, clean bull with a great top and plates, and with the pedigree and figures to match. Just full of style with a beautiful head, and the red colour I was looking for, I think he's an all-round breeders bull and he continually caught my eye as I went through the bulls in the lines." Speaking of the 30,000gns price, the second highest paid for a Simmental at auction in the UK, Mr McCulloch went on to say: "There was a lot of competition for the bull and as a breeder I think this is the level of investment that you have to pay to secure an all-round breeders bull of this quality." Later in the sale Richard McCulloch also purchased the September 2020 born Corskie Lambe for 5550gns from Mr WJ & J Green.
Prolific sellers at the Stirling Simmental Sales, the Barlow's 30,000gns sale of Denizes Lancelot smashed the 70-cow herd's previous top price at sale of 17,000gns. Commenting after the sale a 'buzzing' John Barlow said: "It's been a great sale for the Simmental breed and we're delighted to sell this bull to a top breeder and very much hope that he goes on to do well at Overhill House. As a herd our primary aim is to produce first quality Simmental bulls for the commercial producer. In type we're trying to breed bulls with no extremes that are long, clean through the front with no middle, have a good top line and plates, and with good locomotion. Within that aim to sell bulls to breeders is a real bonus on top."
Denizes Lancelot, who stood second in his class, is one of the first bulls offered at Stirling by the homebred sire Denizes Impeccable 17. He is out of Denizes Hannadante 9th, at 13 years old one of the oldest cows in the herd who has previously bred bulls to 15,000gns and who is back in calf to Denizes Hamish. On the day the Denizes herd sold four bulls to 30,000gns; 10,000gns (Intermediate Champion); 9500gns; and 4000gns respectively.
With a bit of fizz and pop in the trade, as commercial buyers competed with pedigree breeders, the sale saw 89 bulls sell in all, up by 25 on the year and to a new Simmental breed record sale average of £6835, which was up by £353 on the previous year. The strong demand saw an 86% clearance rate of the 103 bulls forward. Trends in the sale saw ten bulls in all sell to Orkney buyers, and with seven bulls heading to England and Wales. Speaking after the sale, the British Simmental President Stewart Stronach said: "There was a tremendous atmosphere in and around the Simmental sale and that's underpinned the day and realised a record breed average with a tremendous clearance rate. We're seeing consistently strong sales for the breed and I think commercial producers are really looking for the double-barrelled advantages of the Simmentals. The modern Simmental maintains it renowned maternal qualities and crossing ability with any breed. If you add into that the tremendous growth rates in progeny, and number one age at slaughter capabilities I think there's real recognition of Simmentals efficiency and profitability in the industry.
Northern Irish bulls were to the fore throughout the sale, and the second top price of the day was the 16,000gns Ranfurly Limelight from the 20-cow herd of WD and J Hazelton, Cohannon House, Dungannon. This much-admired July 2020 bull is an Auchorachan ACDC son out of the noted cow Raceview Goldie Dreamer who was yearling Champion at Roscommon in 2016 before being purchased for 9000 Euros, and then NI Female of the Year in 2017. In the pre-sale show, Ranfurly Limelight had been placed as Reserve Intermediate Champion by the judge Andrew Clarke of the noted Breaghey herd, Tynan, Co Armagh. Purchasing the second top price. Purchasing this bull was E&M Fairhurst, Bankend Farm, Austwick, By Lancaster, for their newly establishing Fairhurst pedigree herd. Commenting Mr Fairhurst said: "This bull just had a bit of everything for me. I like the breeding on both sides of the pedigree and the bull in himself has a lot of style and presence and is very correct." For the Ranfurly herd, the 16,000gns marked their top price at sale for a pedigree bull to date and eclipsing their previous mark of 15,000gns.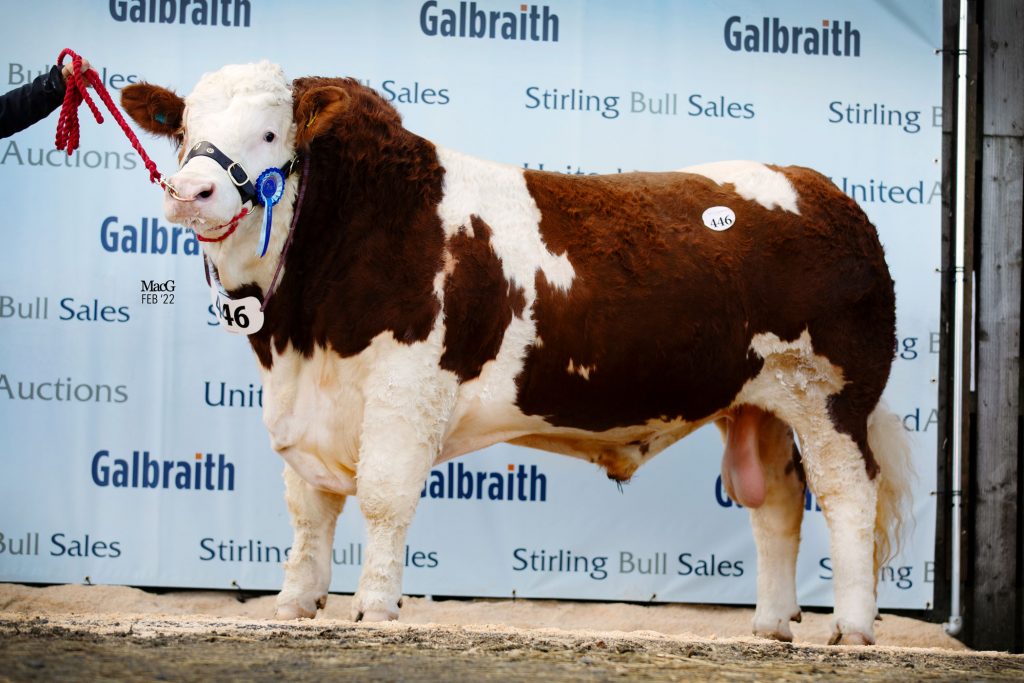 Having a track record of the top two prices at this corresponding fixture in 2020 the Wolfstar herd of Mr A King, Wolfstar, Ormiston, East Lothian, again produced another impressive double when selling bulls to 13,000gn and 12,500gns. Leading the way at 13,000gns was the April 2020 born Wolfstar Loose Cannon who had stood second in the third class of the day. By Team Celtic 11 and out of Wolfstar Ellie, this bull is a full brother to the 18,000gns Wolfstar Jackaroo the Champion and top price at the aforementioned 2020 Stirling Sale. This bull was purchased by JC MacIver for his Coltfield pedigree herd at Wester Coldfield, Forres, Moray. Coming to the sale, Mr McIver had seen the Wolfstar bull on Facebook and had also looked at his pedigree and performance figures. "We were looking for a bull that was long, clean, and with good conformation. The breeding of the bull was important and we know previous Wolfstar bulls have gone on to breed well. We have just over 20 pedigree cows at present and are looking to increase that to around forty. The aim is to use him from May and we think he's a bull that will complement our females."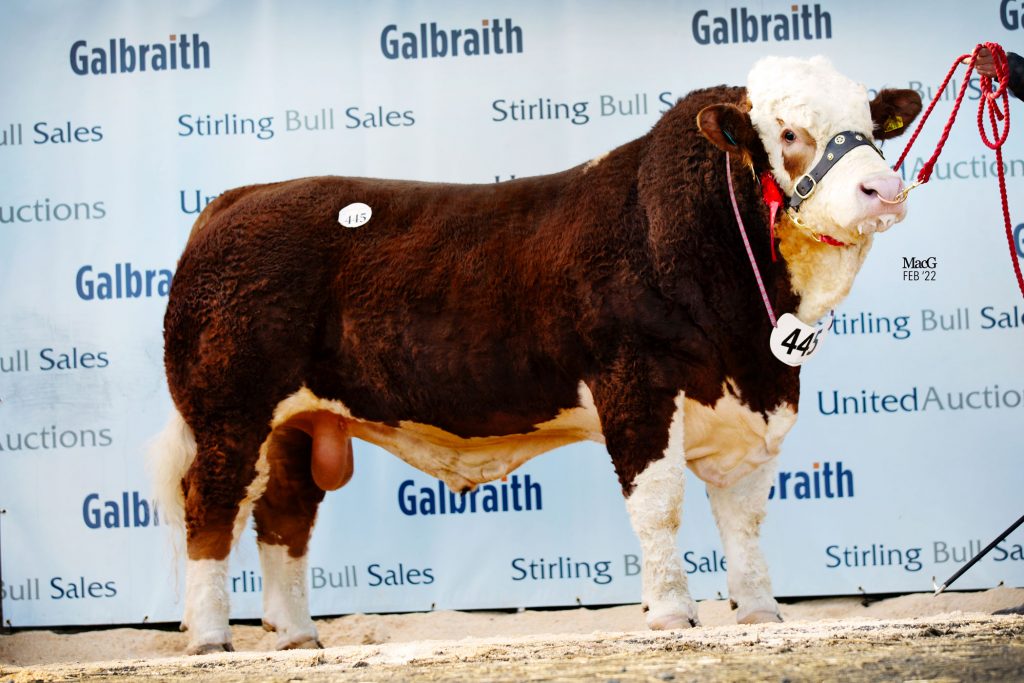 From the same class, and selling one lot before, was Wolfstar Las Vegas who made 12,500gns when selling to commercial producer JH Logan & Co, Dalfask Farm, Girvan, Ayrshire. A well-fleshed dark red bull, Las Vegas is by Islavale Guy and is out of the Team Celtic daughter Wolfstar Gladrags. Running some 250 cows the Logans selected the Wolfstar bull for his length and shape and with the Islavale and Team Celtic breeding on either side of his breeding.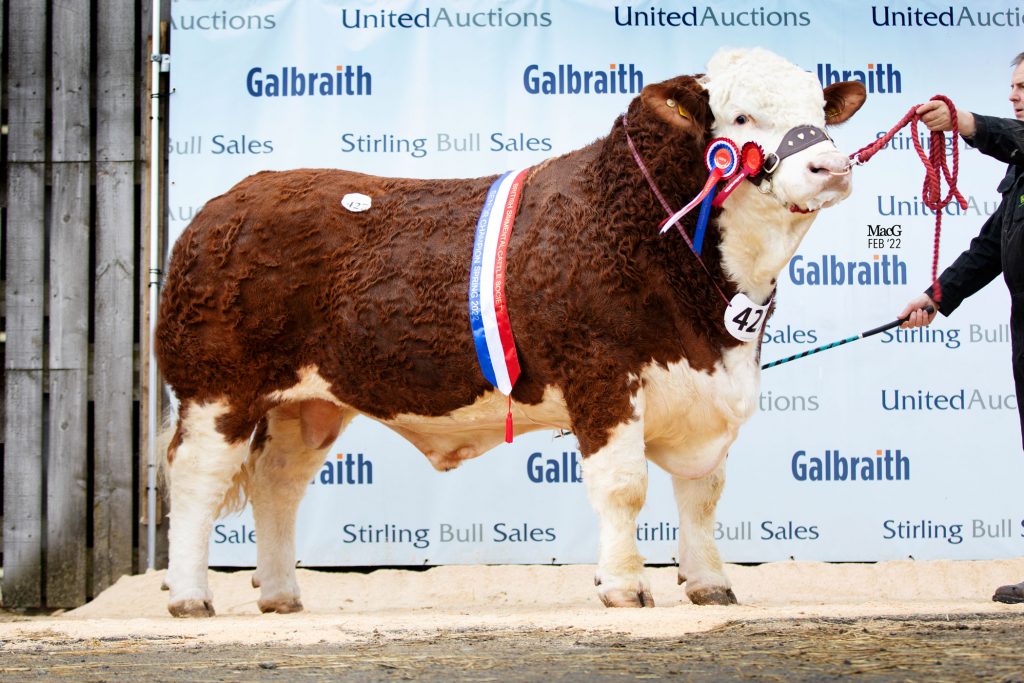 The prolific Islavale herd of WS Stronach, Berryleys Farm, Grange, Keith had another strong day's trading with their team of seven bulls grossing £56,100 and to average a mighty £8014. Having won the Supreme Championship some eight times in previous pre-sale shows, Islavale pulled off a herd 'first' when on this occasion they won both the Senior Championship and Reserve Senior and with both being by Corskie Highlander who is classified EX92. Lifting the Senior title and taking the herds to price on the day of 12,000gns was the March 2020 born Islavale London. This big upstanding bull, with a Maternal (Milk) figure of +8 is out of the growthy cow Islavale Benita VG 88. Buying the Senior Champion was Reece & Andrew Simmers for their 50-cow Backmuir pedigree herd at Backmuir Farm, Keith, Banffshire. In addition to the pedigree Simmentals, the Simmers run a large-scale cattle enterprise featuring some 600 cows in all and heavily influenced by Simmental genetics.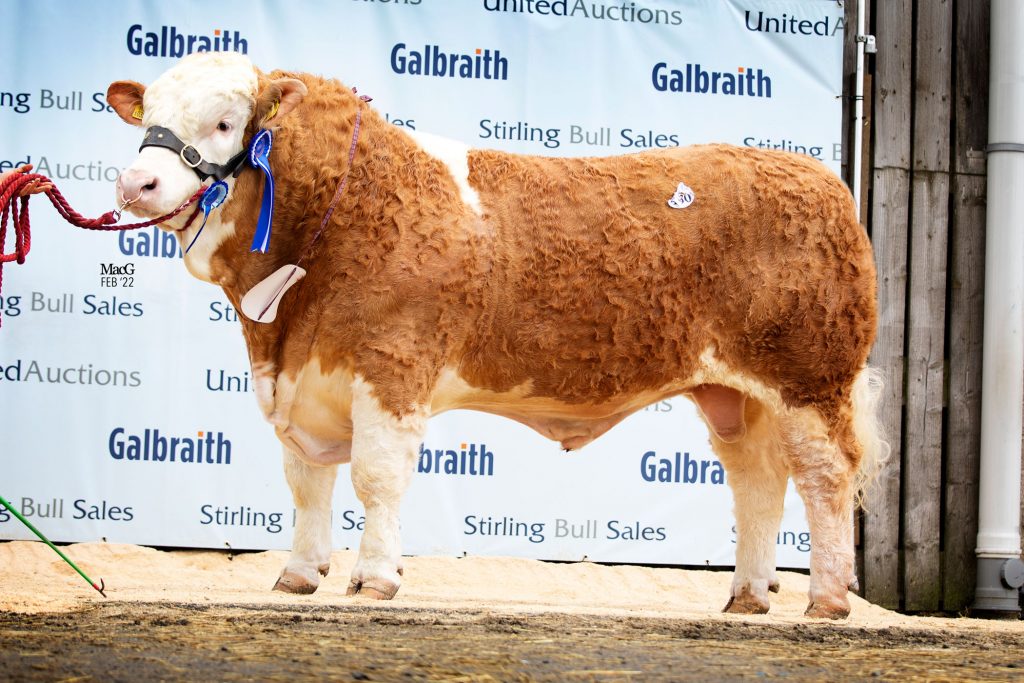 The Reserve Senior Champion, who stood second in his class to the section Champion was Islavale Leonardo. Again March 2020 born this bull is out of Islavale Mistress who is classified VG 89. Purchasing this bull at 9000gns was the commercial producer C&G Thomson, Wester Tulloch, Midmar, Aberdeenshire. Mr Thomson had not seen the bull before Stirling but was impressed with him at first sight describing him as a long, clean bull and 'just perfect' for their commercial cows. Previously Mr Thomson has purchased Islavale Kacy from the Stronachs for 11,500gns at an October Stirling Sale.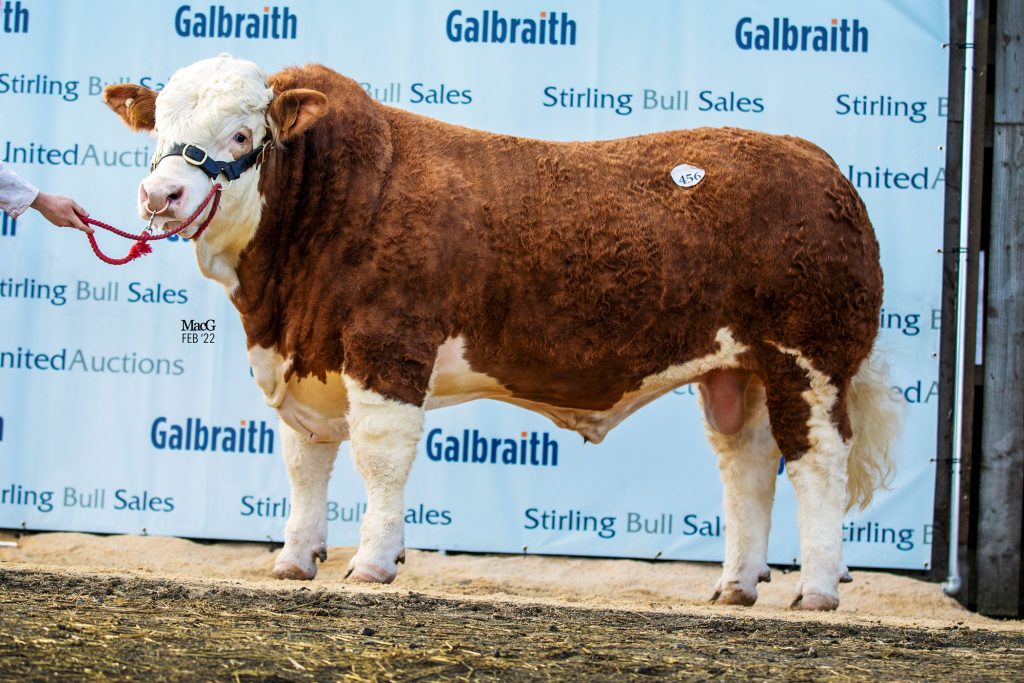 Continuing the run of prices from the Islavale herd, the May 2020 born Islavale Lockdown sold for the five-figure price of 10,000gns. This calf is by the herd sire Shacon Hannibal and is out of 16 (ET) EX 94 and is out of Islavale Teresa. Shacon Hannibal is also the sire of the 8000gns Islavale Lullaby who was the Champion Female at the Society's successful Next Generation Sale in Carlisle in December 2021. Purchasing this calf was AJ Bulmer for his quickly establishing Habton pedigree herd at Coultas Farm, Great Habton, Malton, North Yorks. In what was only his second trip to Stirling, Mr Bulmer was 'thrilled' with his purchase and very impressed with his purchase describing him as 'really stylish, solid straight through, with plenty of width and backend'. The aim from here is to use the bull from May and across both pedigree and commercial cows.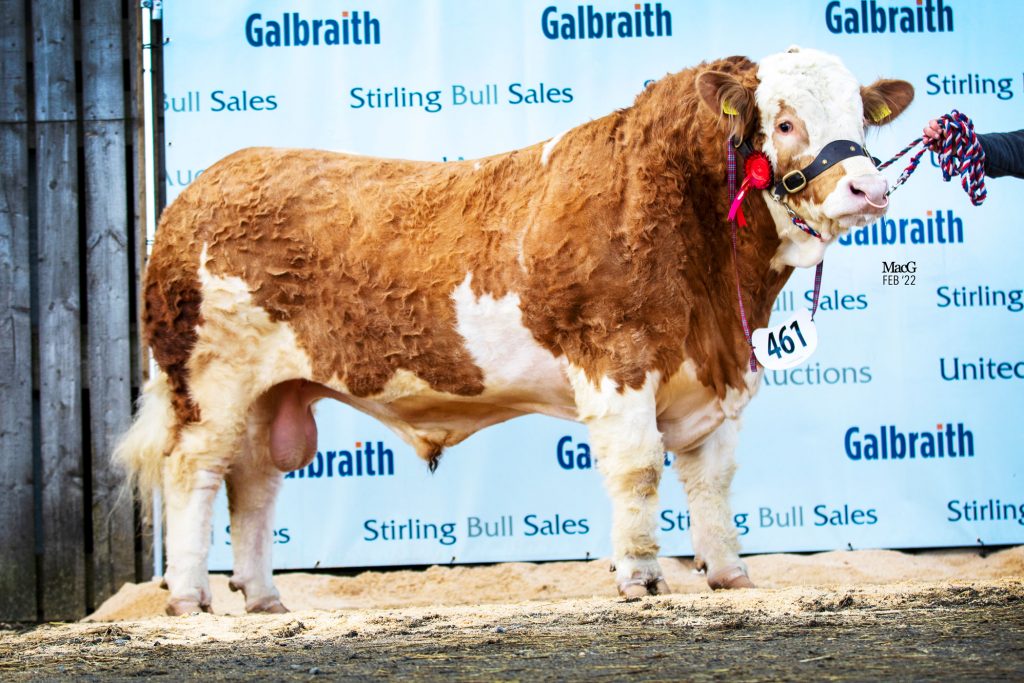 First in class four was Ballinalare Farm Legacy from Mr J & Mr A Wilson, Dorans Hill, Newry, Northern Ireland. May 2020 born, this calf is by Kilbride Farm Bantry and is out of the Auchorachan Wizard daughter Ballinalare Farm Evita who is a full sister to the noted AI sire Ballinalare Farm Galaxy. Buying this bull at 10,000gns was R&N Barclay, Harestone, Insch, Aberdeenshire. Commenting, Mr Barclay said: "We had seen a video of this bull on Facebook and had been very impressed by the class of the bull and the power behind him and which was confirmed when we saw him. Ballinalare Farm Legacy will join the herd as a junior stock bull and will begin working in the middle of May." The Barclays run a noted herd of some 280 cross cows.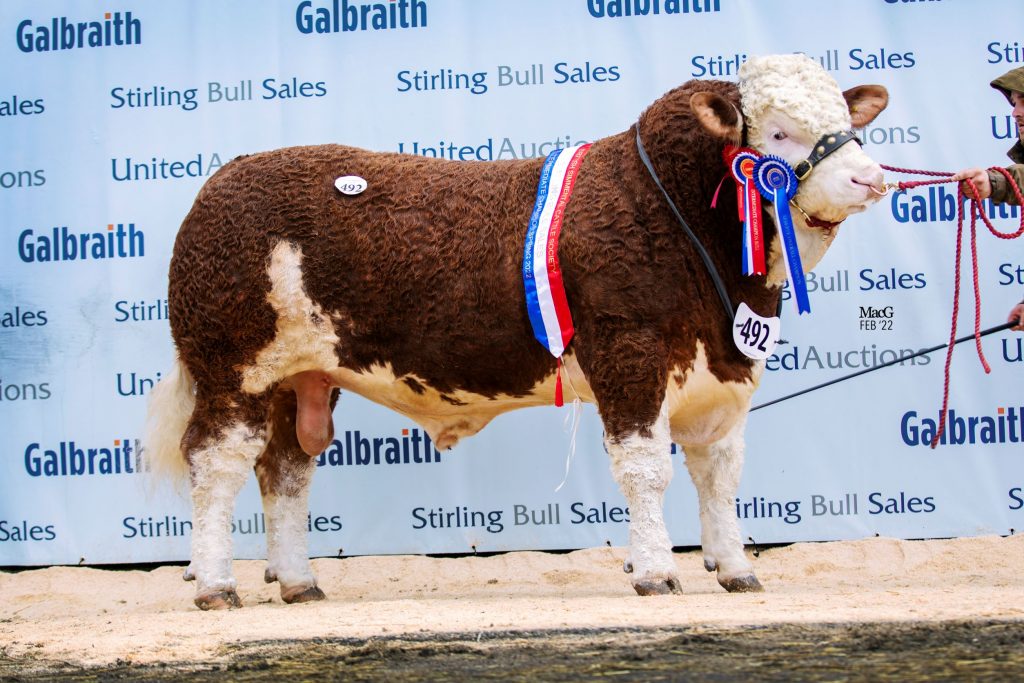 By the same sire as the day's top price, the Intermediate Champion Denizes Logic from the Barlows sold for 10,000gns. Combining breeding and performance, this July 2020 born bull is by Denizes Impeccable and is out of Raceview Fenella Beauty who is from the highly noted Matilda cow family. Featuring good calving figures, this bull was bought by Strathisla Farms, Strathisla, Moolies, Meigle, Blairgowrie and which runs the pedigree Strathisla herd of 60 cows along with 150 suckler cows. Commenting, Adrian Ivory said: "I liked this bulls length and soft fleshing, and he's from a female line that's bred consistently well and through many generations. I look for a combination of colour, figures, breeding, locomotion and looks, and this bull ticks a lot of those boxes."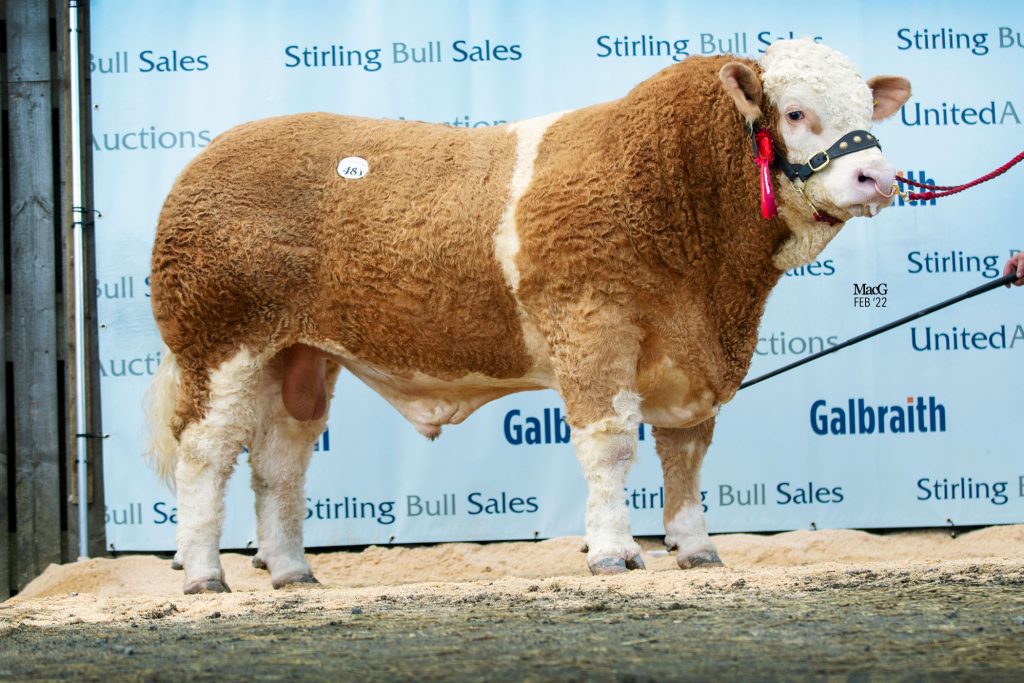 Continuing their run of prices, the June 2020 born Denizes Lord made 9500gns and was another bull to go to Orkney when selling to JI & WN Stout, Whitehall, Stronsay. This calf, is by the increasingly prolific Denizes Hamish whose first ten calves sold, prior to the sale, have averaged 5500gns. Combining shape, pedigree, and figures, Denizes Lord is in the breed's top 5% for calving ease. Lord is out of the Ashland Tornado daughter Denizes Melody 11th.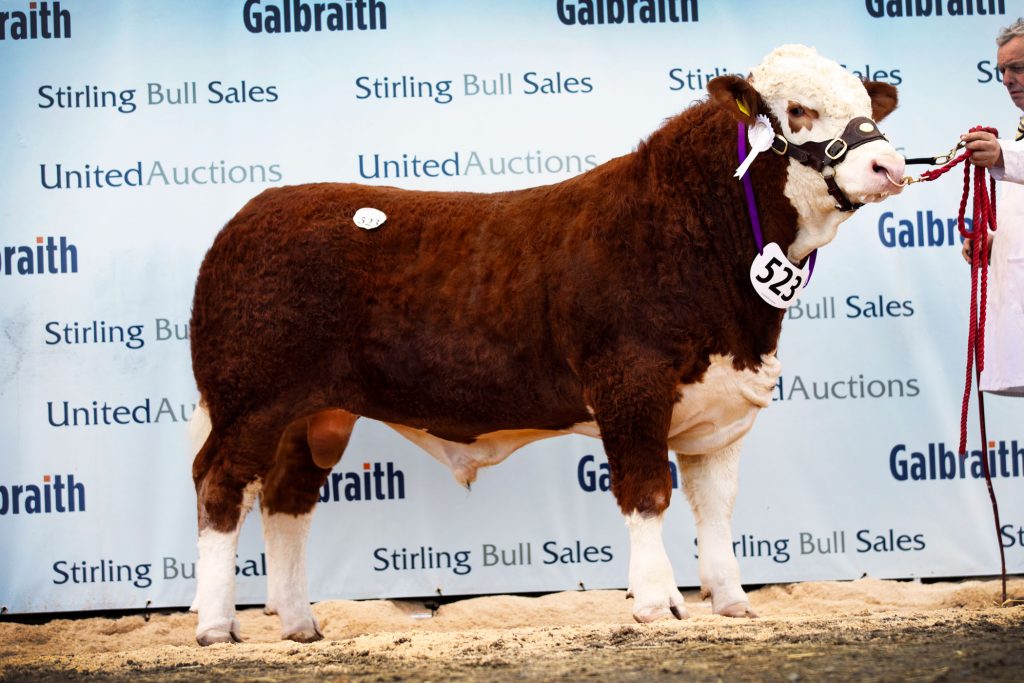 A strong team of five bulls forward from WH Robson & Sons, Kilbride Farm, Doagh, Ballyclare, saw a top price of 9000gns and with the five in all grossing £35,904 to average £7181.  Leading the way was the August 2020 born homozygous polled bull Kilbride Farm Lucky Strike PP.  This calf by Kilbride Farm Gruffalo (P), placed first in his class in the 2021 Virtual Simmental Show.  His dam Kilbride Farm Iris 22JP is noted as breeding well in the herd and with his Grand dam Kilbride Farm Iris 17F having been voted third best Simmental cow in Europe in 2020. This bull sold north to Caithness and to the Ackergill pedigree herd of W&J Coghill, Ackergill Mains, Wick.  Commenting Mr Coghill said: "We are delighted to get the bull.  We had seen him online prior to the sale and were very interested in him as he is homozygous polled and this is a route we want to go down with the herd."  The Robsons sold further bulls at 8500gns; 6200gns; 6000gns; and 5500gns respectively.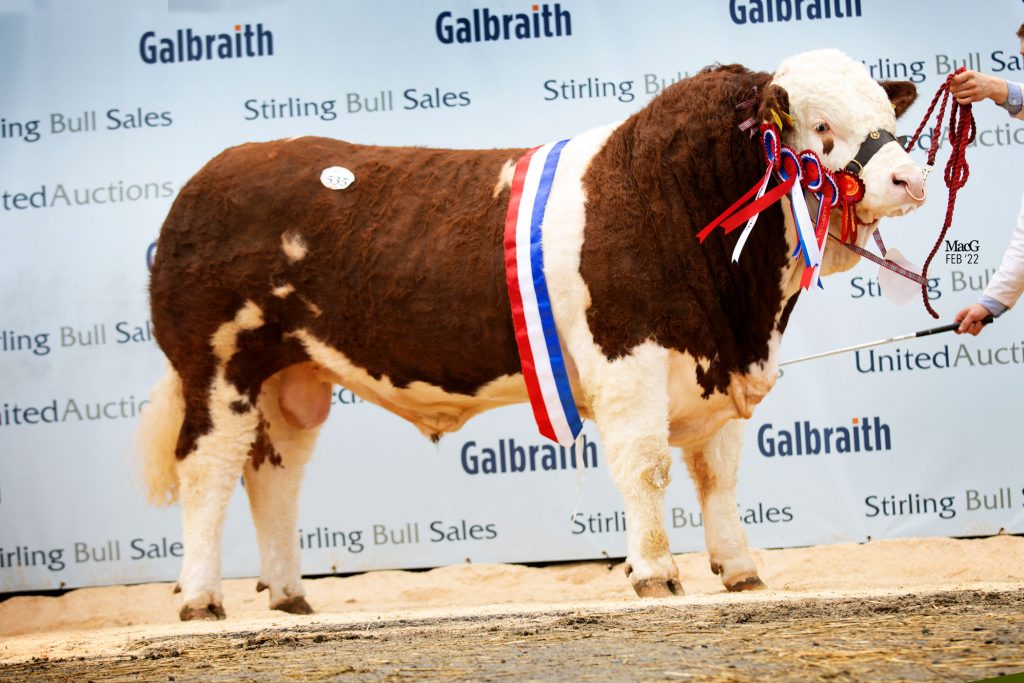 The pre-sale Supreme Champion came in the shape of the winner of Class 10, and also the Junior Champion, Ballymoney Leonard from Mrs MH Kilpatrick, Banbridge, Northern Ireland. September 2020 born, this bull is by Saltire Impressive 17 and is out of Ballymoney Orla from the noted Ballinalare Farm Beauty line. Ballymoney Leonard sold for 7800gns to the noted commercial producer JM McIntosh, Genoch Mains, Dunragit, Stranraer.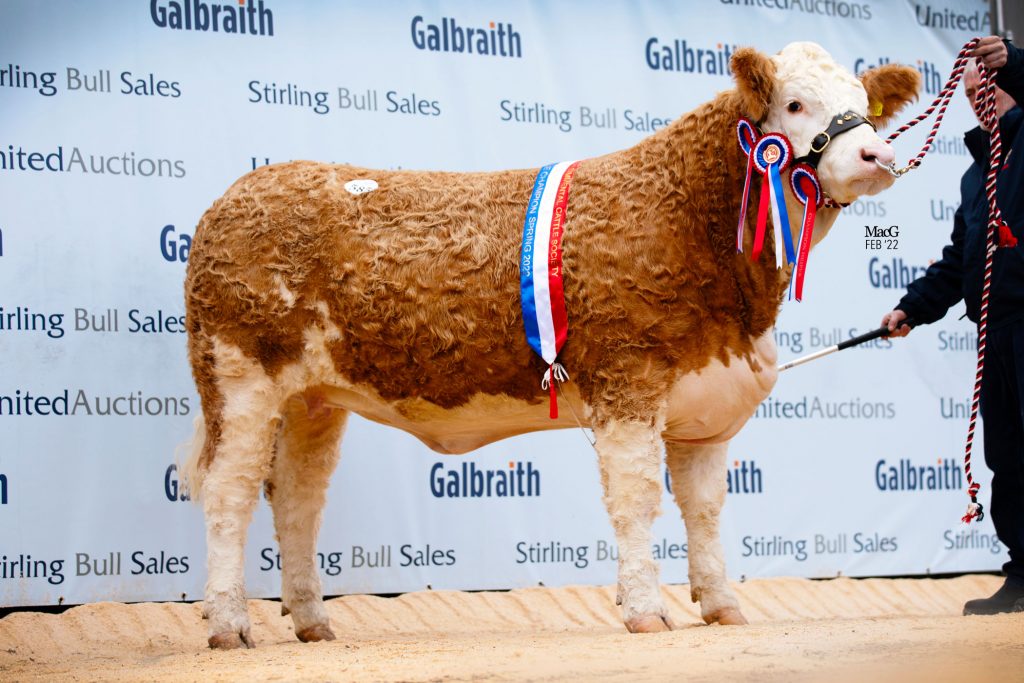 In the small show of females, the Overall Champion came in the shape of the very stylish April 2020 born heifer Brandane Laura from Mr J McMillan, Wagon Lodge, East Church, St Kenninghall. Full of breeding this heifer is by Atlow Dixon and is out of Sterling Bacardi's Funky and described as one of the best female lines from the noted Sterling herd dispersal sale in 2017. Buying the female Champion at 6000gns was PA&SM Cade for their Cade pedigree herd at Paddock Farm, Buckden, East Anglia.
AVERAGES:
89 Bulls (+25) £6835 (+£353)
13 Females £2423
OTHER LEADING PRICES:
8500gns Lot 467 Corskie Leopold, sold to A H Smith
8500gns Lot 499 Kilbride Farm Lord of the Ring, sold to Lour Farms
8500gns Lot 507 Auchorachan Longshot, sold to W Dunlop & Son
8500gns Lot 510 Braidwood Luke, sold to Garvald Mains Farm
8200gns Lot 490 Pitmudie Lancelot, sold to G A & H M Francis
8000gns Lot 504 Corrick Logic, sold to C & M Bruce
8000gns Lot 531 Broombrae Loon, sold to M M & A Campbell
7800gns Lot 535 Ballymoney Leonard, sold to Genoch Mains Farms
7500gns Lot 449 Popes Lucifer, sold to C & G Thomson
7500gns Lot 454 Rockytop Lacoste, sold to H MacDonald
7500gns Lot 479 Lagavaich Lewie, sold to A & B Kerr
7500gns Lot 554 Islavale Libra, sold to D Hodgson