Please click here to view the schedule for this year's Scottish National Show.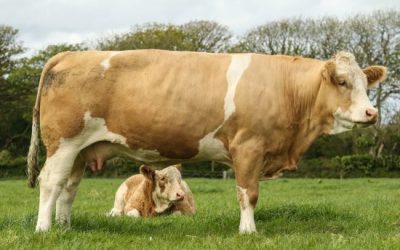 • Further cows and calves at 5500gns, and 5000gns• Cows and calves average £3382.50• Bulls sell to 4600gns• 27 lots gross £81,670 Cows and calves met with a strong trade and were led at 7000gns at the Reduction Sale of the noted Bosahan Herd of John & Bridget...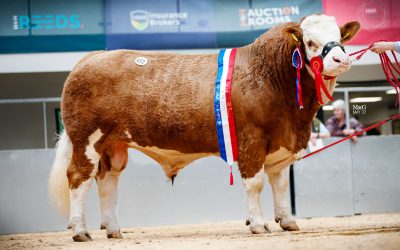 • 5000gns Tidkin Cow and Calf leads Tidkin & Jet Dispersal Sale• 15 Tidkin cows and calves average £3353• 28 Simmental lots in all gross £94,920• 4 Bulls average £5565 Bulls from the Chestermann herd of N&N Gwynne, Castlewigg Farm, Whithorn, Newton Stewart,...
Ballymena Show 28th May 2016 – Junior Heifer Derby – Final
Simmental top breed
at Ballymena parade
New breeders Oliver and Anthony McGuinness from Eglinton won the Woodcraft Kitchens (Kilrea) Simmental junior heifer derby at Ballymena Show.
Their winning entry was the fifteen-month-old heifer Cleenagh Good Girl, described by County Cork judge Tony O'Leary as a very correct and well-muscled heifer. Bred by Adrian Richardson from Maguiresbridge, she was sired by the Raceview King son Ashland Brandy, and is out of the Omorga Murray daughter Cleenagh Vikki.
Purchased for a top price of 5,400gns at the NI Simmental Club's March show and sale in Dungannon, Cleenagh Good Girl is a foundation female for the famliy's newly established Faughanvale Herd.
Runner-up was the January 2015 born Drumagarner Grace bred by Michael and Eamon McCloskey from Kilrea. Sired by the herd's former Irish-bred stock bull Barnattin Wally, she is out of a home-bred dam by Glebefarm Tyson.
The Simmental section was strongly supported, with Carlisle interbreed judge Glyn Lucas awarding the £100 Dankse Bank prize for the best breed on parade to the popular continental beef breed.
Taking the day's supreme championship was the female winner Ranfurly Lady Diana 24th from David and Jonny Hazelton's herd in Dungannon. Sired by Raceview King, her dam is the home-bred Ranfurly Lady Diana 10th by the 12,000gns Dovefields Gallant.
It was an all-female championship line-up with the reserve overall title going to the female runner-up Lisglass Fabulous from Ballyclare breeders Leslie and Christopher Weatherup. Sired by stock bull Dermotstown Delboy – Balmoral champion in 2014 and 2015, she is bred from the Woodhall Premier daughter Lisglass Cherry.
Judge Tony O'Leary from the 14-cow Seaview Herd said it was a brilliant show. "There were some strong classes, and the tops in each were of a high standard. I had some difficult decisions to make. The overall champion is a very correct and well-grown heifer. She is the one I'd like to be taking home."
Securing the male championship was Kilmore Gus, a February 2015 bull exhibited by Chris Traynor, Armagh. Sired by Hillcrest champion, he is bred from the Auchorachan Wizard daughter Ballinlare Farm Champagne – purchased from Joe Wilson for 6,600gns in 2012 at the joint Ballinlare Farm and Ranfurly production sale in Moira.
Standing in reserve position was the Dermotstown Delboy son Bridgewater Farm Gilroy bred by Nigel Glasgow from Cookstown. This fourteen-month-old bull was bred from the Raceview King daughter Ranfurly Beauty 6th.
Michael and Eamon McCloskey, Kilrea, qualified for the Ivomec Super Simmental Pair of the Year competition, with the home-bred heifers Drumagarner Flynn and Drumagarner Grace.
Class results from Ballymena Show include:
Heifer, born between 01/01/14 and 30/06/14 – 1, WD and JD Hazelton, Ranfurly Lady Diana 24th; 2, Nigel Glasgow, Slievenagh Flirt; 3, Duncan McDowell, Castlemount Kleeb 2.
Heifer, born between 01/07/14 and 31/12/14 – 1, JL and CJ Weatherup, Lisglass Fabulous; 2, JL and CJ Weatherup, Lisglass Felicity; 3, Duncan McDowell, Castlemount Bianca 2; 4, M and E McCloskey, Drumagarner Flynn.
Bull, born between 01/01/15 and 31/08/15 – 1, Chris Traynor, Kilmore Gus; 2, Nigel Glasgow, Bridgewater Farm Gilroy; 3, Duncan McDowell, Castlemount Goldsmith; 4, Robin Boyd, Slievenagh Gigolo; 5, S and P McDonald, Coolcran Gladiator.
Pair, property of exhibitor – 1, JL and CJ Weatherup; 2, M and E McCloskey; 3, Nigel Glasgow.
Junior Heifer Derby, sponsored by Woodcraft Kitchens (Kilrea)- 1, Oliver McGuinness, Cleenagh Good Girl; 2, M and E McCloskey, Drumgarner Grace; 3,  JL and CJ Weatherup, Lisglass Goldie; 4, Aaron Smyth, Newbiemains Goldie; 5, WD and JD Hazelton, Ranfurly Weikel 16th.