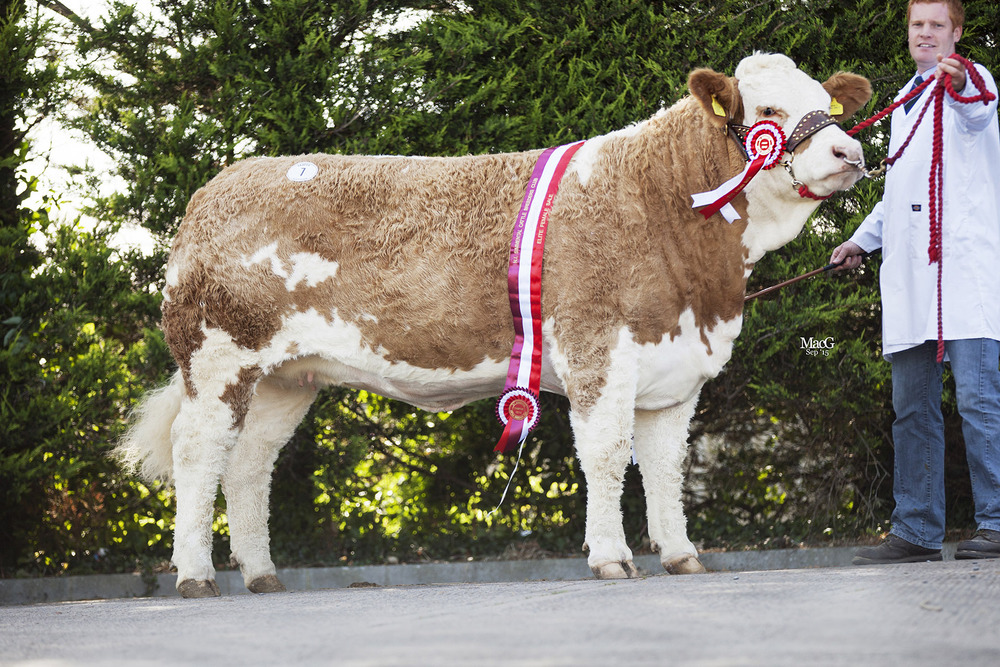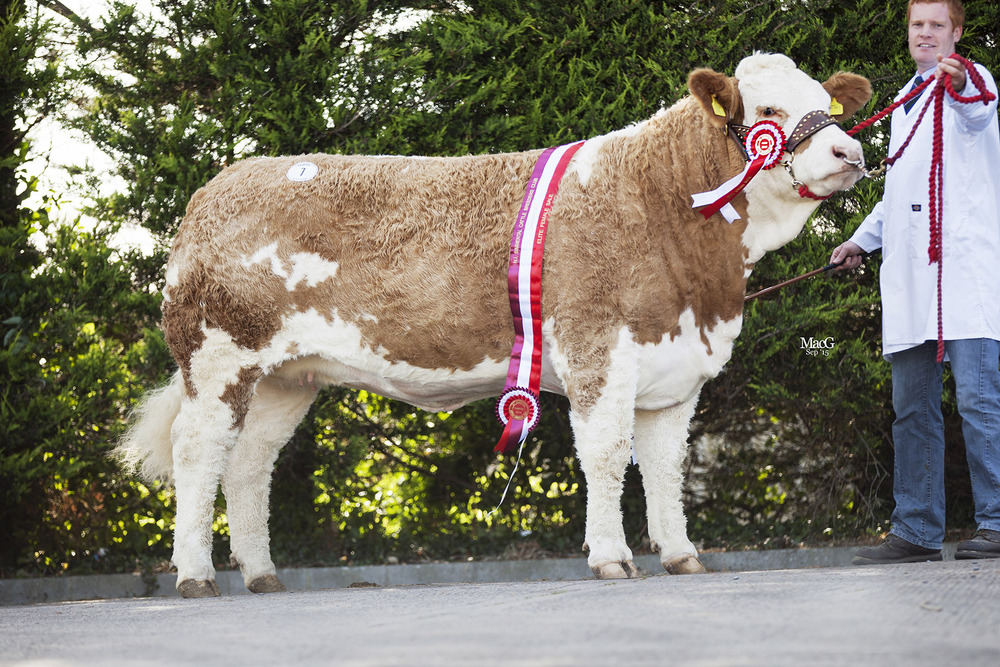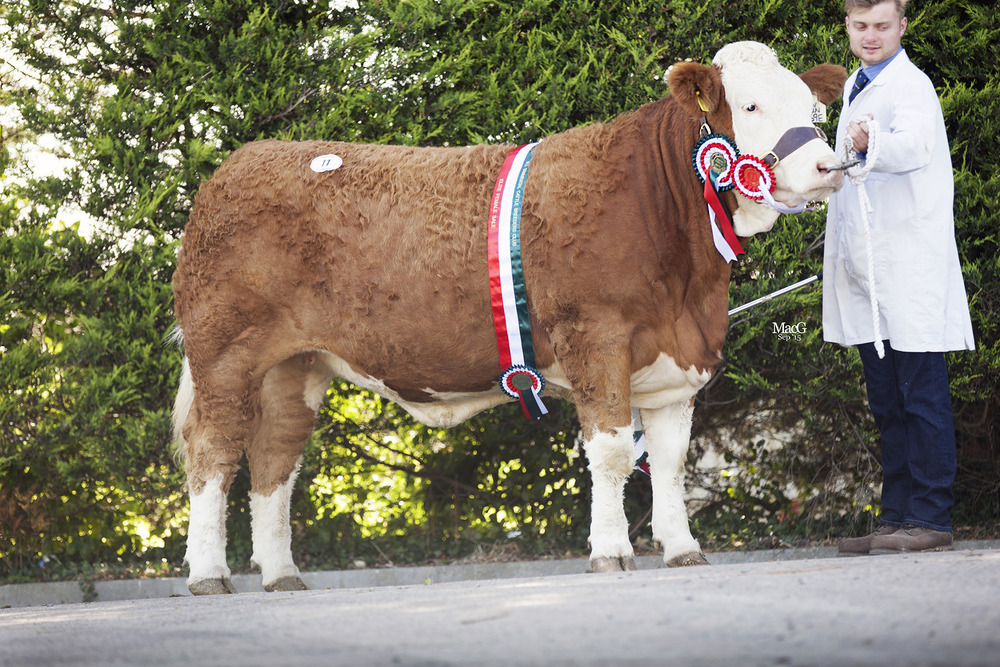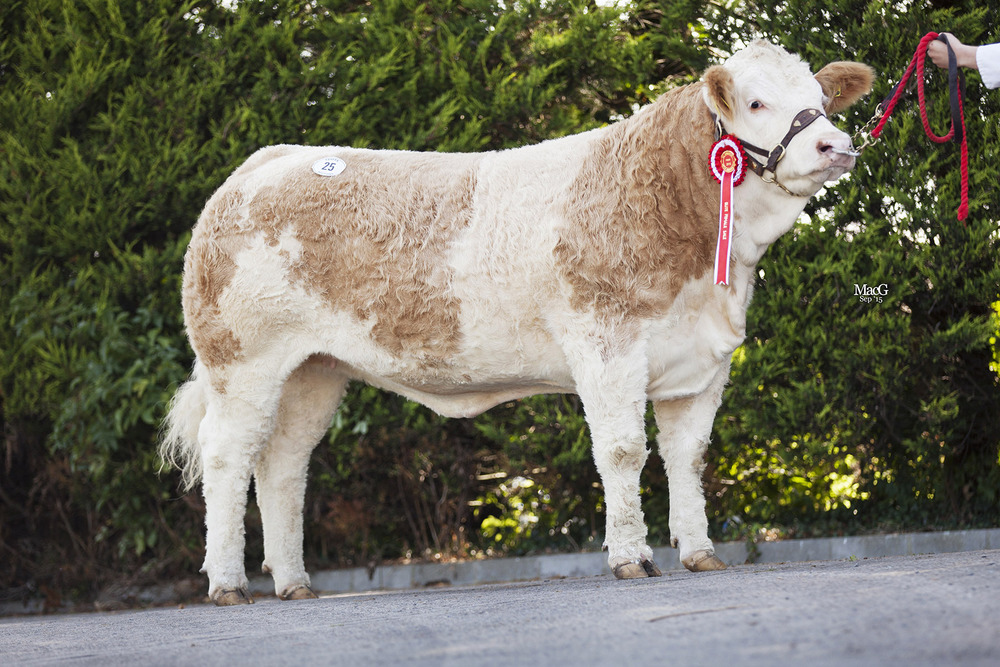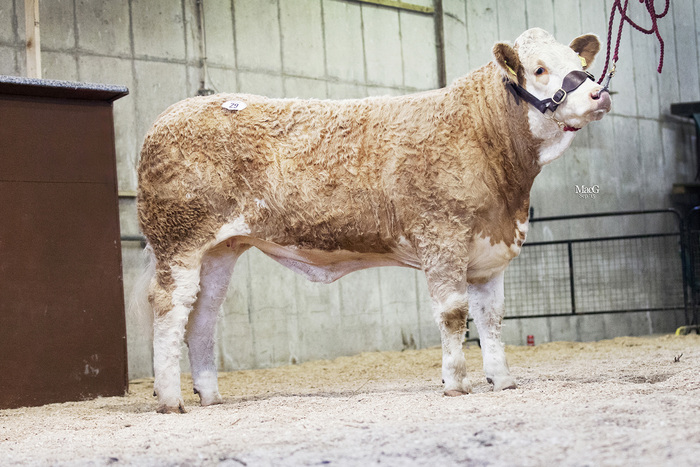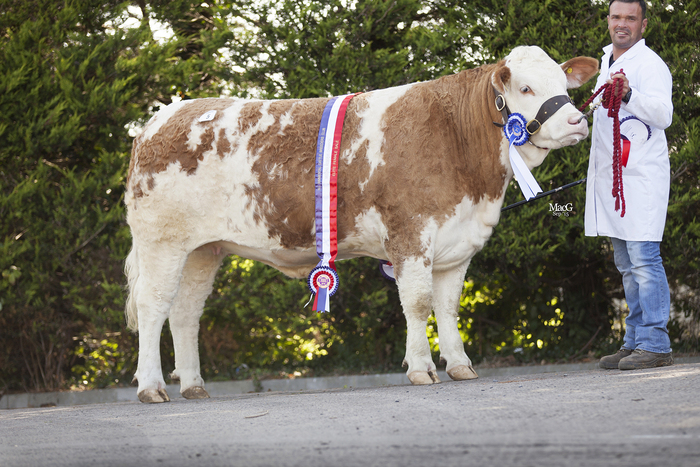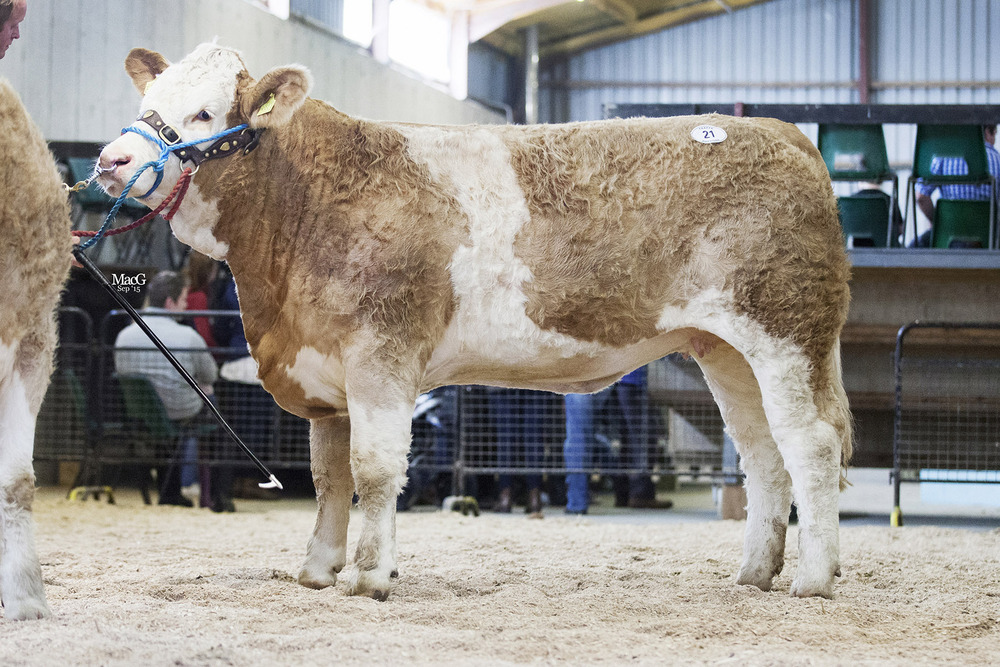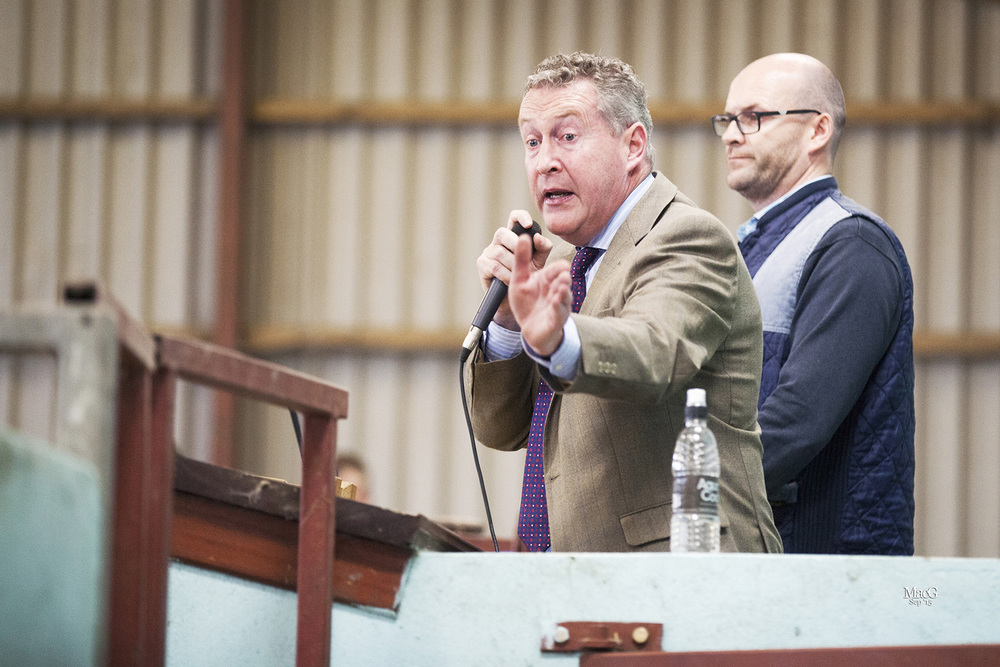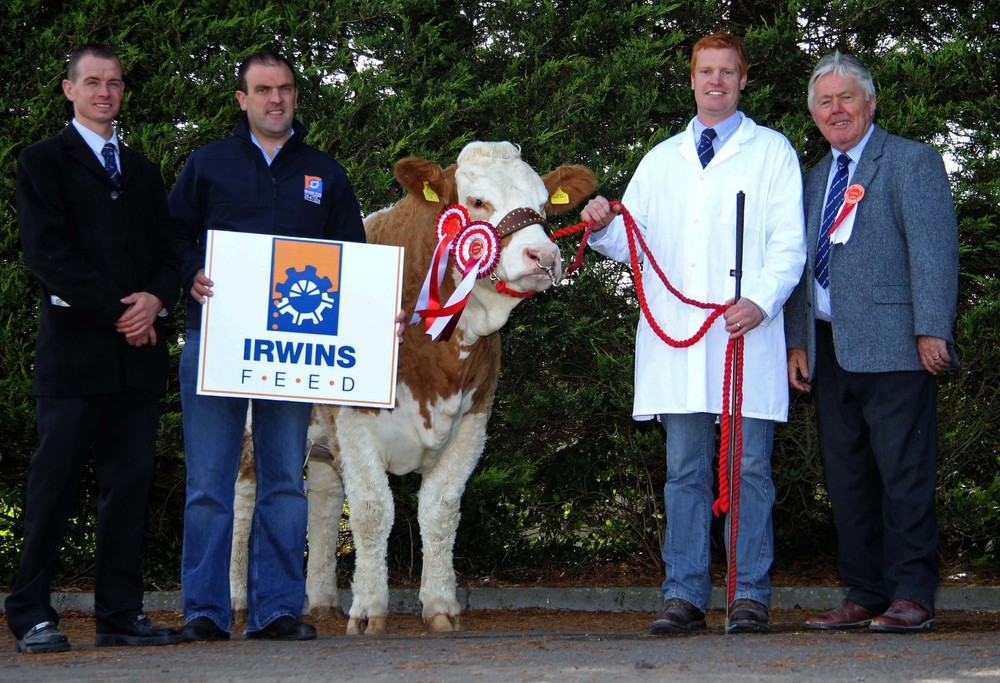 Bidding reached a ceiling of 6,600gns at the Northern Ireland Simmental Cattle Breeders' Club's 45th Anniversary Elite Female Show and Sale, hosted by Taaffe Auctions at Moira.
Hitting the headlines in both the show and sale rings was the much-admired Lisglass Emerald, an August 2013 born heifer consigned by Leslie and Christopher Weatherup, Ballyclare. Sired by the 20,000gns Stirling junior and supreme champion (Feb 2010) Auchorachan Wizard, she is bred from the Kilbride Farm Newry daughter Lisglass Babe – one of 35 cows in the County Antrim herd.
She stood second in the intermediate heifer class at Balmoral Show in May, and caught the eye of breed society president and judge David Donnelly, Derbyshire, to secure the supreme championship ribbons at the anniversary event.
Mr Donnelly who runs the 10-cow Atlow herd said:"The champion looks a million dollars. She has length, top, a great backend, and oozes femininity and breed character."
After spirited bidding from the packed ringside audience, auctioneer Michael Taaffe brought the hammer down at 6,600gns, with the successful bid coming from Simmental breed stalwart Thelma Gorman, who founded her select Woodford Herd at Armagh almost 40 years ago.
Next best at 5,600gns was the day's reserve champion Kilbride Farm Eunice 169E from the Robson family, Billy, Michael and Norman, who run 90 pedigree cows at Doagh, County Antrim. This two-year-old heifer was sired by Kilbride Farm Warren, and is out of a home-bred Carnkern Titan daughter.
Scanned in-calf to Danish stock bull Sneumgaard Imperator, she sold to County Londonderry breeders Roger Henderson, and son Jonathan, who established the Drumsamney herd in 2011.
Claiming the day's second reserve award was Ballinlare Farm Elegance, a July 2013 Auchorachan Wizard daughter from Joe Wilson's herd at Newry, County Down. She is out of a home-bred Kilbride Farm Newry daughter, and is scanned in-calf to Curaheen Apostle. This one failed to meet her reserve and was unsold.
County Fermanagh's Harold Stubbs, and grandson Alan Burleigh, realised 4,600gns for the first prize winning Derrycallaghan Fancy Me. Born in April 2014, her sire is the 21,000gns Corrick Kentucky Kid, while her dam is the Popes Laird daughter Corskie Vesna .
She was runner-up at the Woodcraft Kitchens (Kilrea) junior heifer derby at Lurgan, and was placed second in her class at Enniskillen Show. This one joins Gareth Wilson's Hillhead Farm Herd at Garvary, Enniskillen.
David Hazelton's fourth prize winner Ranfurly Lady Diana 24th by Raceview King attracted considerable attention, including interest from a telephone bidder, but was withdrawn from the sale ring unsold at 4,500gns.
The Robson family's Kilbride Farm Herd which dates back to the breed's importation 45 years ago, sold four heifers to average £3,426 per head. Selling for export to Patrick Hogan, County Carlow, at 3,500gns was Kilbride Farm Eunice 168E. This fifth prize winner is a daughter of the 15,000gns Cairnview Snazzy, and is bred from a Kilbride Farm Newry dam.
Harry Moore, and son John, Beragh, County Tyrone, sold four heifers from their noted Omorga herd to average £2,992 each. Their best at 3,200gns was the third placed Omorga Fabia, a June 2014 Ashland Brandy daughter, bred from a Blackford Explosion dam. This one goes back to the noted Cleenagh Daffodil, and caught the eye of John Barlow from the Denizes Herd based in Lancashire.
The March 2014 Omorga Faith sold at 3,100gns. She is by Dermody Butcher, and is out of a home-bred dam by Glebefarm Future. This one joins Cecil McIlwaine's Corrick Herd based at Newtownstewart, County Tyrone.
David Donnelly thanked the NI club for inviting him to judge "I love Simmental females, and the quality of the heifers on show today makes me proud to be president of the society. It has been a great show, and the cattle are a credit to the breeders involved."
The NI Simmental Cattle Breeders' Club is indebted its sponsors: Irwins Feed, Tulivin, Bimeda, Animax, T-Met, Comfort Mats, Ag-Con Products Ltd and Crystalyx.
Average: 14 heifers £3,282.
Results from the show ring include:
Heifer, born between 08/03/13 and 21/08/13 – 1, and supreme champion, Leslie and Christopher Weatherup, Ballyclare, Lisglass Emerald from Auchroachan Wizard; 2, and second reserve champion, Joe Wilson, Newry, Ballinlare Farm Elegance by Auchorachan Wizard; 3, Keith and Andrea Nelson, Rosslea, Scribby Farms Elegant by Drumlone Anchor; 4, David Hazelton, Dungannon, Ranfurly Lady Diana 21st by Seabank Flint.
Heifer, born between01/09/13 and 01/12/13 – 1, and reserve champion, WH Robson and Sons, Doagh, Kilbride Farm Eunice 169E by Kilbride Farm Warren; 2, Adrian Richardson, Maguiresbridge, Cleenagh Easypeasy by Whitemire King Kong; 3, Stephen Millar, Irvinestown, Glenock Eggbrit by Curaheen Vio ; 4, Shane and Paul McDonald, Tempo, Coolcran Susie's Erica by Raceview Nigel.
Heifer, born between 02/01/14 and 30/04/14 – 1, Harold Stubbs and Alan Burleigh, Lisnaskea, Derrycallaghan Fancy Me by Corrick Kentucky Kid; 2, William and George Nelson, Rosslea, Drumacritten Frances by Drumlone Anchor; 3, WH Robson and Sons, Kilbride Farm Dora 71F by Crugmelyn Brenin; 4, David Hazelton, Ranfurly Lady Diana 24th by Raceview King.
Heifer, born between 14/06/14 and 16/10/14 – 1, Eamon and Michael McCloskey, Kilrea, Drumagarner Finna by Kilbride Farm Bantry; 2, Archie Reaney, Markethill, Cladymore Felicity by Omorga Baldwin; 3, WH Robson and Sons, Kilbride Farm Eunice 185F by Crugmelyn Brenin; 4, Harry and John Moore, Beragh, Omorga Fabia by Ashland Brandy.