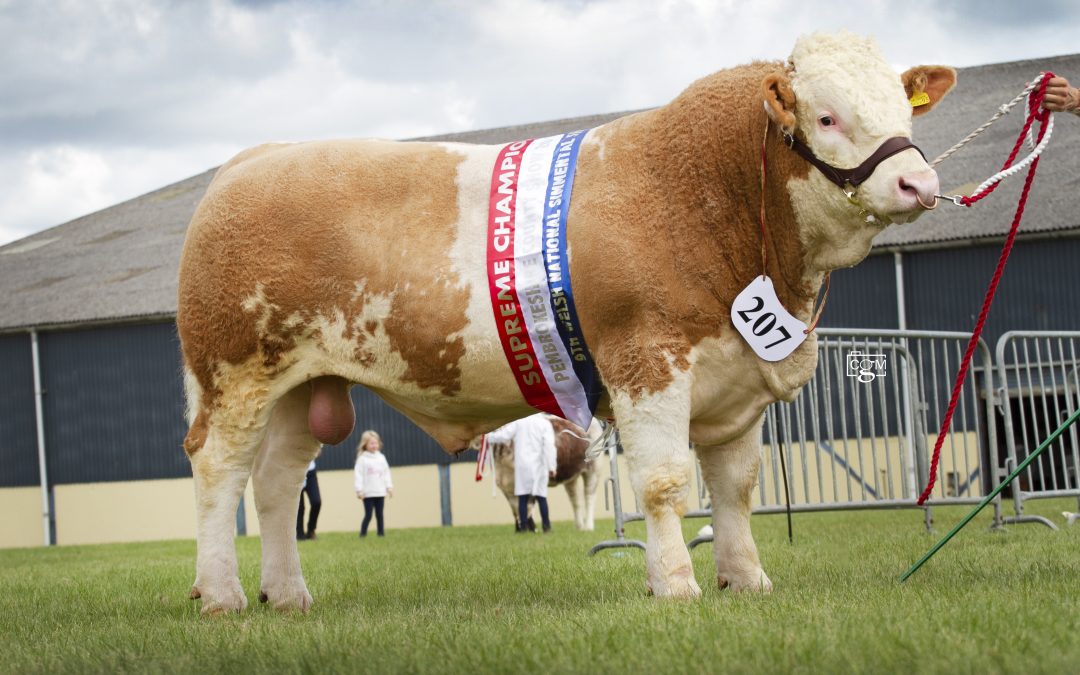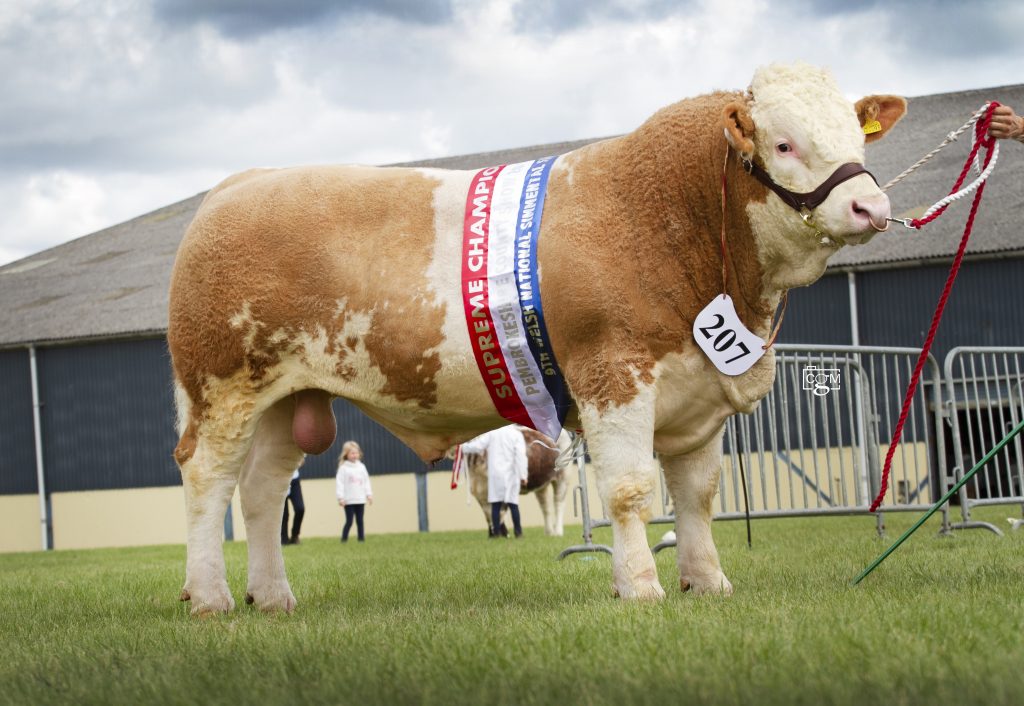 Firstly, I would like to thank the Pembrokeshire Agricultural Society for asking me to judge. It was a great honour to be invited to judge the Welsh National Show of Simmentals.
Senior Bull class – Shiloh Farm Forever Royal, stood alone, shown in his working clothes but moving freely around the ring. The January Bull class was won by Cwarre Jester 18, a well fleshed bull that moved well. He excelled through the rib and loin and will be an asset to any herd. He went on to stand Male Champion. The April Class had 2 bulls forward. I placed Alreb Jonesy over Hirwaun Jimmy Mac. Jonesey stood a slightly smaller bull to Jimmy Mac but Jonesey was better through the rear quarter being longer from hip to pin, fuller and deeper through the second thigh, he also moved better. The second placed bull Hirwaun Jimmy Mac will make a big long bull and needs time to fill into his frame. Difficult to judge these two as two totally different bulls but on the day Alreb Jonesey was the more complete bull he went on to be Reserve Male Champion. The Bull Calf Class – Gwili Jack 18 stood alone but a worthy winner. Well fleshed with plenty of potential for the future.
Senior Cow was won by Kilbride Farm Eunice 153rd. A big well fleshed cow who edged Welston King Clara into second place. The 2yr old Heifer class had two forward with very little to separate them. The nod went to Crugmelyn Icing Sugar over Crugmelyn Indigo. Just 2yr old this darker coloured heifer had exceptional ring presence. She was well balanced, covering a lot of ground when standing. Good in the shoulder. A well sprung rib and good through the loin. Icing Sugar going on to be Female Champion, one for the future. The Heifer Class born after September 17 was won by Cwarre Rosie's Ilex a good well-balanced heifer who exhibited a lovely breed type and should mature well. The Yearling class was won by Cwarre Dora's Jigsaw a stylish heifer who caught the eye with her presence. A strong heifer who went on to stand Reserve Female Champion. The April class was won by Crugmelyn Jelly Baby and the Calf class was won by Cwarre Rosie's Jasmin.
Sadly, the entry lacked significant numbers, but the animals forward were all excellent examples of the breed. The Male Champion Cwarre Jester 18 a stylish well-muscled bull stood over the Female Champion Crugmelyn Icing Sugar to take the Championship.
I would like to thank all exhibitors for bringing their animals forward. Well done everyone.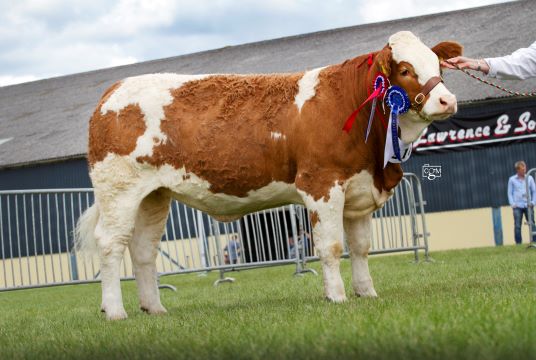 DATE: 13th August to 15th August 2019
JUDGE: Mr J W May
CLASS & POSITION
NAME OF ANIMAL
SIRE
DAM
EXHIBITOR
Male Champion and Overall Breed Champion
CWARRE JESTER 18
DENIZES EXCLUSIVE 13
CWARRE CINDERELLA'S FIREFLY
RICHARD JAMES CUMMING
Female Champion and Reserve Overall Breed Champion
CRUGMELYN ICING SUGAR
CRUGMELYN ELVIS 13
CRUGMELYN BOUNTY
G & E LLOYD
Reserve Junior bull, reserve male champion
HIRWAUN JIMMY-MAC 18
PENWERN AMBER 09
DEERHURST DARLING
MR A DAVIES
Reserve Female and junior heifer champion
CWARRE DORA'S JIGSAW
AUROCH ACE
KILBRIDE FARM DORA67E
RICHARD JAMES CUMMING
Reserve Junior female
CWARRE ROSIE'S ILEX
DELFUR DECIDER 12
DENIZES ROSIE'S CADETTE
RICHARD JAMES CUMMING
Bull born on or before 31.12.17
1. SHILOH-FARM FOREVER ROYAL
KILBRIDE FARM BANTRY 10
SHILOH C ROYAL BABE (ET)
MR A G DAVIES
Bull born on or between 01.01.18 and 31.03.18
1. CWARRE JESTER 18
DENIZES EXCLUSIVE 13
CWARRE CINDERELLA'S FIREFLY
RICHARD JAMES CUMMING
Bull born on or after 01.04.18
1. HIRWAUN JIMMY-MAC 18
PENWERN AMBER 09
DEERHURST DARLING
MR A DAVIES
2. ALREB JONESY 18
PENWERN AMBER 09
DEERHURST BRONTE
MR ALED EVANS
Bull calf born on or after 01.09.18
1. GWILI JACK 18
AUCHORACHAN WIZARD
FOLE NUTWOOD VICTORIA 43
MR M K BEYNON
Cow any age, in-calf or with a calf at foot
1. KILBRIDE FARM EUNICE 153D
KILBRIDE FARM WARREN
KILBRIDE FARM EUNICE 79W
RICHARD JAMES CUMMING
2. WELSTON KING CLARA
BROOKWOOD ALLA KING
BRIDGEMOUNT CLARA
MR A G DAVIES
Heifer born on or between 01.01.17 and 31.08.17
1. CRUGMELYN ICING SUGAR
CRUGMELYN ELVIS 13
CRUGMELYN BOUNTY
G & E LLOYD
2. CRUGMELYN INDIGO
CRUGMELYN ELVIS 13
SWALLOWHILL CALICO
G & E LLOYD
Heifer born on or between 01.09.17 and 31.12.17
1. CWARRE ROSIE'S ILEX
DELFUR DECIDER 12
DENIZES ROSIE'S CADETTE
RICHARD JAMES CUMMING
Heifer born on or between 01.01.18 and 31.03.18
1. CWARRE DORA'S JIGSAW
AUROCH ACE
KILBRIDE FARM DORA67E
RICHARD JAMES CUMMING
Heifer born on or after 01.04.18
1. CRUGMELYN JELLY BABY
CRUGMELYN ELVIS 13
CRUGMELYN CARAMAC
G & E LLOYD
Heifer calf born on or after 01.09.18
1. CWARRE ROSIE'S JAZMIN
CLONAGH FROSTY KING (ET)
DENIZES ROSIE'S CADETTE
RICHARD JAMES CUMMING
Pair of animals, male, female or mixed from same exhibitor
1. RICHARD JAMES CUMMING
Pair of heifers, owned by same exhibitor, born on or after 01.09.16
1. G & E LLOYD
2. RICHARD JAMES CUMMING
Group of three animals, property of the same exhibitor
1. RICHARD JAMES CUMMING