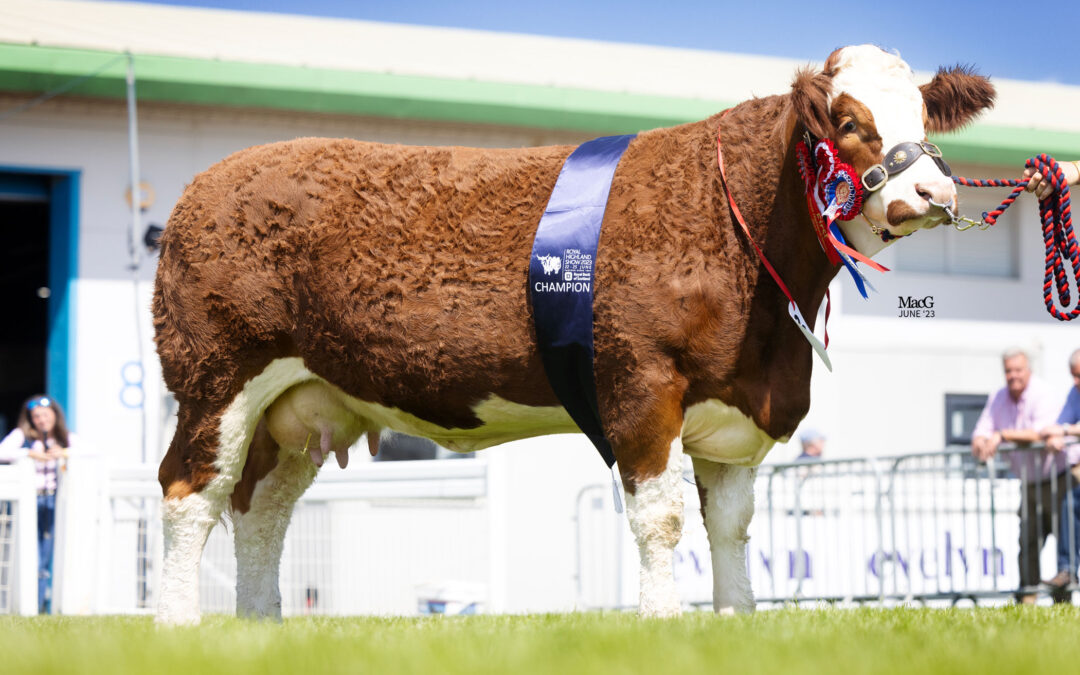 • Backmuir win Overall Supreme; Male; & Female Championships
• Corskie team wins Overall Junior; Reserve Supreme; Reserve Overall Junior; Junior Female; Reserve Junior Female; Reserve Overall Female; Junior Male; & Group of Three
• Corskie Nutmeg wins Reserve M&S Beefbreeder Interbreed; Overhill House Neo takes Third
Played out in some sparkling sunshine, a high-quality Simmental line up turned up the heat and dazzled the ringside crowd on day one of the 2023 Royal Highland at Ingliston, Edinburgh on Thursday 22nd June.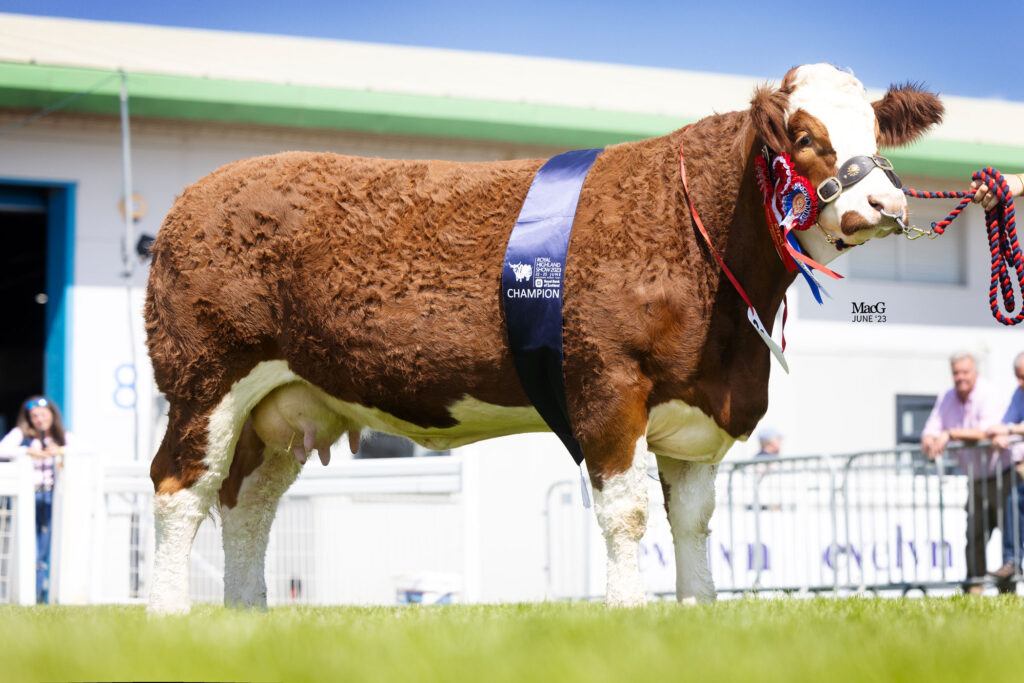 Judge for the day Simon Key of the noted Key herd, Abbey Farm, Loddon, Norwich was enjoyably put through his paces as the show of bulls and females through the classes put on a first-class demonstration of the modern attributes of the Simmental breed. After some four hours of judging the Supreme Championship tap forward was given to the first calved heifer Annick Ginger's Lucia, with her classy heifer calf at foot, Annick Lucia's Nicosia (P), and with the outfit owned and exhibited by Reece & Andrew Simmers, Backmuir Farm, Keith, Banffshire. For the Simmers the win represented the fantastic achievement of a second consecutive Royal Highland Simmental Supreme Championship and following their win with Islavale Lullaby last year.
Bred by the late Lachlan Quarm, Holehouse Farm, By Irvine, Ayrshire, Annick Ginger's Lucia was bought at the Annick herd's Dispersal Sale in September last year for 16,000gns. At the sale this heifer had stayed at home due to having calved the day before but the Simmers had had full sight of her through the summer and particularly at the corresponding Highland where she had stood Overall Reserve to the Simmers themselves! This high-quality February 2020 born heifer Is sired by Wolfstar Golddigger, and is out of Annick Colleen's Ginger who led the aforementioned sale at 23,000gns. Her eye-catching September 2022 heifer calf at foot is sired by Kilbride Farm Karl, a Curaheen Gunshot (P) son. Annick Ginger's Lucia initially came through a high-powered head to head in her class against team mate Brandane Lu Lu, bred by Jimmy & Kath McMillan, Bradwell Ash, Bury St Edmunds, and who the Simmers purchased for 18,000gns at the Next Generation II Simmental Sale at Carlisle in December last year.
Commenting on the Supreme Champion, the judge Simon Key said: "My choice of Champion is an outstanding female and just full of that special Simmental 'jazz'! She has a super breed head, a great top line, plenty of length, is tremendous on her plates with a perfect tail head setting, and was shown with a cracking heifer calf at foot. She's everything a modern Simmental is all about, working hard, rearing a calf with a tremendous future, and whilst keeping her condition."
It was a day of Royal Highland doubles for the increasingly prolific 80-cow Backmuir herd with the herd winning both the Male and Female Championship, to add to their back-to-back Overall Supreme titles. This was only the herd's third time showing Simmentals at the Royal Highland and with their debut being in 2019 when they picked up the Reserve Overall with Sterling FCUK Impuls. Quite a record over three shows! Speaking afterwards, a highly delighted Reece Simmers said: "It's very, very special to win the Royal Highland, in my eyes the leading Simmental breed show. To 'defend' that title this year and 'double up' is an amazing feeling, a great honour, and way beyond expectations. Annick Ginger's Lucia has all the makings of being a really high-quality Simmental cow, and she's doing a great job of her first calf who is herself a heifer full of potential. In recent years we've bought what we feel are cornerstone females to future proof and develop the progress of the herd. I hope these females in time will allow us to keep improving and breed first quality homebred Backmuir Simmental bulls and females."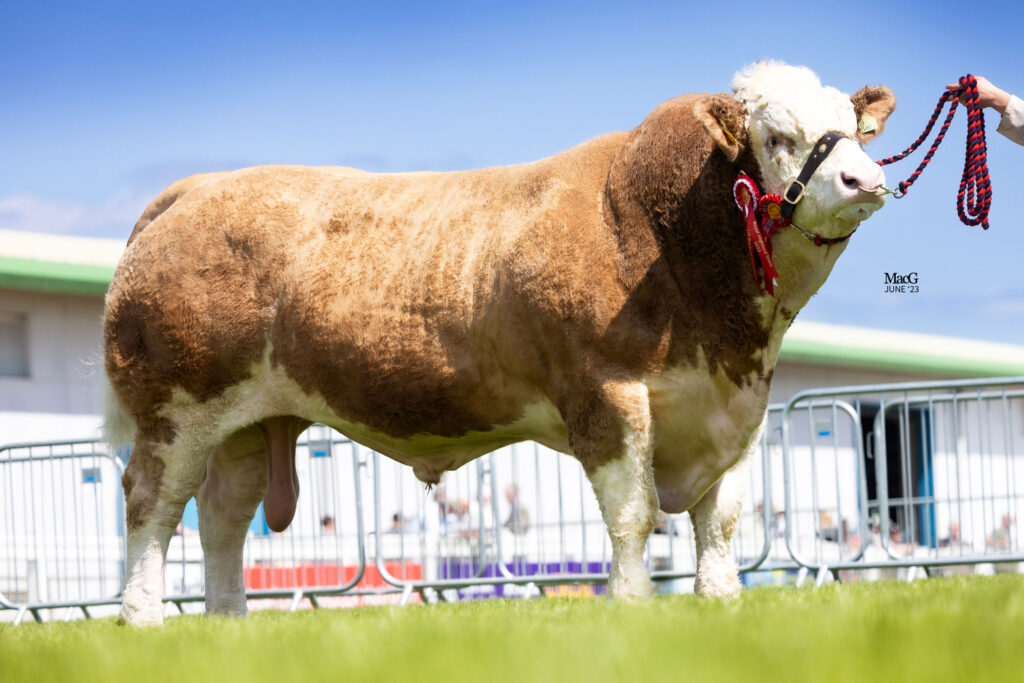 Keeping the theme, and winning their highest award to date at the Royal Highland with a homebred animal, the March 2019 born Backmuir King powered through against some top notch bulls to lift the Overall Male Championship. This March 2019 born bull is by Islavale Hamilton and is out of Starline Olivia 27th, a Skerrington Warlord daughter. This was a first, and likely last time, for this bull to be shown with the intention now to turn him out over this next few days with 25 to 30 cows. Backmuir King sons will be entered into the upcoming Stirling Sale in October and with the Royal Highland being the perfect vehicle to showcase the sire's qualities. After a fantastic show, the Backmuir team headed for home and with some consideration being given to taking aim at the Scottish National Show due to be held on Saturday 5th August at Dumfries Show.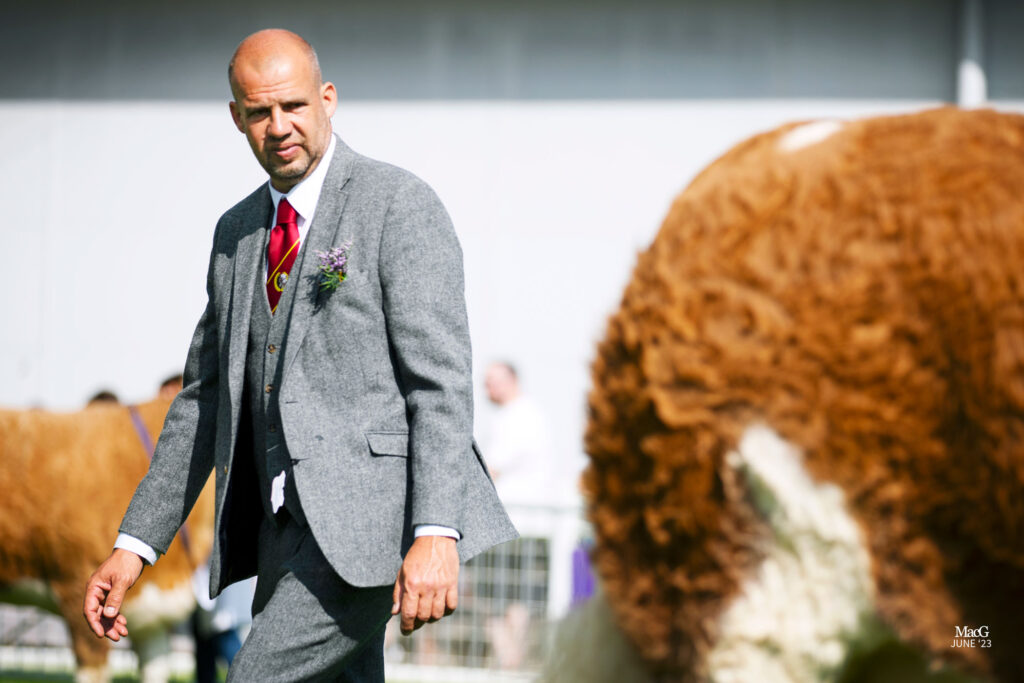 With general reflections on the Simmental day the judge Simon Key said: "I'd like to heartily congratulate all of the exhibitors today for putting on such a tremendous show of modern Simmentals. I think that was as good a breed spectacle as you would hope to see and just look at the crowd it held at ringside through the judging. The breed has a real commercial momentum behind it and you can see why. Stylish, correct bulls with length, width, shape and good on their plates. The females were similarly just full of style, consistency and quality, and with a lot of future in the young stock. The milk in the Champion is a typical Simmental female hallmark and I think these qualities, and the natural efficiencies of the breed are just really resonating with commercial producers. At a personal level it's both a privilege and an honour for a 'lad from Norfolk' to have been asked to judge at the Royal Highland. This is the breed's 'Champions League', the pinnacle, and I've massively enjoyed the day."
No strangers to the winners circle at the Royal Highland it was nonetheless a show day to remember for the well-known Corskie team of Iain Green, and his daughter Laura, Corskie, Garmouth, Fochabers, with their entry of seven animals winning a remarkable 'haul' of first prizes and Championship titles. A roll-call of the 'prize-booty' secured includes: Six class first prizes and a second; the Reserve Supreme; Reserve Overall Female; Overall Junior; Reserve Overall Junior; Junior Female; Reserve Junior Female; Junior Male; the Group of Three; and Reserve M&S Beefbreeder Interbreed. A truly outstanding performance given the depth of quality in the competition.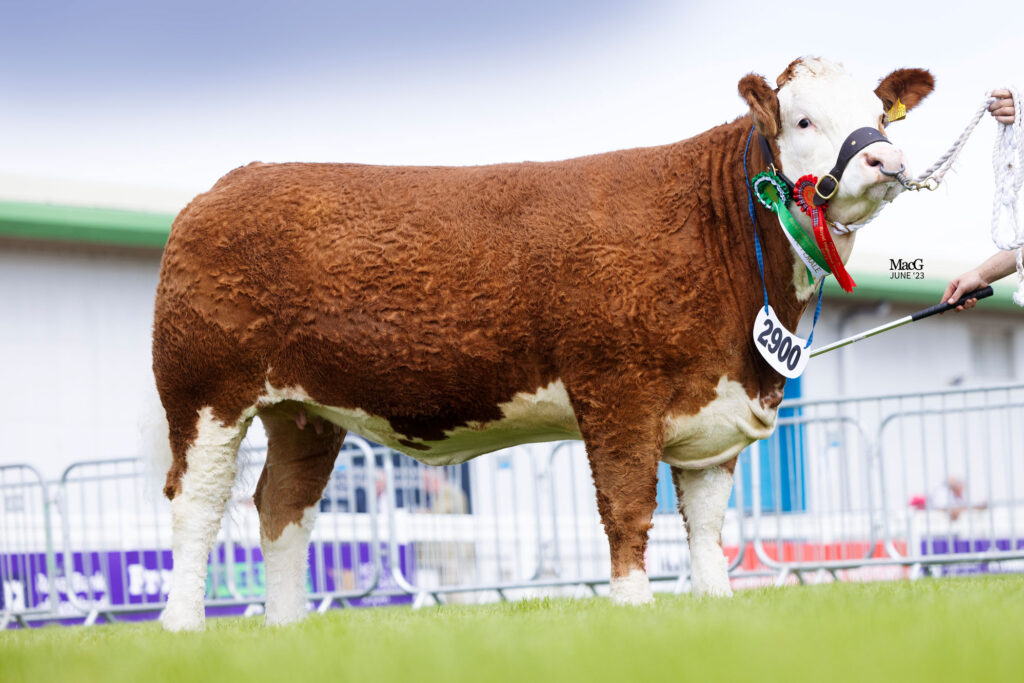 The sire of three of the Corskie first prize winners was Kilbride Farm Haka who was purchased at Stirling in February 2018 for 10,000gns. This included the days Reserve Overall Supreme, and Reserve Overall Female in the shape of Corskie Mimic. This January 2021 born heifer, out of Corskie Imitation, initially won the fourth class of the day for females born on or between 1st January and 30th June 2021. Last year this heifer was Overall Junior Champion at the Scottish National Show. In the previous class the first prize ticket went to the October 2021 born Corskie Miami with this heifer then going to lift the Junior Female, and Overall Junior titles. Corskie Miami is by Rathnashan Kellog's, and is out of Corskie Hollywood (P), a Lynde General (P) daughter. Lifting the Reserve Junior Female title, and the winner of the first class of the day, was another stylish Kilbride Farm Haka daughter in the form of Corskie Namenco. April 2022 born, Namenco is out of Corskie Framenco, a Corskie Delboy daughter. In the final class of the day Corskie Namenco, and Corskie Mimic teamed up with the second prize in class two Corskie N-Enna, all sired by Kilbride Farm Haka, to win the Group of Three. At last year's show Kilbride Farm Haka was the sire of the Reserve Junior Male Corskie Mikah and who himself later went on to sell for 11,000gns.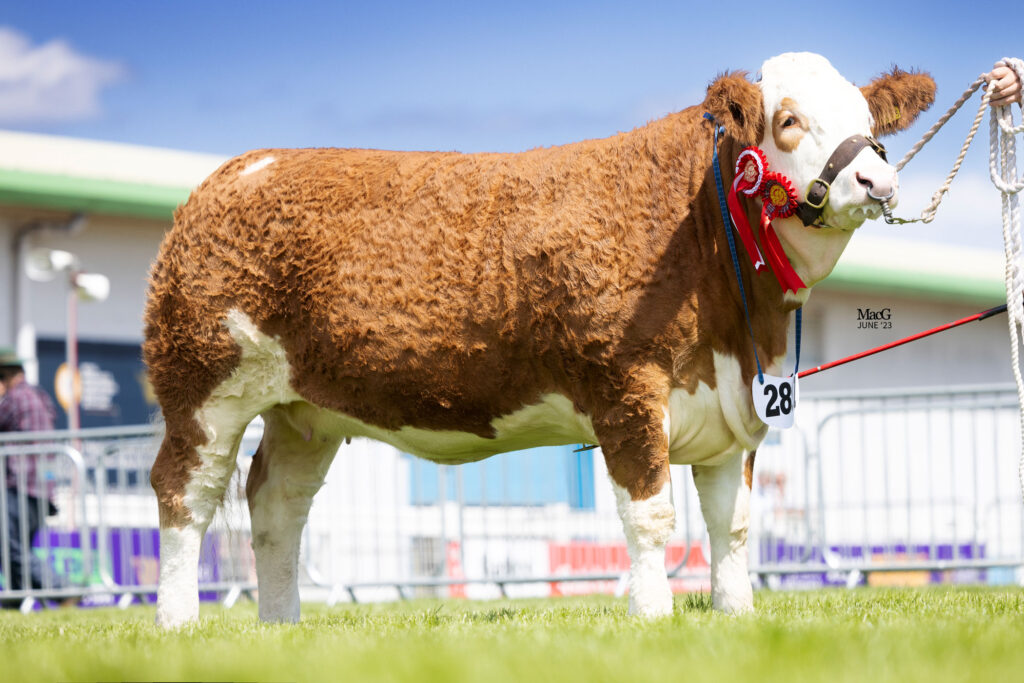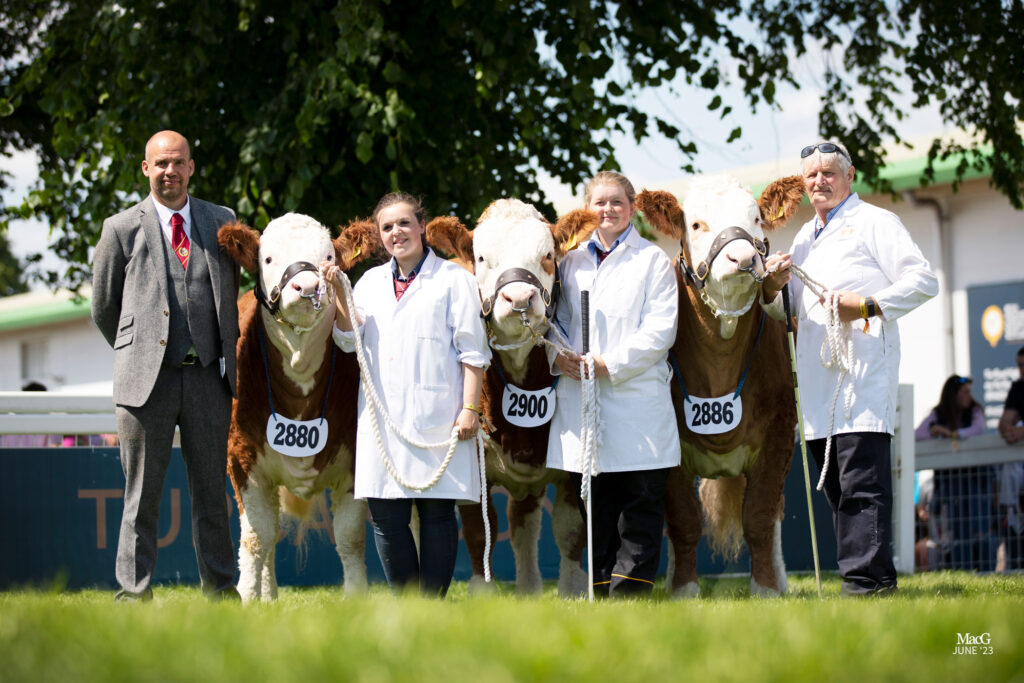 With previous Royal Highland Championships and Interbreeds behind them over a number of years, this year's show was arguably the 180 cow Corskie herd's most successful to date. Commenting on a memorable day Laura Green said: "We are all really proud of this Corskie team and the success they've had today against such a depth of quality in the Simmental classes. It's very much a team affair for Corskie with dad, Jemma, Hannah, our stockman Shaun Cumming, and myself all involved and with a lot of hard work behind the scenes to get to this point. We had three sires featuring in the first prize winners but with Kilbride Farm Haka coming to the fore. He's leaving progeny male and female that are full of breed characteristic, with length, both shape and growth, and with plenty of style. There's a lot of established, consistent, homebred breeding in the dams in this team and that's the first foundation for the quality of the progeny. It was a super day for the breed as a whole and I really think with the young bulls on show, and with females like the Champion just full of milk and doing their calves so well, the Simmental breed is really coming into its own."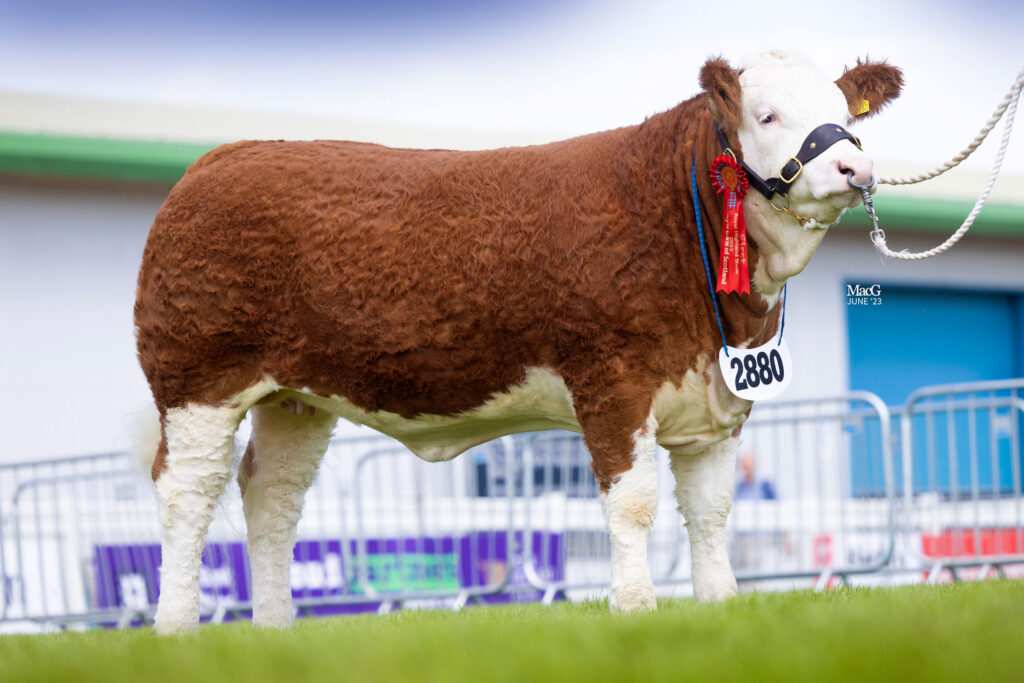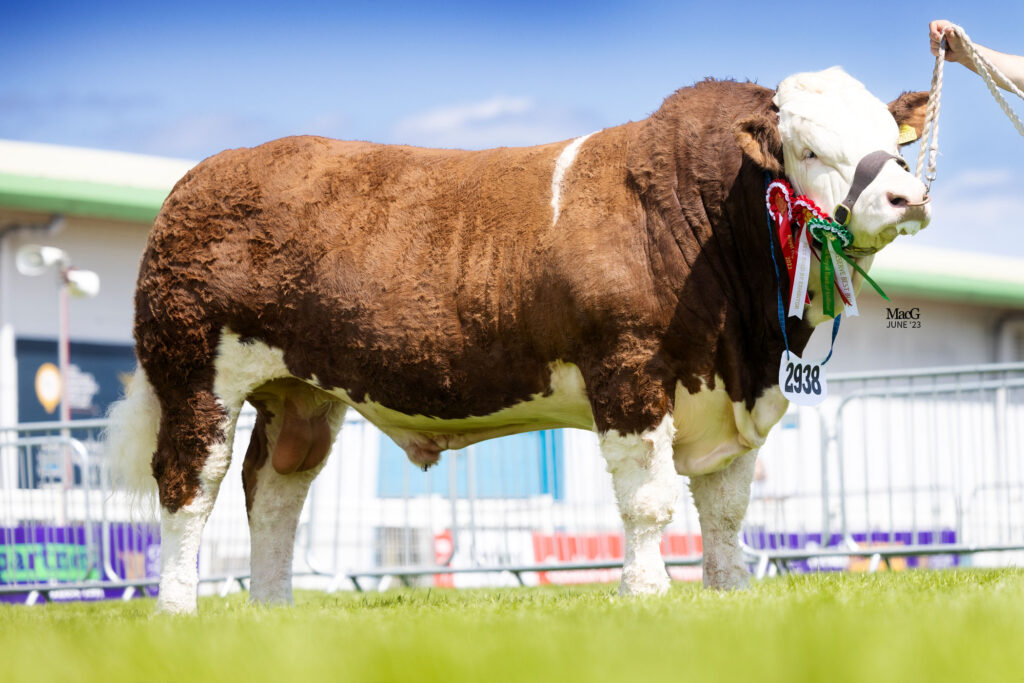 Making a big impression on the ringside crowd, the two young bull classes provided an in- depth showcase of modern Simmental bulls full of breed character, length, correctness, shape, and style. The first class featured 13 young bulls and with a depth of quality throughout. It was from the second class however that Corskie Nutmeg, one of the stars of the day, emerged. This January 2022 born bull, again by Kilbride Farm Haka, and out of Corskie Jasmine, took the red prize ticket before moving on to secure the Reserve Overall Male, the Junior Male, and Reserve Overall Junior titles. On the Friday morning, this stylish young bull took the Reserve title in the M&S Beefbreeder Interbreed in front of the judge, William McAllister, Ballymena. Standing second in the class to Corskie Nutmeg, and following him through to take the Reserve Junior Male title, was Blackford Nimrod from the noted 30-cow herd of Anne MacPherson, Blackford Farm, Croy, Inverness. March 2022 born, an ET calf Nimrod is full of breeding being by the noted show bull Heathbrow Important (P), a past European Simmental Champion, and is out of Blackford Wagtail, a Kilbride Farm Strabane daughter and the dam of the record-breaking Bel Dhu Capercaillie. With one or two local shows possibly ahead of him, the main aim for this young bull will now be the October Sale at Stirling.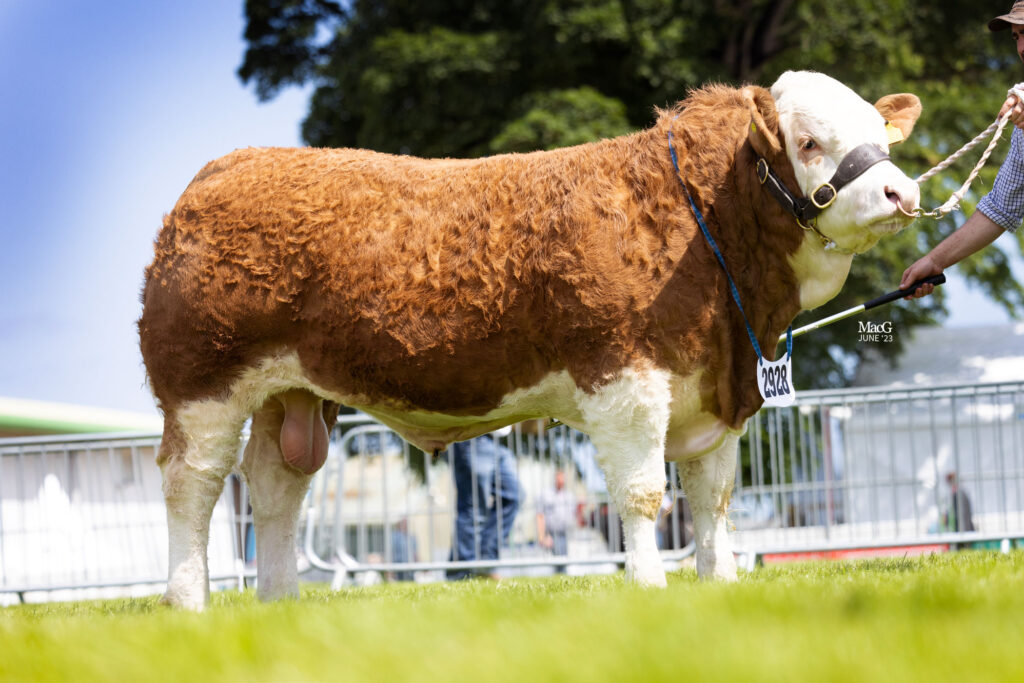 In the first class it was Corskie Netflix who came out on top of the mighty baker's dozen of young bulls. Sired by the prolific Auchorachan Hercules, this April 2022 born calf is out of the Bel Dhu Capercaillie daughter Corskie Highness. Taking second in this strong class was the shapey Rockytop Novak from Gary & Angela Christie, Birchfield, Glass, Huntly. April 2022 born, this bull is by Glenturk Kingpin and is out of Rockytop Clover's Gwen. In third place was the eye-catching Overhill House Neo from Richard McCulloch, Armadale, West Lothian. Again April 2022 born, Neo is the first calf to be shown sired by the herd's 26,000gns sire Pistyll Kingsman, and is out of the Irish bred Seepa Daffodil. Another bull to feature in the Interbreeds, Overhill House Neo stood as second Reserve in the M&S Beefbreeder.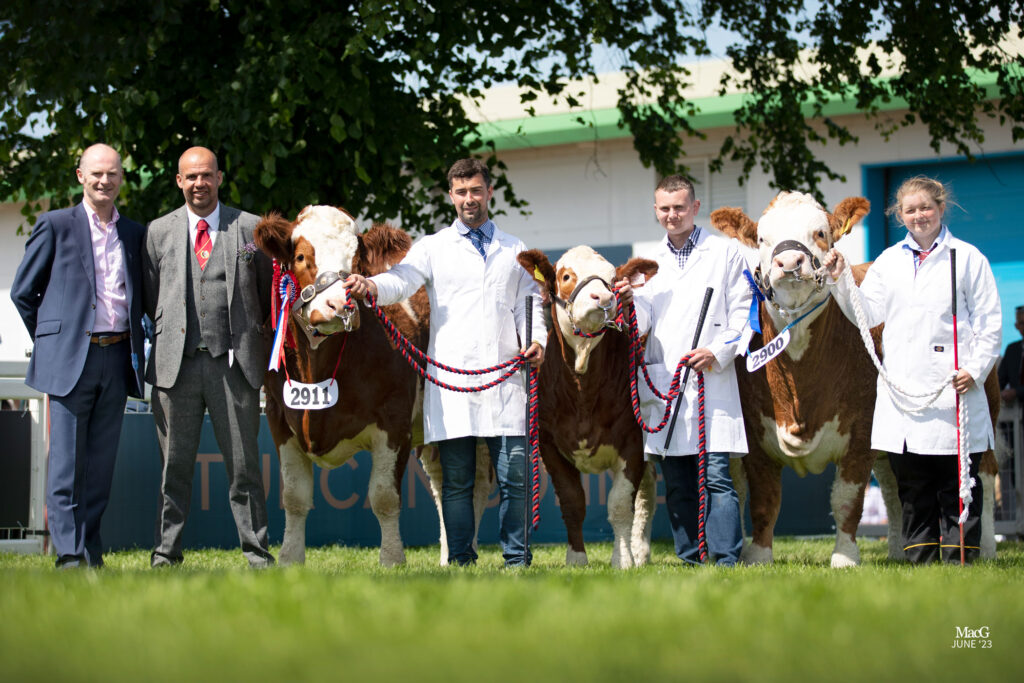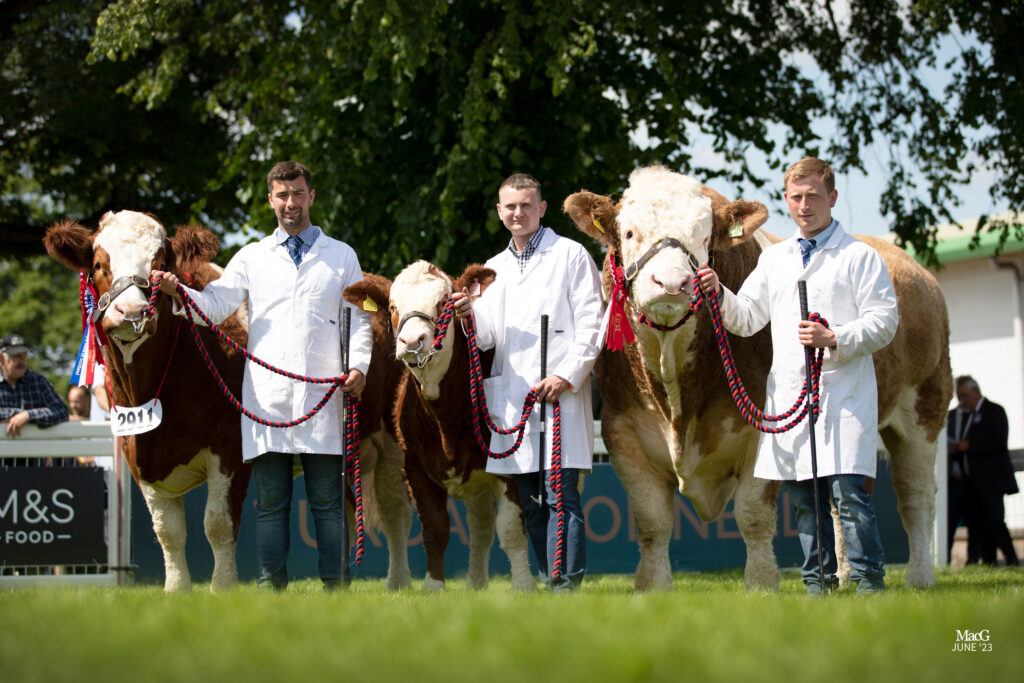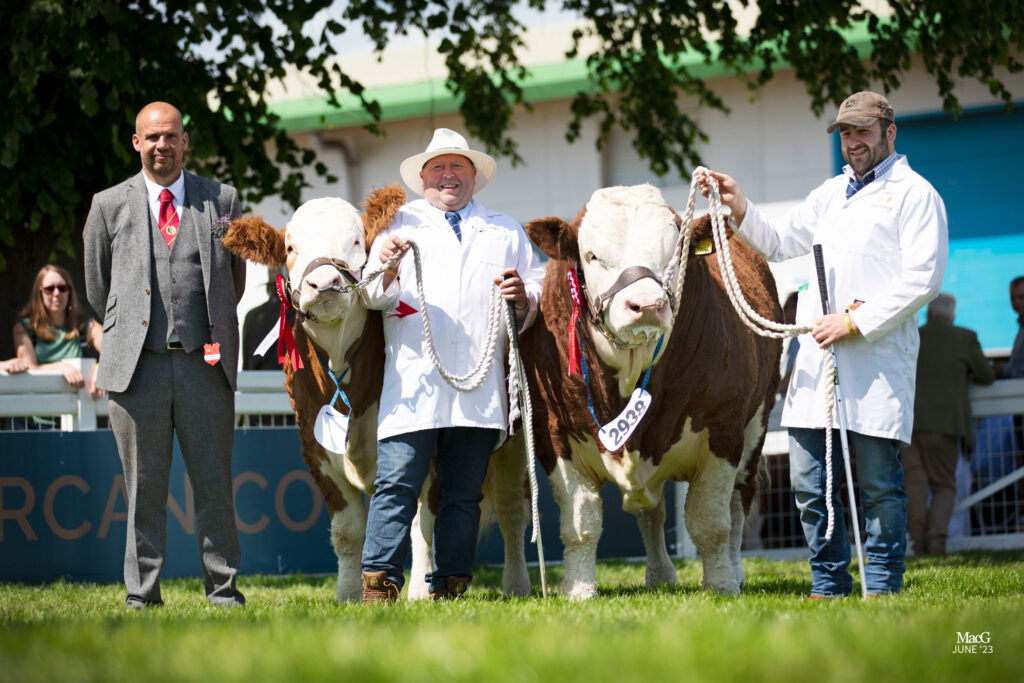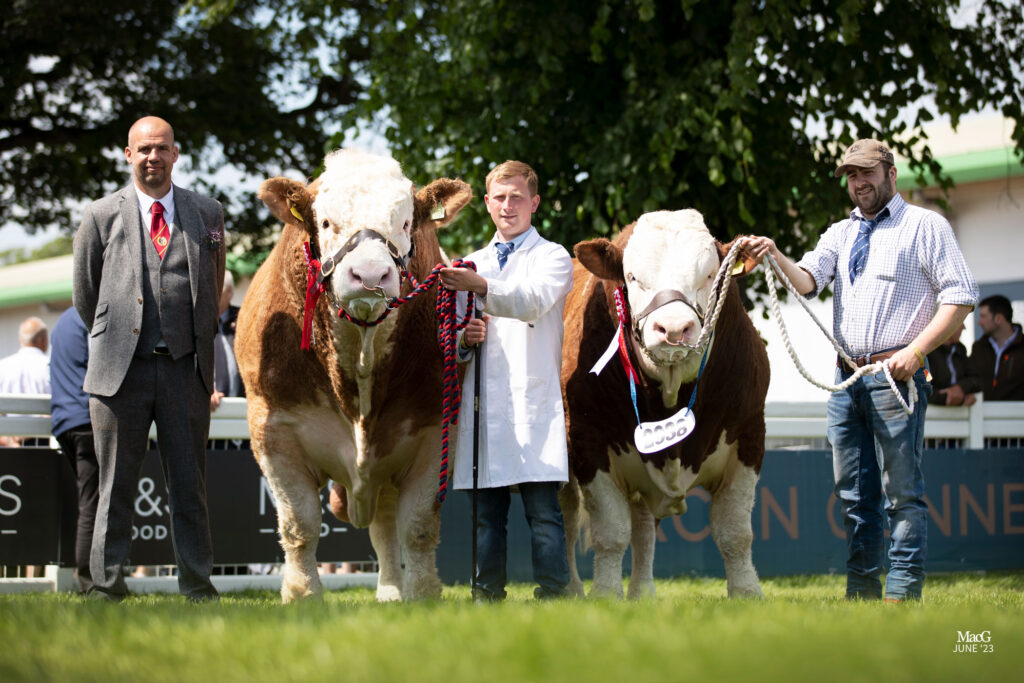 2023 ROYAL HIGHLAND SHOW SIMMENTAL RESULTS
262 Female born on or after 1st April 2022
1st Mr W J & J Green Corskie Namenco
2nd Richard McCulloch Overhill House Neva
3rd Heather Duff Pitmudie Nala
4th Mr G Smith Drumsleed Nysa
5th Gavin Brown Springfield Nita
6th Frank Gwynne Castlewigg Empire Stella 2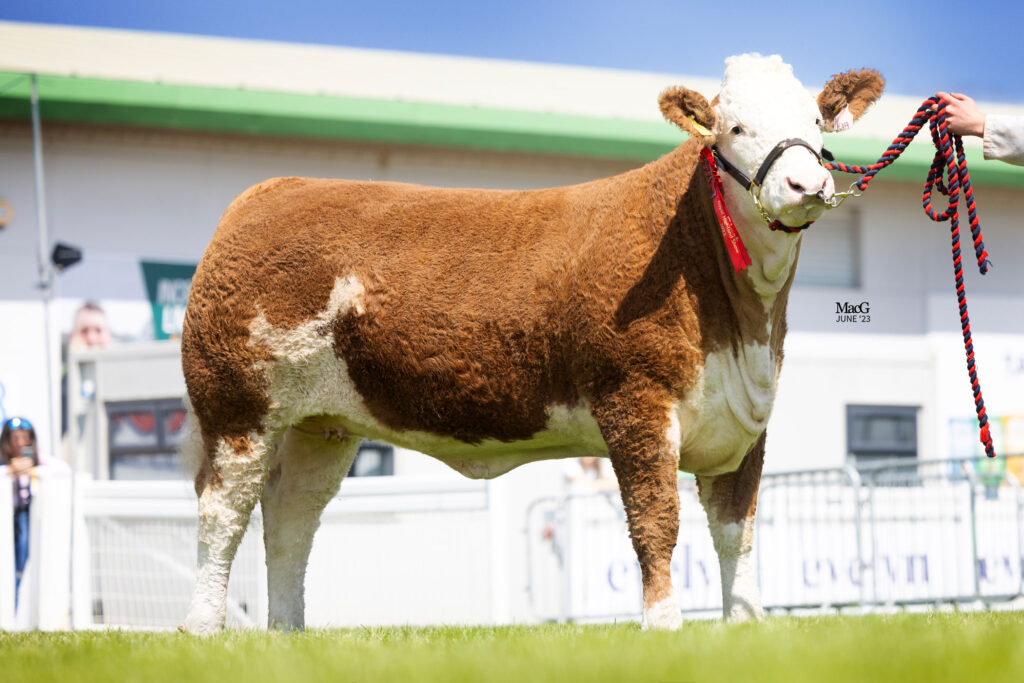 263 Female born between 1st January & 31st March 2022
1st Reece & Andrew Simmers Backmuir Eva's Neva
2nd Mr W J & J Green Corskie N-Enna
3rd Future Livestock Future New Girl
4th Crudie Farming Company Crudie Natalia
264 Female born on or between 1st July & 31st December 2021
1st Mr W J & J Green Corskie Miami
2nd W G MacPherson (A Firm) Blackford Malia
3rd Mr G W Smith Drumsleed Marina
4th Strathisla Farms Rathnashan Nelly Harriet
5th Heather Duff Pitmudie Montana
6th Crudie Farming Company Crudie Miss Moneypenny
265 Female born on or between 1st January & 30th June 2021
1st Mr W J & J Green Corskie Mimic
2nd Mr G W Smith Drumsleed Mango
3rd Heather Duff Pitmudie Mulberry
4th Lizzie Harding Hallway Winnie's Majesty
5th P M & R Fitton Derrycallaghan Kalamity-Jane 2nd
6th David Ireland Annick Desirees Midnight
266 Female calved before 3 years or due to calve before 3 years old, in milk or in calf born in 2020
1st Reece & Andrew Simmers Annick Ginger's Lucia
2nd Reece & Andrew Simmers Brandane Lu Lu
3rd Gavin Brown Islavale Liquorice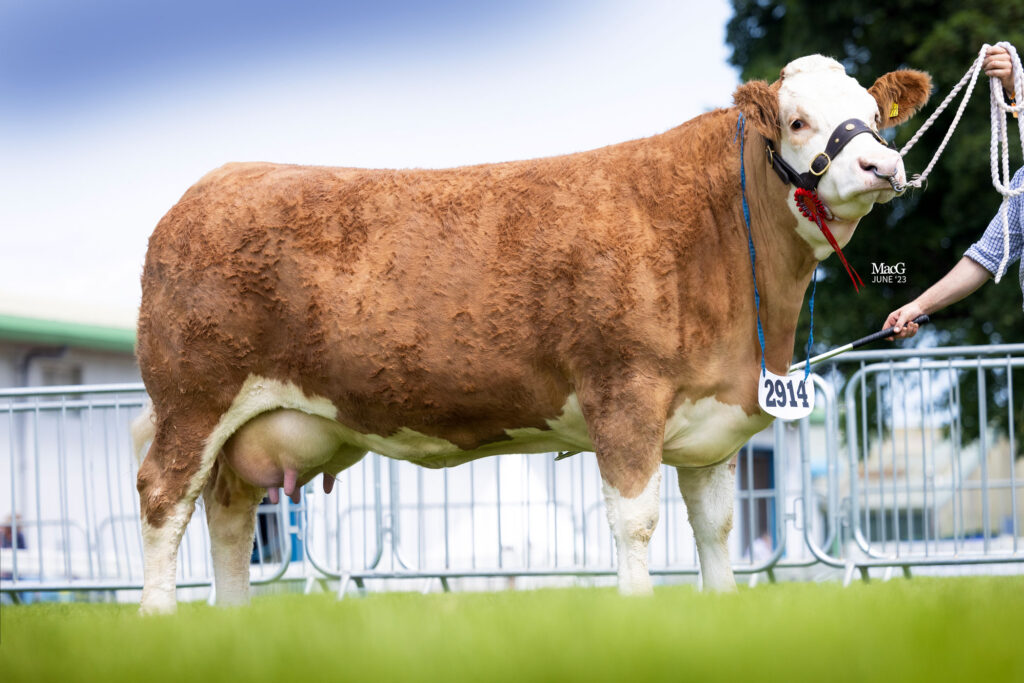 267 Female born in 2018 or 2019 in milk or certified in calf at time of show
1st Mr W J & J Green Corskie Jasmine
2nd W G MacPherson (A Firm) Blackford Jazzy 2nd
269 Bull born on or after 1st April 2022
1st Mr W J & J Green Corskie Netflix 22
2nd G & A Christie Rockytop Novak 22
3rd Richard McCulloch Overhill House Neo 22
4th Richard McCulloch Overhill House Niko 22
5th Strathisla Farms Strathisla Nightrider 22
6th Nadia Gwynne Chestermann Nick 22
270 Bull born on or between 1st January & 31st March 2022
1st Mr W J & J Green Corskie Nutmeg 22
2nd W G MacPherson (A Firm) Blackford Nimrod 22
3rd Mr G W Smith Drumsleed Neymar 22
4th Heather Duff Cairnview Nick 22
5th Crudie Farming Company Crudie Napoleon 22
272 Bull born on or before 31st December 2020
1st Reece & Andrew Simmers Backmuir King
SP1 Best Junior Female
Mr W J & J Green Corskie Miami
SP2 Reserve Junior Female
Mr W J & J Green Corskie Namenco
SP3 Best Female
Reece & Andrew Simmers Annick Ginger's Lucia
SP4 Reserve Female
Mr W J & J Green Corskie Mimic
SP5 Best cow with calf at foot
Reece & Andrew Simmers Annick Ginger's Lucia
SP6 Best Junior Bull
Mr W J & J Green Corskie Nutmeg 22
SP7 Reserve Junior Bull
W G MacPherson (A Firm) Blackford Nimrod 22
SP8 Best Bull
Reece & Andrew Simmers Backmuir King
SP9 Reserve Bull
Mr W J & J Green Corskie Nutmeg 22
SP10 Breeder of Best Bull
Reece & Andrew Simmers
SP11 Best Junior Animal
Mr W J & J Green Corskie Miami
SP12 Reserve Junior Animal
Mr W J & J Green Corskie Nutmeg 22
SP13 Best Animal of opposite sex to the Junior Champion
Mr W J & J Green Corskie Nutmeg 22
SP14 Champion
Reece & Andrew Simmers Annick Ginger's Lucia
SP15 Reserve Champion
Mr W J & J Green Corskie Mimic
SP16 Best Animal bred by Exhibitor
Mr W J & J Green Corskie Mimic
SP17 Best Group
Mr W J & J Green Corskie Mimic, Corskie N-Enna, Corskie Namenco