Please click here to view the schedule for this year's Scottish National Show.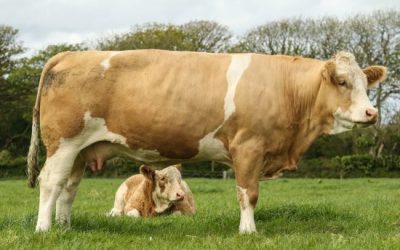 • Further cows and calves at 5500gns, and 5000gns• Cows and calves average £3382.50• Bulls sell to 4600gns• 27 lots gross £81,670 Cows and calves met with a strong trade and were led at 7000gns at the Reduction Sale of the noted Bosahan Herd of John & Bridget...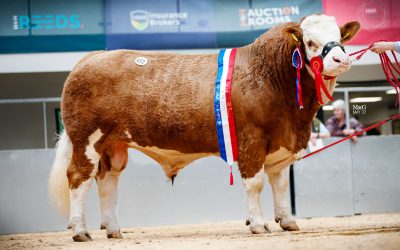 • 5000gns Tidkin Cow and Calf leads Tidkin & Jet Dispersal Sale• 15 Tidkin cows and calves average £3353• 28 Simmental lots in all gross £94,920• 4 Bulls average £5565 Bulls from the Chestermann herd of N&N Gwynne, Castlewigg Farm, Whithorn, Newton Stewart,...
English Premier Show & Sale Newark
The Inaugural Pedigree English Premier Show and Sale took place at Newark on Saturday 29th March. Judge for the day was Mr Simon Key, Abbey Farm, Mundham, Norwich.
Top price on the day was for Williams Draco, a Darhsam Playboy son, out of a Blackford Lancer daughter from Hayley and Andrew Clarke, Mrs H Clarke, William Clarke Livestock LTD, Model Farm, Brick Kiln Road, Hevingham, Norwich, Norfolk NR10 5NL, selling for 4000gns to messrs Player Nottingham.
Next best was the 3rd placed Burghbridge Damian, a strathisla Popeye son out of a BrinktonMajor daughter selling for 3500gns
At 3000gns, Shannock Danny Boy from Ian and Julie Turvey, Mr I & Mrs J Turvey, 10 Litester Close, North Walsham, Norwich, Norfolk NR28 9JA , a Rathlee Ben son out of a Shannock Pride daughter.
Champion on the day came from the Midhope herd of John, Val and Craig Hollingsworth, Midhope Hall Farm, Midhopestones, Sheffield S36 4GW, Midhope Cherry, a Corskie Wealth daughter, out of a Dirnanean Snowie daughter, she sold in calf to Delfur Chas for 3300gns
Reserve Champion came out of the same Midhope stable, and was the same way bred, Midhope Dove, again in calf to Delfur Chas selling for 3500gns
3rd top price female and completing a day of domination also came from the Midhope herd, Midhope Charm, a Dirnanean Snowie daughter, out of a Dyfed Lord daughter, again in calf to Delfure Chas selling for 3000gns – Mr P V Joliffe Star Green Herd
Averages 6 Bulls @£3132 19 Females @£2013