Please click here to view the schedule for this year's Scottish National Show.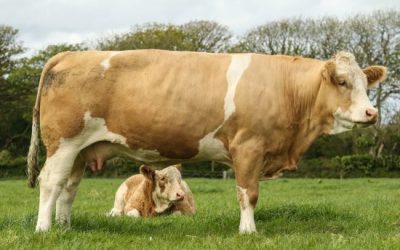 • Further cows and calves at 5500gns, and 5000gns• Cows and calves average £3382.50• Bulls sell to 4600gns• 27 lots gross £81,670 Cows and calves met with a strong trade and were led at 7000gns at the Reduction Sale of the noted Bosahan Herd of John & Bridget...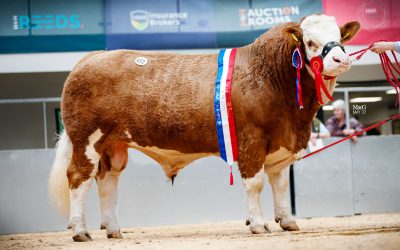 • 5000gns Tidkin Cow and Calf leads Tidkin & Jet Dispersal Sale• 15 Tidkin cows and calves average £3353• 28 Simmental lots in all gross £94,920• 4 Bulls average £5565 Bulls from the Chestermann herd of N&N Gwynne, Castlewigg Farm, Whithorn, Newton Stewart,...
Lisglass hat-trick at Lurgan Show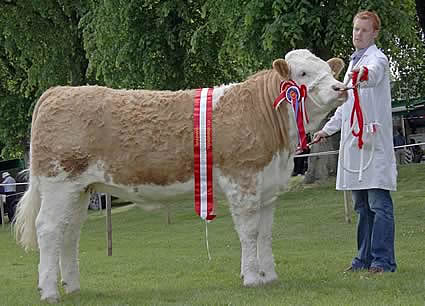 By Julie Hazelton
The father and son team of Leslie and Christopher Weatherup from Ballyclare, celebrated success in the Simmental section at Lurgan's Centenary Show on Saturday 2nd June.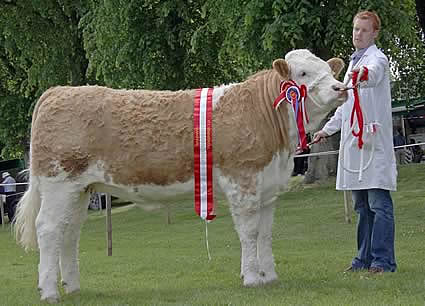 The County Antrim duo scored a hat-trick, claiming the female and supreme overall Simmental championship ribbons, as well as top honours in the Woodcraft Kitchens (Kilrea) Junior Heifer Derby.
Their much-admired home-bred heifer, Lisglass Clover 2nd, was sired by the 10,000gns Slimero Victory, and is out of a dam purchased from the Robson family's noted Kilbride Farm Herd based at Doagh.
The sixteen-month-old heifer caught the eye of judge Cecil Mclwaine, who runs the noted Corrick Herd based at Newtownstewart, County Tyrone.
Lisglass Clover 2nd was junior champion at Balmoral Show in May, and secured the breed's reserve female championship award Ballymena Show.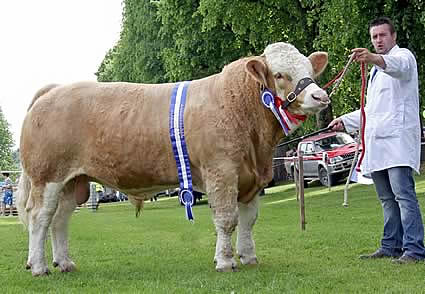 Claiming the day's reserve supreme championship award was the male champion, Slievenagh Bonjovi, stock bull in Duncan McDowell's Castlemount Herd based at Newtownards, County Down. Purchased privately from Robin and Darla Boyd, Portglenone, this December 2010 born entry is by the Cairnview Snazzy son, Slievenagh Willem.
This is Bonjovi's third successive reserve male championship, having secured the title at both Balmoral and Ballymena Shows.
Claiming the reserve female championship award was Ballinlare Farm Buttercup 2nd, a January 2010 born heifer exhibited by Joe Wilson from Newry, County Down. Sired by the 20,000 Euro Curaheen Tyson, she is out of a home-bred dam. This was her second outing on the NI Show circuit, having won the female and reserve supreme championship prizes at Balmoral Show in May.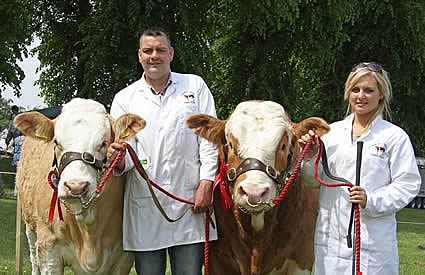 The Lurgan Show qualifiers for the Ivomec Super Simmental Pair of the Year competition were Scribby Farms Cracker, a sixteen-month-old ET Celtic Rock son, and Scribby Farms Baroness, a November 2010 born ET daughter of Dripsey Super King, bred and exhibited by Keith Nelson from Rosslea, County Fermanagh.
The 100th Anniversary of Lurgan Show also played host to the final of the Simmental Junior Heifer Derby. Open to heifers born in 2011, this competition is generously sponsored by club member Eamon McCloskey of Woodcraft Kitchens based at Kilrea.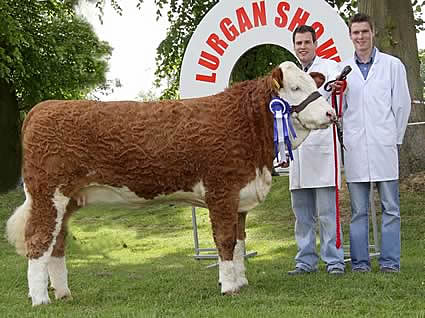 The Weatherup's heifer was the hotly tipped favourite, while brothers Shane and Paul McDonald from Tempo, County Fermanagh, claimed the reserve championship with the home-bred Coolcran Lady Cara. Born in April 2011, she is by the noted Kilbride Farm Newry, and is bred from a dam carrying the Ashland prefix.
First and second prize winners competed in the final line-up of the Junior Heifer Derby. Also featured were the first prize winning Ranfurly Weikel 10th, a nine-month-old Raceview King daughter from David Hazelton's herd at Dungannon. Standing behind her was Duncan McDowell's Castlemount Chrissy, an October 2011 born Cairnview Snazzy daughter.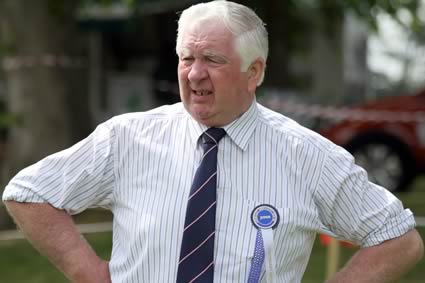 Results from the Simmental section at Lurgan Show include:
Cow, any age – 1, Bruces Hill Cattle Company, Templepatrick, Hockenhull Natalie 34th by Dovefields Gallant.
Heifer, born between 01/01/10 and 30/06/10 – 1, Joe Wilson, Newry, Ballinlare Farm Buttercup 2nd by Curaheen Tyson; 2, WD Hazelton, Dungannon, Ranfurly Weikel 6th by Raceview King; 3, Thelma Gorman, Armagh, Woodford Bluebell by Sacombe Edgar.
Heifer, born between 01/07/10 and 31/12/10 – 1, Keith Nelson, Rosslea, Scribby Farms Baroness ET by Dripsey Super King.
Bull, born on or before 31/12/10 – 1, Duncan McDowell, Newtownards, Slievenagh Bonjovi by Slievenagh Willem.
Bull, born on or after 01/01/11 – 1, Keith Nelson, Scribby Farms Cracker ET by Celtic Rock; 2, Thelma Gorman, Woodford Crackerjack by Kilbride Farm Newry; 3, Johnathan Farrell, Markethill, Corhammock Cosmo Clarke by Camus Frontier.
Pair, property of exhibitor – 1, Keith Nelson, Scribby Farms Cracker ET and Scribby Farms Baroness ET; 2, Duncan McDowell, Slievenagh Bonjovi and Stralongford Bianca; 3, Shane and Paul McDonald, Tempo, Coolcran Juliet Cinderella and Coolcran Lady Cara.
Calf, under one-year-old – 1, Thelma Gorman, Woodford Crackerjack by Kilbride Farm Newry; 2, WD Hazelton, Ranfurly Weikel 10th by Raceview King; 3, Jim Hamilton, Rock, Dungannon, Slatequarry Kimberly Tyson by Curaheen Tyson.