Please click here to view the schedule for this year's Scottish National Show.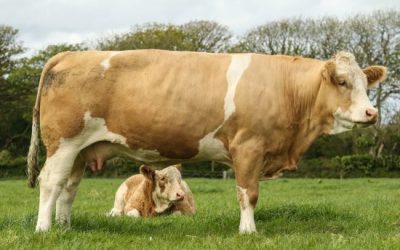 • Further cows and calves at 5500gns, and 5000gns• Cows and calves average £3382.50• Bulls sell to 4600gns• 27 lots gross £81,670 Cows and calves met with a strong trade and were led at 7000gns at the Reduction Sale of the noted Bosahan Herd of John & Bridget...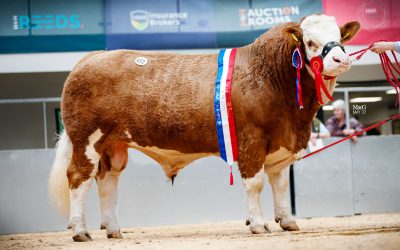 • 5000gns Tidkin Cow and Calf leads Tidkin & Jet Dispersal Sale• 15 Tidkin cows and calves average £3353• 28 Simmental lots in all gross £94,920• 4 Bulls average £5565 Bulls from the Chestermann herd of N&N Gwynne, Castlewigg Farm, Whithorn, Newton Stewart,...
Perth Annual Spring Show and Sale of Simmental Bulls and Females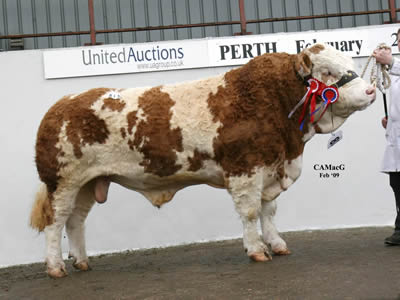 SIMMENTALS HIT NEW BREED RECORD AVERAGE FOLLOWING HUGE SUPPORT FROM THE COMMERCIAL BUYERS
Commercial buyers were to the fore, when the Simmentals at Perth saw a new breed record average of £4554, with an increased number sold and a 90% clearance at this week's sale. The bulls followed the sound female trade of the previous evening, when they peaked at 16,000gns with five bulls making five figure prices. The increased need for replacement females in the suckler herds and a weight for age ratio on store and finished animals which surpasses most other breeds, has seen the Simmentals go from strength to strength throughout the UK.
There was support from the traditional Simmental cross areas but also an increased demand again from those areas, which have been dominated by other breeds in the past. Northern Ireland breeders led the way with an outstanding group of cattle from the Province, which attracted the modern commercial buyers looking for good conformation bulls with good figures to back them up. It is becoming increasingly difficult to sell bulls with poor or no figures. An improved selection of Senior Bulls, set the target for the intermediate and Junior bulls to come and buyers had come prepared to pay for the quality they were looking for. Such was the demand, that some buyers went home empty handed and this bodes well for the sales still to come.
Top price of the day went to Billy and Anne MacPherson, when they sold their 1st prize Intermediate Bull Blackford Viceroy for 16,000gns to Messrs McKenzie for commercial purposes Viceroy is by Kilbride Farm Strabane out of Blackford Gloria. Viceroy had some particularly good EBV's to back him up on both weight and milk where he carries +5. Next top price was the first of the Northern Ireland bulls who stood Reserve Senior Champion in judge John Moore, Omorga Herd's final line up. A Kilbride Farm Newry son, he is out of the same dam as Samark Superman who sold for 10,000gns in Perth in 2007. Adrian Ivory, Strathisla farms parted with 14,000gns to purchase his sale choice to join his pedigree and commercial herd at Strathisla, Meigle, Perth.
The overall and Intermediate Champion, Shanehill Victor from Barry Chambers, Portadown, Craigavon, N. Ireland produced a bid of 11,000gns from Clive Houldey, The Dods, Lauder, Berwickshire to join his Manorpark Simmental herd. Victor is another AI son of the famous Kilbride Farm Newry and again out of a Samark Cow, this time Samark Bluebell. He also has impressive growth and milk figures to back him up. Another 11,000gns bid secured the Junior Champion, Stralongford Viking for J. A. Ellis. Exhibited by Andrew Hanna, Rawe, Irvinestown, Co. Fermanagh he is an AI grand son of Raceview King, by Dripsey Superking out of an Omorga Murray cow, Strolongford Sinead.
The reserve intermediate Championship also went to Northern Ireland when Slimero Victory 2 picked up the ticket from John Moore. Bred by Norman Weatherup, he was purchased at the Dungannon sale in the autumn by J.L & C.J. Weatherup and Harold Stubbs. He subsequently attracted a bid of 10,000gns from Pitgaveny Farms. W.H. Robson and Sons also attracted a 10,000 gns bid for their leader Kilbride Farm Vernon. A son of the successful Seaview Price Charming who has previously bred bulls to 10,000gns, he is out of a Kilbride Farm Newry cow, Kilbride Farm Jessica 2R and sold to Messrs Bruce. Vernon helped take the Robson Family to a record average of £7379 for 7 bulls sold.
SIMMENTAL FEMALES IN DEMAND
The trade for Simmental females peaked at 6,000gns for the reserve champion, Sterling Petras Tracey, from Stephen Hitchins, Boddington, Cheltenham.
This October 2006-born in-calf heifer is by Sterling Parliamentarian and out of a dam by Sterling Flint. The hammer fell to C.R. Fovargue, Coleorton, Leicester, who was bidding over the telephone.
Next best for the Sterling herd was 5,000gns for another Parliamentarian daughter, Sterling Roxanne's Verona. Born in September 2007 this heifer sold to Sandy Stephen, Turriff, Aberdeenshire.
Other leading prices for Sterling heifers included one at 4,500gns and two at 4,000gns.
A draft of heifers from Finlay McGowan, Blairgowrie, Perthshire, sold to a peak of 5,200gns for Dirnanean Vaila. This Starline Nelson daughter is out of Dirnanean Polo. The buyers were Jimmy and Vikki Wood, Preston, Lancashire. Next best for Dirnanean stock was 4,200gns.
Making 4,500gns was Corskie Tipsi part of a draft from J. Green, Fochabers, Moray. September 2006-born Tipsi is by Strathisla Nuggat and sold in-calf to Islavale Sabre. It was knocked down to Leslie Weatherup, Ballyclare, Co Antrim.
TOP FEMALE PRICES
Lot
Vendor
GNS
Purchaser
621
BODDINGTON ESTATES
6000
C R FOVARGUE BROS, LEICESTERSHIRE
660
FINLAY MCGOWAN
5200
JH & VG WOOD, PRESTON
640
BODDINGTON ESTATES
5000
A G STEPHEN & CO, TURRIF
629
BODDINGTON ESTATES
4500
W HEAPS, CHORLEY
689
W J & J GREEN
4500
JL WEATHERUP, CO. ANTRIM
691
W J & J GREEN
4400
TELMARA FARM LTD, ESSEX
664
FINLAY MCGOWAN
4200
W R & M MILL, CAITHNESS
632
BODDINGTON ESTATES
4000
COLIN INGLIS, FIFE
645
BODDINGTON ESTATES
4000
CASTLE HILL PARTNERS, SWINDON
665
FINLAY MCGOWAN
3500
J M & J GOLDIE, ANNAN
659
JOHN YOUNG
3400
J WALTON & SON, ALNWICK
663
FINLAY MCGOWAN
3200
T C GILLESPIE, KIRKCUDBRIGHT
670
B GRANT
2800
WHITEHOUSE FARMS, ALFORD
637
BODDINGTON ESTATES
2600
S D ABRAM FARMS, NORFOLK
667
B GRANT
2500
I WILSON ABERDEENSHIRE
684
W J & J GREEN
2500
M C MACCALLUM, CAMPBELTOWN
687
W J & J GREEN
2500
J LYLE & CO, FIFE
640 Champion Female Sterling Roxanne's Verona
621 Reserve Champion Female Sterling Pertra's Tracey
TOP BULL PRICES
Lot
Vendor
GNS
Purchaser
824
W G MACPHERSON
16000
MACKENZIE, CAITHNESS
746
SEAMUS O'KANE
14000
STRATHISLA FARMS, MEIGLE
813
B CHAMBERS
11000
D C HOULDEY, LAUDER
888
A HANNA
11000
J A ELLIS, ALFORD
798
WEATHERUP & STUBBS
10000
PITGAVENY FARMS, ELGIN
865
W H ROBSON & SONS
10000
C & M BRUCE, ELLON
863
W H ROBSON & SONS
9500
J T MITCHELL & SONS, NORFOLK
714
FINLAY MCGOWAN
8500
N & A HUNTER, CONSETT
811
W D HAZELTON
8000
MRS M WARD & SONS CARNWATH
741
W S STRONACH & PTNRS
7800
STEPHEN MACKIE LTD & NEIL SHAND, ELLON
778
B G & L ALLAN
7800
GORDON NICOLSON, NAIRN
829
W E NELSON
7500
R H GLADSTONE, THORNHILL
873
HJW & JCMOORE
7500
D CAMPBELL & SON, CRIEFF
855
R & R RODGERS
6800
D LESLIE, ELGIN
725
D LOWRY
6500
G D PROUDLEY, DARLINGTON
742
D LOWRY
6500
A S HOGG & PARTNERS, LAUDER
890
T J HAMILTON
6500
J DUFF & SON BRECHIN, ANGUS
723
W J & J GREEN
6200
C MCLEAN & CO, KIRRIEMUIR
867
W H ROBSON & SONS
6200
JOHN MEIKLE, DUNDEE
621
BODDINGTON ESTATES
6000
C R FOVARGUE BROS, LEICESTERSHIRE
735
J DYKES
6000
R FORREST LTD, DUNS
787
W H ROBSON & SONS
6000
I & J K TURVEY, NORFOLK
791
W H ROBSON & SONS
6000
R R MACKAY & CO LTD, THURSO
792
W G MACPHERSON
6000
CADZOW BROTHERS LTD, ISLE OF LUING
799
V H C ARNOLD
6000
D BELL & SON, FIFE
806
W J & J GREEN
6000
BEN CHALLUM LTD, CRIEFF
822
& MRS L MOFFAT
6000
J W FULLERTON & SONS, EARLSTON
864
W J & J GREEN
6000
A G WHITEFORD, INVERURIE
881
W H ROBSON & SONS
6000
ALEXANDER FARMS LTD, BANCHORY
883
W G MACPHERSON
6000
J C MCLAREN & PARTNERS, CRIEFF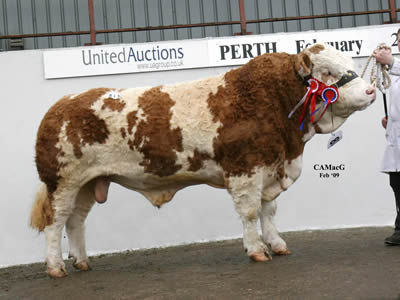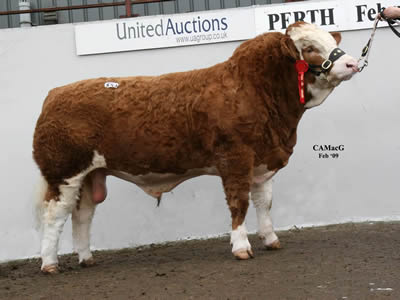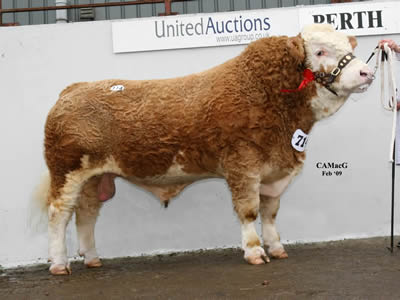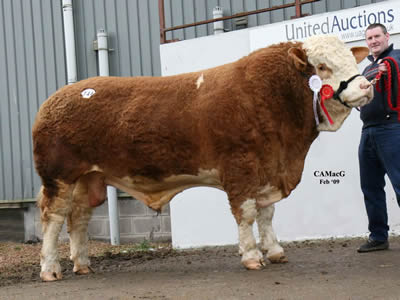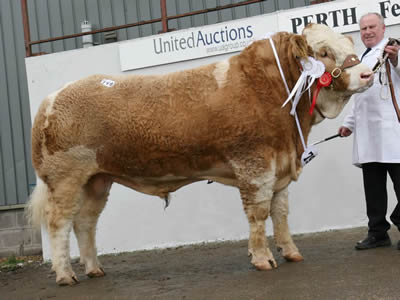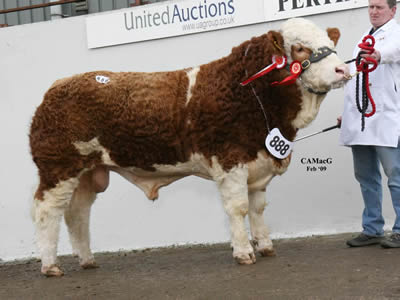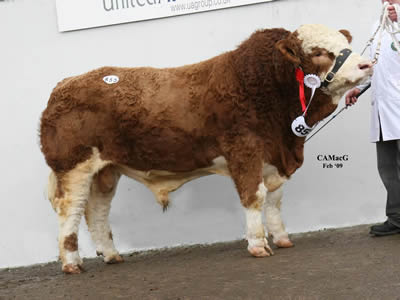 United Auctions, Perth
Agricultural Centre, Huntingtower Park, Perth. PH1 3JJ
Tel. 01738 626183 Fax. 01738 636934
E-Mail. perth@uagroup.co.uk