Please click here to view the schedule for this year's Scottish National Show.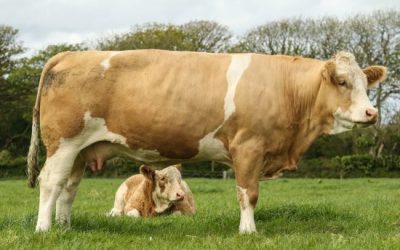 • Further cows and calves at 5500gns, and 5000gns• Cows and calves average £3382.50• Bulls sell to 4600gns• 27 lots gross £81,670 Cows and calves met with a strong trade and were led at 7000gns at the Reduction Sale of the noted Bosahan Herd of John & Bridget...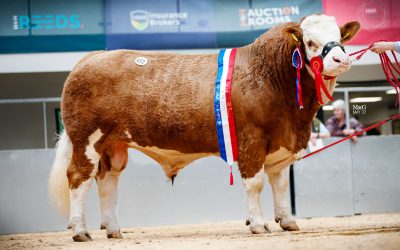 • 5000gns Tidkin Cow and Calf leads Tidkin & Jet Dispersal Sale• 15 Tidkin cows and calves average £3353• 28 Simmental lots in all gross £94,920• 4 Bulls average £5565 Bulls from the Chestermann herd of N&N Gwynne, Castlewigg Farm, Whithorn, Newton Stewart,...
Simmental cheque presentation
The Northern Ireland Simmental Cattle Breeders' Club has raised £3,500 for the Horizon West Children's Hospice in Killadeas, County Fermanagh.
The money is the proceeds of the club's annual charity BBQ held recently in Dungannon.
Fundraising volunteers John Graham and Yvonne Bowles thanked breeders for their generous support. "It was a very enjoyable and well organised event. The auction was great craic, and we are delighted to receive this magnificent sum of money on behalf of the Horizon West Children's Hospice."
Club chairman Matthew Cunning expressed his thanks to everyone who supported this year's BBQ and charity auction.
The Northern Ireland Children's Hospice provides respite and end of life care for children and young people with life-limiting and life-threatening conditions. Practical, emotional and bereavement support is also provided for the whole family. Care is provided at the Children's Hospice buildings in Newtownabbey and Killadeas, and also in local communities across Northern Ireland.
Every year Horizon West supports over 30 life-limited children and young people, and their families, who need care that only the Children's Hospice can provide.
The Horizon West Children's Hospice was launched with a focus on strengthening existing services, and to offer a facility on the doorstep of families living in counties Tyrone and Fermanagh.
Without this local facility families would have to travel to Belfast for much needed respite and care, a journey that often may not be possible for many families.
Without the support of the local community and other charitable donations, the NI Children's Hospice would not be able to provide this essential service for these very special children and their families.