Please click here to view the schedule for this year's Scottish National Show.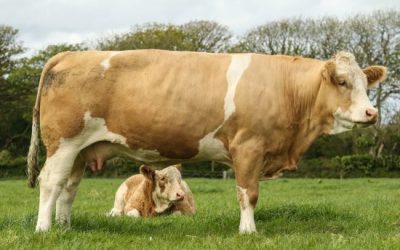 • Further cows and calves at 5500gns, and 5000gns• Cows and calves average £3382.50• Bulls sell to 4600gns• 27 lots gross £81,670 Cows and calves met with a strong trade and were led at 7000gns at the Reduction Sale of the noted Bosahan Herd of John & Bridget...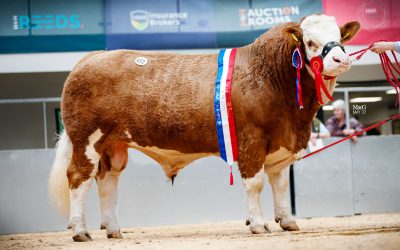 • 5000gns Tidkin Cow and Calf leads Tidkin & Jet Dispersal Sale• 15 Tidkin cows and calves average £3353• 28 Simmental lots in all gross £94,920• 4 Bulls average £5565 Bulls from the Chestermann herd of N&N Gwynne, Castlewigg Farm, Whithorn, Newton Stewart,...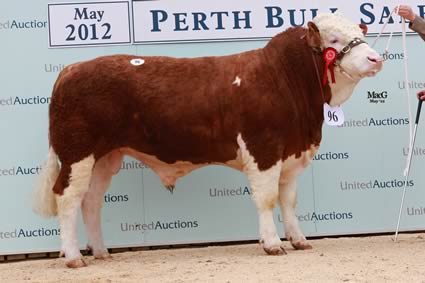 The increasing demand for Simmental Bulls was further emphasised again at the Stirling May sale where the breed achieved a 92% clearance to an average of £4433 an increase of £1135 on last year.
Judge for the day was Mr Stuart Grant, Druid Temple Farm, Inverness.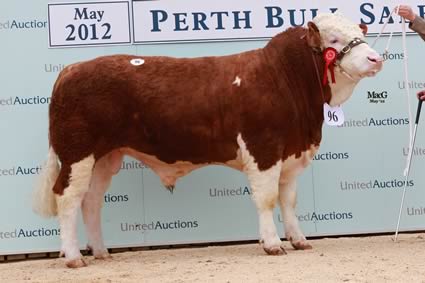 Topping the trade at 8800gns a new record for the breed at the May sale was Innerwick Butcher, a September 2010 son of Castlegate Titan, from Mr & Mrs L Moffat, Innerwick Farm, Innerwick, Dunbar, selling to Macfarlane Farms, Duns, Berwickshire.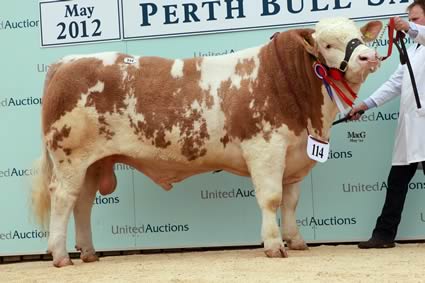 Next top at 8500gns was the Overall Champion Islavale Boris from W S Stronach, Berryleys, Grange Keith, this Woodhall Walker son sold to J & E Dyet, East Merkland, Sandford, Strathhaven.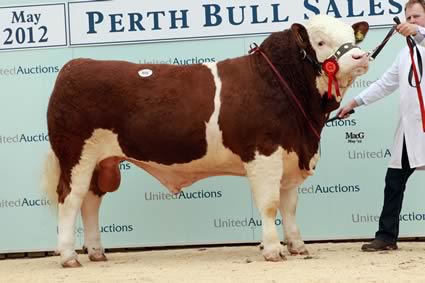 The Stronach's also had the next 3 top prices, first Islavale Buzz, an October 2010 son of Glenturk Premier realised 7500gns selling to W Walton and Sons, Duns Houses,Otterburn, Newcastle upon Tyne, then Islavale Bismark, an October 2010 son of Kilbride farm Newry sold for 7000gns to Messrs Oag, Brims Mains, Forss, Thurso, Caithness and the Reserve Overall Champion Islavale Bruce another Woodhall Walker son also realised 7000gns selling to N & M McLelllan, Kilchiaran Farm, Port Charlotte, Isle of Islay, Argyll.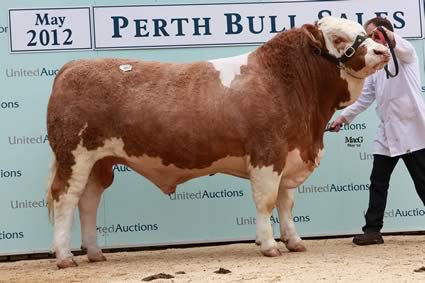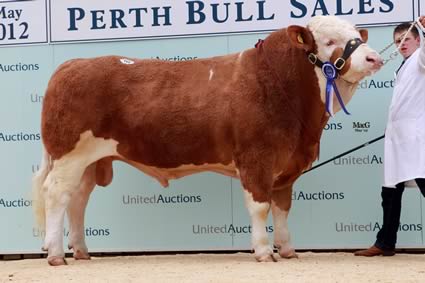 Islavale sold 6 to average £7221.50
Female 2 @ £1890.
Auctioneers:
www.uagroup.co.uk