Please click here to view the schedule for this year's Scottish National Show.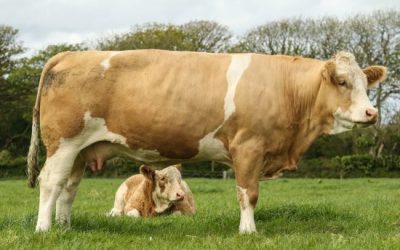 • Further cows and calves at 5500gns, and 5000gns• Cows and calves average £3382.50• Bulls sell to 4600gns• 27 lots gross £81,670 Cows and calves met with a strong trade and were led at 7000gns at the Reduction Sale of the noted Bosahan Herd of John & Bridget...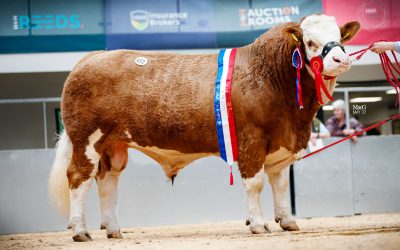 • 5000gns Tidkin Cow and Calf leads Tidkin & Jet Dispersal Sale• 15 Tidkin cows and calves average £3353• 28 Simmental lots in all gross £94,920• 4 Bulls average £5565 Bulls from the Chestermann herd of N&N Gwynne, Castlewigg Farm, Whithorn, Newton Stewart,...
STOP PRESS: POPES SIMMENTALS CLAIM CHAMPIONSHIP 'HAT-TRICK' AT THE 2021 ENGLISH WINTER FAIR
The noted Popes herd of JH & VG Wood, Popes Farm, Clitheroe Road, Preston, lifted the Championship prizes at the British Simmental Calf Show held within the English Winter Fair at Staffordshire County Showground's Bingley Hall, on Saturday 20th November.
From a small but quality Simmental entry, with entries from herds in Wales, Wiltshire, Cheshire, and Lancashire, the Popes herd took the Overall & Female Championship, Reserve Overall & Reserve Female, and Male Champion awards, and all with calves sired by Denizes Impressive who was purchased by the Woods for 12,000gns at the Stirling February 2019 Sale.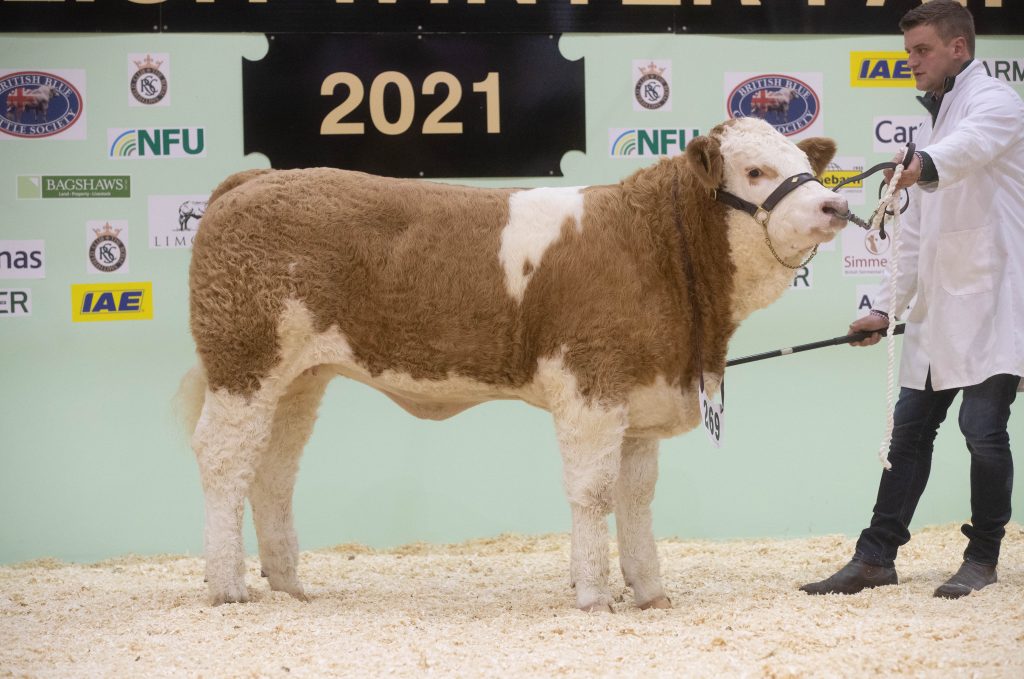 The judge for the day was Tom Hill from the Scotland Hill Simmental herd based at Wadworth, Doncaster and who tapped out the March 2021 born heifer Popes Trixies Mikala as his Overall Champion and Female Champion. This calf is out of Popes Trixies Inoa whose grand dam is Greenside Trixie-Belle 5th, the mother of the noted bull Popes Laird.
Following Popes Trixies Mikala through from being second in the same class to taking the Overall Reserve, and Female Reserve, was Popes Princess Maya 2nd. Again by Denizes Impressive this April born 2021 heifer is full of breeding being out of Popes Princess Diana who is a full sister to the herd's outstanding and much decorated show cow Popes Princess Cleo.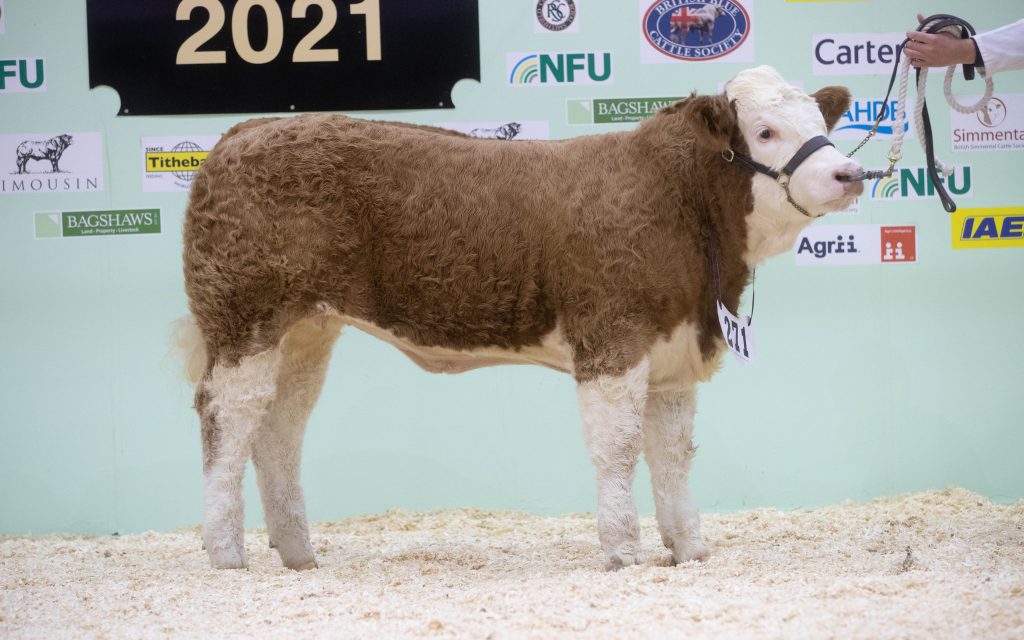 Completing the Championship prizes on the day for the Popes herd, who have regularly supported the Simmental Calf Show at Bingley Hall, was the February 2021 born Popes Memphis.  Securing at the same time the hat trick of top prizes for Denizes Impressive sired calves, this young bull is out of Popes Diamonds IO, a daughter of the £10,000 Clonguish Diamond.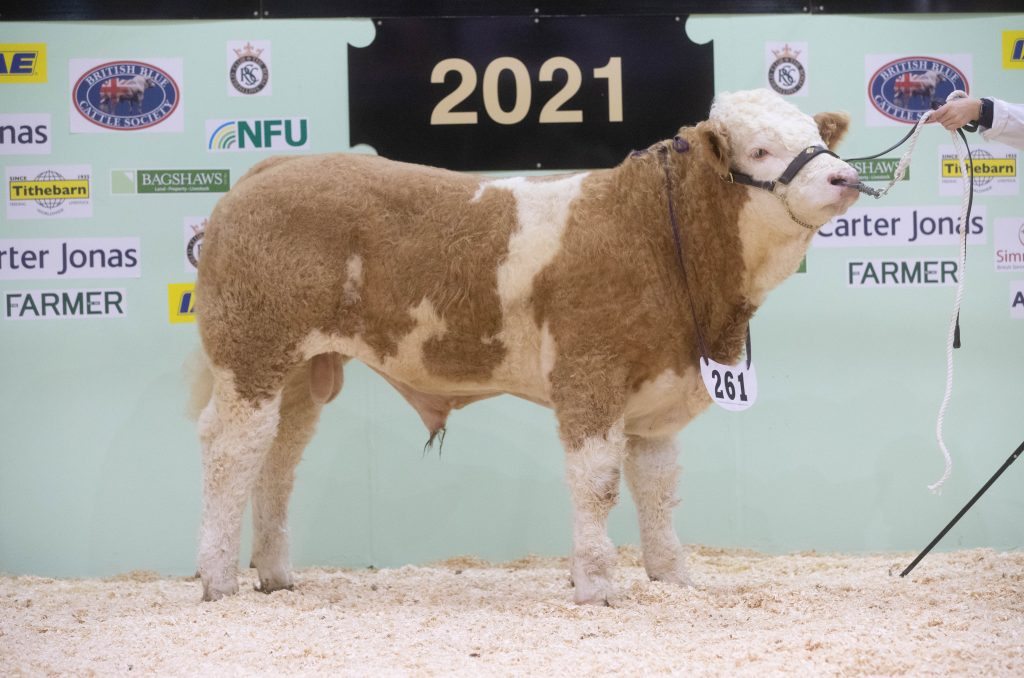 Following on with the same result as at the recent Borderway Agri Expo, Mr & Mrs RJ & BE Kimber, Beanhill Farm, Chippenham, Wiltshire won the days Senior Championship at Bingley Hall with Beanhill Leon 20. This October 2020 born heifer's calf is by Ballinalare Galaxy and is out of Beanhill Inca who goes back to one of the herd's foundation cows in the shape of Deerhurst Frolic.
Taking the red rosette in the Senior Heifer Class was Fishpool Lottie (P) from TJ Hassall, Winsford Cheshire. This November 2020 born calf is by Kilbride Farm Hans (PP) and out of Kilbride Farm Eunice 277J.
This British Simmental Calf Show is organised and strongly supported by the Midlands Simmental Club with over £400 in sponsorship and trophies put forward by the Club.
The Midlands Simmental Club put on an excellent breed promotional stand full of breed literature, fantastic hospitality, and with Club members readily on hand to talk about all things Simmental. A feature of the stand, and a stopping point for many in attendance was the two ¾ bred Simmental X bulls supplied from Ian Willison, Williamwood Farm, Mansfield, Notts. The first bull was an 18th August 2020 born calf by Williamwood Jaegarbomb which was 710kgs and had done 1.6ks DLWG from birth. The second bull was 31st August 2020 born and was by Auroch Deuter. 685kgs it had again done 1.6kgs DLWG from birth. Both of these bulls had width, length, good tops, and terrific temperament.