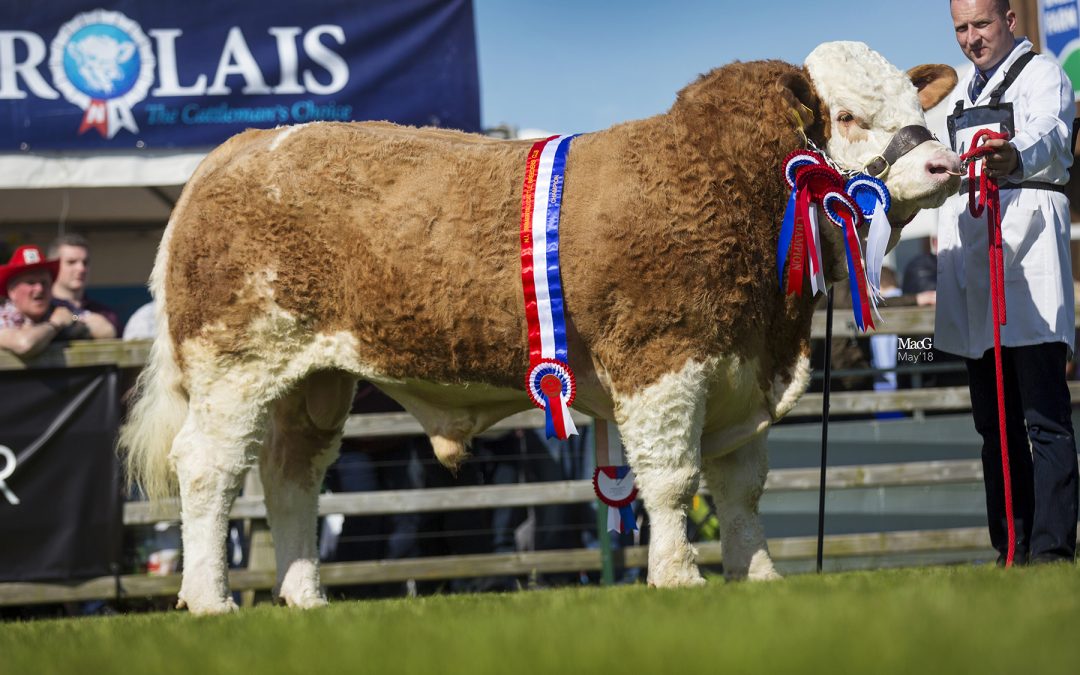 Judges Report, Bridget Borlase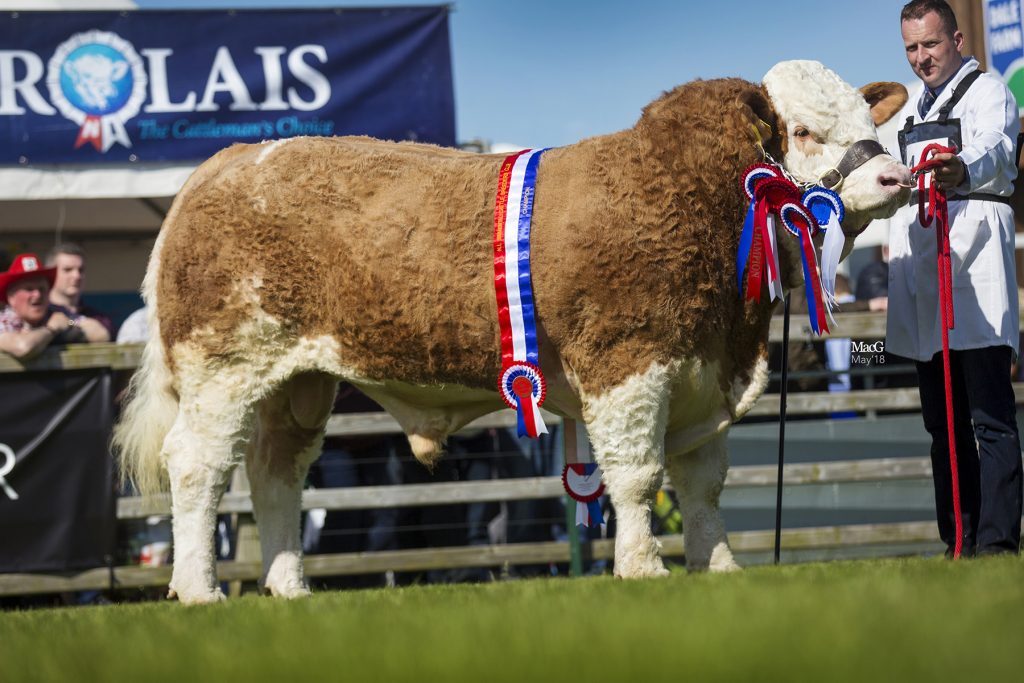 Firstly, I would like to thank the Royal Ulster Agricultural Society for inviting me to judge the Simmental classes at their 150th Centenary Show, it was a great honour and a privilege for me to do so.
I was on my first visit to Balmoral Show and I have to say I was most impressed by their showground and their fantastic new cattle building and judging rings where the cattle were presented to me on a bright and beautiful day.
Numbers were not high but still the Simmental exhibitors should be applauded for putting forward some quality youngstock before me which were a credit to our breed and all well presented.
We kicked off the day with the Junior heifer class for heifers born in 2017. Top of the line was Cleenagh Ivy, a very sweet heifer with real presence and femininity, she was very eye catching and had drawn me to her as soon as she came into the ring. Following her was another heifer with real style which was Whitdrum Lady Della, she was giving away quite a bit of age and just carrying enough cover for her age but a worthy runner up. Cleenagh Ivy and Whitdrum Lady Della went on to be my Female and Reserve Female Champion respectively. The other two heifers in the class will go on to do a good job, just lacking the style of the first two heifers.
The second class of the day was for heifers born from 1st July 2016 to 31st December 2016 and we had six strong entries forward. Leading the way for me in this class was Lisglass Helena with her stablemate Lisglass Honey in 2nd and Cloone Hilda in 3rd. There was little to split my first and second placed heifers both very fleshy with plenty of style about them. Lisglass Helena just won through on locomotion and length over Lisglass Honey and Cloone Hilda was again a sweet heifer but just lacked the scale of my first two.
Onto the senior heifer class for heifers born from 1st January 2016 to 30th June 2016 where we had three entries. My clear winner in this class was Ranfurly Weikel 18th H2, a big powerful heifer, she has great length and scale to her and handled herself very well. Castlemount Modesty 3 took 2nd place and Lummin Hattie was 3rd. Both my second and third prize heifers were good examples of the breed but were just overpowered on the day by the 1st placed heifer.
Male entries were disappointing, and we had just one class of yearling bulls. However, my winner of this class, Ranfurly Impeccable 17 lived up to his name and definitely stole the show, going on to be Male and Overall Champion and following that with Interbreed Champion Performance recorded bull. A very well grown bull for his age, he has great style and presence about him as well as great length and clean lines, truly a credit to his breeders. Lisglass Impressor 17 stood second and followed on for Reserve Male Champion. He was also a strong bull for his age but just lacking the sheer scale of the winner with Woodford Iceberg 17 in a very creditable 3rd place.
My Overall Champion had to be Ranfurly Impeccable 17, as I said earlier, a bull with real power and class and an easy winner on the day. Following him was my Female Champion, the very sweet and correct Cleenagh Ivy who is a young heifer with a bright future.
In conclusion I would like to thank all the exhibitors for an excellent show of young cattle they put in front of me as well as my ring stewards and the Northern Ireland Simmental Club and the Royal Ulster Show Society for the wonderful hospitality shown to me.