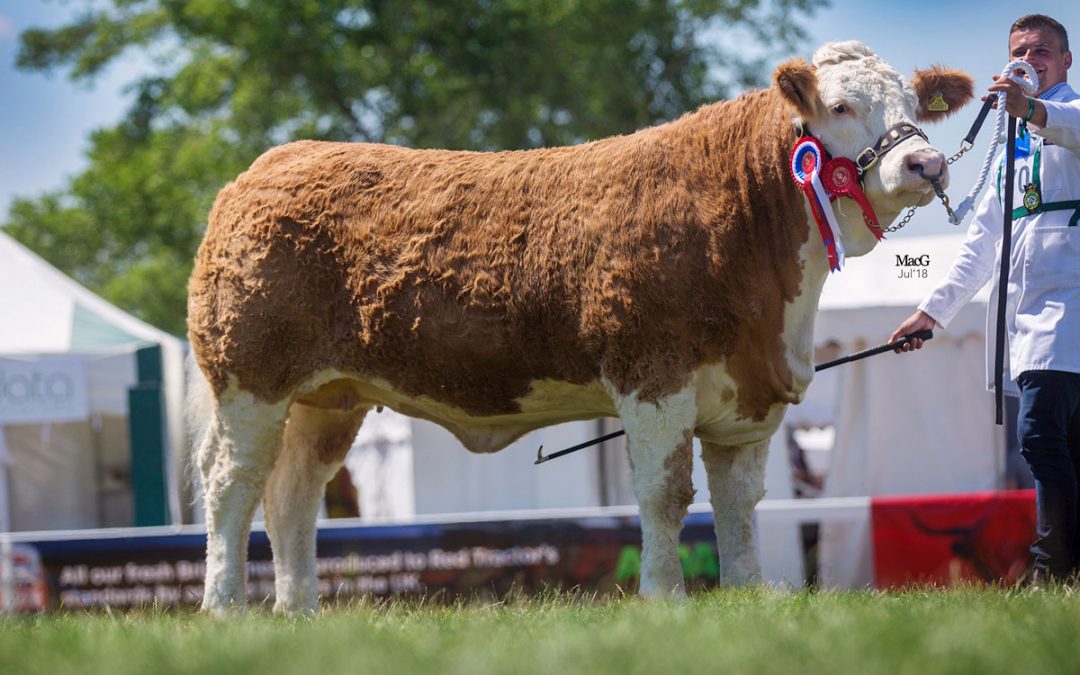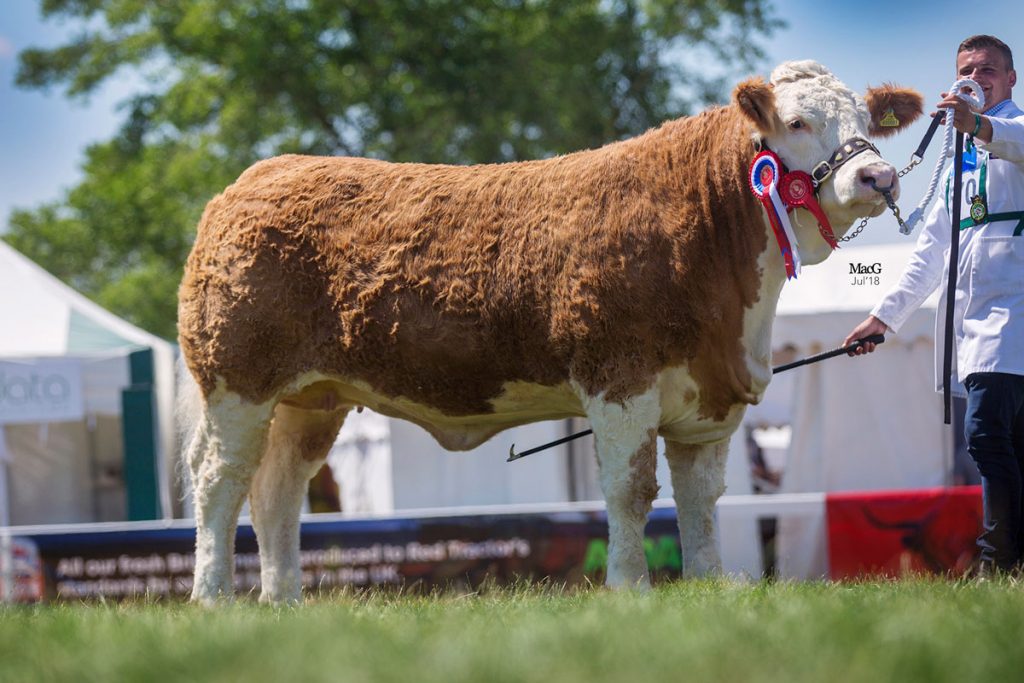 Sincere thanks to the Great Yorkshire show and the British Simmental Cattle Society for the invitation to judge the 2018 English National Show.
I would like to thank all the stockmen and stockwomen who put forward a tremendous show of Simmental cattle for me to judge.
The first junior heifer class was won by Chestermann Empire Stella, a very smart growthy heifer. Showing plenty of style, this is a difficult class to get a heifer ready for, very easy to overdo and basically almost killing them with kindness.
The second junior heifer class was won by Heathbrow Girlie's Ivy, a very impressive heifer with plenty of ring presence, she moved well and was an easy winner.
My next class was won by a super heifer, I'm sure we will see a lot more of – Sterling Fcuk impuls, this heifer went on to be my Reserve Female Champion.
The next class was the Senior Heifer Class born April onwards. This was a difficult class to judge as it was just personal preference, as the top three heifers in this class was very different and could have been place differently with the judges. The class winner was Popes Princess Hettie, she had the most ring presence with a great body and natural width.
Next was a much improved class won by Popes Rhona who went on to be my Overall Champion, this was the strongest class of the day, the first place heifer was eye catching and stylish, I have to say she concerned me that she was over fat on her tail head, however after examining her I decided this felt more like she had banged herself. Because this was the strongest class, I need to mention the second-place heifer, this was Midhope Heavenly Light a big heifer, possibly the best bodied heifer, very good over her plates, however possibly due to an injury, her movement on the day was wrong which stopped her going any further.
This class led an easy winner, in Kennox Diva's Gena, making a super job of her calf, this is what it's all about. A very well made cow that just needed to be a bit bigger.
Her bull calf went on to win the best calf and I'm sure we will see him in the future.
Next class I couldn't get wrong, was won by Woodhall Erica, a very correct cow, just lacked the style and presence to have pushed the champion aside.
Senior cow class was won by Sterling Petra's Cairo, the biggest animal on parade, she was up there to win overall when standing, but with locomotion very important this was as far as she could go.
First of the bulls was won by Skerrington Iceman, he was an easy winner, very modern with natural width and a great top.
Next class was won by Williams I of the Tiger, a very stylish, clear bodied bull, lacked power to go further.
The intermediate bull class was won by Camus Harold
The senior bull class only had the one entry and was won by Curaheen Drifter, this bull carried his width all the way to his tail, he would later stand Reserve Breed Champion. I had seen the bull earlier in the year and actually thought he had improved as the show season had gone on.
Many thanks for affording me the honour of judging this show.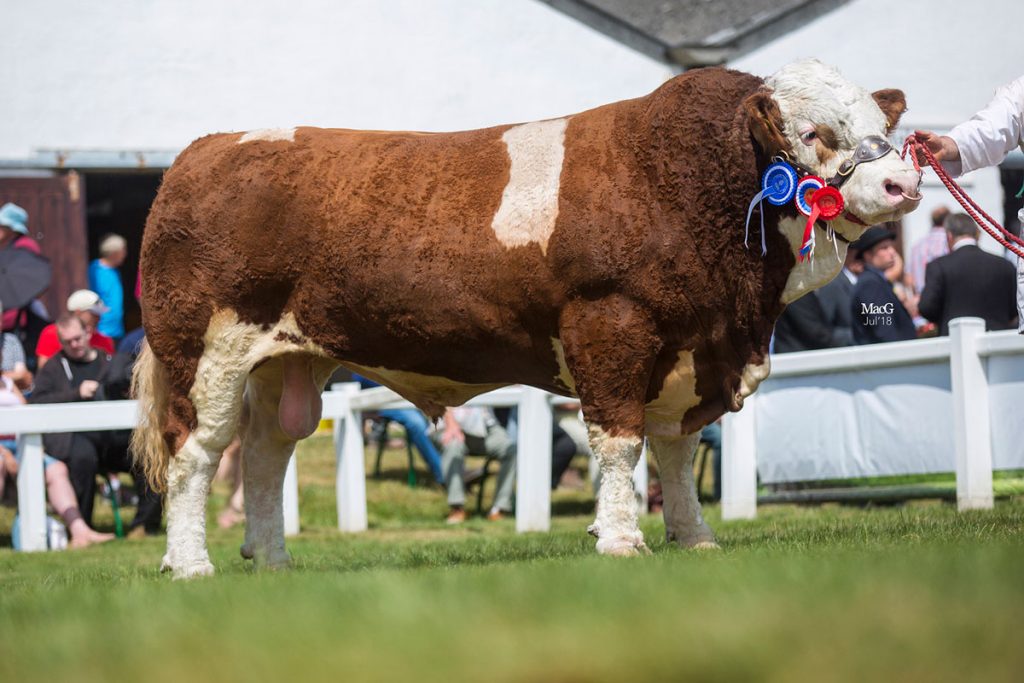 DATE: 10th July to 12th July 2018
JUDGE: Mr M Barlow
CLASS & POSITION
NAME OF ANIMAL
SIRE
DAM
EXHIBITOR
Female Champion & Supreme Champion
POPES RHONA
KILBRIDE FARM COMBER 11
SKERRINGTON RHONA 21ST
M/S J H & V G WOOD
Male Champion & Reserve Supreme Champion
CURAHEEN DRIFTER
CURAHEEN WARRIOR (ET)
CURAHEEN VIA
RICHARD MCCULLOCH
Junior Champion & Reserve Female Champion
STERLING FCUK IMPULS
STERLING GINO 15
STERLING CANDY'S F.C.U.K
MR J MCMILLAN
Reserve Male Champion
SKERRINGTON ICEMAN 17
SOWENNA ARISTROCRAT 09 9
SKERRINGTON RHONA 32ND
JIM & PATRICIA GOLDIE
Reserve Junior Champion
HEATHBROW GIRLIE'S IVY
HEATHBROW GRAND SLAM 15
HEATHBROW GIRLIE'S FREESIA
D A & L A SAPSED
Heifer, born on or after 01.04.17
1. CHESTERMANN EMPIRE STELLA
STERLING EMPIRE 13
CHESTERMANN RINGLEADER STELLA
MESSRS N & N GWYNNE
2. PENTON INDIGO
KILBRIDE FARM BALLINTOY 10
ATLOW BREEZE
MR R L PENNINGTON
3. POPES PRINCESS IMMIE
KILBRIDE FARM COMBER 11
POPES PRINCESS CLEO
M/S J H & V G WOOD
Heifer, born on or between 01.01.17 and 31.03.17 – Class 82A
1. HEATHBROW GIRLIE'S IVY
HEATHBROW GRAND SLAM 15
HEATHBROW GIRLIE'S FREESIA
D A & L A SAPSED
2. NEWBIEMAINS IMPRESSIVE
WOODHALL FANTASTIC 14
NEWBIEMAINS EMPRESS
JIM & PATRICIA GOLDIE
3. STORERSMITH IRIDESSA
DERRYCALLAGHAN ERNEST 13
STORERSMITH ECHO
R & L STORER SMITH
Heifer, born on or between 01.01.17 and 31.03.17 – Class 82B
1. STERLING FCUK IMPULS
STERLING GINO 15
STERLING CANDY'S F.C.U.K
MR J MCMILLAN
2. KEY PRINCESS BANGLE 3RD
THURSFORD FANTASTIC 14
KEY PRINCESS BANGLE 2ND
M/S G D KEY & SONS
3. POPES NELLYS ILIA
SWINGLETREE EMPOROR 13
POPES NELLYS DAZZLER
M/S J H & V G WOOD
Heifer, born on or between 01.04.16 and 31.07.16
1. POPES PRINCESS HETTIE
KILBRIDE FARM COMBER 11
POPES PRINCESS CLEO
M/S J H & V G WOOD
2. CURAHEEN HENRIETTA
TISET DARWIN
CURAHEEN BEAUTY
RICHARD MCCULLOCH
3. BLAKEWELL WALLFLOWERS HYACYNTH
BLAKEWELL WARRIOR
BLAKEWELL PRIMROSES WALLFLOWER
I & M STEELE
Heifer, born on or between 01.01.16 and 31.03.16
1. POPES RHONA
KILBRIDE FARM COMBER 11
SKERRINGTON RHONA 21ST
M/S J H & V G WOOD
2. MIDHOPE HEAVENLY LIGHT
DELFUR CHAS 11
MIDHOPE BRIGHT LIGHT
MR W J HOLLINGSWORTH
3. MOUNT HEIDI
DELFUR DECIDER 12
MOUNT CAROL
MR D DONNELLY
Cow or Heifer, born in 2015, in milk with calf at foot or certified in calf and due to calve before 3 years of age
1. KENNOX DIVA'S GENA
AUCHORACHAN WIZARD
KENNOX TARA'S DIVA
MR D DONNELLY
2. HEATHBROW GYPSY ROSE
DIRNANEAN WELCOME 1
DARSHAM SMASH HIT
D A & L A SAPSED
3. OVERHILL HOUSE GIGGLE
CURAHEEN DRIFTER
WOODHALL EFFIE
RICHARD MCCULLOCH
Cow, born in 2013 or 2014, in milk with calf at foot or certified in calf at the time of the Show
1. WOODHALL ERICA
RACEVIEW ALL-STAR KK
WOODHALL APRICOT 9
RICHARD MCCULLOCH
Cow, born before 01.01.13, in milk or certified in calf at the time of the Show
1. STERLING PETRA'S CAIRO
DOVEFIELDS GALLANT
STERLING DOLORES PETRA
MR & MRS P B & J A BORLASE
2. FIRCOVERT CECILIA
HOCKENHULL RED RUM
HORSFORDMANOR WONDER
MR P GUNTHER
3. NEWBIEMAINS DESIGNER WAG
BLACKFORD ALBATROSS 09
NEWBIEMAINS WAG
JIM & PATRICIA GOLDIE
Bull, born on or after 01.04.17
1. SKERRINGTON ICEMAN 17
SOWENNA ARISTROCRAT 09 9
SKERRINGTON RHONA 32ND
JIM & PATRICIA GOLDIE
2. HEATHBROW IMPORTANT 17
HEATHBROW GRAND SLAM 15
HEATHBROW SARAH'S ELEGANCE
D A & L A SAPSED
3. WILLIAMS INVINCIBLE 17
CLONAGH DIEHARD GALLANT
STARLINE LORETTE 24TH
MRS H CLARKE
Bull, born on or between 01.01.17 and 31.03.17
1. WILLIAMS I OF THE TIGER 17
CLONAGH TIGER GALLANT
WILLIAMS TINKERBELLE'S EILEEN
MRS H CLARKE
2. CHESTERMANN IFAN 17
STERLING EMPIRE 13
CHESTERMANN RINGLEADER LULU 2
MESSRS N & N GWYNNE
3. ATLOW INCE 17
RANFURLY FORMULA 1 F7 14
ATLOW BOADICEA
MR R L PENNINGTON
Bull, born in 2016
1. CAMUS HAROLD 16
KILBRIDE FARM NEWRY
CAMUS EASTER
M/S J H & V G WOOD
2. FIRCOVERT HORATIO 16
FIRCOVERT CHESTER 11
FIRCOVERT CECILIA
MR P GUNTHER
Bull, born on or before 31.12.15
1. CURAHEEN DRIFTER
CURAHEEN WARRIOR (ET)
CURAHEEN VIA
RICHARD MCCULLOCH
Pair of Animals
1. M/S J H & V G WOOD
2. D A & L A SAPSED
3. MR & MRS P B & J A BORLASE
Group of Four
1. RICHARD MCCULLOCH
2. M/S J H & V G WOOD
3. D A & L A SAPSED
Interbreed – Reserve Beef Group
CAMUS HAROLD 16
KILBRIDE FARM NEWRY
CAMUS EASTER
M/S J H & V G WOOD
POPES RHONA
KILBRIDE FARM COMBER 11
SKERRINGTON RHONA 21ST
M/S J H & V G WOOD
KENNOX DIVA'S GENA
AUCHORACHAN WIZARD
KENNOX TARA'S DIVA
MR D DONNELLY
POPES PRINCESS HETTIE
KILBRIDE FARM COMBER 11
POPES PRINCESS CLEO
M/S J H & V G WOOD
Interbreed – Junior Beef Group
6. SKERRINGTON ICEMAN 17
SOWENNA ARISTROCRAT 09 9
SKERRINGTON RHONA 32ND
JIM & PATRICIA GOLDIE
6. STERLING FCUK IMPULS
STERLING GINO 15
STERLING CANDY'S F.C.U.K
MR J MCMILLAN
6. HEATHBROW GIRLIE'S IVY
HEATHBROW GRAND SLAM 15
HEATHBROW GIRLIE'S FREESIA
D A & L A SAPSED
6. NEWBIEMAINS IMPRESSIVE
WOODHALL FANTASTIC 14
NEWBIEMAINS EMPRESS
JIM & PATRICIA GOLDIE