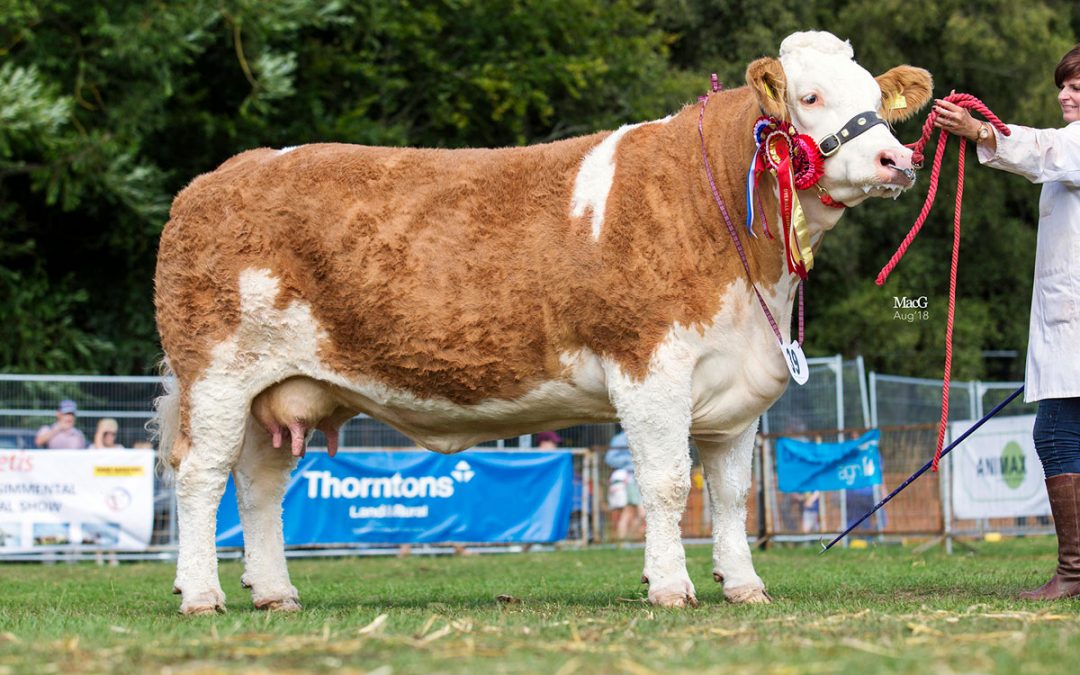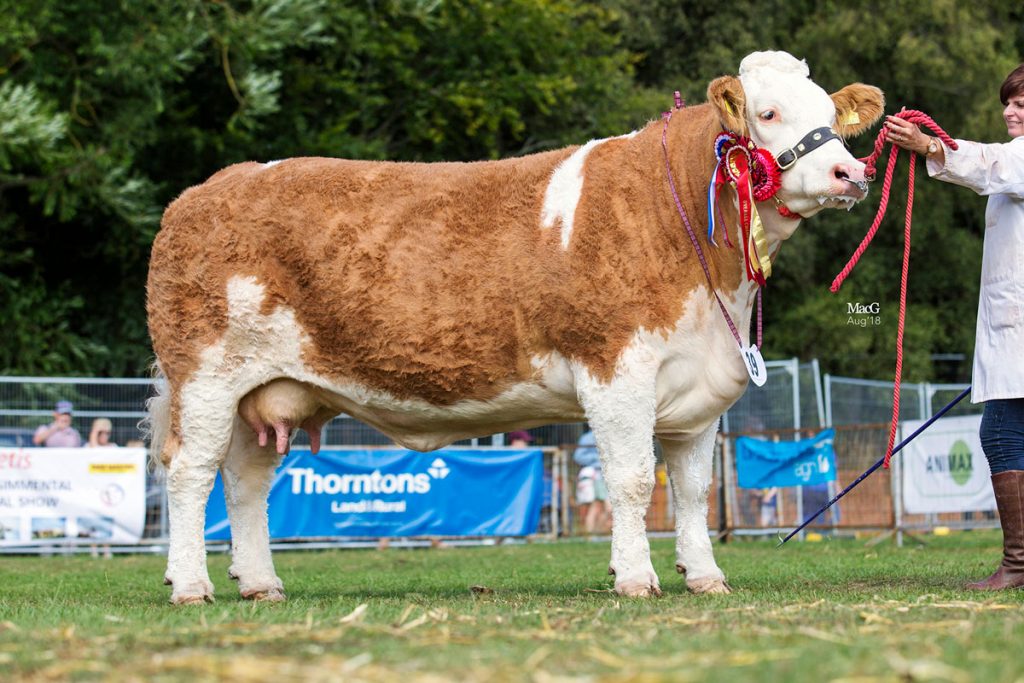 To start I'd like to thank the Scottish Simmental Club for the absolute honour and privilege of judging their National Show. The high standard of cattle put before me were an absolute credit to the breeders and the Simmental breed.
Class 1: Bulls born before 31/12/16. Quite a difficult class with three different types of bull. The first place for Curaheen Drifter, a well fleshed, long, deep bodied bull who moved very well on the day. Second was Newbie Mains Fame and Fortune, who on the day out powered Auroch Hudson who was giving away quite a bit of age.
Class 2. First was Blackford Iolair, a very big, growthy bull who was a different type to the second place Islavale Irish, a long fleshy bull who had plenty of breed character. Blackford Iolair then went on to be Reserve Male Junior Champion. Third was Pitmudie Inverurie, a deep, well fleshed bull, just lacking the length and power of the two bulls placed above him.
Class 3. First was Islavale Imperial, long, well fleshed, great movement and full of breed character, a bull which is going to have an outstanding future. He went on to be my Junior Champion and Reserve Male Champion. Second was Islavale Isaac, another good bull brought from the same stable. Well fleshed but on the day didn't move as well as his yard mate. Third was Corskie Infinity, a good bull just lacking the flesh and power of the 2 bulls above him.
Class 4. First was Cairnorrie Irn-Bru, a good young modern bull, well fleshed for his age and another one to look out for in the future. Second was Woodhall Innerwick, another tidy bull but just lacked the flesh of the bull placed above him. Third was Blackford Island Legacy, a good calf but for me on the day just lacked the style of the 2 bulls above him.
Class 5. First was Islavale Emerald. From the moment she walked in the ring I knew she was going to take some stopping. A cow with amazing presence and full of breed character. Everything I looked for in a top class cow. She went on to be my Female Champion, then overall Simmental Champion and Reserve Interbreed Champion. Second was Drumsleed Farina, another wonderful cow put before me who on any other day would have been a worthy champion but unfortunately was just out powered. Drumsleed Farina then went on to be my Reserve Female Champion. Third was Drumsleed Gretel, another good cow working hard but just wasn't as good on the plates as her stable mate on the day. Drumsleed Farina and Drumsleed Gretel also went on to be part of the best Group of Three animals and became Reserve Interbreed Group of Three.
Class 6. First was Pitmudie Havana, a very smart heifer, full of breed character and I'm sure she will become a good breeder. Second was Corskie He-enna, another cracking heifer who will also go on. Third place was Pitgaveny Gamble, another good strong heifer who on the day just lacked the condition of the 2 heifers above her.
Class 7. First was Blackford Hyalite, a super strong heifer with a super head and big ears to match. Full of breed character and a worthy winner of this strong class. Second was Corskie Herlande, another good heifer but a slightly different type to my winner but still I'm sure will become a very good cow. Third, Corskie Herb, another good heifer but in my opinion on the day a little shorter in length to her stable mate.
Class 8. First was Garmouth Dumandy's Isabella. A tough class but Isabella was a rib longer and full of breed character to her class mates. She went on to be my Junior Female Champion and Reserve Junior Champion. Second was Corskie Inita, another sweet heifer who just lacked the length of the first place heifer. Third was Pitmudie Florin 2nd, another cracking heifer and very good on the plates.
Class 9. First placed was Islavale Illusion, a nice red, clean, long modern heifer who at an early age shows great promise. She went on to be my Reserve Junior Female Champion. Second place was Cairnorrie Clarissa 3rd, a nice heifer with good breed characteristics. Third place was Auchorachan Hilly, a lovely long heifer but on the day didn't move as well as the 2 placed above her.
Class 10. Three lovely calves were put before me and in first place I put Drumsleed Janine, a super sweet calf who will hopefully follow in her dam's footsteps. Second place was Islavale Jewel, a good red heifer but harshly lacked the width of Janine. Third was Quarryhill Jen, another super calf who has done well off her dam. I'm sure she will be in the show ring when she is older.
Class 11: Best pair for me on the day were Islavale Imperial and Islavale Irish who were a uniformed match. Long fleshy bulls with great potential.
Finally I would like to thank the Turriff Show for their hospitality, to Tom Henderson and his family and to Richard Pettit for all their organising which led to the smooth running of classes and Neil Shand for his class stewarding.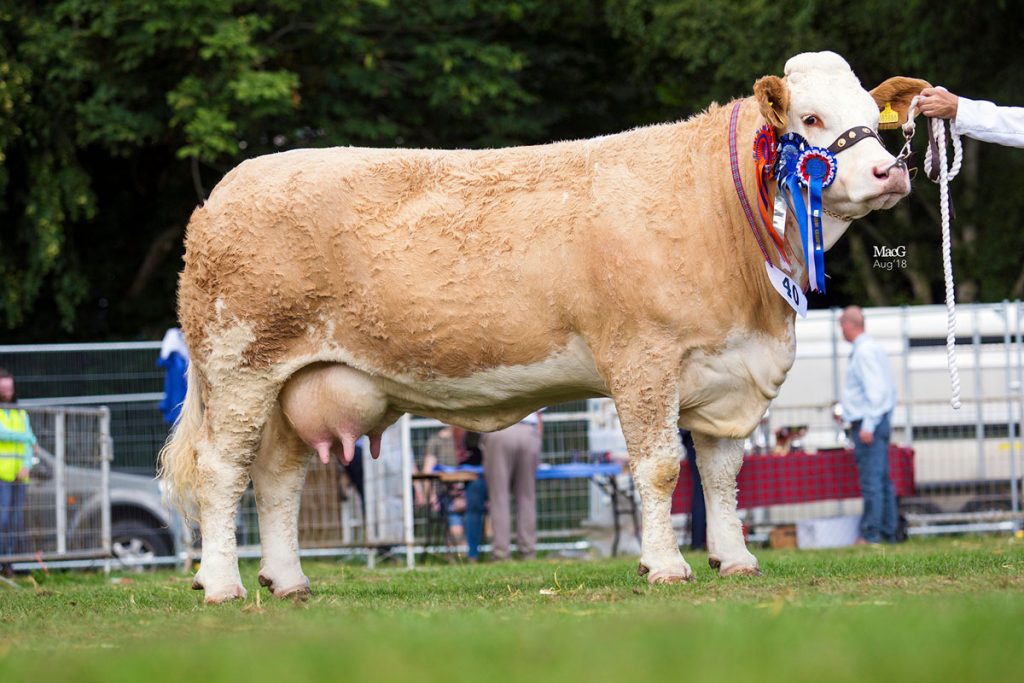 DATE: 5th August to 6th August 2018
JUDGE: Mr S Key
CLASS & POSITION
NAME OF ANIMAL
SIRE
DAM
EXHIBITOR
Overall Champion, Female Champion, Best Animal bred by Exhibitor & Senior Female Champion
ISLAVALE EMERALD
WOODHALL WALKER
ISLAVALE VIRGINIA
MR W S STRONACH
Reserve Overall Champion & Reserve Female Champion
DRUMSLEED FARINA 14
CLONAGH BUCKAROONEY TRUELY
BOARS HEAD KARINA 2ND
MR G W SMITH
Male Champion & Best Animal Opposite Sex to Overall Champion
CURAHEEN DRIFTER
CURAHEEN WARRIOR (ET)
CURAHEEN VIA
RICHARD MCCULLOCH
Reserve Male Champion, Overall Junior Champion & Junior Male Champion
ISLAVALE IMPERIAL 17
CURAHEEN GIANT 2
ISLAVALE BETHANY
MR W S STRONACH
Junior Female Champion & Reserve Junior Champion
GARMOUTH DUMANDY'S ISABELLA
BEL DHU CAPERCAILLIE 11
STERLING VERITY'S DUMANDY
LAURA GREEN
Reserve Junior Male Champion
BLACKFORD IOLAIR 17
KILBRIDE FARM DOUBLEACTION 12
BLACKFORD WAXWING
MR W G MACPHERSON (A FIRM)
Reserve Junior Female Champion
ISLAVALE ILLUSION
WOLFSTAR ELUSIVE 13
ISLAVALE EMERALD
MR W S STRONACH
Bull, born before 31.12.16
1. CURAHEEN DRIFTER
CURAHEEN WARRIOR (ET)
CURAHEEN VIA
RICHARD MCCULLOCH
2. NEWBIEMAINS FAME & FORTUNE 14
NEWBIEMAINS APACHE 09 9
CARRALAVIN WYNN
PITGAVENY FARMS
3. AUROCH HUDSON
KLITGARDENS EMIL (PP)
AUROCH DANICA (ET)
D & R DURNO & SONS
Bull, born between 01.01.17 and 31.03.17
1. BLACKFORD IOLAIR 17
KILBRIDE FARM DOUBLEACTION 12
BLACKFORD WAXWING
MR W G MACPHERSON (A FIRM)
2. ISLAVALE IRISH 17
CURAHEEN GIANT 2
ISLAVALE DAMSEL
MR W S STRONACH
3. PITMUDIE INVERURIE 17
CORSKIE ELDER 13
NEWBIEMAINS ELIZABETH
HEATHER DUFF
4. GARMOUTH ICEMAN 17
DIRNANEAN BRADLEY 10
CORSKIE CLOVER
LAURA GREEN
5. BLACKFORD INDIGO 17
KILBRIDE FARM DOUBLEACTION 12
BLACKFORD DAISY 2
MR W G MACPHERSON (A FIRM)
Bull, born between 01.04.17 and 30.06.17
1. ISLAVALE IMPERIAL 17
CURAHEEN GIANT 2
ISLAVALE BETHANY
MR W S STRONACH
2. ISLAVALE ISAAC 17
RACEVIEW ELTON KK ET
WOODHALL DIXIE
MR W S STRONACH
3. CORSKIE INFINITY 17
BEL DHU CAPERCAILLIE 11
CORSKIE FOURTH STAR
MR WJ & J GREEN
4. TILLYEVE INVINCIBLE 17
WOODHALL ELLISON 13
TILLYEVE ELISSA
MESSRS C & M BRUCE
Bull, born between 01.07.17 and 31.12.17
1. CAIRNORRIE IRN-BRU 17
CAIRNORRIE BOOMER 10
BURGHBRIDGE VICKY 2ND
MR N A SHAND
2. WOODHALL INNERWICK 17
ISLAVALE FRONTIER 14
WOODHALL FANCY 14
MR N A SHAND
3. BLACKFORD ISLAND LEGACY 17
BLACKFORD GALAXY 15
BLACKFORD BUNTY 2
MR W G MACPHERSON (A FIRM)
4. BLACKFORD INVICTUS 17
HOCKENHULL WATERLOO
BLACKFORD ECHO
MR W G MACPHERSON (A FIRM)
5. BLACKFORD ISLAND LEADER 17
BLACKFORD GALAXY 15
BLACKFORD BUNTY 2
MR W G MACPHERSON (A FIRM)
Cow, born before 31.07.15
1. ISLAVALE EMERALD
WOODHALL WALKER
ISLAVALE VIRGINIA
MR W S STRONACH
2. DRUMSLEED FARINA 14
CLONAGH BUCKAROONEY TRUELY
BOARS HEAD KARINA 2ND
MR G W SMITH
3. DRUMSLEED GRETEL 15
HAYSTAR CRACKER 11
DRUMSLEED BUTTERSCOTCH
MR G W SMITH
4. WOODHALL EVA
STEINADLER
WOODHALL BANTER
GEOFF & KATE ANDERSON
5. BROOMBRAE SNOWDROP D4
TEAM WISCONSIN
BROOMBRAE SNOWDROP W18
GEOFF & KATE ANDERSON
Heifer, born between 01.08.15 and 31.03.16
1. PITMUDIE HAVANA
CORSKIE ELDER 13
DRUMSLEED CARINA 11
HEATHER DUFF
2. CORSKIE HE-ENNA
BEL DHU CAPERCAILLIE 11
CORSKIE WE-ENNA
MR WJ & J GREEN
3. PITGAVENY GAMBLE
ISLAVALE CHAMP 11
PITGAVENY DIAMOND
PITGAVENY FARMS
Heifer, born between 01.04.16 and 31.12.16
1. BLACKFORD HYALITE
KILBRIDE FARM DOUBLEACTION 12
BLACKFORD AMBER
MR W G MACPHERSON (A FIRM)
2. CORSKIE HERLANDE
BEL DHU CAPERCAILLIE 11
CORSKIE ROLANDE
MR WJ & J GREEN
3. CORSKIE HERB
BEL DHU CAPERCAILLIE 11
CORSKIE DILL
MR WJ & J GREEN
4. DRUMSLEED HILIGHT 16
GRANGEWOOD WILLIAM
DRUMSLEED EVITA 13
MR G W SMITH
5. OVERHILL HOUSE HESSE
CURAHEEN DRIFTER
RACEVIEW ALTESSE RAMONA 450
RICHARD MCCULLOCH
Heifer, born between 01.01.17 and 30.06.17
1. GARMOUTH DUMANDY'S ISABELLA
BEL DHU CAPERCAILLIE 11
STERLING VERITY'S DUMANDY
LAURA GREEN
2. CORSKIE INITA
AULTMORE FRANCO 14
CORSKIE ANITA
MR WJ & J GREEN
3. PITMUDIE FLORIN 2ND
CAIRNORRIE FERRARI 14
PITMUDIE FLORIN
HEATHER DUFF
4. ISLAVALE IRIS
RANFURLY CONFEDERATE C24 11
ISLAVALE ANWEN
MR W S STRONACH
5. OVERHILL HOUSE INDIA
CURAHEEN DRIFTER
WOODHALL CLAUDIA
RICHARD MCCULLOCH
Heifer, born between 01.07.17 and 31.12.17
1. ISLAVALE ILLUSION
WOLFSTAR ELUSIVE 13
ISLAVALE EMERALD
MR W S STRONACH
2. CAIRNORRIE CLARISSA 3RD
CAIRNORRIE BOOMER 10
TILBROOK CLARISSA
MR N A SHAND
3. AUCHORACHAN HILLY 12
HILLCREST CHAMPION
AUCHORACHAN GENIE
D & R DURNO & SONS
4. WOODHALL ISLA
ISLAVALE FRONTIER 14
WOODHALL FREYA
J C MACIVER
Calf, born in year of Show – 2018
1. DRUMSLEED JANINE 18
LOPEMEDE GRENADIER 15
DRUMSLEED FARINA 14
MR G W SMITH
2. ISLAVALE JEWEL
CURAHEEN GIANT 2
ISLAVALE EMERALD
MR W S STRONACH
3. QUARRYHILL JEN
NEWBIEMAINS FAME & FORTUNE 14
BROOMBRAE SNOWDROP D4
GEOFF & KATE ANDERSON
Pairs Champion
1. ISLAVALE IMPERIAL 17
CURAHEEN GIANT 2
ISLAVALE BETHANY
MR W S STRONACH
1. ISLAVALE IRISH 17
CURAHEEN GIANT 2
ISLAVALE DAMSEL
MR W S STRONACH
Best Cow and Calf as Pair
ISLAVALE EMERALD
WOODHALL WALKER
ISLAVALE VIRGINIA
MR W S STRONACH
ISLAVALE JEWEL
CURAHEEN GIANT 2
ISLAVALE EMERALD
MR W S STRONACH
Best Group of Three
1. DRUMSLEED FARINA 14
CLONAGH BUCKAROONEY TRUELY
BOARS HEAD KARINA 2ND
MR G W SMITH
1. DRUMSLEED GRETEL 15
HAYSTAR CRACKER 11
DRUMSLEED BUTTERSCOTCH
MR G W SMITH
1. DRUMSLEED HILIGHT 16
GRANGEWOOD WILLIAM
DRUMSLEED EVITA 13
MR G W SMITH
Interbreed – Reserve Overall Cattle Champion
ISLAVALE EMERALD
WOODHALL WALKER
ISLAVALE VIRGINIA
MR W S STRONACH
Interbreed – Reserve Overall Group of Three Beef Animals
DRUMSLEED FARINA 14
CLONAGH BUCKAROONEY TRUELY
BOARS HEAD KARINA 2ND
MR G W SMITH
DRUMSLEED GRETEL 15
HAYSTAR CRACKER 11
DRUMSLEED BUTTERSCOTCH
MR G W SMITH
DRUMSLEED HILIGHT 16
GRANGEWOOD WILLIAM
DRUMSLEED EVITA 13
MR G W SMITH