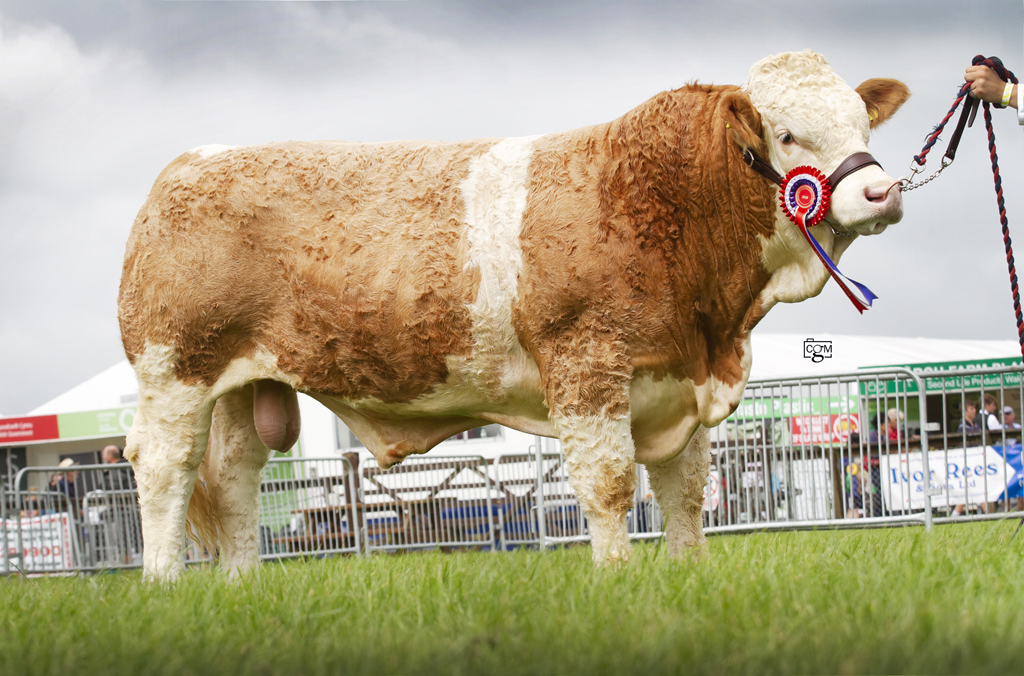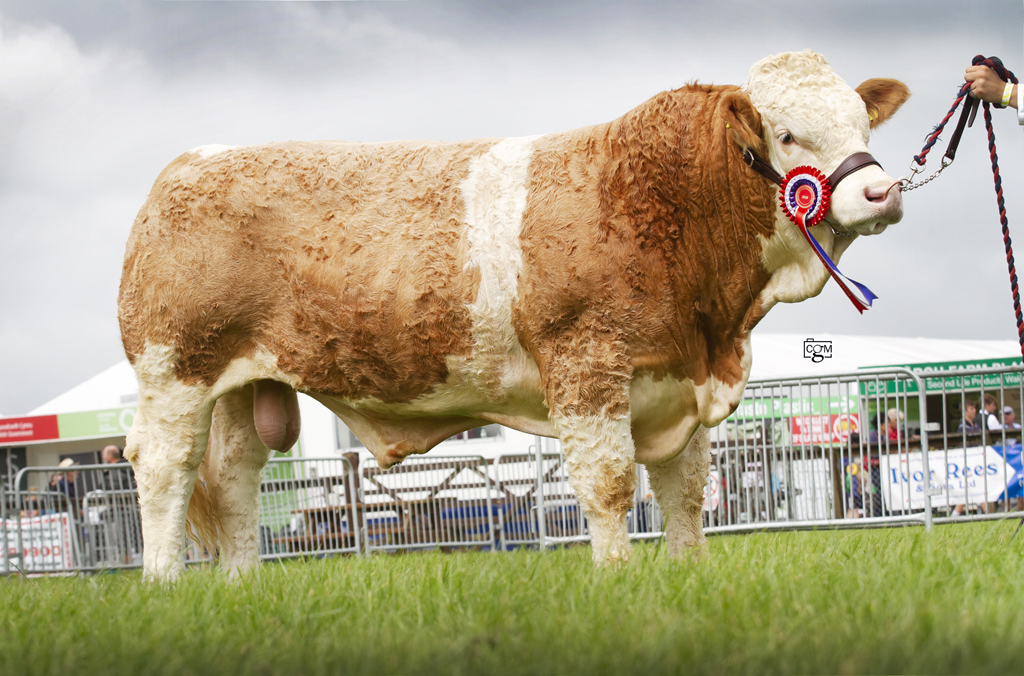 It was a great honour to be invited to judge the Welsh National Show in Pembrokeshire and I would like to thank the Pembrokeshire Agricultural Society for giving me this opportunity. I would firstly like to thank all the exhibitors who had worked extremely hard to get their stock looking tremendous and presenting me with some difficult decisions to make. Everyone made me very welcome and the stewards helped to make the day run smoothly, a most enjoyable day.
My first class was the young April bulls and I was immediately impressed by my first placed bull Cwarre Idaho – a well
fleshed bull with lots of style. In second place was a bull with potential for the future, Crugmelyn Idwal. Third place was a strong bull Crugmelyn Ilky Bar Kid and fourth was a young bull, Cwarre Iowa, with exceptional length and one to watch for
the future.
The second class was young bull born after 1st September 2017 and although there was only one in the class, Gwili Idwal
was a sweet calf with a tremendous back end, full of muscle.
The senior cow class had only one entry, a 7 year-old cow, Cefngwlad Cleopatra, who was working hard and doing her calf well.
The junior heifer class was won by Cwarre Rosie's Hyacinth, a well-balanced calf that walked well and just beaten into second place was Sterling Ellie's Heidi, a tall calf in natural condition.
The January class was won by Deerhurst Impulse, a very correct heifer which exhibited great presence in the ring. She went on to be Junior & Female Champion. Second was Mainview Jezabel, a big strong heifer but just not as neat as the first. Third was Dyfed Foxy Lady 2nd who just lacked condition on the day.
The April class was won by Crugmelyn Icing Sugar, a super heifer with lots of potential, second from the same exhibitor
was Crugmelyn Icecream, a long heifer that did just not quite have the style of the winner. born on or after 01.09.17 at the Welsh National Show
The calf class was won by Cwarre Rosie's Ilex, a very sweet young heifer who exhibited herself well on parade. Second
was a very young calf, Cefngwlad Jennie which just lacked the power of my winner.
My Champion was the very stylish bull Cwarre Idaho and my Reserve Champion was the sweet heifer Deerhurst Impulse.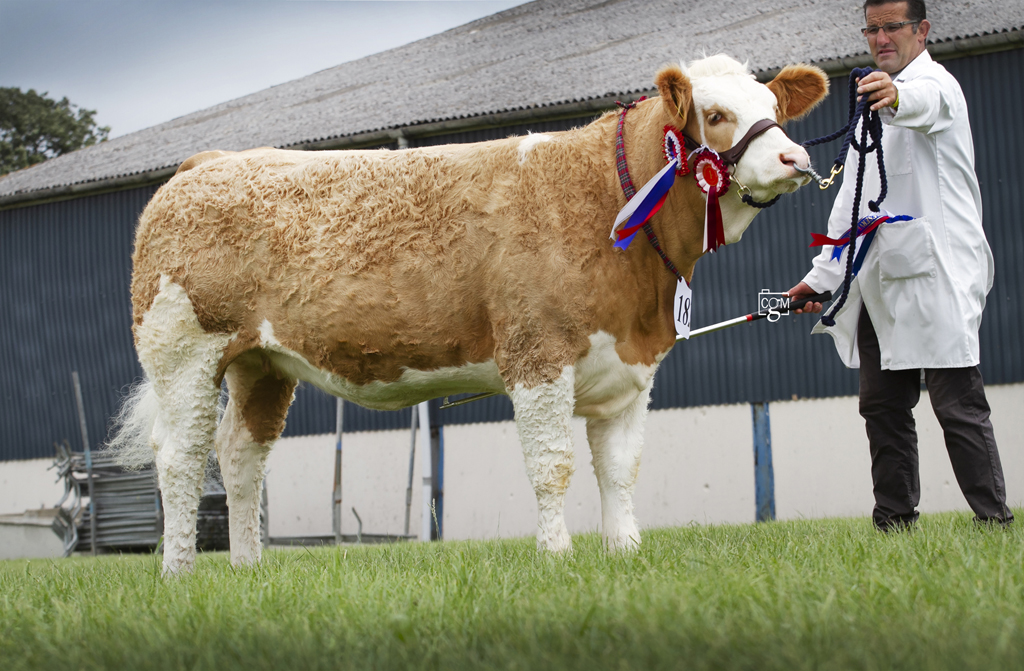 DATE: 14th August to 16th August 2018
JUDGE: Mr C Martindale
CLASS & POSITION
NAME OF ANIMAL
SIRE
DAM
EXHIBITOR
Junior Male Champion, Male Champion, Overall Champion & Best Animal bred by Exhibitor
CWARRE IDAHO 17
DENIZES COLUMBO 11
PENWERN VERONA
RICHARD JAMES CUMMING
Junior Female Champion, Female Champion & Reserve Overall Champion
DEERHURST IMPULSE
PENWERN AMBER 09
DEERHURST DARLING
MR A DAVIES
Reserve Male Champion
GWILI IDWAL 17
AUCHORACHAN WIZARD
FOLE NUTWOOD VICTORIA 43
MR M K BEYNON
Reserve Junior Female Champion & Reserve Female Champion
CRUGMELYN ICING SUGAR
CRUGMELYN ELVIS 13
CRUGMELYN BOUNTY
G & E LLOYD
Bull, born on or after 01.04.17
1. CWARRE IDAHO 17
DENIZES COLUMBO 11
PENWERN VERONA
RICHARD JAMES CUMMING
2. CRUGMELYN IDWAL 17
CRUGMELYN ELVIS 13
CRUGMELYN VEGAN
G & E LLOYD
3. CRUGMELYN ILKYBAR KID 17
CRUGMELYN ELVIS 13
CRUGMELYN CARAMAC
G & E LLOYD
4. CWARRE IOWA 17
DENIZES COLUMBO 11
KILBRIDE FARM EUNICE 153D
RICHARD JAMES CUMMING
Bull Calf, born on or after 01.09.17
1. GWILI IDWAL 17
AUCHORACHAN WIZARD
FOLE NUTWOOD VICTORIA 43
MR M K BEYNON
Cow, any age, in calf or with calf at foot
1. CEFNGWLAD CLEOPATRA
PENWERN WISEMAN
ATLOW JENNIE
ANWEN JONES
Heifer, born on or between 01.09.17 and 31.12.17
1. CWARRE ROSIE'S HYACINTH
DELFUR DECIDER 12
DENIZES ROSIE'S CADETTE
RICHARD JAMES CUMMING
2. STERLING ELLIE'S HEIDI
STERLING GINO 15
STERLING FIESTA'S ELLIE
ARWEL DYFED DAVIES
Heifer, born on or between 01.01.17 and 31.03.17
1. DEERHURST IMPULSE
PENWERN AMBER 09
DEERHURST DARLING
MR A DAVIES
2. MAINVIEW JEZABEL
MILNAFUA GRADUATE
BROOMFIELD ELICE
MR A DAVIES
3. DYFED FOXY LADY 2ND
OAKDALE ELIJAH 13
DYFED FOXY LADY
MR & MRS M O & L D JONES
Heifer, born on or after 01.04.17
1. CRUGMELYN ICING SUGAR
CRUGMELYN ELVIS 13
CRUGMELYN BOUNTY
G & E LLOYD
2. CRUGMELYN ICECREAM
CRUGMELYN ELVIS 13
CRUGMELYN FORRERO
G & E LLOYD
Heifer Calf, born on or after 01.09.17
1. CWARRE ROSIE'S ILEX
DELFUR DECIDER 12
DENIZES ROSIE'S CADETTE
RICHARD JAMES CUMMING
2. CEFNGWLAD JENNIE
OAKDALE ELIJAH 13
CEFNGWLAD CLEOPATRA
ANWEN JONES
Pair of Animals – male, female or mixed from same Exhibitor
1. RICHARD JAMES CUMMING
2. G & E LLOYD
3. MR A DAVIES
Pair of Heifers, owned by the Exhibitor, born on or after 01.09.15
1. CRUGMELYN ICING SUGAR
CRUGMELYN ELVIS 13
CRUGMELYN BOUNTY
G & E LLOYD
1. CRUGMELYN ICECREAM
CRUGMELYN ELVIS 13
CRUGMELYN FORRERO
G & E LLOYD
Group of Three Animals, the property of the same Exhibitor
1.
RICHARD JAMES CUMMING
Interbreed – Reserve Champion Junior Interbreed Bull
CWARRE IDAHO 17
DENIZES COLUMBO 11
PENWERN VERONA
RICHARD JAMES CUMMING
Interbreed – Best Pair of Non Native Beef Heifers
CRUGMELYN ICING SUGAR
CRUGMELYN ELVIS 13
CRUGMELYN BOUNTY
G & E LLOYD
CRUGMELYN ICECREAM
CRUGMELYN ELVIS 13
CRUGMELYN FORRERO
G & E LLOYD
Interbreed – Reserve Supreme Team of Five Beef
CWARRE IDAHO 17
DENIZES COLUMBO 11
PENWERN VERONA
RICHARD JAMES CUMMING
CWARRE ROSIE'S HYACINTH
DELFUR DECIDER 12
DENIZES ROSIE'S CADETTE
RICHARD JAMES CUMMING
DEERHURST IMPULSE
PENWERN AMBER 09
DEERHURST DARLING
MR A DAVIES
CRUGMELYN ILKYBAR KID 17
CRUGMELYN ELVIS 13
CRUGMELYN CARAMAC
G & E LLOYD
CRUGMELYN IDWAL 17
CRUGMELYN ELVIS 13
CRUGMELYN VEGAN
G & E LLOYD