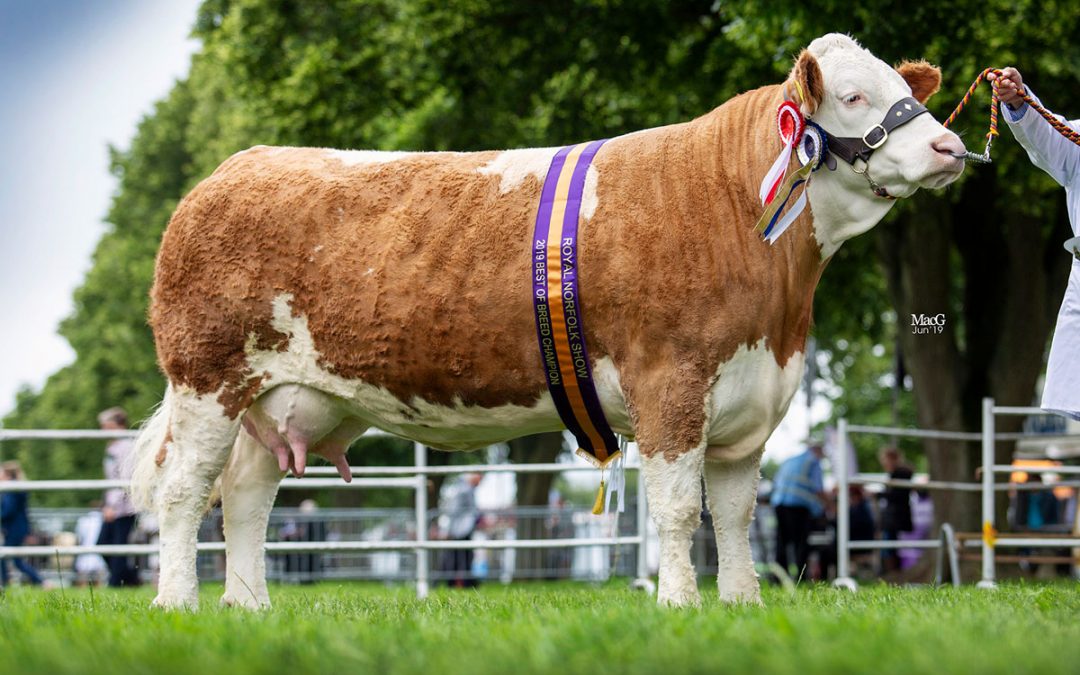 It was an honour to be asked to judge the 2019 English National Show at The Royal Norfolk Show. Thank you to the Society and Show for a very well organised day and thank you to the exhibitors for all their time and effort in turning out such a super show of Simmies.
In the Junior Heifer class Sacombe Hawaii's Jessica caught my eye as soon as she came in. Very sweet, well fleshed and a very good mover, just my kind of heifer. This heifer went on to be Junior and Reserve Female Champion. Second place went to Heathbrow's much younger Girlies Jewel, a very correct, well fleshed heifer for her age, third was Ashland Lucy Jezebel, another quality heifer.
The second class again had a clear winner in Heathbrow Jasmine, a powerful heifer, but still very feminine. There wasn't a lot between second and third, Brandane Jane just having slightly more flesh than Perrywood Jasmine.
The third heifer class was easily won by Cade Irresistible, a similar style of heifer to the winner of the previous class, fleshy but still feminine. Storersmith Isla in second was a nice long heifer, just unlucky to have the Cade heifer overpower her.
Popes Princess Immie gave me another clear winner in the fourth class, a fleshy heifer who paraded very well. The next two heifers were a similar type, but Beeches Isabella had more width through the front end compared to Penton Indigo.
Two very powerful heifers led class 5. Popes Nellys Ilia taking first, being the more feminine and better balanced of the two. Heathbrow Girlies Ivy stood second. The Jukes' Swallowhill Isabelle stood third, a lovely long female, just not carrying as much flesh as the first two.
We just had two entries in the Junior cow class, both working hard with nice calves at foot. Theberton Honey was the deeper bodied of the two with a bit more shoulder than her herd mate Hollie.
The Intermediate cow class was led by Kennox Divas Gena, being the widest and biggest of the three. Sway Gorgeous Girl stood second, another big cow, but just not having the width through the front end of the first cow. Fircovert Glamour Bluebell came in third, just missing the scale of the other two.
In the Senior cow class, I found my Champion. I immediately fell for Sacombe Dandelion Oma when she floated into the ring saying, "Look at me!". She wasn't the biggest cow in the class, but to me she was everything a Simmie cow should be. Very feminine, well balanced, good length and width, especially through the backend, good locomotion, loads of milk, and a super young bull calf at foot. Second place went to Theberton Emma 2nd, another well balanced, breedy cow.
The first class of males was won by Sacombe Joker, maybe a bit raw on the day, but the most correct and well put together young bull in the class. Second was the heavier, but less balanced Popes Jethro, and third went to the nice shaped Scotland Hill Jackaroo.
The second bull class found me my Junior Male Champion in Scotland Hill Juggernaut, a growthy, well fleshed young bull. Second and third were two similar bulls, Storersmith Jumanji and Penton Jolly, unfortunately Jolly was lame, so took third.
My Male and Reserve Overall Champion came from the next class, again a clear winner, Heathbrow Important towered above the other two entries in the class. His length, cleanness and power are what we have been looking for in a stockbull, and I'm pleased to say that he has since come home to Blackford. Second place went to the bouncy, but well-made Fircovert Isaac with Shannock Ice-T being third.
The four senior bulls were split into two types, my preference was for the smoother fleshed more traditional Drumsleed Explosion in first and Sway Hector in second.
I was very proud to see the Simmental team of five going on to win the prestigious Heygates Interbreed Team of Five competition, and Heathbrow Important taking the Male and then Supreme Interbreed Champion later in the show.
Thank you again to everyone involved for their hospitality and hard work at the show.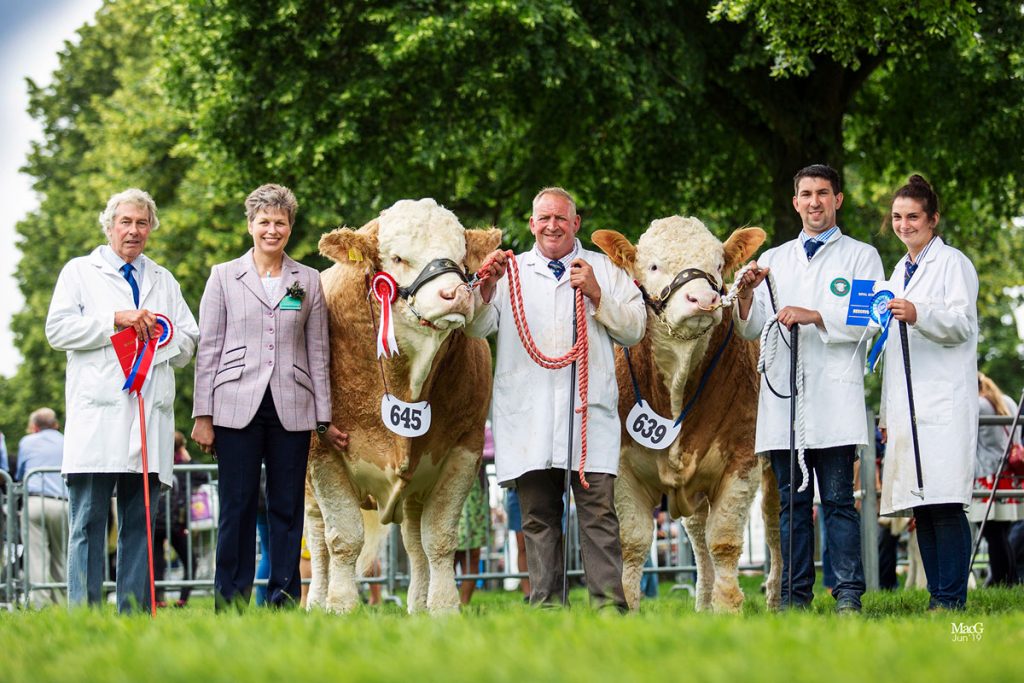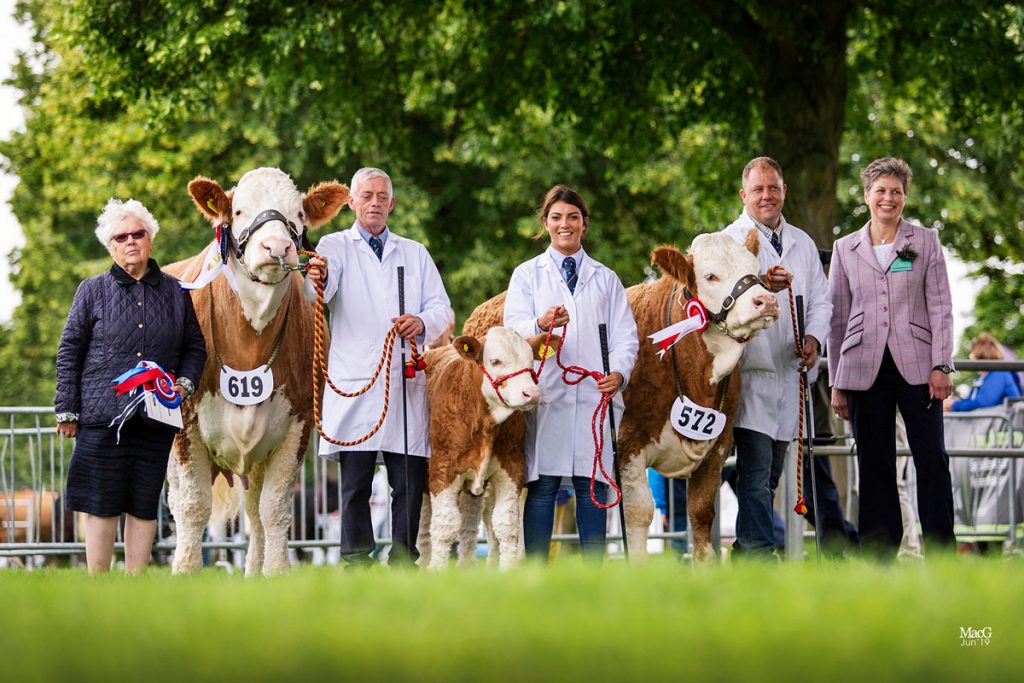 DATE: 26th June to 27th June 2019
JUDGE: Mrs A MacPherson
CLASS & POSITION
NAME OF ANIMAL
SIRE
DAM
EXHIBITOR
Female & Overall Breed Champion
SACOMBE DANDELION-OMA
CLONAGH WORLD CLASS
SACOMBE VIVIENNE-OMA
MR & MRS P B & J A BORLASE
Male Champion, Reserve Overall & Reserve Best Of Breed
HEATHBROW IMPORTANT 17
HEATHBROW GRAND SLAM 15
HEATHBROW SARAH'S ELEGANCE
D A & L A SAPSED
Junior Champion & Reserve Female Champion
SACOMBE HAWAII'S JESSICA
STERLING HAYMAKER 16
STERLING BACARDI'S HAWAII
MR & MRS P B & J A BORLASE
Reserve Male Champion
SCOTLAND HILL JUGGERNAUT 18
POPES FENDT 14
SCOTLAND HILL WISTERIA GRACEFUL
MR THOMAS HILL
Reserve Junior Champion
HEATHBROW JASMINE
SCOTLAND HILL CAIRO 11
HOCKENHULL CLAIRE 21ST
D A & L A SAPSED
Best Animal Bred & Exhibited by a Breeder whose herd is based within Norfolk
1. FIRCOVERT ISAAC 17
HORSFORDMANOR BONUS 10
FIRCOVERT CECILIA
MR P GUNTHER
2. WILLIAMS CRYSTAL'S JEWEL
CLONAGH DIEHARD GALLANT
WILLIAMS SIMONE'S CRYSTAL
MRS H CLARKE
Heifer, born on or between 1st January & 31st March 2018
1. HEATHBROW JASMINE
SCOTLAND HILL CAIRO 11
HOCKENHULL CLAIRE 21ST
D A & L A SAPSED
2. BRANDANE JANE
AUCHORACHAN ACDC 09 9
STERLING NAOMI'S BACARDI
MR J MCMILLAN
3. PERRYWOOD JASMINE
DERRYCALLAGHAN GAMBLER 15
PERRYWOOD WISPA
MISS B A BORLASE
4. ATLOW JEALOUSY
AUCHORACHAN ACDC 09 9
STERLING ALICIA'S DOLL
MR D DONNELLY
5. SWALLOWHILL JANUARY
HILLCREST CHAMPION
RACEVIEW ETERNAL VERONA
MRS A JUKES
6. FIRCOVERT JESSICA
BEETLEY GATSBY 15
FIRCOVERT GILDA
MR P GUNTHER
Heifer, born on or between 1st August & 31st December 2017
1. CADE IRRESISTIBLE
SCOTLAND HILL CAIRO 11
THURSFORD SADIE 19TH
PAUL CADE
2. STORERSMITH ISLA
LISGLASS BARNABUS 10
KILBRIDE FARM DORA 34A
R & L STORER SMITH
3. KEY WENONA
DENIZES FIELDMARSHALL 14
STERLING NAOMI'S WENONA
M/S G D KEY & SONS
4. EATON ICE ICE BABY
SKERRINGTON FRANKLYN 14
EATON ROXY 1ST
A J & S D HEATH
Heifer, born on or between 1st April & 31st July 2017
1. POPES PRINCESS IMMIE
KILBRIDE FARM COMBER 11
POPES PRINCESS CLEO
M/S J H & V G WOOD
2. BEECHES ISABELLA
NORMAN ESQUIRE 13
BEECHES BUTTON
C H CARTER
3. PENTON INDIGO
KILBRIDE FARM BALLINTOY 10
ATLOW BREEZE
MR R L PENNINGTON
4. BOARS HEAD NELLY 7TH
DRUMSLEED EXPLOSION 13
BOARS HEAD NELLY
MR R J GRENHAM
5. SHANNOCK ISA
SHANNOCK FINN 14
TULLA BEAUTY
MR I & MRS J TURVEY
Heifer, born on or between 1st January & 31st March 2017
1. POPES NELLYS ILIA
SWINGLETREE EMPOROR 13
POPES NELLYS DAZZLER
M/S J H & V G WOOD
2. HEATHBROW GIRLIE'S IVY
HEATHBROW GRAND SLAM 15
HEATHBROW GIRLIE'S FREESIA
D A & L A SAPSED
3. SWALLOWHILL ISABELLE
GLENTURK DYNAMIC 12
SWALLOWHILL BLUEBELLE
MRS A JUKES
4. SWAY SWEET CHESTNUT
OIDIPUS VODNANSKY
SWAY GINGERNUT
MR & MRS S & L BLOMFIELD
5. FIRCOVERT IMOGEN
HORSFORDMANOR BONUS 10
FIRCOVERT EDWINA
MR P GUNTHER
6. THEBERTON IRIS
THURSFORD ANT 09
THEBERTON VERA 2ND
MR & MRS LJ DOWLEY
Cow or Heifer, born in 2016 in milk with calf at foot or certified in calf and due to calve before 3 years of age
1. THEBERTON HONEY
KEY ERIC 13
THEBERTON VENUS
MR & MRS LJ DOWLEY
2. THEBERTON HOLLIE
CELTIC BRYAN
THEBERTON ABAGAIL
MR & MRS LJ DOWLEY
Cow, born in 2014 or 2015 in milk or certified in calf at the time of the show
1. KENNOX DIVA'S GENA
AUCHORACHAN WIZARD
KENNOX TARA'S DIVA
MR D DONNELLY
2. SWAY GORGEOUS GIRL
SWAY DRUMMER BOY 12
SWAY ROSY POSY
MR & MRS S & L BLOMFIELD
3. FIRCOVERT GLAMOUR BLUEBELL
BURGHBRIDGE BRADLEY 10
FIRCOVERT BLUEBELL
MR P GUNTHER
Bull, born on or after 1st April 2018
1. SACOMBE JOKER P 18
LANGMOSE LUDVIG
SACOMBE FOXY-BOUQUETTE
MR & MRS P B & J A BORLASE
2. POPES JETHRO 18
WOODHALL FERRARI 14
POPES NELLYS SUPRISE
M/S J H & V G WOOD
3. SCOTLAND HILL JACKAROO 18
GLENTURK EXTRA SPECIAL 13
SCOTLAND HILL AVRIL 3RD
MR THOMAS HILL
4. SACOMBE JUGGERNAUT 18
DERRYCALLAGHAN GAMBLER 15
SACOMBE DANDELION-OMA
MR & MRS P B & J A BORLASE
5. FIRCOVERT JOHN 18
HORSFORDMANOR BONUS 10
FIRCOVERT CECILIA
MR P GUNTHER
6. WILLIAMS JIMMY 18
CLONAGH DIEHARD GALLANT
STERLING NAOMI'S WEDNESDAY
MRS H CLARKE
Bull, born on or between 1st January & 31st March 2018
1. SCOTLAND HILL JUGGERNAUT 18
POPES FENDT 14
SCOTLAND HILL WISTERIA GRACEFUL
MR THOMAS HILL
2. STORERSMITH JUMANJI 18
DERRYCALLAGHAN ERNEST 13
STORERSMITH DAMSON
R & L STORER SMITH
3. PENTON JOLLY 18
CHESTERMANN FURBALL 14
BALLINALARE FARM CACTUS
MR R L PENNINGTON
4. CADE JUSTICE 18
SCOTLAND HILL CAIRO 11
HEATHBROW ESTELLE
PAUL CADE
5. EATON JOCK 18
DIRNANEAN BRADLEY 10
DOLWEN BAMBI
A J & S D HEATH
6. WILLIAMS JOSEF 18
CLONAGH DIEHARD GALLANT
WILLIAMS SNOWQUEEN 7TH
MRS H CLARKE
Bull, born in 2017
1. HEATHBROW IMPORTANT 17
HEATHBROW GRAND SLAM 15
HEATHBROW SARAH'S ELEGANCE
D A & L A SAPSED
2. FIRCOVERT ISAAC 17
HORSFORDMANOR BONUS 10
FIRCOVERT CECILIA
MR P GUNTHER
3. SHANNOCK ICE-T 17
SHANNOCK FINN 14
RATHLEE CAPRICE
MR I & MRS J TURVEY
Bull, born on or before 31st December 2016
1. DRUMSLEED EXPLOSION 13
KILBRIDE FARM NEWRY
DRUMSLEED BUBBLES
MR R J GRENHAM
2. SWAY HECTOR 16
SWAY DRUMMER BOY 12
SWAY ROSY POSY
MR & MRS S & L BLOMFIELD
3. DENIZES HAMISH 16
DINTON NAUTICAL
AUROCH EVE
MR M A BARLOW
4. THEBERTON FALCON 14
CELTIC BRYAN
THEBERTON ABAGAIL
MR & MRS LJ DOWLEY
Pair of Animals of either sex entered in the classes, the property of the same owner
1. D A & L A SAPSED
2. M/S J H & V G WOOD
3. MR & MRS P B & J A BORLASE
4. MR R J GRENHAM
5. MR & MRS S & L BLOMFIELD
6. C H CARTER
Group of Four, the best group of four to be owned or bred by the exhibitor
1. MR & MRS P B & J A BORLASE
Best of Breed Group of Three owned and bred by the exhibitor and drawn from the classses
1. SACOMBE JUGGERNAUT 18
DERRYCALLAGHAN GAMBLER 15
SACOMBE DANDELION-OMA
MR & MRS P B & J A BORLASE
1. SACOMBE JENNA – LAUBE
DERRYCALLAGHAN GAMBLER 15
SACOMBE WAIKIKI- LAUBE
MR & MRS P B & J A BORLASE
1. PERRYWOOD JASMINE
DERRYCALLAGHAN GAMBLER 15
PERRYWOOD WISPA
MISS B A BORLASE
2. THEBERTON HOLLIE
CELTIC BRYAN
THEBERTON ABAGAIL
MR & MRS LJ DOWLEY
2. THEBERTON EMMA 2ND
THURSFORD ANT 09
THEBERTON SILKY
MR & MRS LJ DOWLEY
2. THEBERTON HONEY
KEY ERIC 13
THEBERTON VENUS
MR & MRS LJ DOWLEY
The Heygates Country Feeds Team of Five – Comprising of at least 1 male and 1 female
1. SACOMBE DANDELION-OMA
CLONAGH WORLD CLASS
SACOMBE VIVIENNE-OMA
MR & MRS P B & J A BORLASE
1. KENNOX DIVA'S GENA
AUCHORACHAN WIZARD
KENNOX TARA'S DIVA
MR D DONNELLY
1. HEATHBROW IMPORTANT 17
HEATHBROW GRAND SLAM 15
HEATHBROW SARAH'S ELEGANCE
D A & L A SAPSED
1. SACOMBE HAWAII'S JESSICA
STERLING HAYMAKER 16
STERLING BACARDI'S HAWAII
MR & MRS P B & J A BORLASE
1. HEATHBROW JASMINE
SCOTLAND HILL CAIRO 11
HOCKENHULL CLAIRE 21ST
D A & L A SAPSED
Interbreed – Beef Supreme Champion
HEATHBROW IMPORTANT 17
HEATHBROW GRAND SLAM 15
HEATHBROW SARAH'S ELEGANCE
D A & L A SAPSED
Interbreed – Continental Male Beef Champion
HEATHBROW IMPORTANT 17
HEATHBROW GRAND SLAM 15
HEATHBROW SARAH'S ELEGANCE
D A & L A SAPSED
Interbreed – Reserve Continental Female Beef
SACOMBE DANDELION-OMA
CLONAGH WORLD CLASS
SACOMBE VIVIENNE-OMA
MR & MRS P B & J A BORLASE
Interbreed – Reserve Continental Junior Bull Championship
SCOTLAND HILL JUGGERNAUT 18
POPES FENDT 14
SCOTLAND HILL WISTERIA GRACEFUL
MR THOMAS HILL