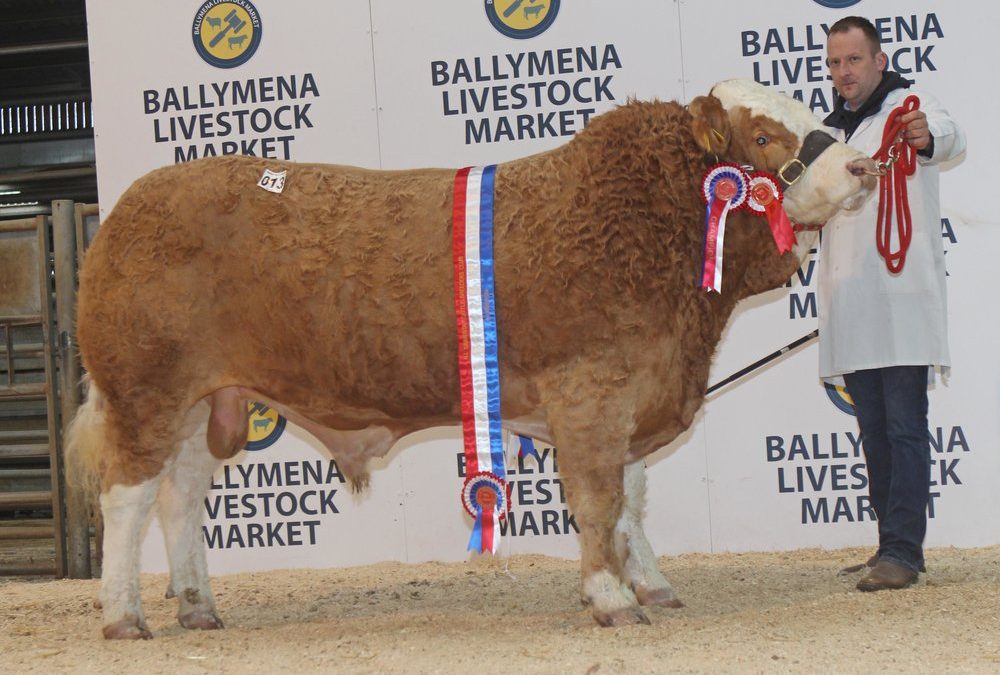 Champion tops Ballymena Simmental sale at 2,900gns
Bulls reached a ceiling of 2,900gns at the NI Simmental Cattle Breeders' Club's evening show and sale, held at Ballymena Mart.
Topping trade was the male and supreme overall champion Ranfurly Jason TSI+77 SRI+88 bred by David and Jonny Hazelton, Dungannon. Sired by the easy calving Cleenagh Flasher, this January 2018 bull is bred from the Hillcrest Champion daughter Ranfurly Beauty 8th ET – full sister to the noted Raceview Merle Beauty. Ranked in the top 15% for calving ease +3.9, and top 10% for eye muscle area +5.1, he sold to E Kelly from Downpatrick.
Judge Keith Nelson, Rosslea, County Fermanagh, described the champion as a very correct young bull with good conformation and breed character. "He caught my eye when he entered the show ring, and I couldn't go by him."
Claiming the second highest bid of 2,700gns was the reserve male and reserve supreme champion Cladymore Justice TSI+75 SRI+69 from Archie Reaney, and sons Simon and Paul, from Mowhan, County Armagh. Born in April 2018 he was sired by Kilbride Farm Dragoon, and is out of the home-bred Borness Troy daughter Claydmore Blossom – one of 15 cows in the herd. Buyer was J Humphrey from Coleraine.
"The reserve champion is a muscly bull with good conformation and style," added the judge.
Next best at 2,200gns was the second placed Corrick Justice TSI+82 SRI+82 bred by Cecil and Scott McIlwaine, Newtownstewart. Born in January 2018 he is by the home-bred Corrick Nebraska, and bred from the Omorga Tarbuck daughter Corrick Claire. This one sold to pedigree and commercial suckler herd owners Robert and William Ferguson from Stewartstown.
Two lots came under the hammer of auctioneer Graham Loughrey at 2,000gns each.
First to sell was the fourth placed Stralongford Ivan TSI+59 SRI+59 from Andrew Hanna's herd at Trillick. Born in October 2017 he is by Omorga Murray, and is out of the Rickardstown Jumbo daughter Seaview Trixie Belle. This one was snapped up by dairy farmers Mervyn and Gareth Smyth, Cloughmills.
Also selling at 2,000gns was the January 2018 Coolcrannel Jacob bred by William Phair from Lisbellaw. This second prize winner was sired by the 2014 and 2015 Balmoral breed champion Dermotstown Delboy, and is out of a home-bred dam by the 10,000gns Drumlone Anchor. With a Breedplan calving ease score +3.5, he also sold to Robert and William Ferguson.
Pedigree Simmental cows with calf at foot peaked at 2,500gns twice, paid to twin brothers Gary and Jonny McCammond from Randalstown.
They included the November 2015 Maghereagh Daffodil 1st ET. She is by the Camus Vibrant son Sheestown Tsar, and is out of the Kilbride Farm Newry daughter Omorga Daffodil 10th ET. Included in the price was her August 2018 Kilbride Farm Glenhead bull calf. Buyer was Victor Campbell from Magheragall, Lisburn.
Also selling at 2,500gns was the February 2016 Sterling Evita's Helen. She was sired by Sterling Cotswold, and bred from the Medick Butch daughter Sterling Bacardi's Evita. This one was accompanied by her January Sneumgaard Imperator bull calf, and is P'd in-calf to Woodvale Ferrari. Buyer was Mike Frazer from Templepatrick.
Maiden heifers topped at 1,650gns, paid to Leslie and Christopher Weatherup, Ballyclare, for the September 2017 Lisglass Imogen.  She is a daughter of herd sire Dermotstown Delboy, and is out of a home-bred dam by Omorga Prince. Highest bidder was Thomas Freeburn from Waringstown.
Commercial Simmental females peaked at £1,420 and £1,380, paid to K McKinstry from Magherafelt. Other leading prices include £1,150 paid to Jonathan Fowler, Dungannon; and £1,080 paid to R Henderson, Desertmartin.
The NI Simmental Club is indebted to Connon General Merchants for its continued sponsorship of the evening show and sale.
Results from the judging ring:
Bull, born between 05/08/17 and 05/10/17 – 1, Jackson McCaw, Ashdale Ideal by Dermotstown Delboy; 2, Gary and Jonny McCammond, Maghereagh Ivanhoe by Kilbride Farm Newry; 3, Michael and Eamon McCloskey, Drumagarner Iceman by Curaheen Wakeman.
Bull, born between 09/10/17 and 16/01/18 – 1, male and supreme champion, David Hazelton, Ranfurly Jason by Cleenagh Flasher; 2, Cecil and Scott McIlwaine, Corrick Justice by Corrick Nebraska; 3, Tom and Chrissy O'Reilly, Drumgreenagh Icon by Keeldrum Capone.
Bull, born between 20/03/18 and 25/02/18 – 1, Shane and Paul McDonald, Coolcran Julius by Coolcran Gunther; 2, Phair Bros, Coolcrannel Jacob by Dermotstown Delboy; 3, Nigel Glasgow, Bridgewater Farm Jude by Sterling Gino.
Bull, born between 27/02/18 and 12/04/18 – 1, reserve male and reserve supreme champion, Archie Reaney and Sons, Cladymore Justice by Kilbride Farm Dragoon; 2, Robin Boyd, Slievenagh Jupiter by Kilbride Farm Delboy; 3,William and Keith Stubbs, Rehall Jack by Curaheen Gunshot.
Heifer, born between 15/03/17 and 16/04/18 – 1, and female champion, Wesley Abraham, Magheracrigan Kia by Omorga Murray.