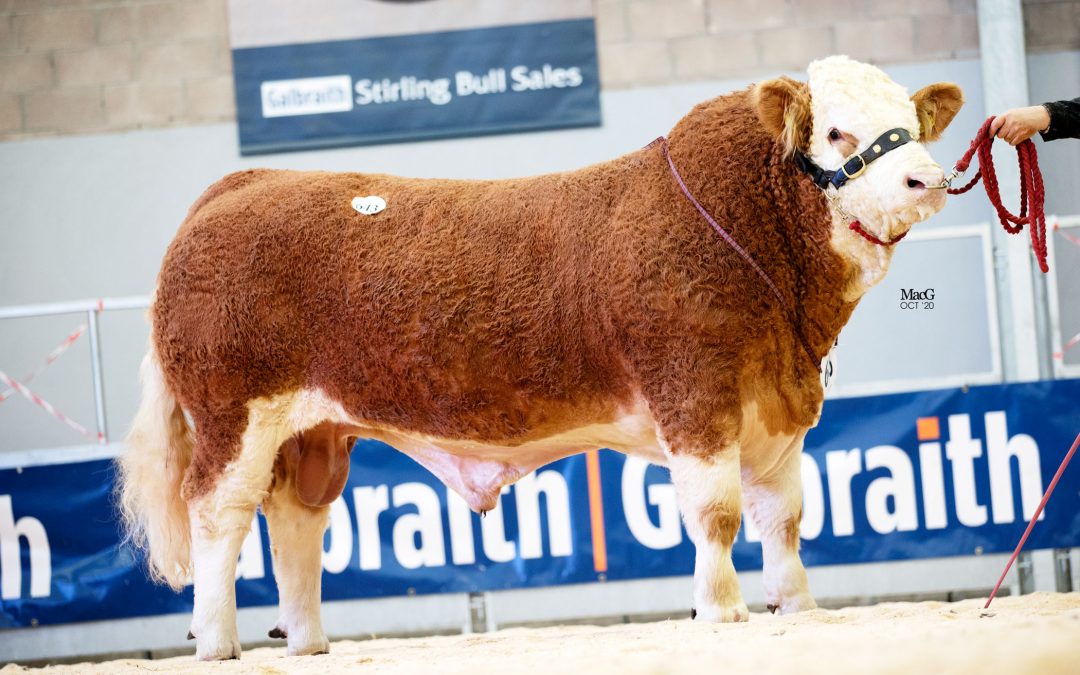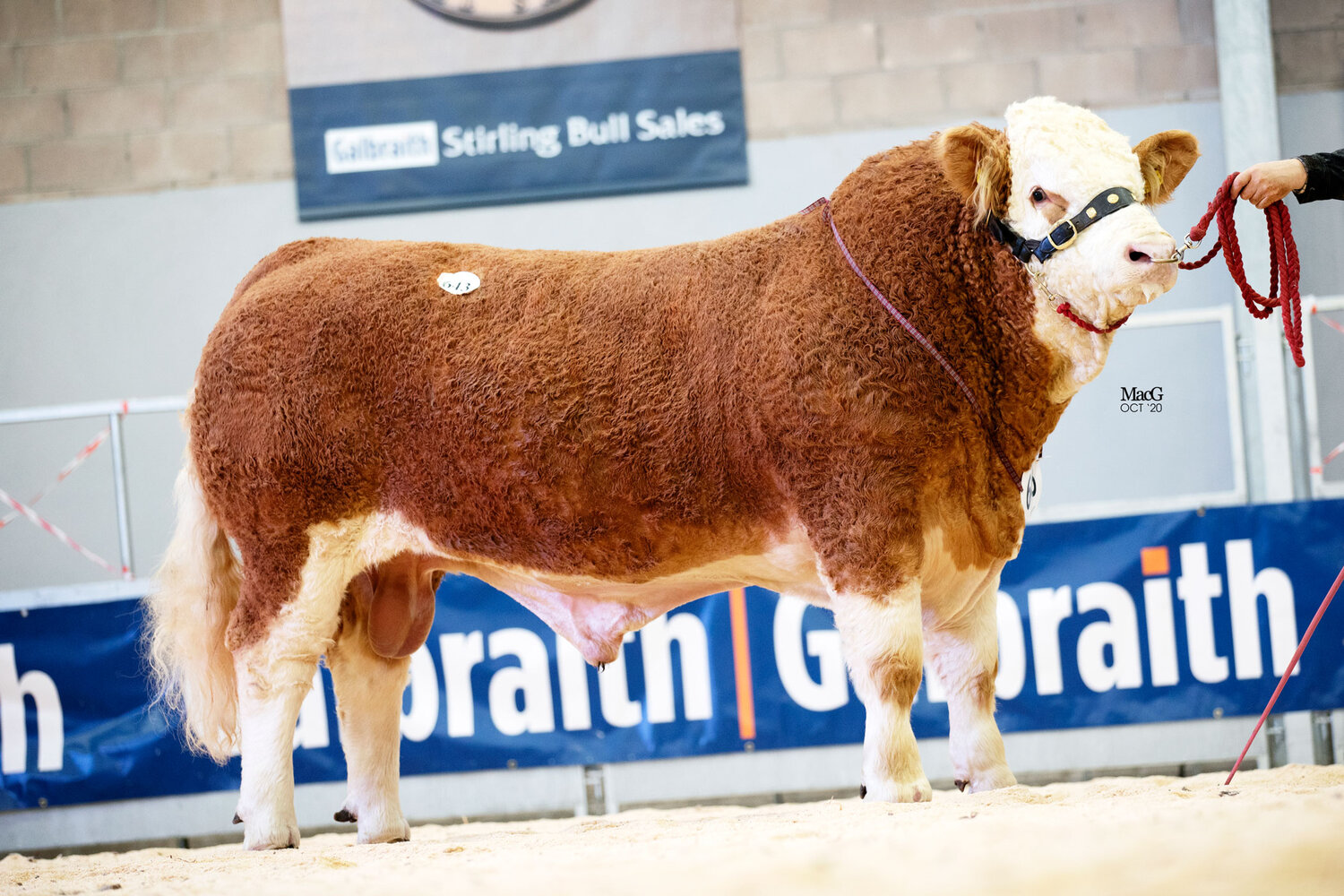 • 52 Simmental bulls average £5589, up by £411
• Simmentals lead the breeds in numbers sold
• Clearance rate of 64%
• Female outfits sell to 5500gns
Two bulls from the Islavale herd of Mr WS Stronach, Berryleys Farm, Grange, Keith both made 14,000gns to lead a solid Simmental trade at the Stirling October Bull Sale held at United Auctions Stirling Agricultural Centre on Monday 19th October.
Held under the restricted Covid conditions, the sale saw four bulls making five figures and over, and twenty-six in all selling at 5000gns or more. The fifty-two bulls sold, the most by any breed in the week, averaged a healthy £5589 which was up by £411 on the year. The clearance rate was 64% of the bulls forward.
Bulls to produce top quality breeding females were very much in demand from commercial breeders who led the bidding. Commenting on the bulls, John Roberts of United Auctioneers said: "It was a strong show and there was a ready demand for long, clean bulls with a bit of size and style and with good milk figures." Bulls sold into all areas of Scotland and into the islands with eleven going to Orkney and further bulls also going to the Isle of Islay, and Isle of Bute.
The first of the Islavale bulls at 14,000gns was the April 2019 born Islavale Kristoff 19. Semen tested prior to sale, this bull is by Corskie Highlander who has had previous sons to 15,000gns, and is out of the seven-year-old Islavale Ethel EX 91. Purchasing the joint top price was Pitgaveny Farms who run the Pitgaveny pedigree herd at Elgin, Morayshire.
Speaking after the sale, Geoff Anderson who manages the herd at Pitgaveny Farms said; "We had seen the Islavale bulls on farm prior to the sale and Islavale Kristoff is just our type of bull. He's got power, great depth and width, and is good on his legs, just a very complete bull. First and foremost we liked the bull but it is a bonus that he also has some very good performance figures." The plans for the bull are to put him to some of the herds' 12 pedigree cows before mainly using him on the 225 strong herd of commercial Simmental cross cows. In the commercial herd females that are not retained as replacements are sold as bulling heifers at 18/19 months, with the male progeny left entire and put through a bull beef system.
Also from the Stronach's at 14,000gns was Islavale Kai 19. Again April 2019 born, this bull is by Curaheen Giant 2 whose progeny have sold at Stirling up to 16,000gns, and is out of the Popes Laird daughter Islavale Britney. This bull was purchased by commercial producers J&J Pattullo at Sandyford, Kirriemuir, Angus. Commenting, Ian Pattullo said; "This bull was very pleasing to the eye and carried a lot of length and style. We run 150 Simmental x Limousin bulls and are looking to breed our own heifers. This is the most we've paid for a bull and it's very much an investment for the herd to produce and leave the quality of progeny we're looking for. We want to have plenty of length in our cows and also good milk." Prior to the sale Mr Pattullo said that he had studied a lot of the bulls and their breeding on the Society's Simmental Market website which he had found very helpful.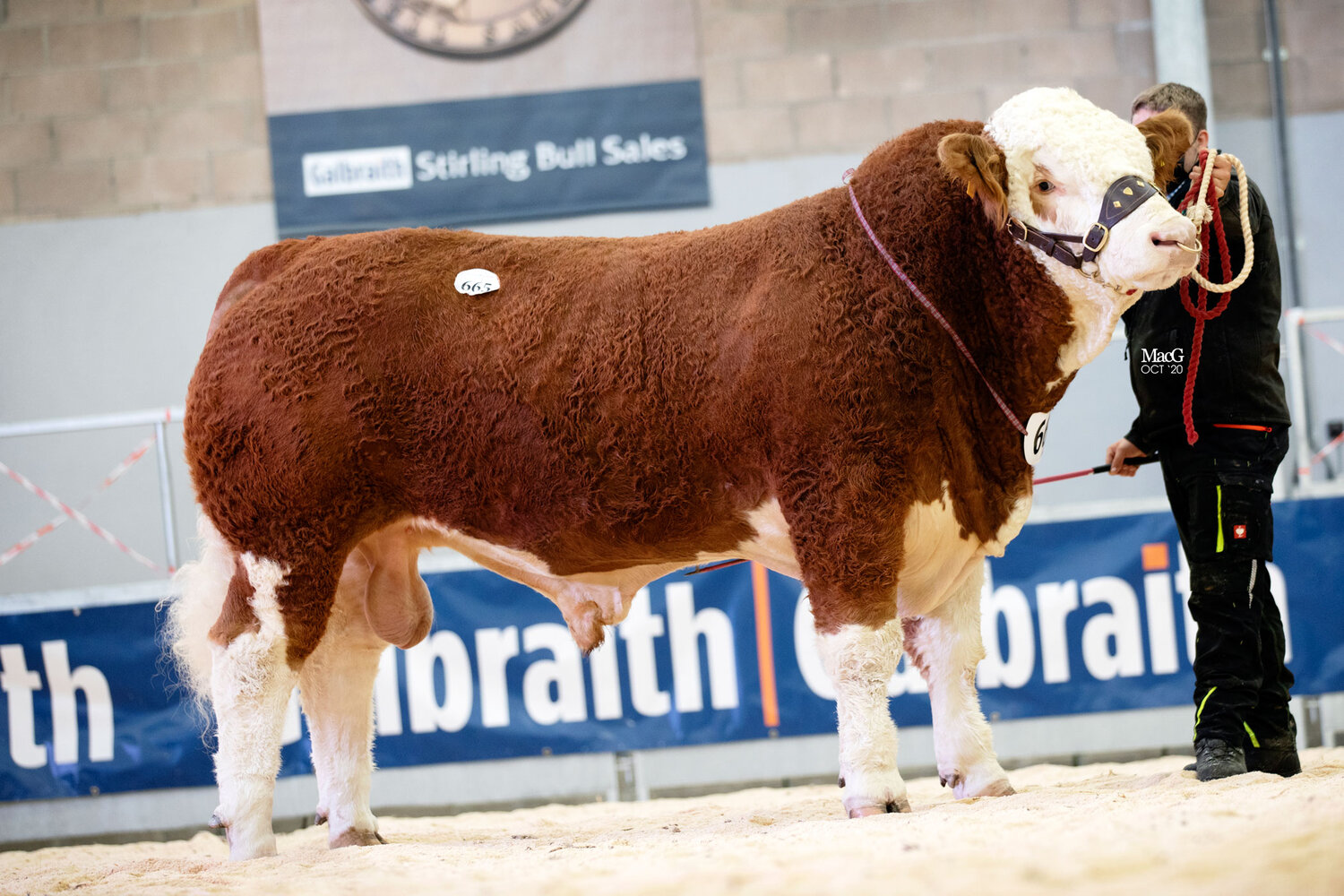 From a strong pen of bulls, all pre-sale semen tested, the prolific Islavale herd sold six bulls in all to gross a mighty 50,800gns and to an average of £8,889. Further Islavale bulls sold at 6500, 6000, 5800, and 4500gns.
Another good pen of bulls, semen tested and with excellent performance figures, came in the shape of the offering from the Strathisla herd of Strathisla Farms, Moolies, Meigle, Blairgowrie. Topping this pen at 11,500gns was the April 2019 born Strathisla Kinloch 19. In the top 1% of the breed for milk and with a Self Replacing Index of +118, this bull is by the noted sire Atlow Dixon 12 EX 91, and is out of Strathisla Foxys Mira VG 88, who is from the 'best breeding line' in the herd. Strathisla Kinloch was bought by R&N Barclay, (Harestone Farm), South Road, Insch, Aberdeenshire for their 400-cow commercial herd which is heavily influenced by Simmental genetics. Speaking of his purchase Stuart Barclay said; "The Strathisla bull had extreme length, was clean, and well grown for his age. We liked the breeding with him being by the proven Atlow sire and from a strong female line. We'll be aiming to use the bull to breed dark red female replacements which in turn will be put to the Charolais bull. We find that combination produces very marketable progeny that meet a ready demand at both Huntly and Thainstone markets commercial sales." Through the sale the Strathisla herd sold six bulls in all to average an excellent £6352.50.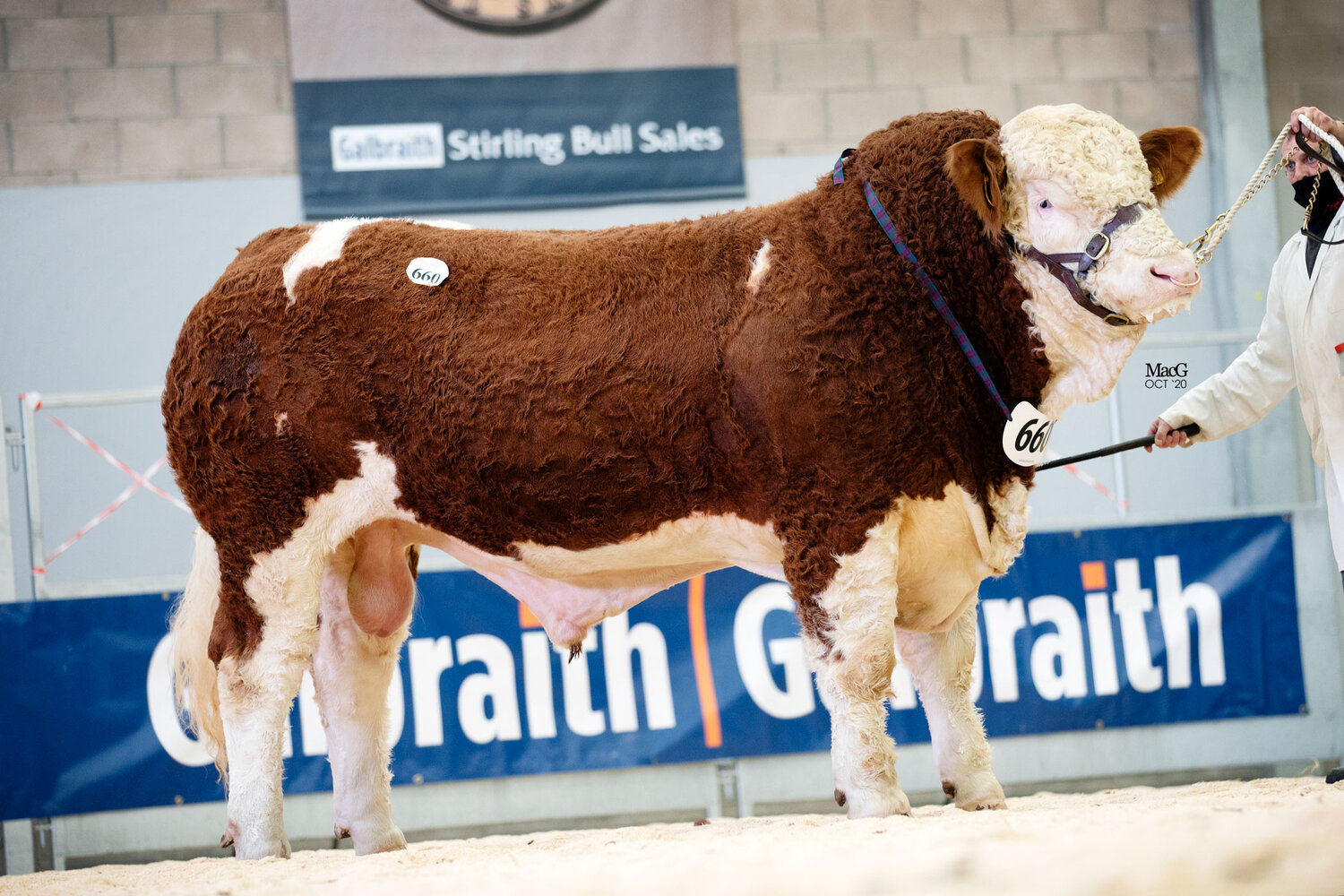 The final bull in the four figure prices was Broombrae Kojac 19 who made 10,000gns for the breeder Mr GL Clark, Broombrae Farm, Auchtermuchty, Cupar, Fife. This bull is by the herd sire Lisglass Goldstar 15, who this year won the senior bull class in the Society's Virtual Show, and is out of the Team Wisconsin daughter Broombrae Delight. Purchasing the March 2019 born Broombrae Kojac 19 was Mr D Lowry who runs the Keeldrum pedigree herd at Newsteadings Farm, Cartland, Lanark. After the sale Mr Lowry said; "This bull is full of breeding and from a very strong female line. I know the sire very well and the mother, Broombrae Delight, is one of the best cows I've seen. The bull in himself is long and clean, has a bit of power about him, an excellent top, and is very correct on his legs. This is the most I've paid to date for a bull and with the aim of continuing to build the quality in the herd." The Keeldrum herd presently comprises of seventy plus cows. Through the winter the bull will be given a few cows to settle in before being given a batch of cows in the spring.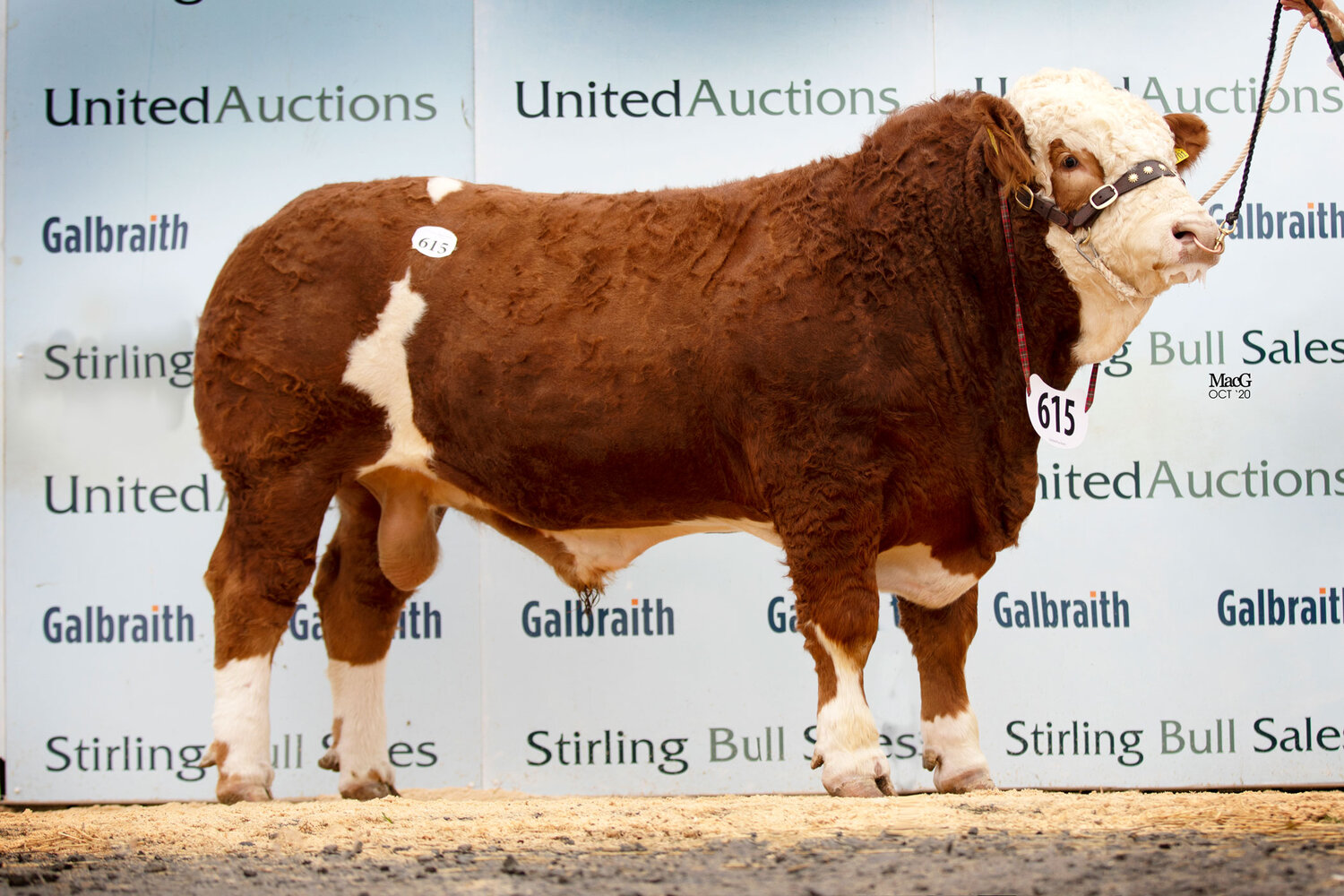 Finishing on a high note, the last bull in the sale ring, the June 2019 born Greencap Kane 19 from Colin Inglis, Dalachy Farm, Aberdour, Fife, made 9000gns. Another bull with strong performance figures, Greencap Kane 19 is by Denizes Fabio 14, and is out of the Omorga Volvo daughter Greencap Darcy. Heading north, Greencap Kane was bought by D&R Durno & Sons for their Auchorachan pedigree herd at Auchorachan Farm, Glenlivet, Ballindalloch. Of his purchase, Michael Durno said; "I was taken by the length and correctness of this bull and he's been bought for the pedigree job but will double up with the commercial herd as well. I liked the breeding in the bull and had seen pictures of the cow prior to the sale, and also liked a half-brother of this bull that was sold at Stirling to a pedigree herd last year."
Mr MA Barlow, Four Oaks, Ulnes, Nr Leyland, Lancashire, sold Denizes Kylian 19 for 8500gns. This January 2019 born bull, carrying width and muscle, had tremendous performance figures across the board for calving ease, milk, and with a top 1% Self Replacing Index. By the homebred stock bull Denizes Hamish, Denizes Kylian is out of Denizes Trixi Belle 3rd. Another bull going to a commercial producer, Denizes Kylian 19 was snapped up by DM Keay & Son, East Balloch, Kirriemuir, Angus.
From the Backmuir team of Reece & Andrew Simmers, Backmuir Farm, Keith, Banffshire, the March 2019 born Backmuir Knight 19 made 8000gns. By Corrick Hayden 16, a Kilbride Farm Delboy son, this bull is out of Starline Karina 50th. Heading back to Keith, Backmuir Knight 19 was purchased by EM Smith & Sons, Towiemore, Drummuir, who are top end commercial Simmental consignors at sales at Aberdeen and Northern Marts.
Another from the Simmers, Backmuir Knox 19, also made 7000gns when selling to WJ Fraser & Sons, Auchnarrow, Glenlivet, Ballindalloch. April 2019 born, this bull is another by Corrick Hayden 16 and is also out of a Starline female, Starline Eva 23rd. The Starline breeding is from the herd of RH Widdicombe, Ashprington, Totnes, Devon.
Also at 7000gns was Drumsleed Karate 19 from Mr GW Smith, Drumsleed, Fordoun, Lawrencekirk, Aberdeenshire. This March 2019 bull is by Wolfstar Gordy 15, a Team Celtic 11 son, and is out of the Popes Barclay daughter Drumsleed Faye 14. Another bull with excellent performance figures, Drumsleed Karate 19 sold to the islands and N&M McLellan, Kilchiaran Farm, Port Charlotte, Isle of Islay. Also a Wolfstar Gordy 15 son, Drumsleed Know-how 19 sold for 6800gns to S&J Urquhart, Bogloch, Lumphannan, Aberdeenshire. An April 2019 born bull, Drumsleed Know-how is out of the nine year old Drumsleed Calypso. Further bulls from the Drumsleed herd sold for 5500, 5000, and 3500gns to yield a very solid average.
Other leading prices:
Lot 636 6500gns Islavale Kiddo to AH Smith, Low Arkland Farm, Celton, Castle Douglas, Kirkudbrightshire.
Lot 644 6000gns Islavale Kuzco to Scottish Government Bull Stud, Knocknagael, Inverness
Lot 633 5800gns Islavale Khan to GW & KP Lawrie, Hillhead of Careston, By Brechin, Angus.
Lot 666 5800gns Strathisla Kruger to A&J Craig, Craigton, castle Douglas, Kirkudbrightshire.
Lot 603 5500gns Drumsleed Kayak to G Angus & Co, Binzian Farm, Forgandenny, Perth.
Lot 610 5500gns Jaw Kabull to T Clark & Sons, Abbey farm, Madderty, Crieff
Lot 620 5500gns Team Knockout 19 to R McNee Ltd, Woodend Farm, Armadale, West Lothian
Lot 670 5500gns Annick Kevlar to C&M Bruce, Tillyeve, Udny, Ellon.
DENIZES FEMALE 'OUTFIT' SELLS TO 5500GNS
From the small female offering the seven year old Denizes Melody 17th, from Mr MA Barlow, Ulnes, Nr Leyland, Lancashire, along with her polled bull calf at foot, Denzies Lynx made 5500gns when selling as separate lots. Denizes Melody 17th, an Ashland Tornado daughter Pd'd in calf to Blackford Galaxy, was bought by Fulton Ronald, Duntuim, Aberfeldy, for 2700gns, whilst Denizes Lynx, a Slievenagh International 17 (PP) sired calf was bought for 2800gns by GMR & FM Sandison, Hindatoon, Harray, Orkney.
A further seven year old cow Cairnview Sonia 2nd and her bull calf at foot Cairnview Loyal 20, from Mr AJ Wilson, Westcroft Farm, Kilwinning, Ayrshire made a combined 5100gns when sold as separate lots but both being snapped up by WR Simmers & Sons, Backmuir, Keith, Banffshire. Cairnview Sonia 2nd, a Bruchag Awesome 09 9 daughter and AI'd to Woodhall Ferrari, made 2100gns, whilst her bull calf, Cairnview Loyal 20, sired by Woodhall Ferrari, made 3000gns.
The Denizes herd also made 4800gns when selling the March 2017 born first calved heifer Denizes Trixie Belle 12 to OF W Stevenson, Ballingry Farm, Ballingry, Fife. This heifer is by Dinton Nautical and out of Denizes Trixi Belle 8. She was sold, Pd'd in calf to Blackford Galaxy, with her May 2020 born polled heifer calf at foot, Denizes Trixi Belle 17, by Slievenagh International 17 (PP).
AVERAGES:
52 Bulls £5589 (+£411)
10 Females £2877 (+£549)
4 Calves £4541.25
AUCTIONEERS:
United Auctions