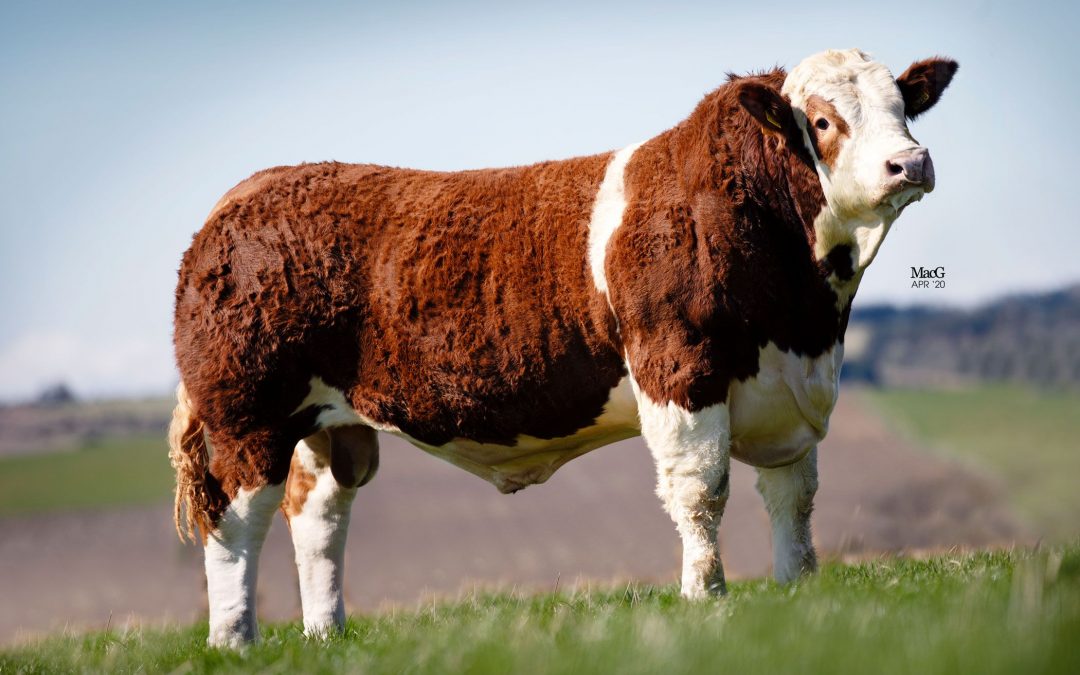 21 bulls sell to average £4814.15
Simmental average up on the year by £375.15
5 Islavale bulls average £6794
Islavale Jammydodger 18 from Mr WS Stronach, Berryleys Farm, Grange, Keith, sold for 7600gns to lead the trade for Simmental bulls from United Auctions' Stirling Bull Sales May catalogue. From a strong line-up of bulls offered from the herd, Islavale sold five bulls in all at over 6000gns to gross £33,968 at an average of £6794.
Due to the lockdown and restrictions in place with the Covid-19 pandemic, this years' sale was conducted via direct marketing instead of a live sale at Stirling Agricultural Centre. A very solid demand for Simmental bulls has seen 21 sell to date to average £4814.15, up by a mighty £375.15. Of the six breeds offered for sale in the catalogue, only one other breed saw an increase in averages on the year.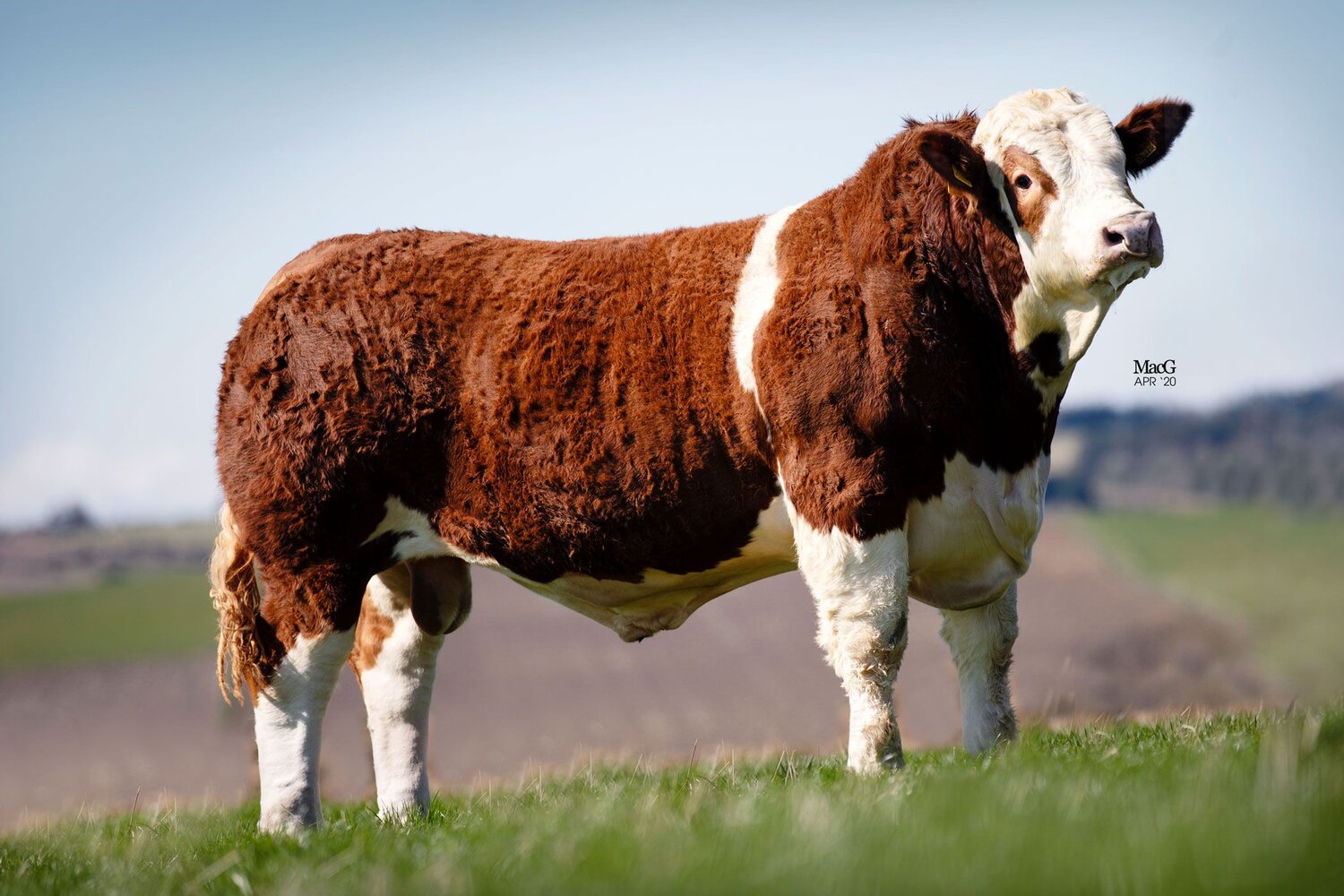 The November 2018 born Islavale Jammydodger, the youngest catalogued Islavale bull, is by the AI sire Team Celtic 11 and is out of Islavale Elisha EX 91, a Curaheen Bandit daughter. Heading down south and to a pedigree home, Islavale Jammydoger was purchased by Rhys Grenham, Boars Head Farm, Crowborough, Sussex to join his Boars Head Simmental herd.
Commenting, Mr Grenham said: "We saw the bull advertised in the pre-sale catalogue, and whilst we hadn't seen him in the flesh we saw the pictures of him and also spoke to Stewart Stronach. The bull has a combination of good breeding and performance figures that we like. We could see in the pics, and now confirmed when he's home, he's got terrific conformation, length, width and power, and carries a real Simmental presence."
After settling into his new surrounds, Islavale Jammydodger will be heading out to work in the herd which presently comprises of 10 pedigree cows with youngstock coming through behind. The Boars Head herd was established in the early 1970s and has carried on through three generations to present. "We very much try and produce the best stock we can to sell good Simmental bulls commercially, and to support pedigree sales with both bulls and females. Purchasing Islavale Jammydodger is an investment for the herd to continue to meet that quality aim", said Mr Grenham.
The Simmental breed has enjoyed a strong trade into the Scottish islands in recent years and this was continued when the second top priced bull, Islavale Jordi 18 (TF) also from the Stronach family, sold for 6500gns to JR Rendall, Whitehow, Orkney. This bull, October 2018 born, is by the herd's stock bull Corskie Highlander and is out of another Curaheen Bandit daughter, Islavale Topaz 3. A maternal half-brother to the noted 25,000gns Corskie Gingersnap, Corskie Highlander's first calf at sale for the Islavale herd, Islavale Jackpot, made the 15,000gns sale top price when selling at Stirling in October 2019.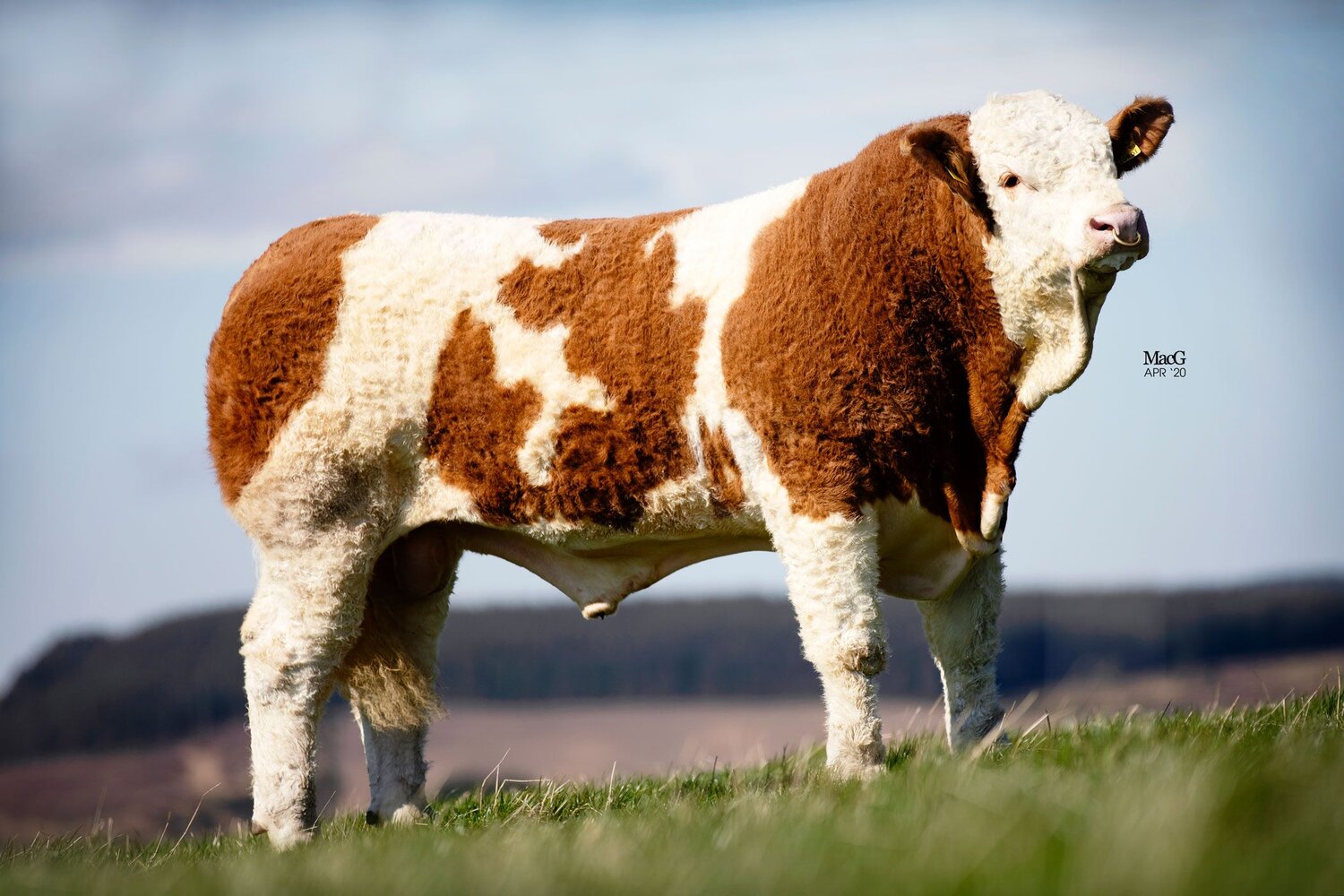 Continuing the May 2020 sale run, Islavale Javelin 18 sold for 6250gns. This calf is sired by Ranfurly Confederate C24 11 EX 94, and is out of Islavale Freda, a Woodhall Walker daughter. October 2018 born, Islavale Javelin was purchased by Islay Estates, Isle of Islay. A prolic sire, Ranfurly Confederate sons have previously sold up to 24,000gns for the Islavale herd. Heading to the same buyer was Islavale Javan at 6000gns. October 2018 born, Islavale Javan is by Atlow Dixon 12 and is out of another Woodhall Walker daughter, Islavale Cassie. Islavale Javan is a full brother to Islavale Gambler who was the Overall Simmental Champion at Stirling in February 2017.
The last bull at 6000gns was Islavale Jabba who was purchased by Gavin Brown for his Springfield pedigree herd at Springfield Farm, Penicuik. This bull, November 2018 born is by the Team Celtic 11 son, Wolfstar Elusive 13, and is out of Islavale Eleanor, another Curaheen Bandit daughter.
Selling at 5200gns was the polled bull Corskie Journal PP 18 from Mr WJ & J Green, Fochabers, Moray. This November 2018 bull is by Linde General and is out of Lykke Isabella who was imported from Denmark as a heifer after Iain Green judged her as overall junior female champion at the Danish National Simmental Show in 2015. Buying this bull was J C McLaren & Partners, for their Dargill pedigree herd at Crieff, Perthshire. The Corskie herd also sold the Auchoracan Farmer 14 sired Corskie Joking to J Gordon, Wester Clunie for 4800gns.
Raymond Kennedy, Auctioneer and Sales Executive at United Auctions, said: "There has been a tremendous entry of bulls available in both numbers and quality at the May Bull Sale. While it has been unfortunate for all involved not to have the usual sales platform, vendors and buyers have adapted quickly and all those involved are confident that the right customers have found the right bulls to best suit their individual needs.
"The online catalogue continues to be regularly updated and there is still an excellent selection of bulls available for sale to suit all needs and budgets. For any enquiries do not hesitate to contact our sales team."
Simmental average: 21 Simmental £4814.15 +£375.15