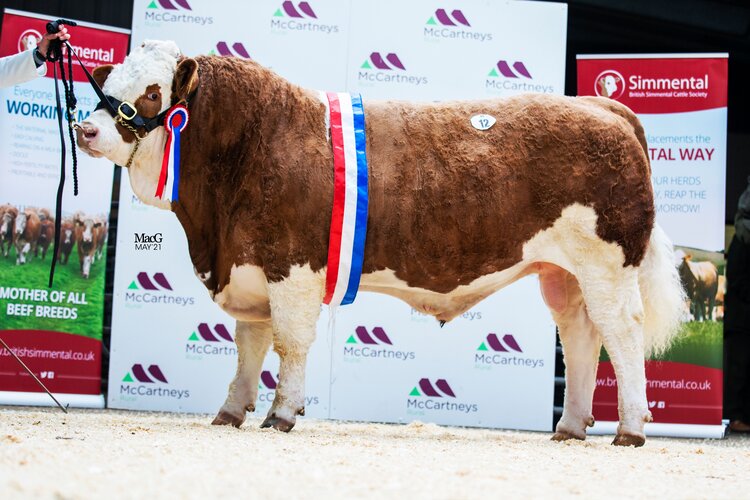 • Eight bulls set record Worcester Simmental average of £4987.50, up £977.5
• 89% clearance rate with four bulls selling at 5,000gns or more
• Midhope leads the females at 3850gns
Grangewood Keegan 19 from Mr & Mrs AS&YA Leedham, Rowan Farm, Lockton, Pickering, North Yorks, sold for 7000gns to lead a strong demand for bulls at the British Simmental Cattle Society's Worcester Sale held at McCartneys Worcester Livestock Market on Saturday 1st May.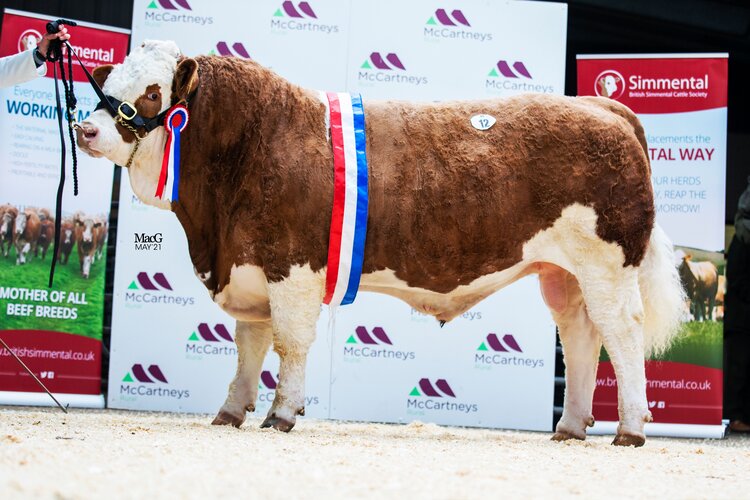 Entirely homebred, the December 2019 born Grangewood Keegan is by Grangewood Glenlivet 15 and is out of Grangewood Tollie's Hope. Grangewood Tollie's hope is full sister to Grangewood Baron, the Junior Champion at Stirling in 2012 who sold for 19,000gns. Earlier in the day, Grangewood Keegan had been tapped out as the Overall Supreme Champion in the pre-sale show by joint judges for the day David Barker, of the noted Heywood herd, Taunton, Somerset, and along with Richard Bell, Manager at Bowley Court Farms, Leominster, Herefordshire.
Commenting on his Overall Champion, David Barker said: "To me this was the outstanding bull in the market. He was very correct with four good legs and moved extremely well. He was an easy level fleshed bull with length, and very square on his tail. Just a really good Simmental bull that could do both the pedigree and commercial job."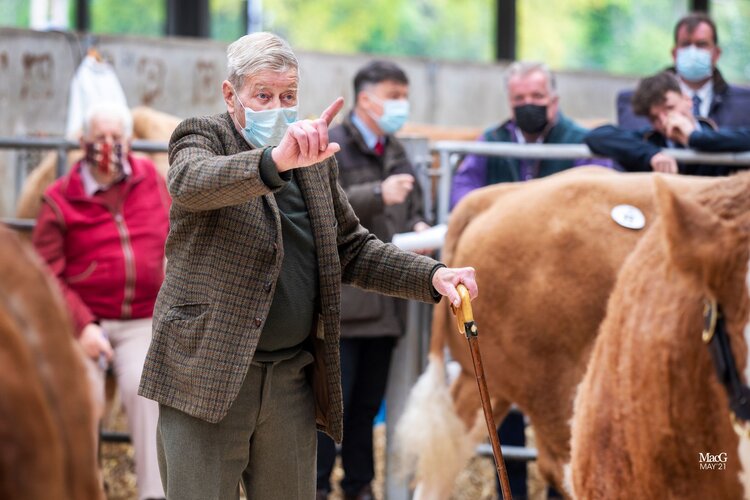 Purchasing the day's top price was John Wainwright, Harrop Green Farm, Adlington, Macclesfield, Cheshire, who runs the Harrop pedigree herd along with his father Stephen's Booth herd at Harrop Green Farm, Adlington, Macclesfield, Cheshire. A family run farm the Wainwrights have a 200-cow milk herd and have just finished lambing 270 ewes. Previous purchasers at Worcester, John Wainwright said that this was the most that they had paid to date for a pedigree Simmental but were looking for a bull to 'keep adding a bit of quality'. Commenting he said: "The Grangewood bull was very square with a good top and great conformation. We were looking for a quality bull that'll be easy calving and think he will fit the bill. He'll be put to the herd's eighteen cows in July."
The top price at Worcester followed hard on the heels of the Stirling Simmental Sale in February where the Leedhams sold bulls at 9500gns and 8000gns respectively. The 9500gns Grangewood Kingdom there was another by the Grangewood Glenlivet 15 sire. The Leedhams, with their 30 cow Grangewood herd have been strong supporters of the Worcester Sale and regularly featuring in the top prices and Championship prizes.
With bulls having been readily sold from home during the ongoing Covid situation, numbers were slightly down on usual sale entries. It didn't stop a strong demand for the bulls on offer that saw a record sale average of £4987.50 for the eight bulls sold and up some £977 on the year. Four bulls made 5000gns and more, and with an 89% clearance. Fifteen females sold, almost entirely heifers, to average £2272.
Selling at 5500gns was the Reserve Male Champion, and winner of class one, Starline Karl 19 from RH Widdicombe, Ashprington, Totnes, Devon, another regular Worcester consignor. This May 2019 born bull is by Kilbride Farm Duke 12 and is out of Starline Eva, a Starline Prankster daughter. Kilbride Farm Duke 12 was a first prize winning bull at Stirling in 2013 where he was purchased for 12,000gns. Buying Starline Karl 19 was HJ Marklove who runs the Lydian pedigree herd at Hansells Farm, Purton, Swindon.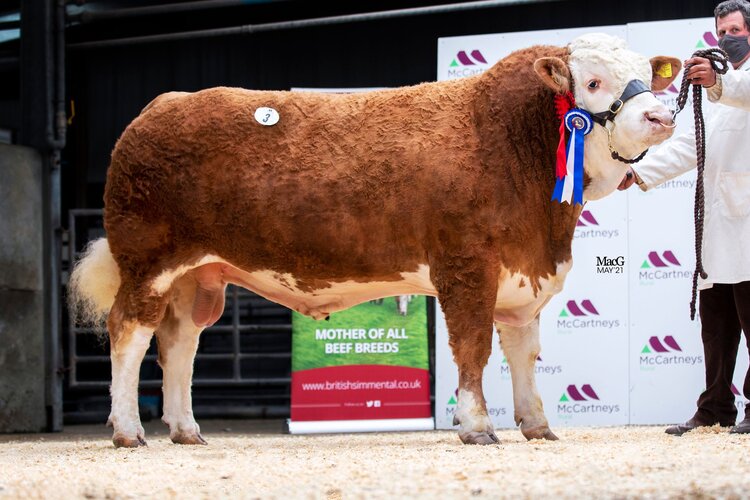 R&L Storer Smith enjoyed a solid day's trading when selling bulls at 5200gns and 5000gns respectively from their Storersmith pedigree herd based at Spath Farm House, Ashbourne, Uttoxeter. The first of the was Storersmith Klondyke 19 at 5200gns. This heifer's calf, born in October 2019 is by the noted Curaheen Bandit and is out of the dam Storersmith Daydream's Inca classified VG87. Purchasing this bull was the joint judge for the day Richard Bell for the 300-cow Bowley Herd of CM Mercer, Bowley Court Farms, Hop-Under-Dinmore, Leominster, Herefordshire. This was the second bull bought on the day for the Bowley herd with them also paying 4300gns for Alreb Klaus 19, a Denizes Hamish son, from Welsh breeder Mr Aled Evans, Llwybcelyn, Bowls Road, Beulah, Ceredigion. Commenting, Mr Bell said, "We run about 10 to 12 Simmental bulls in the herd and will place an emphasis on good calving figures, good legs and locomotion, and bulls that are natural fleshing. The Simmental brings tremendous maternal qualities to the herd as well as leaving some terrific grades in our yearling bulls."
The second Storersmith bull to pass the 5000gns mark was the December 2019 born Storersmith Kipling 19. Entirely homebred this bull is by the Woodhall Ferrari son Storersmith Infrared 17 and is out of Storersmith Giggle. Another animal with strong classifications on the breeding on both the sire and dam lines, Storersmith Kipling 19 was purchased by CR Bayliss, Moorend Farm, Weston Beggard, Herefordshire.
The Reserve Overall Champion & Female Champion was Midhope Kerry from Mr WJ Hollingsworth, Midhope Hall Farm, Midhopestones, Sheffield. This two-year-old maiden heifer is by Rockytop Hurricane and is out of Midhope Bonus, a Dirnanean Snowie daughter. Sold as scanned in calf to Denizes Kingston 19, Midhope Kerry made 3850gns when selling to G Palk, Stantor Barton Farm, Paignton, Devon. Again, strong supporters of the Worcester Sale, the Midhope herd also recently topped the females at the newly established Simmental Sale at Melton Mowbray.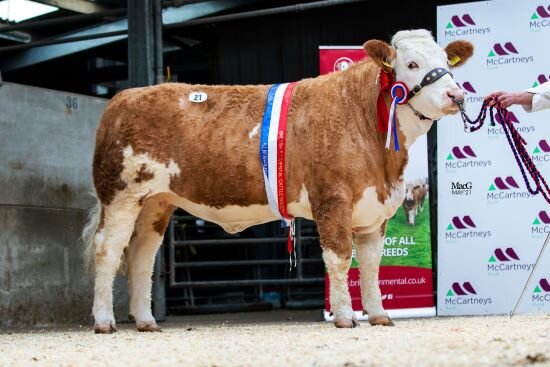 OTHER LEADING WORCESTER SIMMENTAL BULL PRICES:
4600gns Wroxall King-Dick to Chase Farms, Gilmorton, Leicestershire
4500gns Lynfield Lucifer to A Palk, Stantor Barton Farm, Paignton, Devon.
AVERAGES:
8 Bulls £4987.50 (+£977.50)
15 Females £2272