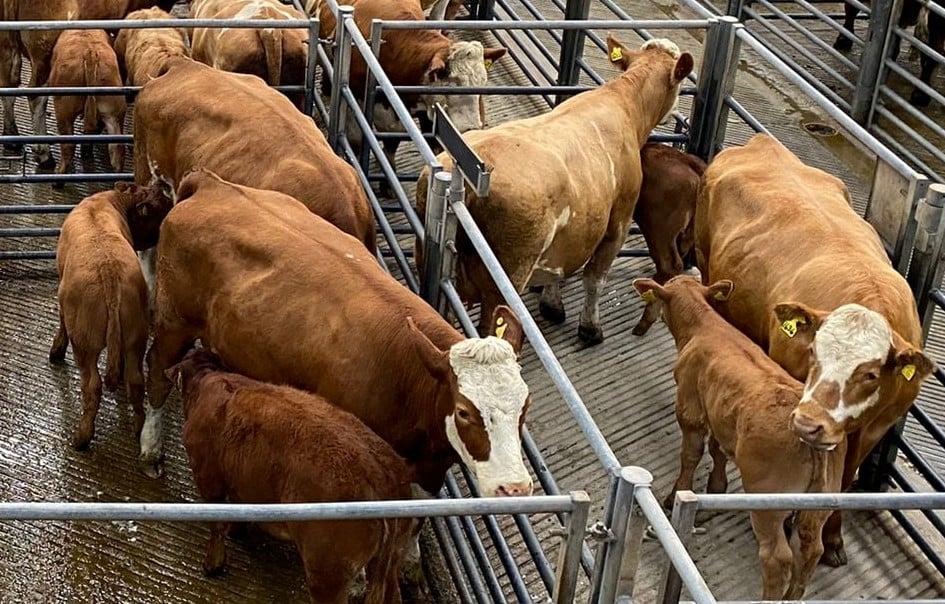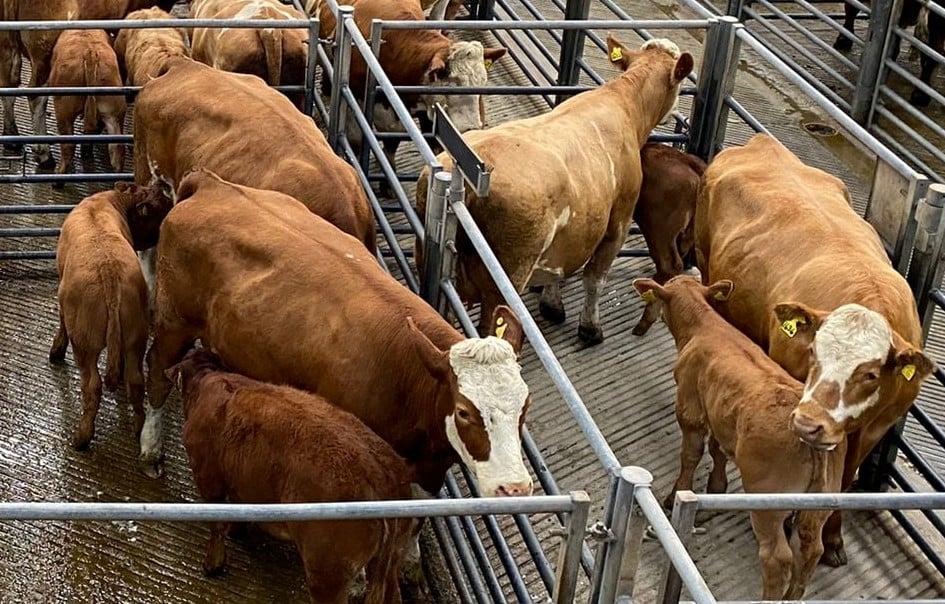 SIMMENTALS NATURAL MILK AND MATERNAL COMBINED WITH TOP CARCASE TRAITS DELIVERING EFFICIENCY AND PROFITABILITY AROUND THE UK
On 8th December, Dingwall & Highland Marts Ltd, held a sale store cattle and adult breeding cattle at Dingwall. Young Bulls sold to £900 gross for a Simmental cross from Cherrybank, Heights of Keppoch. Breeding cattle sold to £1,480 for a in calf Simmental cross cow from ½ of 2 Glengrasco, Portree.
On Monday 6th December, Penrith & District Farmers' Mart LLP held their Christmas show and sale of Prime Cattle. A great show of young bulls was forward, which was good to see and with the section topped at 255.5p/kg (£1584.10) for a Simmental X British Blue, weighing 620kg, purchased by R Pearson Wholesale. This consignment averaged £1669.30 (248p/kg.)
On 6th December Market Drayton held a sale of barren cows, cull bulls and overage clean cattle. Simmentals featured in the top end prices and sold to 195p (£1,677.00) from Paul & Christine Tippets, Lodge Hill.
At Sedgemoor's Store Sale on 4th December, forward red and white Simmental steers hit £1495 (3x only 16/17m & FA) from BT Wood, Marshwood, who sold another at £1140 (only 14m!). More best Simmentals £1395 (19/20m & FA) JC & PA Chapple again; £1285 (20m) LE Sweetland & Son again, and £1140 (only 17m) PR Lock, Martock.
At a sale of store cattle, young bulls, and young weaned calves held on 3rd December at A&NM's Thainstone Centre, Aberdeen, young bulls sold to 232.5p per kg for a pen of four 400kg Simmental crosses from South Auquhorthies, Oldmeldrum and £1,290 gross for a 730kg Simmental from Rootfield West, Muir of Ord.
A cracking entry of young calves at Exeter's Store Stock Sale on 3rd December saw a fast trade from start to finish! Top of the bull calves forward was £355 for a smart young Simmental Bull from Keith & Shirley Wotton of Dartmouth who sold others to £330. Other Simmental bulls to £342 for Ross Govier of Longdown.
Dingwall & Highland Marts Ltd held a special sale of breeding cattle and OTM cattle at Dingwall on 2nd December. In Calf heifers sold to £1,850 gross for a Simmental cross from Rychraggan Farm, Drumnadrochit. In calf cows sold to £1,800 gross for a Simmental cross from Cullaird Farm, Scaniport. Bulling heifers sold to £1,140 gross for a Simmental cross from Balmacaan, Drumnadrochit.
At Thainstone on 2nd December, Aberdeen & Northern Marts held a sale of Cast Cows and Prime Cattle forward from Orkney consignors. Beef Cows Sold to £1,515 gross for a 888kg Simmental from A Miller, Spring Valley, Stronsay and 189.2p per kg for a 576kg Simmental from B S Scott, Netherhill, Tankerness. On the same day at a sale of cast cows and bulls, bulls averaged £1,046.88 and sold to £1,270 for a 1,040kg Simmental from West Brims, Forss.
At Huntly on 2nd December, United Auctions held a sale of store and OTM cattle. Bullocks averaged 210p per kg and sold to t a top gross of £1190 for 569kg SimX's from Whitehills, Grange.
On 1st December United Auctions at their Stirling market sold 421 store cattle, native bred cattle and young bulls, 200 cast cows, bulls and out of spec cattle. Bullocks (235) averaged 222.64p and sold to £1420 gross for a 642kg SimX from Auchencrow. Heifers (160) averaged 202.61p and to £1345 gross for a 644kg SimX from Milton. Beef Cows and Bulls (179) averaged 131.50p to 181.90p per kg for a SimX from Newpark.
At Holsworthy's store cattle sale on 1st December, single suckled Simmental steers 15mth from Messrs N & B Trewin of Bideford topped at £1120 and with Simmental heifers from the same farm £1240.
At Malton's Christmas Fatstock Show & Sale on 1st December, Simmental X's took the two top prices in the Champion Butcher's Bull section. The top price was a Simm X from SF Stubbings, Sledmere weighing 825kgs and selling for 220.50ppk (£1898.13) to JA Jewitt, Spennymoor. A second Simm X from the same home weighing sold for 211.50ppk (£1681.43) to R Pearson of Bradford.
A good entry of cull cows at Truro Market on 1st December saw the heavier finished cows for slaughter topping at £1,281 for a Simmental x from Mr G J Richards of Porkellis, Helston purchased by David King of Exeter.
C & D Auction Marts held their fortnightly sale of 308 Store Cattle on Monday 29th November at Dumfries. Heifers per head were led by Simms at £1250 Horseholm, who sold further lots at £1100 £1085 (x2) £1060. Bulls per head were topped by Simms from Newbie Mains at £1200 £1060.
Plenty of store cattle forward at Exeter with Simmental cattle topping both the steers and the heifers. Best of the steers topped at a very decent £1325 for a smashing Simmental (21m) from Richard Widger of Kingsbridge. . Store heifers peaked at £1320 for a well-covered trio of Simmental's (28m) from the Shervington Family of Hittisleigh.
At the sale of prime cattle at Frome on 26th November, quality was on fire in the UTM heifers. At the very top end of the prices was Messrs Garraway's Simmental which rocketed to £1541 and 213.50p/kg. On the same day in the UTM steers, a super Simmental from Waddon Farm flew to 209.50p/kg or £1456.
In a sale of store cattle at Hallworthy Market on 25th November, the cows and calves section was topped by D Crabbe with another strong run that saw his Simmental x Cow and Limousin Steer Calf sell to £1490.
On 24th November in the TB restricted market report of store stock at Sedgemoor, the sale of barren cows and cull bulls, saw a top of 139.5ppk for a lean, young feeding Simmental (FA) from AJB Farming Ltd, Chippenham. Store cattle sold to £1095 for Simmental steers (22/26m & FA) from AJB Farming Ltd, Bromham, who sold others at £1070 (3x 22/24m & FA) and £1000 (4x 18/25m FA).
At Borderway Mart on 22nd November, Carlisle, H&H's sale of primestock saw Simmentals feature in the leading prices when selling to £1847 from Messrs Houldey, Kirtleton House, Lockerbie and purchased by Jewitt Meats, Spennymoor.
In a sale at Exeter on November 22nd, barren cows ran to £1127 (754kg x 150ppk) for David Slade of Chagford with a Simmental.
The store cattle sale at Market Drayton on 22nd November saw the heifer trade led at a top gross price of £1215 for an entry from B Oakley.
At Exeter's store sale on 19th November, the stronger cattle were a monstrous price and all others just as dear as the market has seen them. Store steers topped at a massive £1570 given for a pair of outstanding Simmentals (21m) from Douglas Horton and Family of Kingsbridge whilst further smart Simmental bred bullocks (26m) ran to £1490 for both the Shervington Family of Hittisleigh and Michael Tooze of Broadsands.
At a sale of prime cattle at Aberdeen & Northern Marts, Thainstone, on 18th November, heifers averaged 194.9p and sold to £1,520.40 gross for a 840kg Simmental from Berryleys, Grange.
Oswestry held a sale of store cattle (160) on 17th November. From a good quality entry the top price was £1430 (220p/kg) paid for a Simmental steer sold by P I Edwards, Dudleston.
On Monday 15th November, Caledonian Marts Ltd Stirling had forward 212 Store Cattle at their fortnightly sale. Bullocks averaged 217ppkg selling to £1100 gross for a pen of Simmentals from R Fairley, Shields, Larbert.
Craig Wilson Ltd sold 207 Store Cattle at Newton Stewart on 12th November. Cattle proved easier to cash than anticipated with a good active ringside of buyers forward. 98 beef sired steers averaged 211.4p k/g peaking at £1260 for a pair of home bred Simmental Crosses from Margot McBurney, South Clutag. 8 Dairy bred Steers averaged 169p k/g peaking at £900 (180.p k/g) for Fleckvieh crosses from Messrs Archibald, Glaick. 101 Heifers averaged 201.6p k/g peaking at £1120 for home bred Simmental Crosses from Margot McBurney, South Clutag.
At Aberdeen & Northern Marts sale of prime cattle held at Thainstone on 11th November, heifers averaged 202.5p and sold to £1,531.80 gross for a 740kg Simmental from Cairnhill, Huntly. On the same day a sale of cast cows and bulls saw beef feeding cows (65) average £982.69 and sell to £1,155 for a 862kg Simmental Cross from Fichlie, Glenkindie. On the 12th November at A&NM's sale of store cattle, young bulls, and weaned calves, bulls sold to 223.9p per kg for a pen of three 402kg Simmental crosses from South Auquhorthies, Oldmeldrum.
In a sale of Cull Cows at Frome market on 10th November, a selection of truly outstanding beef cows were forward. The top price gross price on the day went to Messrs EM Horn & Sons with a Simmental cow 149.50p/kg and £1478.