• Backmuir Overall Reserve with Annick Colleen's Ginger
• Popes Princess Immie wins Overall Individual Interbreed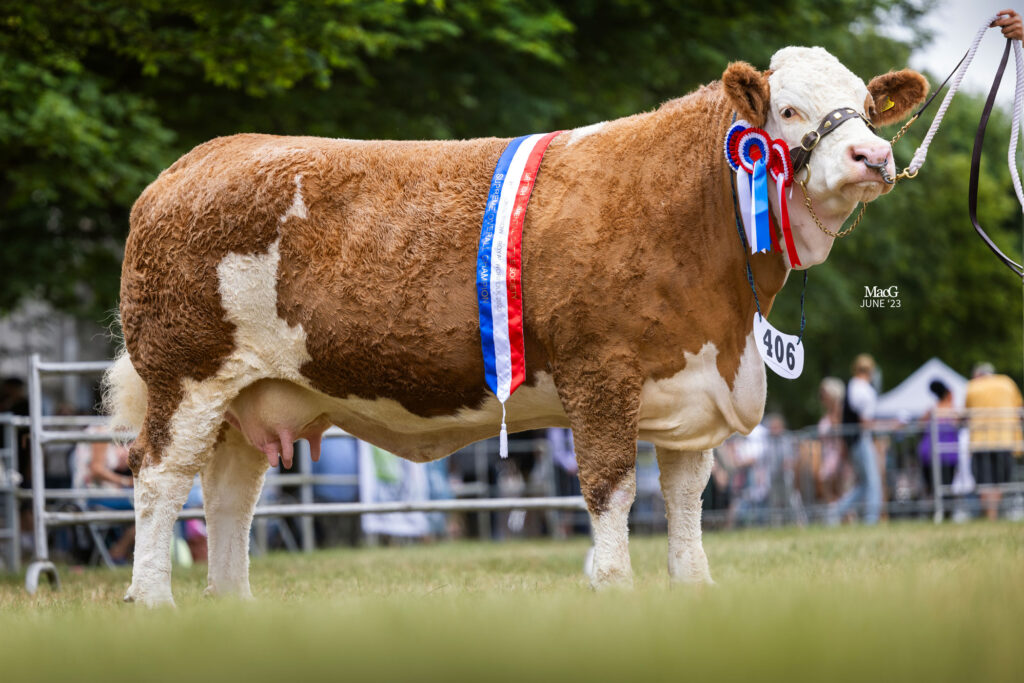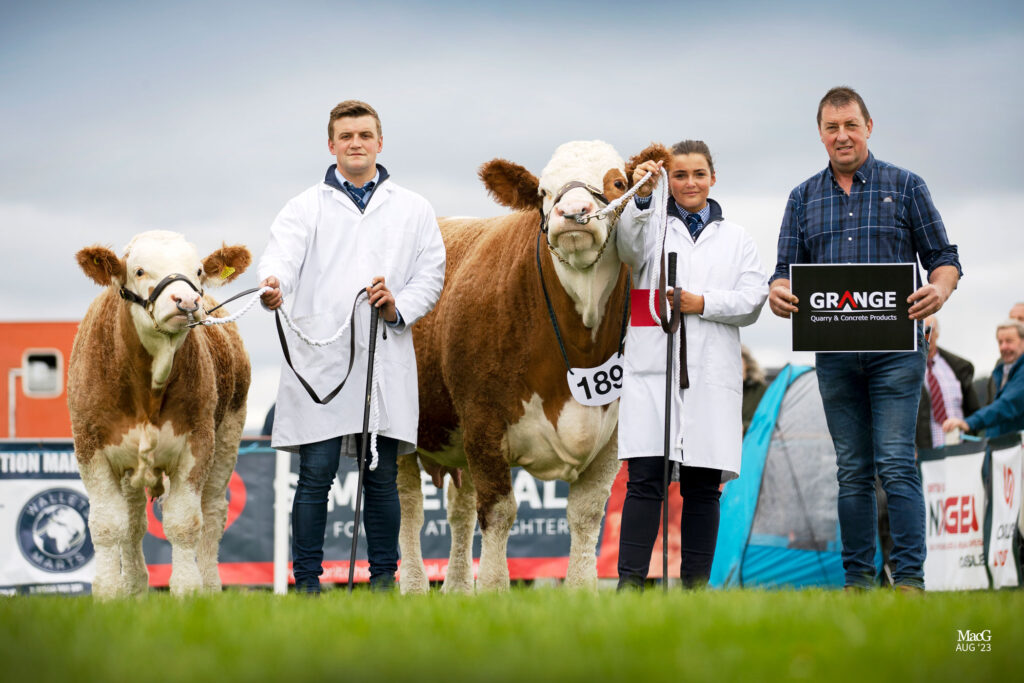 Dumfries Show provided the setting for the Simmental breed to put on a fantastic 2023 Scottish Simmental National Show on Saturday 5th August. The forecast rain just about held off long enough for the exhibitors from the north of England, along with exhibitors from the north, central belt, west, and south west of Scotland, to put on a collective quality promotion of Simmental cattle across the classes. Both sections saw some heavyweight shootouts as high performing summer show cattle came together for the first time, combined with new lines and new faces at this years' shows.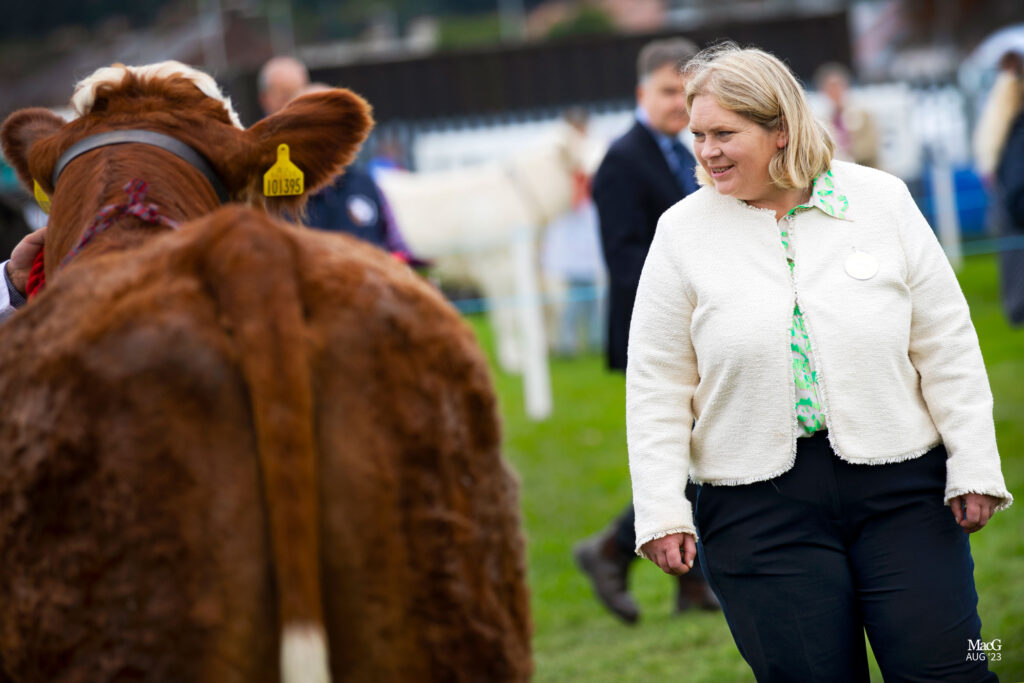 At the end of some three hours of intense judging by Bridget Borlase of the noted Sacombe herd, Watton, Hertfordshire, it was the six-year-old Popes Princess Immie, with her bull calf at foot Popes Premier, from Messrs JH & VG Wood, Popes Farm, Dutton, Preston, Lancs who got the Championship tap forward to win the Overall Supreme Championship. Following straight on from the Simmental judging, Popes Princess Immie moved straight to the head to head with the other breed Champions and where she powered through to win the Overall Individual Interbreed and this time in front of the judge Stephen Illingworth, Howgillside Farm, Eaglesfield, Lockerbie.
These latest wins capped a remarkable showing year for Popes Princess Immie as she added the Scottish Simmental National Show, and Dumfries Show Interbreed titles, to the Simmental Supreme at the English Simmental National Show, and Reserve Continental Interbreed, at the Royal Norfolk; and the Simmental Supreme and Overall Individual Interbreed titles at the Great Yorkshire Show. At the Scottish Simmental National Show the Popes herd roll call of prizes included: Simmental Supreme Champion, Dumfries Show Interbreed Champion, Overall Simmental Female, and with Popes Princess Noor winning Junior Female, and Reserve Junior Champion. Quite a show and quite a summer!
Sired by Kilbride Farm Comber, Popes Princess Immie is out of the herd's heralded show cow Popes Princess Cleo who herself secured a number of 'major' show Interbreeds in 2017, also as a six-year-old, and with Immie as her calf at foot! Immie has also had a tremendous calf at foot herself in the shape of the January born Popes Premier sired by Popes Lethal Weapon.
Commenting on her Champion, the judge Bridget Borlase said: "This is just a super cow and I feel a very worthy winner amidst some really strong competition and a tough but very enjoyable one to judge. Immie's not overly big but is very well balanced and has a tremendous show ring presence. She's just full of flesh and carries herself ever so well. With plenty of sparkle she oozes femininity and is doing a great job of what is a terrific calf at foot." Of the day generally, the judge wen on to say: "I'd firstly like to thank the Scottish Simmental Club, Dumfries Show, and the British Simmental Cattle Society for the great honour of being invited to judge this year's high profile show. I'd also like to congratulate the breeders and the stock people for the breed spectacle they put on today, you'd go a long way to see a better show! The line up of prize winners from across the female classes was outstanding and a great credit to all. As the judge watching class after class, I can say the breed in general is in a really healthy place which is great to see."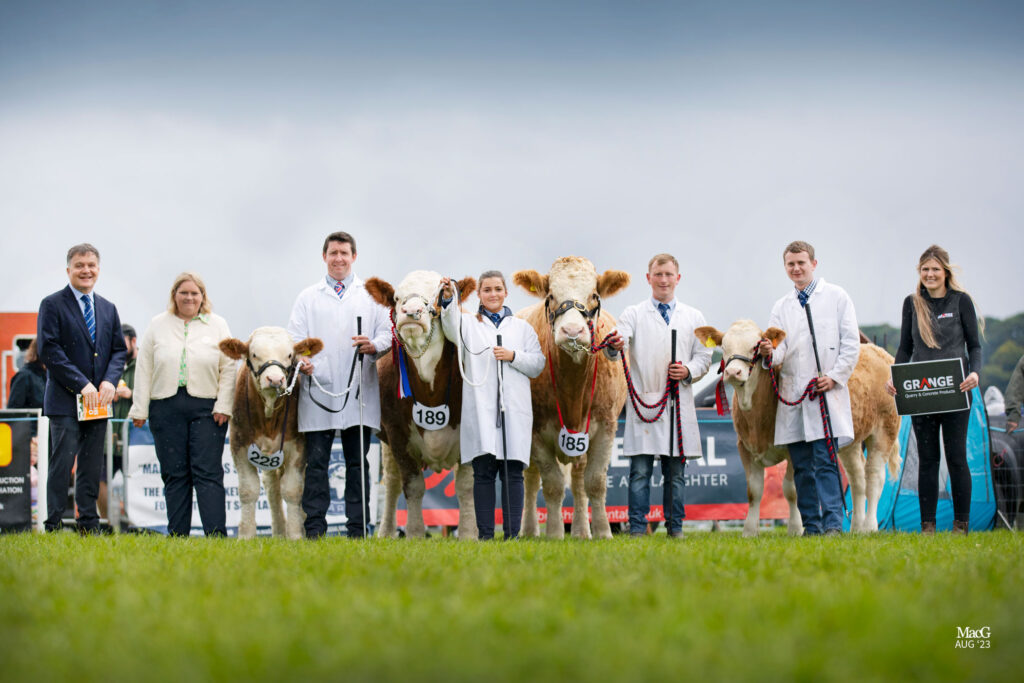 For the Wood family of Jimmy, Vikki, Harry, and Hannah,and all the supporting team the win at Dumfries ensured what has been a marquee show year for the 50-cow Popes herd. Speaking afterwards Vikki Wood said: "We are all absolutely thrilled to win the Scottish Simmental National Show to cap what has been an amazing summer show season for us. The standard here at Dumfries Show was so high and I'd really like to congratulate all of the exhibitors. Achieving these wins is of course fantastic for the Popes herd but the shows are really all about putting good quality cattle in front of people and flying the Simmental flag. I think all of the breeders here really collectively achieved that." Continuing Vikki went on to say: "We've had some tremendous Popes females at shows in past years and I think Immie is now right up there. She's more than done her bit and will now gracefully retire from the show ring. The Popes herd is all about females and families, strong, proven female lines breeding the next generation of replacement females, and bulls for sales. The shows continue to be a tremendous and important shop window for breeding lines and forward sales."
The much anticipated senior cow class provided a bit of a clash of the titans with Popes Princess Immie narrowly pipping the rising eight-year-old Annick Colleen's Ginger from Reece & Andrew Simmers, Backmuir Farm, Keith, Banffshire. Bred by the late Lachlan Quarm, By Irvine, Ayrshire, Annick Colleen's Ginger is by Corskie Callum and out of Annick Prudence's Colleen EX95. She was bought by the Simmers at the Annick Herd Dispersal Sale in Stirling in September last year for a combined 23,000gns with her calf at foot, and a Simmental sale breed record for an outfit. From the class, Annick Colleen's Ginger followed the Champion all the way through to take the Overall Reserve Supreme title. Ginger was shown with her February 2023 born heterozygous polled heifer calf at foot, Backmuir Ginger's Paprika (P). Of her reserve Overall, Bridget Borlase said: "Again, the reserve was an extremely well balanced cow, showed herself extremely well, and was just that bit older than the Champion. Another super outfit and it was a very close run competition between Champion and Reserve with both just full of quality."
Underlining the quality factor, the very next class saw the three year old Annick Ginger's Lucia, this year's Overall Simmental Supreme at the Royal Highland Show, win the class for cow's born between 1st January 2020 and 31st January 2020. Also bred by Lachlan Quarm, Ginger's Lucia was another to be purchased at the Annick Dispersal Sale and where she made 16,000gns. Annick Ginger's Lucia is out of the aforementioned Annick Colleen's Ginger and is sired by Wolfstar Golddigger.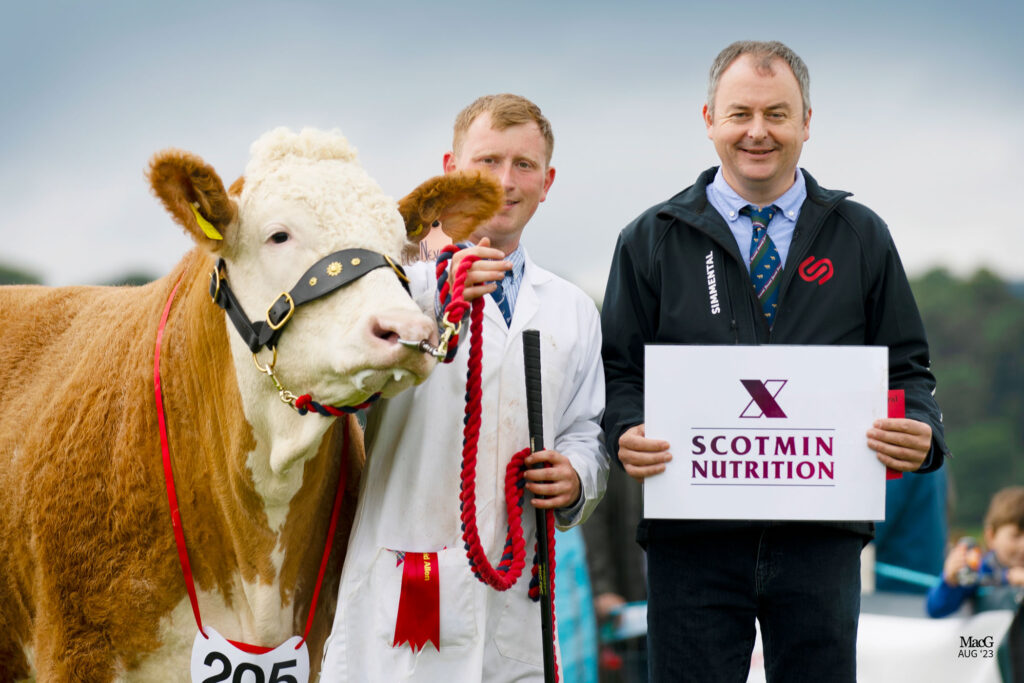 Making a long journey very worthwhile the Backmuir team also picked up the Reserve Junior Female title with their January 2022 born heifer Backmuir Eva's Neva who won the class for heifers born between Ist January and 31st March 2022. Also a class winner at this year's Royal Highland, Eva's Neva is by Islavale Imperial and is out of Starline Eva 25th.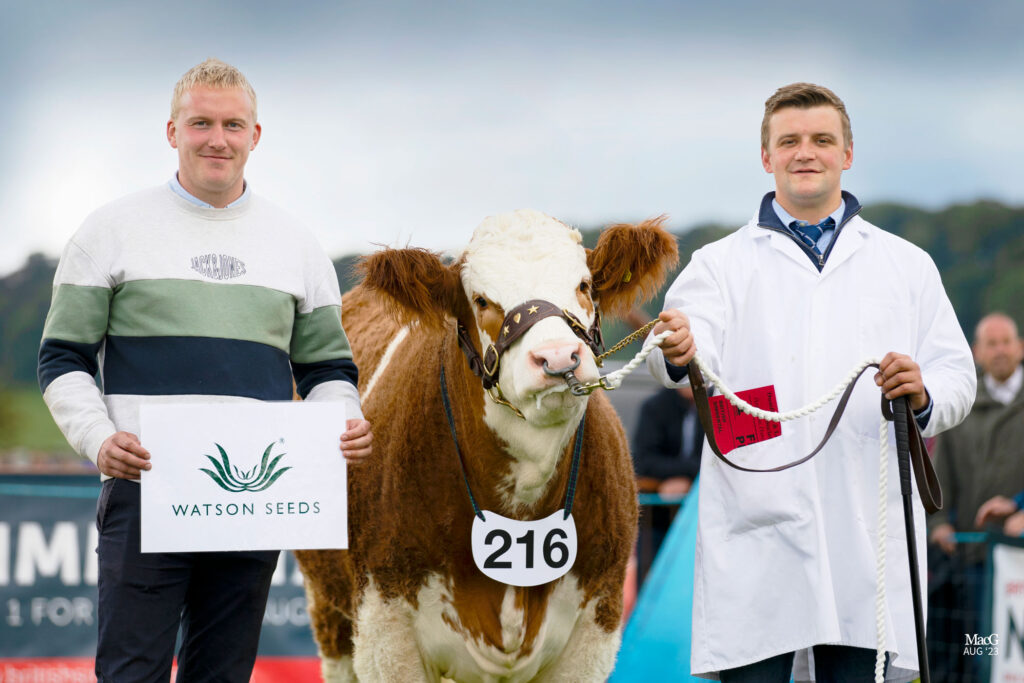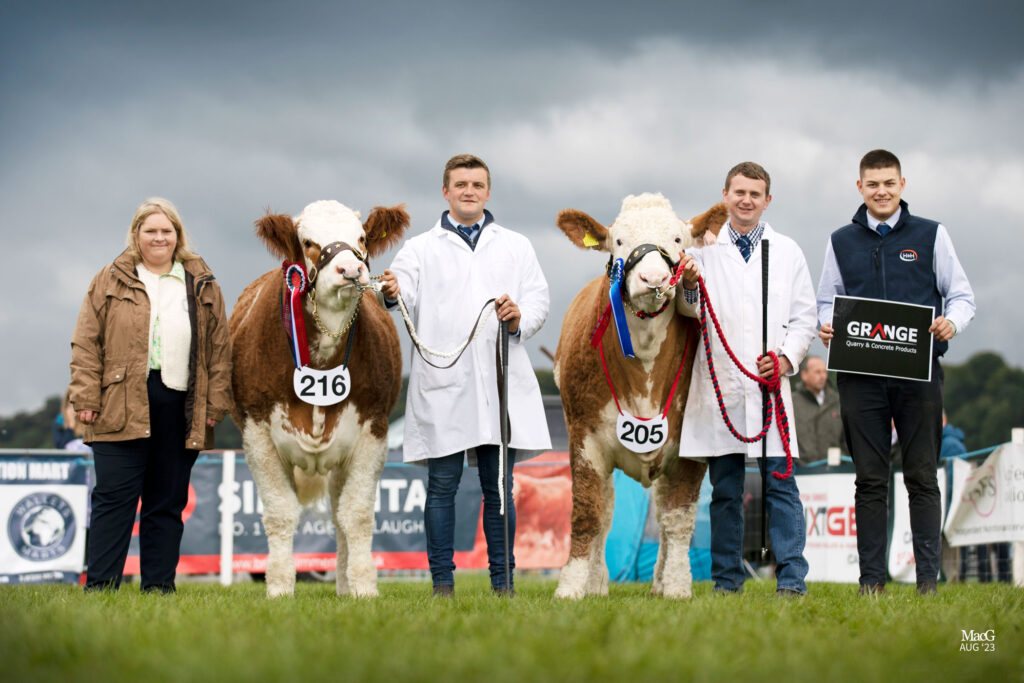 Another star from the Popes team this summer has been the heifer Popes Princess Noor and she was at it again in Dumfries when lifting the Junior Female and Reserve Junior Championship. Again, with a connectivity in breeding, this April 2022 born ET calf is by the noted Team Celtic and out of Popes Princess Hettie making her a full sister to the 2022 English Simmental National Champion Popes Princess Lumi, and a half sister to Popes Princess Immie. These titles added to the Junior Championship win at the Royal Norfolk, the Reserve Junior Championship at the Great Yorkshire, and being part of the winning Junior Interbreed Team of Four also at Harrogate, for this stylish heifer.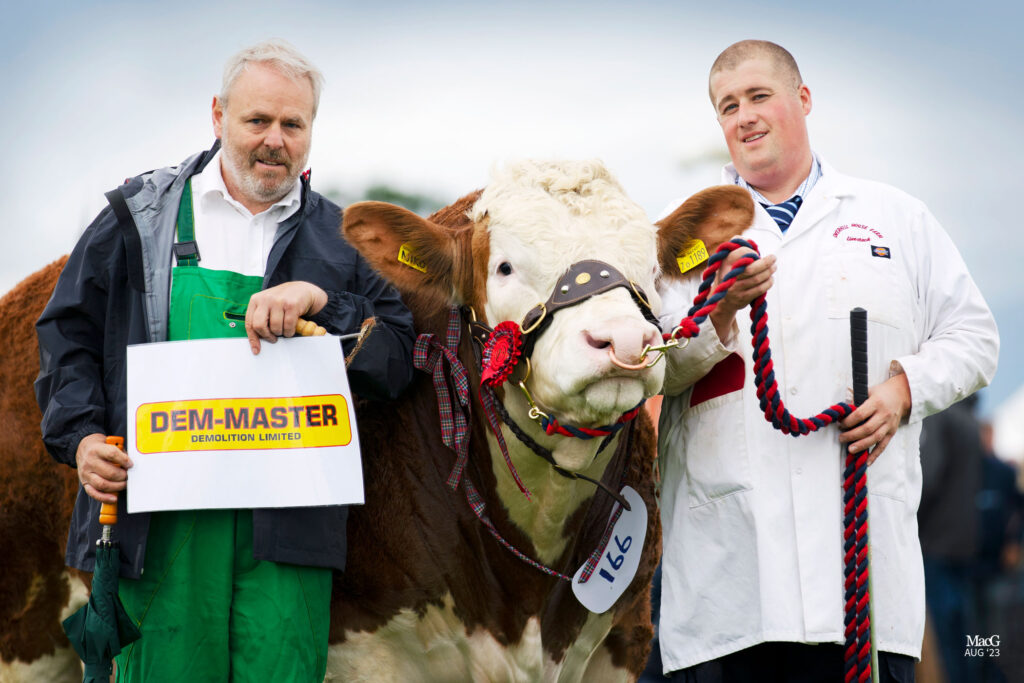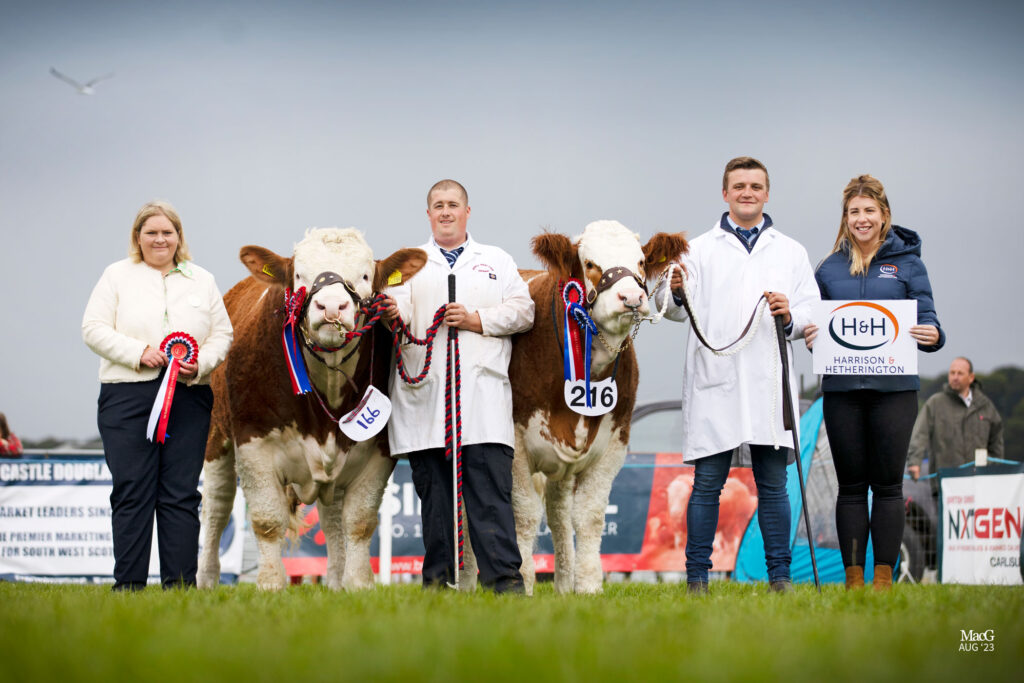 In a good show of bulls it was Overhill House Niko from Richard McCulloch, Armadale, West Lothian, who proved to be the day's star turn in this section when winning the Male Championship, Junior Male Championship, and Overall Junior Championship. Entirely homebred, Niko is by Overhill House Enhance, a Banwy T-Rex son. His granddam on the sire line is Ranfurly Weikel 6th who was purchased as an in-calf heifer from David Hazelton and who herself had a strong show record behind her. Overhill House Niko is out of the cow Overhill House Keelo. Commenting on her Male Champion, Bridget Borlase said: "I really liked this bull. He's just full of breed character, has plenty of length, and has a lovely quality, soft flesh to him." This Male Championship comes on the back of a strong sales year for the Overhill House team that saw them take the top price at the Simmental sales at both Stirling and Carlisle in May, and with Stirling seeing a top all -breeds price of 16,000gns for Overhill House Neil. Speaking afterwards Richard McCulloch said: "We're delighted to win the Male Championship and it's been a tremendous show of Simmental cattle, maybe the best I've seen at a one day show." The plan from here is that Overhill House Niko will be aimed at the Stirling Simmental Sale in October.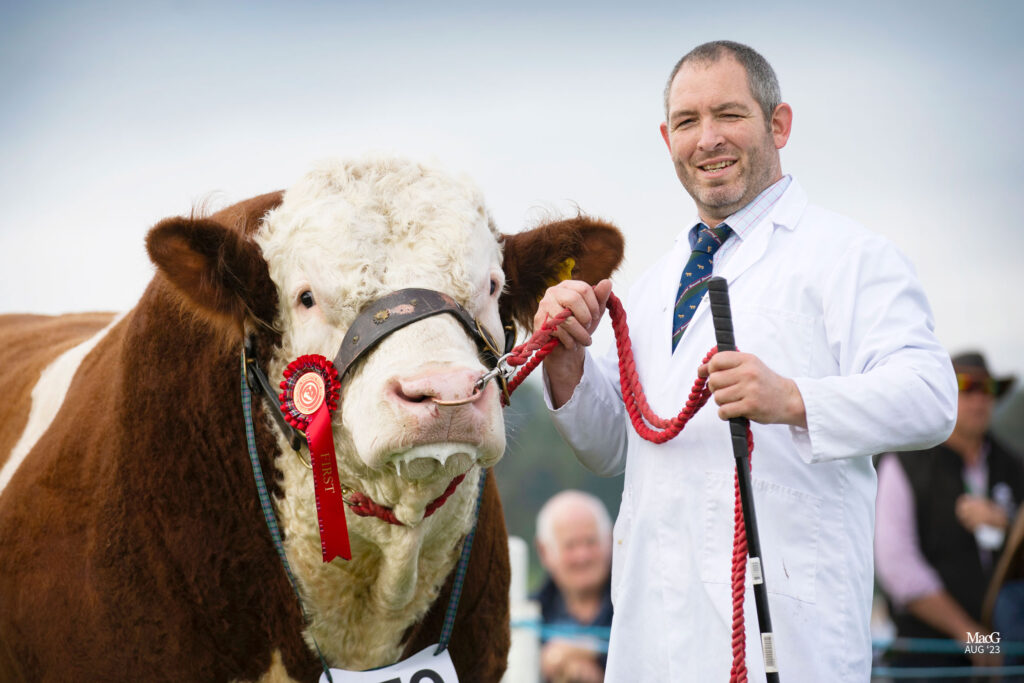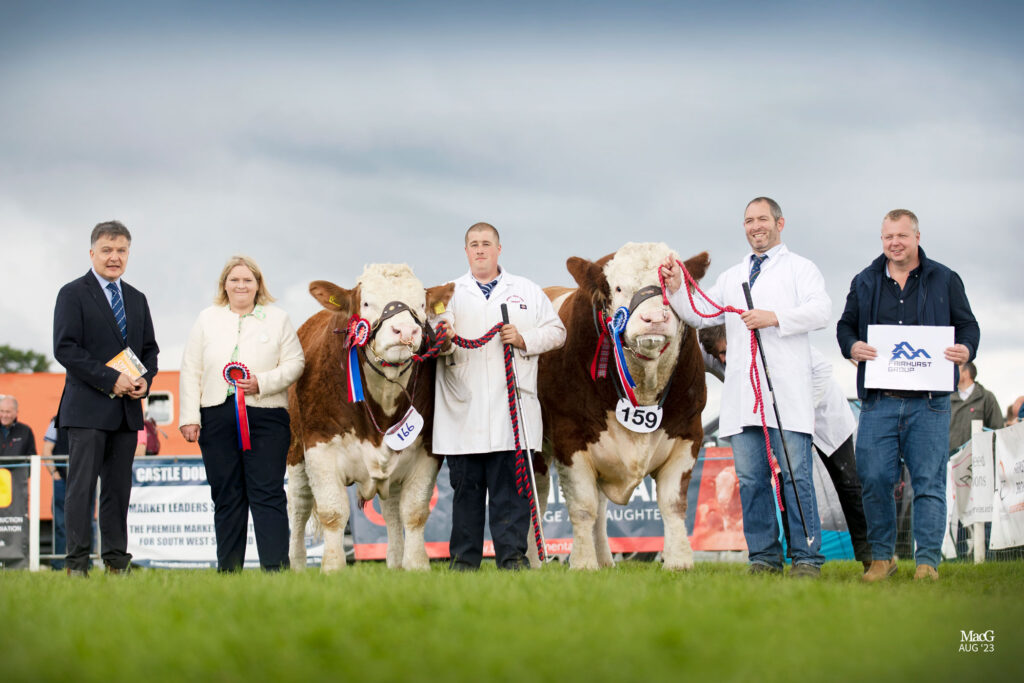 It was great to see some senior Simmental bulls in the show ring and from this section came the Reserve Male Champion in the shape of the winner of Class one, Islavale Jabba from Gavin Brown's Springfield herd at Penicuik, Midlothian. Bred by WS Stronach, Keith Banffshire this bull was originally purchased for 6000gns in 2020 through United Auctions. A prolific breeder in the 30 cow herd he has sired some 40 calves in this last two years. With a show track record behind him Islavale Jabba, 'a well muscled senior bull that has retained his sweetness', took Reserve Senior Bull and Reserve Overall Male at the 2021 Live Streamed Royal Highland Show. This year he has won the Overall Championship at Dalkeith Show. a has taken Overall Champion at Dalkeith Show this year. At the 2021 Live Streamed Royal Highland Show, he took Reserve Snr Bull and Reserve Overall Male.
Standing Reserve in the Senior Males was Auchorachan Kennedy from local breeders Jim & Patricia Goldie, Newbie Mains Farm, Annan. This four year old bull, bred by D&R Durno & Sons, Glenlivet, Ballindalloch, was purchased for 9000gns at Stirling in February 2021. 2019 born he is a son of the prolific Auchorachan Hercules, and is out of Auchorachan Gypsy EX92, a Rabawn Caesar King daughter.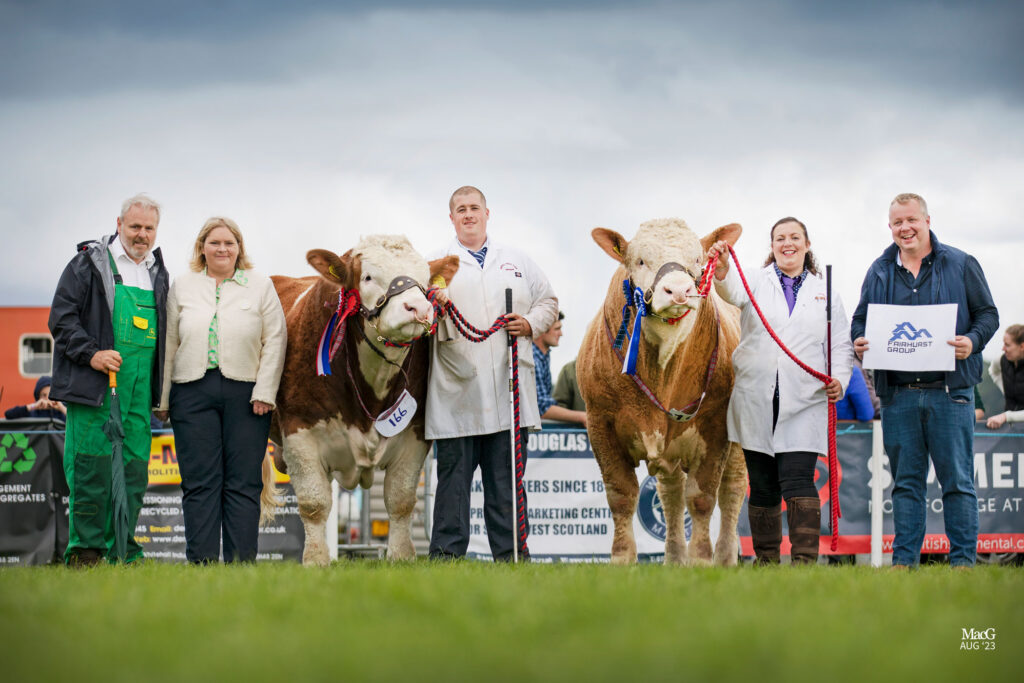 Taking the Reserve Junior Male was Annick Nazareth from the Merkland herd of Jim & Liz Dyet, East Merkland Farm, Strathaven. This April 2022 born bull was also bred by Lachlan Quarm and was a further purchase at the Annick Dispersal Sale when he made 7500gns as part of the outfit with his dam, Annick Friesia's Kiki VG85. Sired by Kilbride Farm Karl, Annick Nazareth has this year been Champion at Neilston, and Ayr Show respectively, and was Reserve Champion at Newmilns Show. Described as a bull with 'tremendous length and plenty of shape', Annick Nazareth will be used as a stock bull in the Merkland pedigree herd.
In the Pairs, it was Lindsay Currie, along with his son Robert, Pinclanty, Pinmore, Girvan, Ayrshire who took first prize with two very smart heifers, Braegarrie Nadia, and Braegarrie Norma who had both placed second in their respective classes.  The April 2022 born Nadia is by Woodhall Ferrari and is out of Braegarrie Julia, a Keeldrum Geronimo daughter.  The August 2022 born Braegarrie Norma is by Overhill House Link 20, and is out of Braegarrie Giselle.  Overhill House Link was purchased for 7500gns at the Stirling October Bull Sales in 2021 and is the stock bull in the fifteen cow Braegarrie pedigree herd.  Commenting, Lindsay Currie said:  "It's the first time we've shown in a while but we were thrilled to support the Scottish Simmental National Show at a venue close to home.   The heifers behaved really well in the ring considering it was their first time out and Robert and I are delighted to have won the Pairs class with them."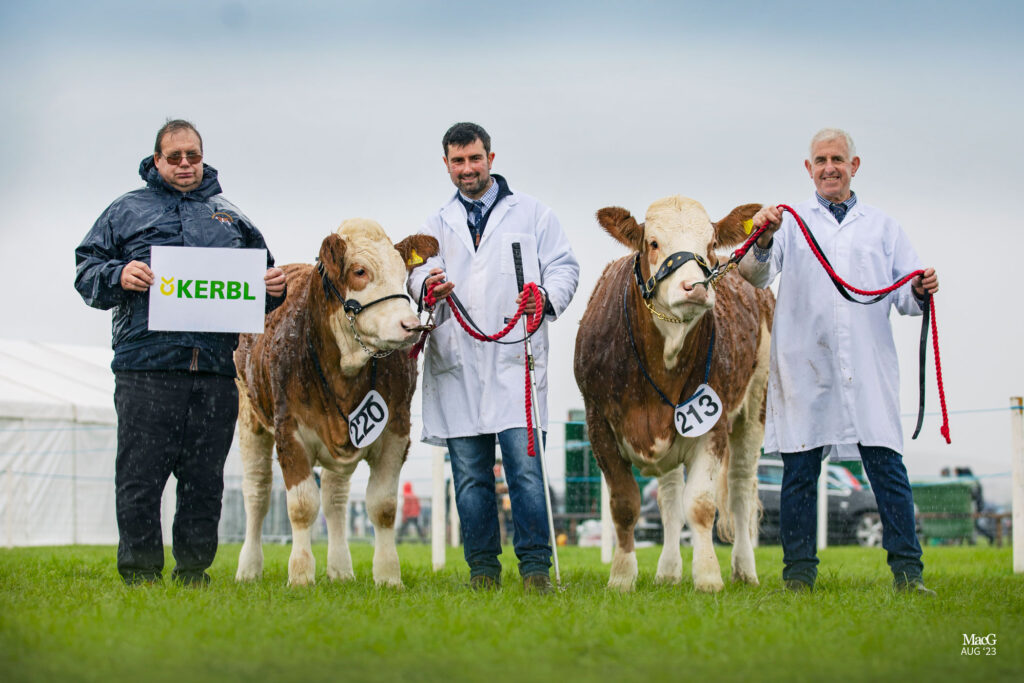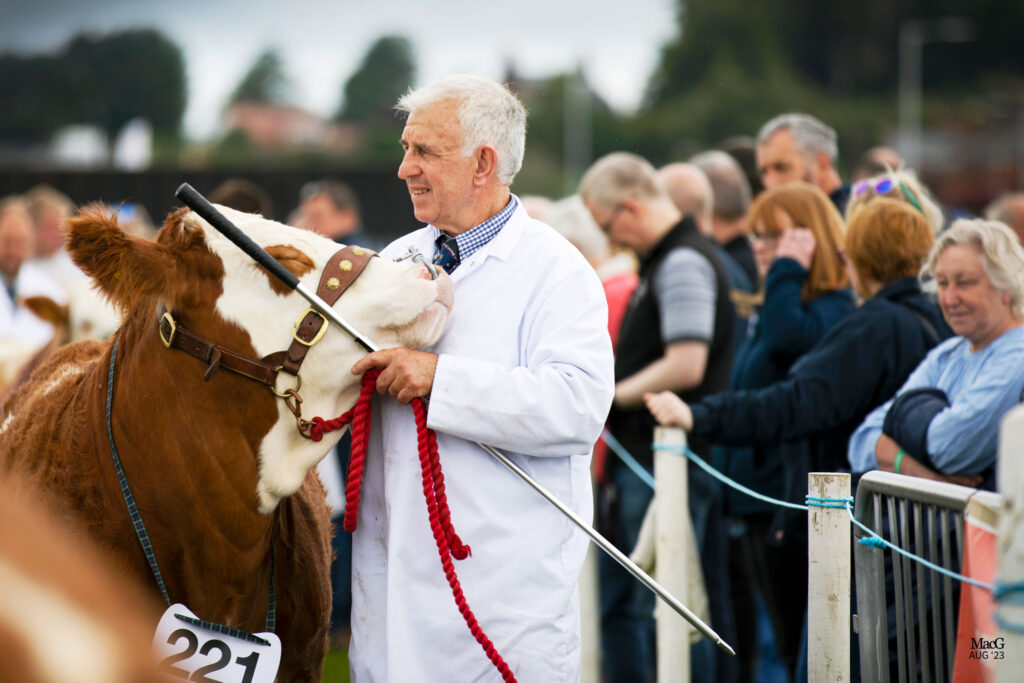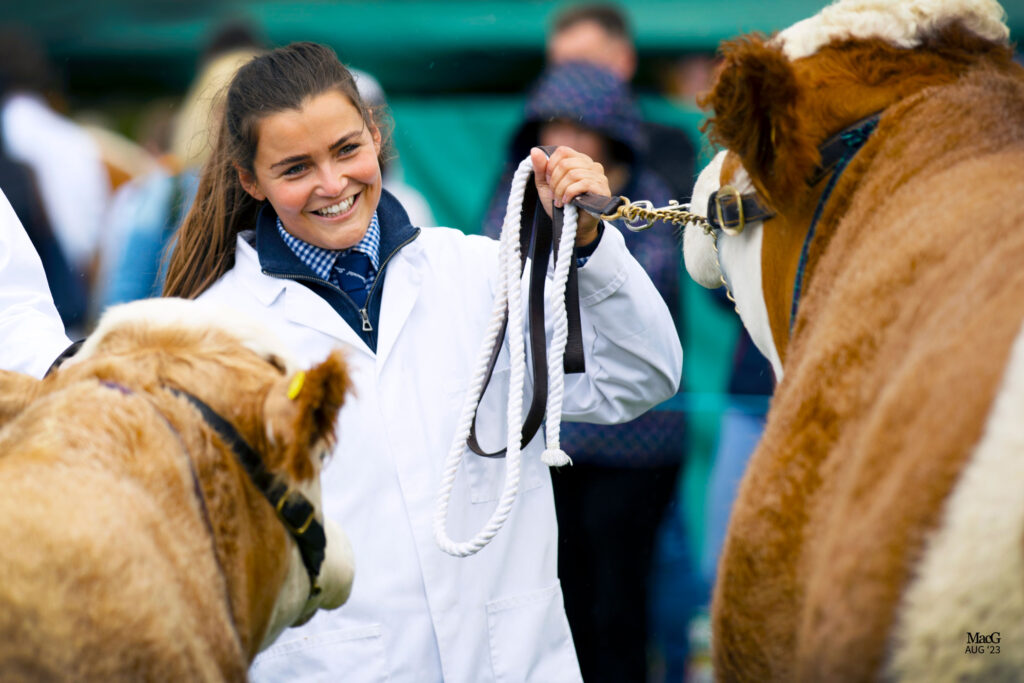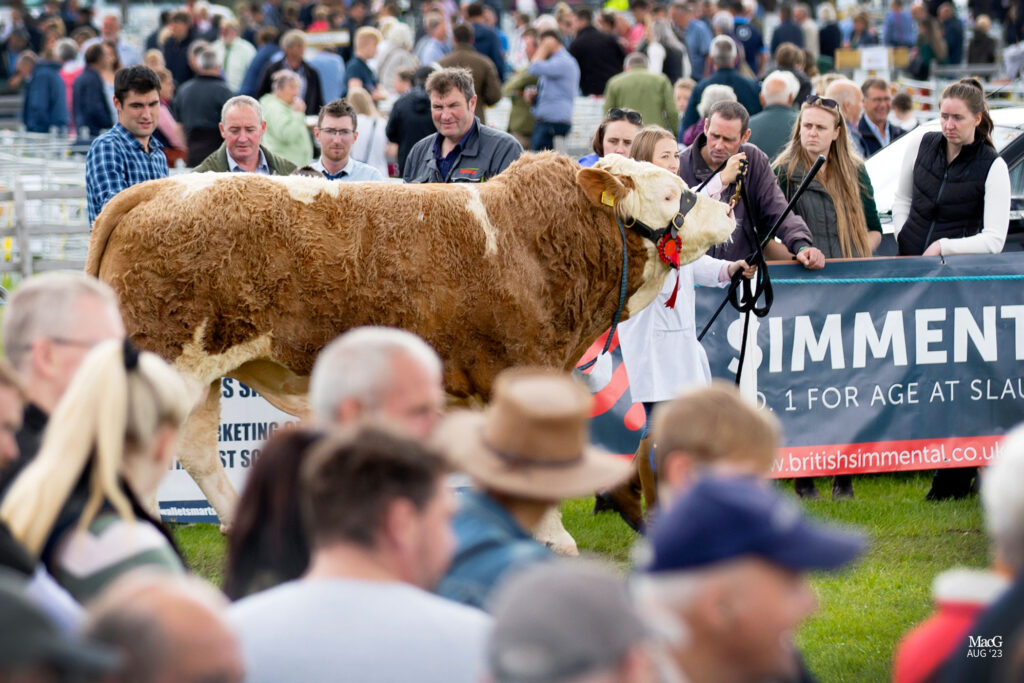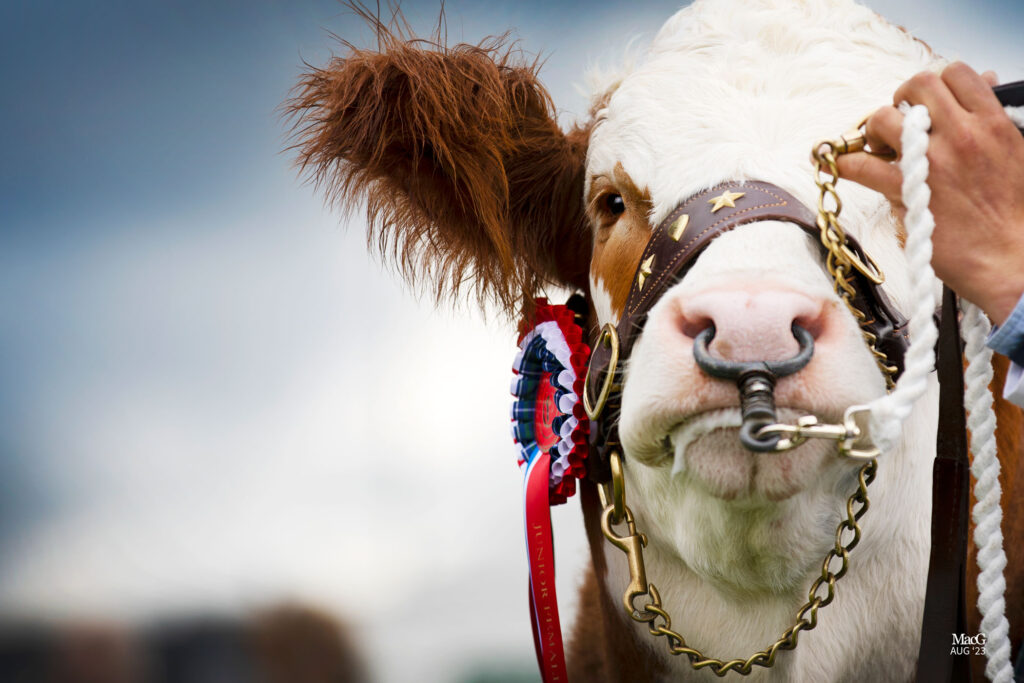 The Scottish National Simmental Show
Kindly hosted by Dumfries & Lockerbie Agricultural Society
Saturday 5th August, 2023
Judge: Ms Bridget Borlase, Watton At Stone
Results
Class 107 Bull Born before 31st December 2021
1st 159 Islavale Jabba, Gavin Brown
2nd 158 Auchorachan Kennedy, Jim & Patricia Goldie
3rd 160 Springfield Masterclass, Gavin Brown
4th 161 Westridge Matty, Mr & Mrs M Ward & Sons
Class 108 Bull born between 1st January 2022 and 31st March 2022
1st 164 Newbiemains Nightrider, Jim & Patricia Goldie
Class 109 Bull born between 1st April 2022 and 30th June 2022
1st 166 Overhill House Niko, Richard McCulloch
2nd 169 Annick Nazareth,J & E Dyet
3rd 177 Denzies Neff, Barlow Brothers
4th 175 Popes Nami, J H & V G Wood
5th 173 Springfield Niagra, Gavin Brown
Class 110 Bull born between 1st July 2022 and 31st December 2022
1st 184 Denzies Nacho, Barlow Brothers
2nd 217 Kennox Nero, David Craig
3rd 182 Braegarrie Nugget, D L & S Currie
4th 183 Braegarrie Nero, D L & S Currie
Class 111 Cow, born before 31st December 2019
1st 189 Popes Princess Immie, J H & V G Wood
2nd 185 Annick Coleen's Ginger, Reece Simmers
3rd 187 Newbiemains Just a Star, Jim & Patricia Goldie
4th 186 Drumsleed Flick, J & E Dyet
Class 112 Cow born between 1st January 2020 & 31st December 2020
1st 190 Annick Ginger's Lucia, Reece Simmers
2nd 191 Islavale Liquorice, Gavin Brown
Class 113 Heifer born between 1st January 2021 & 30th April 2021
1st 198 Popes Trixies Mikala, J H & V G Wood
2nd 193 Merkland Mandy, J & E Dyet
Class 114 Heifer born between 1st May 2021 & 31st August 2021
1st 196 Newbiemains My Girl, Jim & Patricia Goldie
2nd 201 Merkland Marie, J & E Dyet
3rd 194 Merkland Myra, J & E Dyet
Class 115 Heifer born between 1st September 2021 & 31st December 2021
1st 203 Grangewood Tollie's Millie, A S & Y A Leedham
2nd 204 Coltfield Martha, J Cameron MacIver
Class 116 Heifer born between 1st January 2022 & 31st March 2022
1st 205 Backmuir Eva's Neva, Reece Simmers
2nd 162 Annick Fresia's Neomi, J Cameron MacIver
3rd 207 Grangewood Tollie's Natasha, A S & Y A Leedham
4th 208 Future Newgirl, C A Jackson
Class 117 Heifer born between 1st April 2022 and 30th June 2022
1st 216 Popes Princess Noor, J H & V G Wood
2nd 213 Braegarrie Nadia, D L & S Currie
3rd 211 Backmuir Kreole's Natasha, Reece Simmers
4th 209 Skerrington Faith, William Kirk
Class 118 Heifer born between 1st July 2022 & 31st December 2022
1st 218 Annick Lucia's Nicosia, Reece Simmers
2nd 220 Braegarrie Norma, D L & S Currie
3rd 221 Braegarrie Nigella, DL & S Currie
4th 226 Grangewood Nicole, A S & Y A Leedham
5th 222 Newbiemains Nap, Jim & Patricia Goldie
Class 119 Calf born in the year of the Show on or after 1st January 2023
1st Reece Simmers
2nd J H & V G Wood
3rd J & E Dyet
Senior Male Champion
159 Islavale Jabba, Gavin Brown
Reserve Senior Male Champion
158 Auchorachan Kennedy, Jim & Patricia Goldie
Junior Male Champion
166 Overhill House Niko, Richard McCulloch
Reserve Junior Male Champion
169 Annick Nazareth, J & E Dyet
Overall Male Champion
166 Overhill House Niko, Richard McCulloch
Reserve Overall Male Champion
159 Islavale Jabba, Gavin Brown
Junior Female Champion
216 Popes Princess Noor, J H & V G Wood
Reserve Junior Female
205 Backmuir Eva's Neva, Reece Simmers
Overall Junior Champion
166 Overhill House Niko, Richard McCulloch
Reserve Junior Champion
216 Popes Princess Noor, J H & V G Wood
Senior Female Champion
189 Popes Princess Immie, J H & V G Wood
Reserve Senior Female Champion
185 Annick Coleen's Ginger, Reece Simmers
Overall Female Champion
189 Popes Princess Immie, J H & V G Wood
Reserve Overall Female Champion
185 Annick Coleen's Ginger, Reece Simmers
Overall Champion
189 Popes Princess Immie, J H & V G Wood
Reserve Overall Champion
185 Annick Coleen's Ginger, Reece Simmers