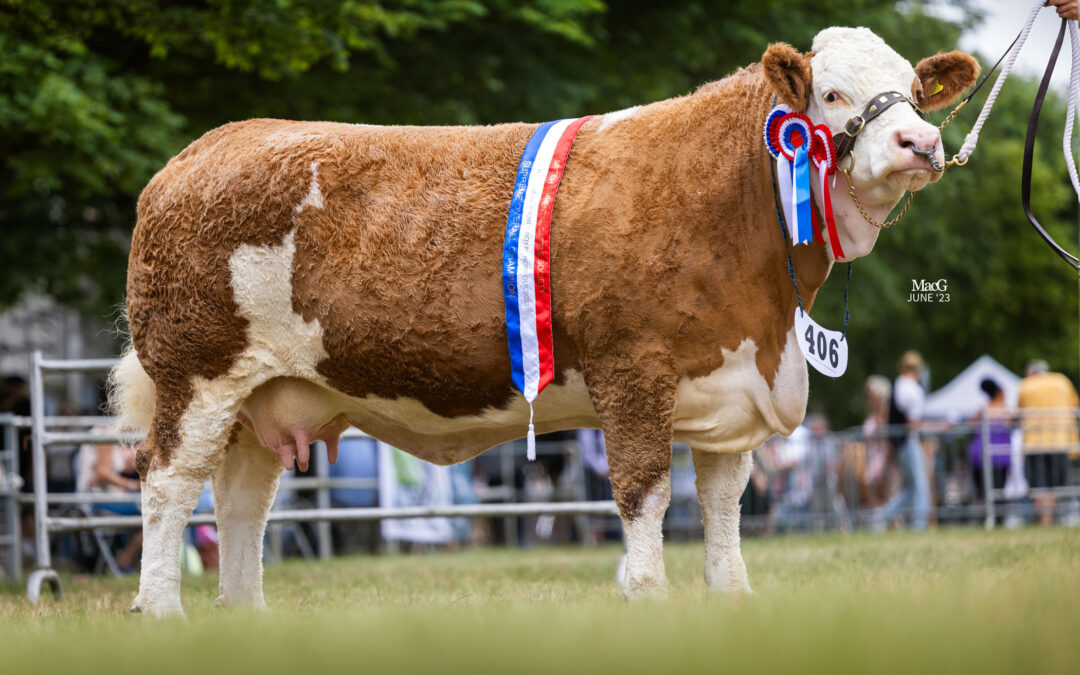 Sterling Celia's Fifi wins Overall Reserve Supreme
Cursons take the Male Championship with Cade Nugget
Popes Princess Noor lifts the Overall Junior Championship
Wacton herd wins most points across the show classes
Cade Nugget wins Male Continental Interbreed
Finlay Soutter wins Royal Norfolk Young Handlers Championship
The high-quality Simmental summer road show moved to the Royal Norfolk which provided the platform for the 2023 Simmental English National Show held on Wednesday 28th June. Close on sixty pedigree Simmentals put on a super breed spectacle in front of the judge John Moore of the highly noted Omorga herd, Omagh, Co Tyrone. After some strong competition across the classes it was the six-year-old cow Popes Princess Immie, with her bull calf at foot Popes Premier, who took the Overall Supreme Championship title, and Champion Female title, for Jimmy & Vikki Wood, Popes Farm, Preston, Lancashire.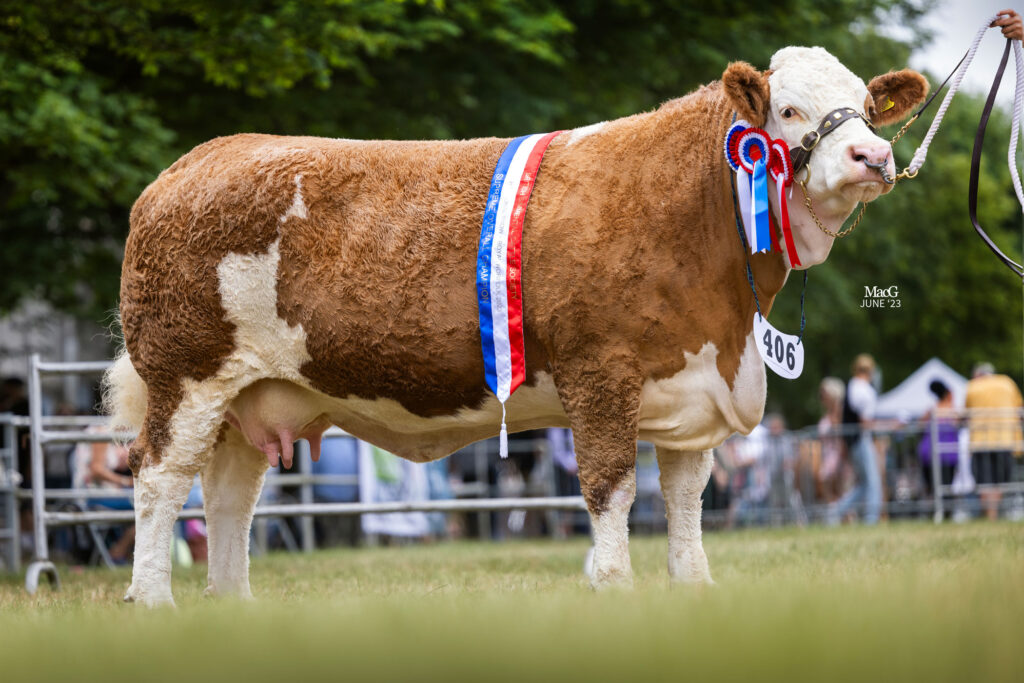 For the Popes herd of some 50 cows and followers, and which is synonymous with producing quality Simmental females and bulls from high end cow families, this was a remarkable two in a row, and three out of the previous four, Overall Supreme Championships at the breed's English National Shows! There's clearly something in the Norfolk air that brings the best out of Popes Princess Immie as she won her class as a heifer in 2019 at the last English National held at the Royal Norfolk, and in what was her only previous show outing other than being shown as a calf at foot in Interbreed winning teams with her mum in 2017! Full of breeding Popes Princess Immie is by the 20,000gns stock bull Kilbride Farm Comber who the Woods say is 'really stamping some quality females through the herd' and is out of the noted Popes Princess Cleo EX95. This highly decorated show cow in her own right was also the dam of last year's English National Show Champion, Popes Princess Lumi, and the dam of Popes Princess Hettie, the mother of the 2023 Junior Champion at the English National Show, Popes Princess Noor. For good measure, Popes Princess Immie's cracking bull calf at foot, the January born Popes Premier by Popes Lethal Weapon, went on to win the prize for the Best Simmental Calf at Foot.
Commenting at the close of the judging, John Moore said: "Popes Princess Immie is just a very modern Simmental cow. She's a super easy fleshing female with a lovely second thigh, is full of milk, and is a working Simmental mum rearing a really good calf at foot. Across the classes there's been a terrific show of Simmentals, particularly the females, and the standard is a great credit to all of the exhibitors who I warmly congratulate."
Speaking to this further Championship win, Jimmy & Vikki Wood said: "It's really fantastic, and a great honour, to win the Simmental English National Show. A lot of hard work and dedication goes into the cattle by all in the Popes team and days like this continue to make it all so worthwhile. There have been some tremendous Simmental cattle on show this summer and today very much continued that trend. The local breeders in the East Anglian area are producing some great cattle and the quality of Simmental stock across the show was of a really high standard. We'll continue to be very loyal to both the Simmental breed and to the English National Show as we feel it's a terrific shop window."
The aforementioned Popes Princess Noor cemented another top day for the Popes Herd when she won the Overall Junior, and Junior Female Championships.   With a connectivity in breeding, this April 2022 born ET calf is by the noted Team Celtic and out of Popes Princess Hettie making her a full sister to the 2022 Champion Popes Princess Lumi, and a half sister to this year's Champion. Again, this was a first show outing for this stylish young heifer.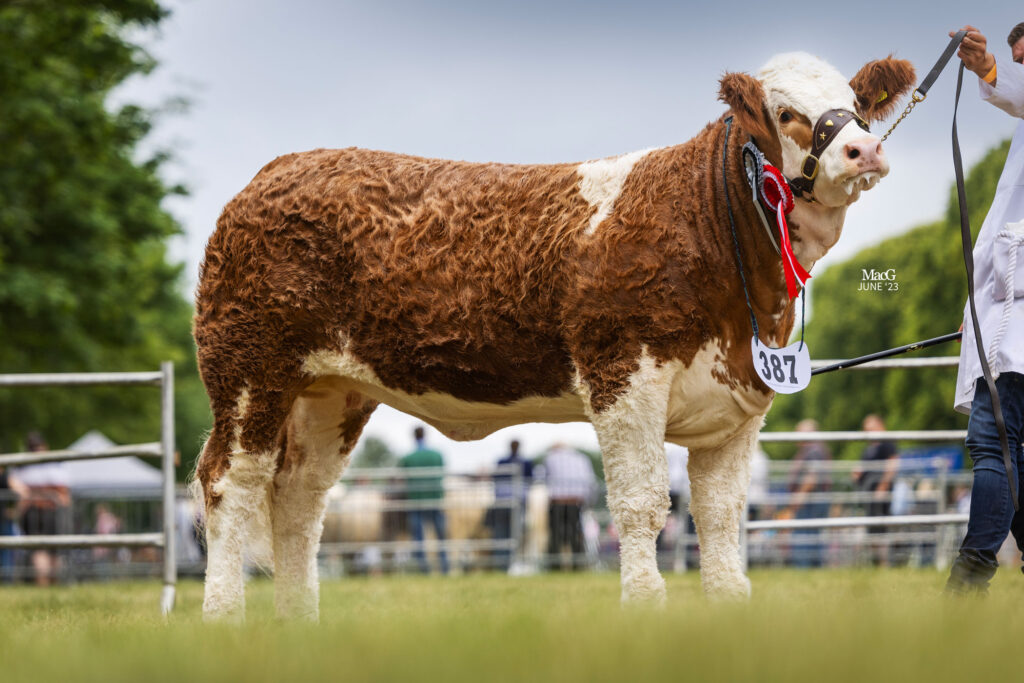 Lifting the Reserve Overall Supreme, and the Female Overall Reserve, was the senior cow Sterling Celia's Fifi who is 'multiply owned' by the Cade herd of Paul & Sharrie Cade, Paddock Farm, Buckden; the Brandane herd of Jimmy McMillan, Bradwell Ash, Bury St Edmunds; and the Key herd of GD Key & Sons, Loddon, Norwich. It was very much a high powered 'shoot out' in the classes as this nine-year-old cow, shown with her February heifer calf Cades Fifi's Patience, placed second to the Supreme Champion in the class and followed her all the way through to the Overall Reserve. Sterling Celia's Fifi, bred by Boddington Estates, by Sterling Cotswold, and out of Sterling Delores Celia, is a past winner of the English National Show having lifted the title in 2017 as a calved heifer at the Three Counties Show. Later that same year she was sold for 22,000gns, a then albeit briefly held Simmental female record, at the Boddington Estate Herd Dispersal Sale and to Harte Farms, Republic of Ireland. Roll on to 2021 and the animal in herself allied to the know depth of breeding and performance, saw the consortium put together buy Sterling Celia's Fifi for 6200 Euros at the Harte's online Dispersal Sale.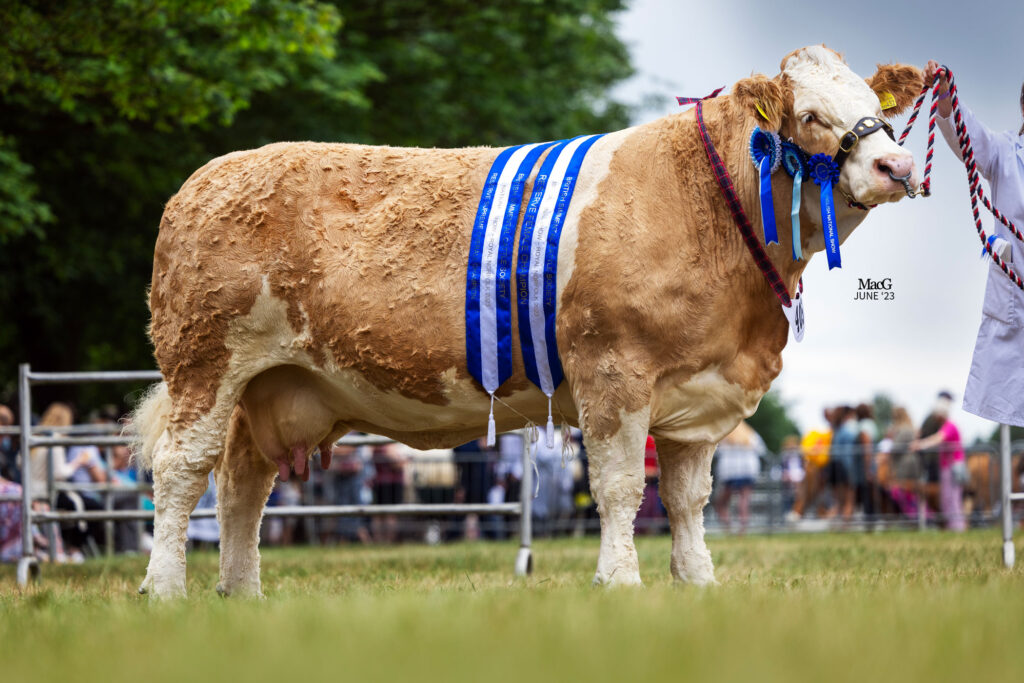 It was a major show debut to remember for local breeders Chris & Zara Curson of the Hollybrook herd, based some ten minutes from the showground, at Hollybrook Farm, Dereham, who lifted the Overall Male Championship, and Junior Male Championship with their February 2022 born bull Cade Nugget. Purchased privately in March this year from Paul & Sharrie Cade, Paddock Farm, Buckden, this bull is by Sacombe Jameson, and out of Brandane Kathleen, a Blackford Hurricane daughter. On the day the bull was shown by the Cade's daughter Erin who was also the person who originally halter trained Nugget! On the second day of the show, and drawing an emotional tear or two from the exhibitors, Cade Nugget was tapped out as the show's Interbreed Male Continental Champion by the judge Mary Cormack. Commenting firstly on the purchase of the bull Chris Curson said: "We first saw the bull in January this year before buying him in March. I liked the breeding behind him with Sterling Gino and the bull in himself is just very correct with great lines, he's good on his plates, walks well and just carries a bit of style. He'll be used on both our 20-cow-pedigree herd and also in the 40 cow suckler herd which is predominantly Simmental based." More generally on their fantastic showing debut, Chris went on to say: "Living just ten minutes away this is a show I grew up with and have been to over many years. To now meet with this success is truly amazing and just a tremendous honour. With the English National on our doorstep we really wanted to support the show. There's some great Simmental cattle in this area as we've seen today from a number of breeders and the show was really competitive but in such a friendly environment amongst supportive exhibitors."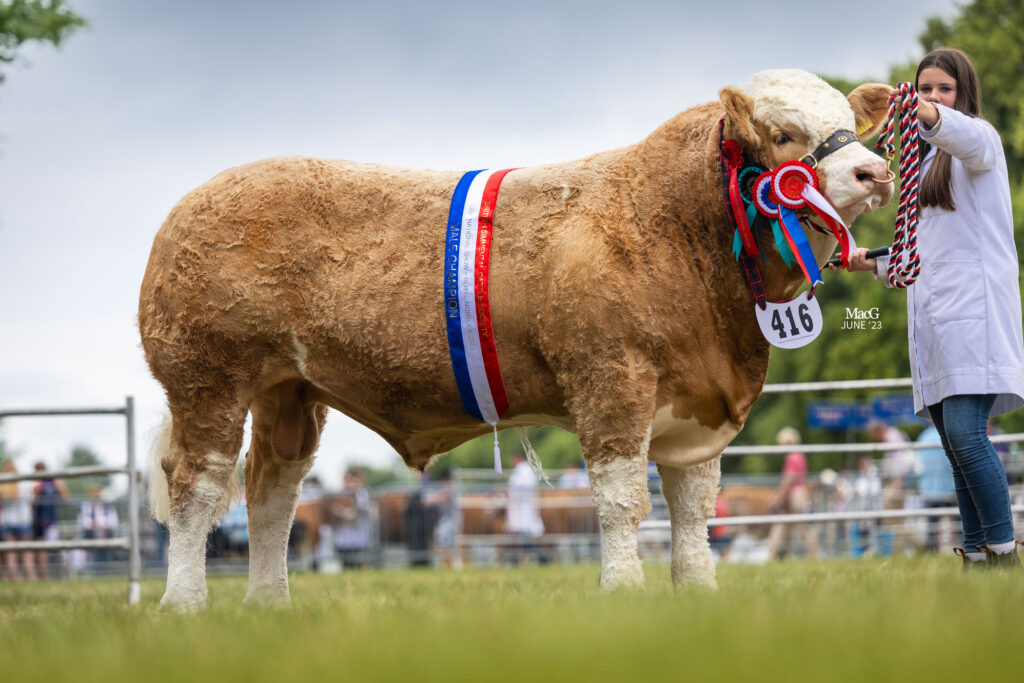 Following the Male Champion through from his class to take the Reserve Overall Male, and Reserve Junior Male, was the February 2022 born Grangewood Nobel from the Leedham team of Andrew & Yvonne, and their son Callum, from Rowan Farm, Pickering, North Yorkshire. This calf is by Ranfurly Impeccable and is out of Grangewood Polly's Girl from the herd's noted Grangewood Polly female line. Later in the day, the Leedhams met with further success when winning the Best Pair bred by exhibitor. Grangewood Nobel teamed up to win this section with the second prize heifer Grangewood Tollie's Millie. This September 2021 born heifer is also by Ranfurly Impeccable and is out of Grangewood Tollie's Iris, a daughter of Grangewood Glenlivet who had bred to price sale bulls for the herd. Rounding off a cracking day for the herd, Grangewood Tollie's Natasha took the red rosette in the strong second heifer class of the day. January 2022 born this heifer is again By Ranfurly Impeccable and is out of Grangewood Tollie's Hope, an Omorga Volvo daughter.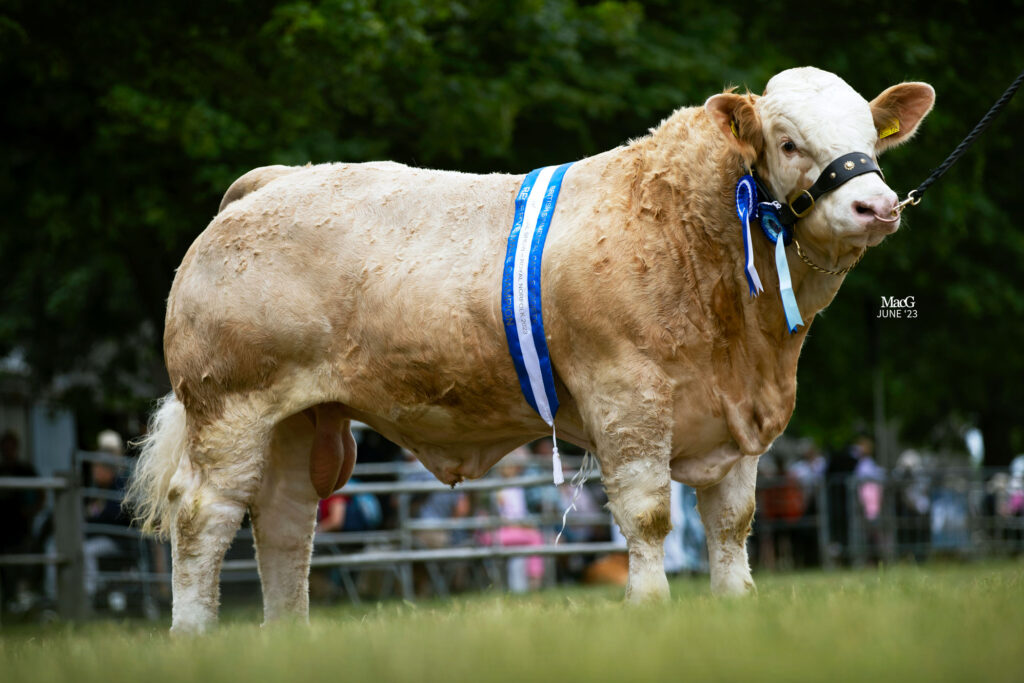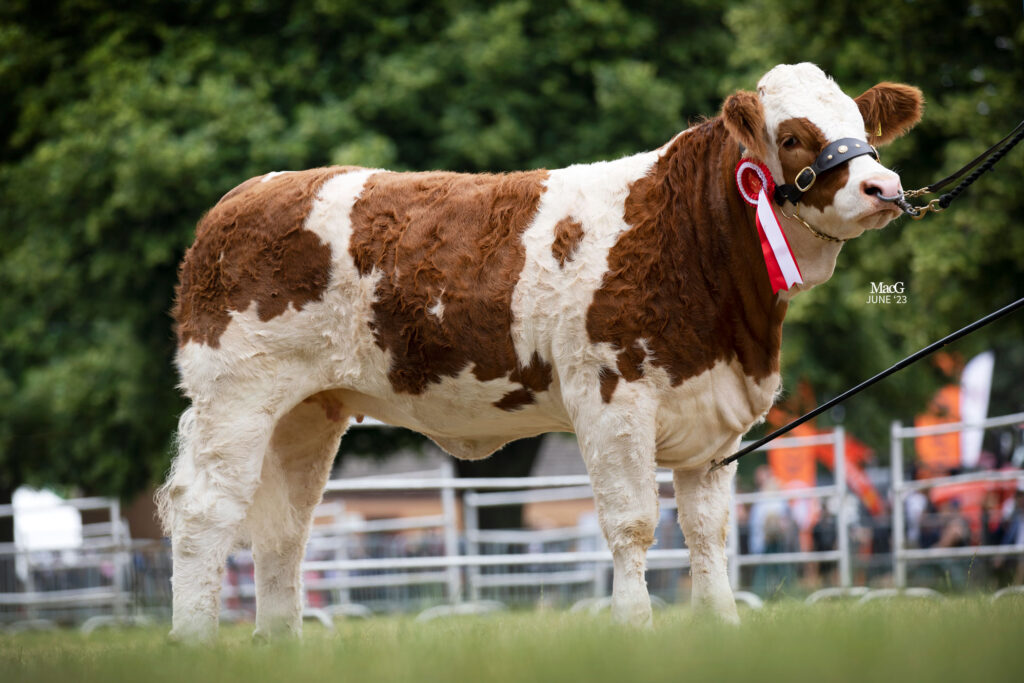 Back in the females and taking the Senior Heifer title was Denizes Eve's Beauty 7th from the Wacton herd of another local breeder RE & SHW Steggles, Fieldings, Honingham, Norfolk. This heifer purchased for 8000gns at the Next Generation II Simmental Sale at Carlisle in December 2022 from breeders MA Barlow & Son, Ulnes, Nr Leyland, Lancashire, is full of breeding with both parents being Royal Highland Show Champions. Denizes Eve's Beauty is by Blackford Galaxy and is out of the herd's famous Auroch Eve. Arriving at Norfolk with a little show record behind her, Denizes Eve's Beauty 7th had previously been Breed Champion at the recent Royal Suffolk Show and where she also featured in the winning Simmental Interbreed Pair. The Wacton herd was originally established in the early 1970's by Russell Steggles one of the breed's pioneering importers, before being sold in the mid 1980s. A mini revival by Russell's grandson Sam saw the herd last show at the Royal Norfolk some 25 years ago. Roll on to the present and the family Steggles in the shape of Sam, and his wife Caroline, and children William and Polly have their sights on fully re-establishing the herd and with ambitions to grow it from its present seventeen head to some 50 cows built upon cornerstone females with proven quality bloodlines. The 2023 Simmental English National Show proved to be a hugely successful one with the Wacton herd perhaps most noticeably winning the award, the Imex Plate, for the breeder and herd winning the award for the most points in the classes. Four first prizes, a second, and a third, went a long way to securing that, and accompanied by a host of titles for pairs, groups, and exhibitor bred in a remarkable day! Speaking afterwards Sam Steggles said: "Norfolk is our home show and we could just about walk the cows here. With it being combined with the English National Show, and to meet with the success we've had, has been a truly mind blowing experience and is now a very high bar to exceed. To win the 'most points' award with the esteemed breeders and enthusiasts that were here is amazing and an emotional phone call has been shared with my grandmother!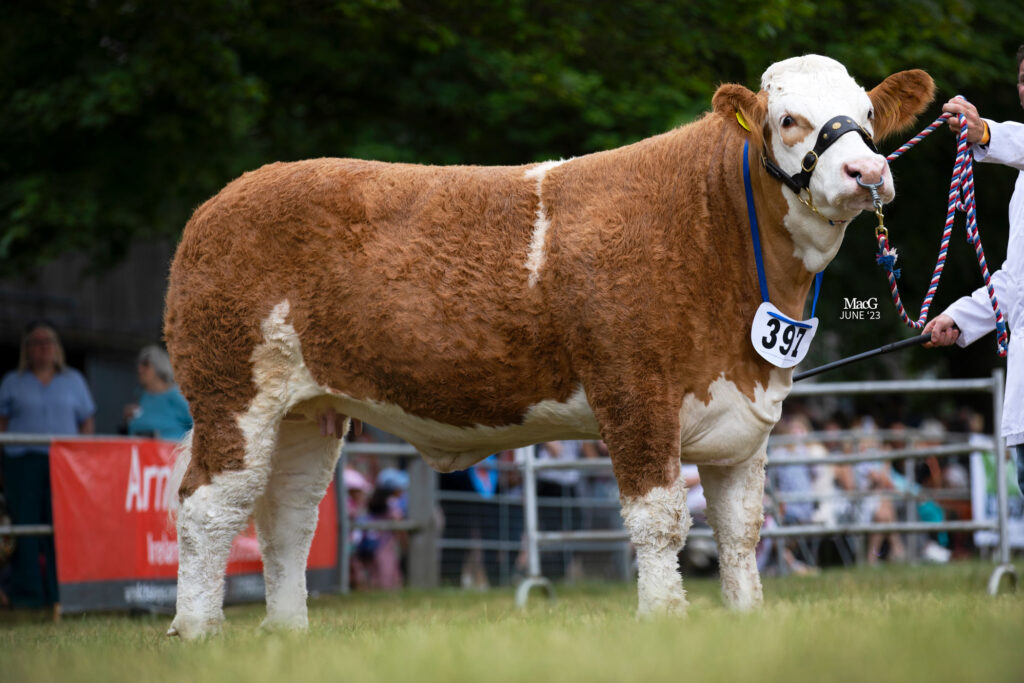 A huge shout out also to young breeder Finlay Soutter whose outstanding heifer Brandane Millie stood second in another high-quality class to Denizes Eve's Beauty 7th. On the second day young Finlay swept all before him when he won the prestigious Overall Championship for Young Handlers and was presented with his prize by William, Prince of Wales! Please look out for a further post on this fantastic achievement!
Full list of show results to follow….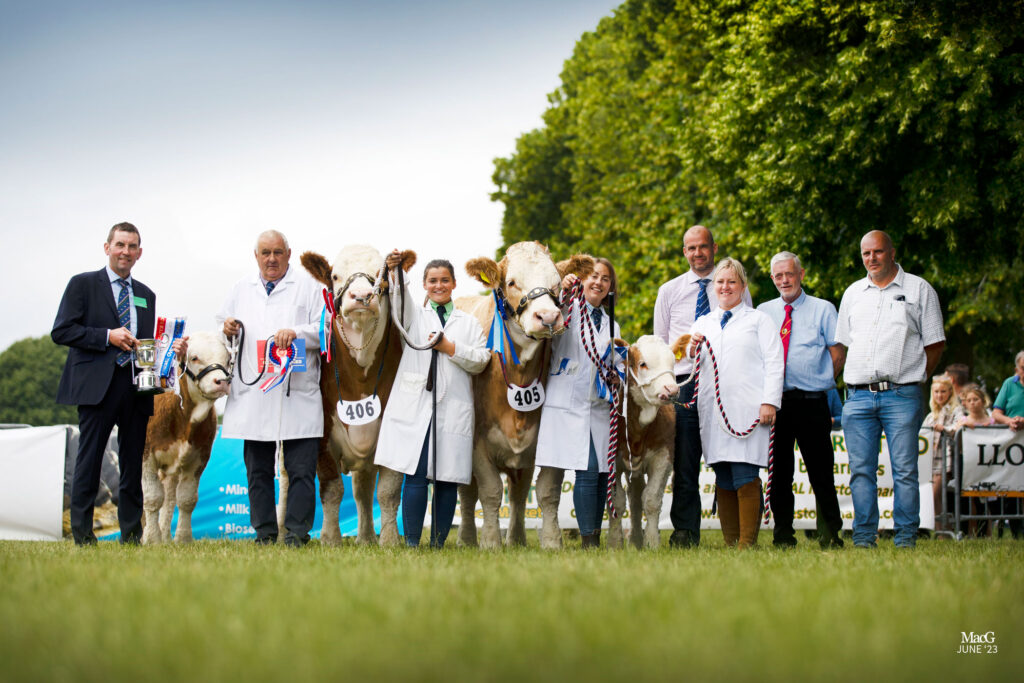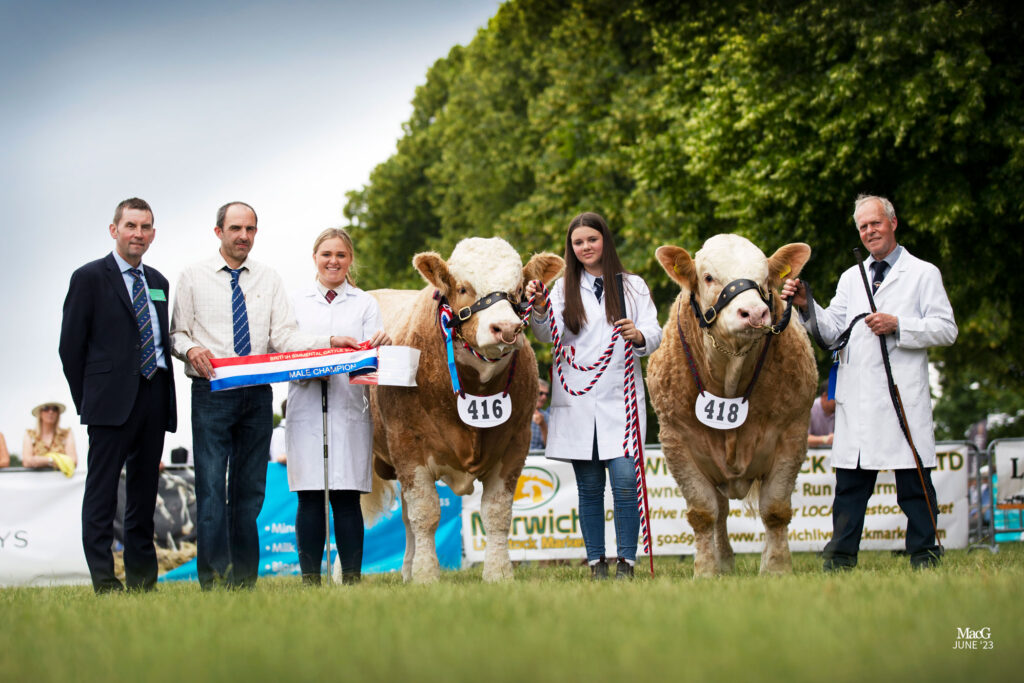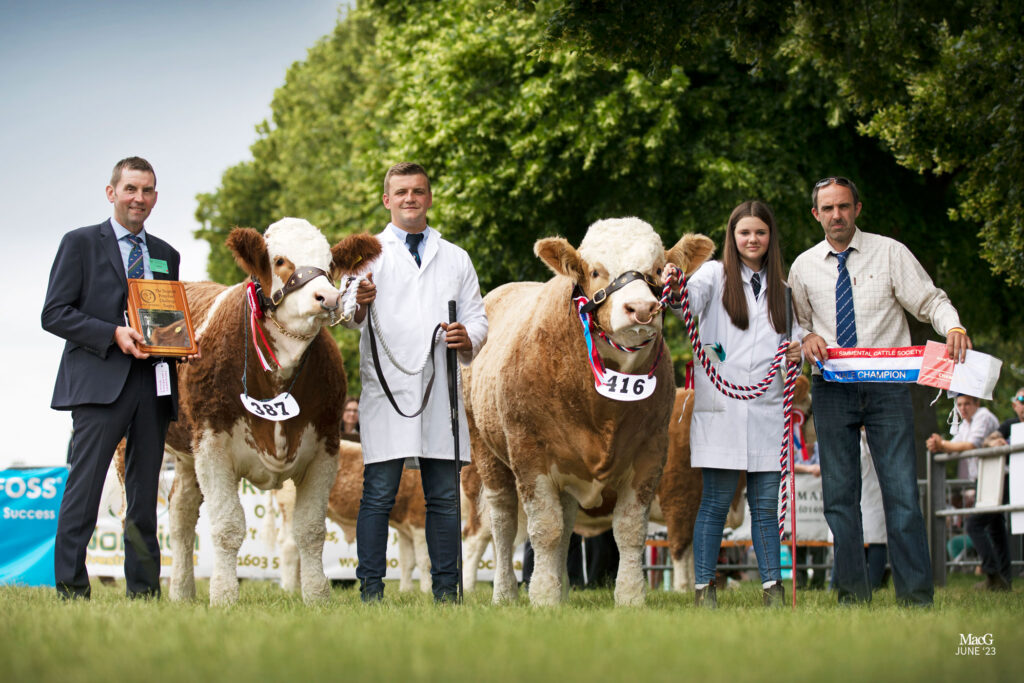 Heifer, born on or after 1 April 2022
1 – J H & V G Wood – Popes Princess Noor
2 – D A & L A Sapsed – Heathbrow Natasha
3 – J H & V G Wood – Popes Nellys Neva
4 – Thomas Hill – Scotland Hill Francesca Nesta
5 – R J Grenham – Boars Head Karina 12th
Heifer, born on or between 1 January and 31 March 2022
1 – A S & Y A Leedham – Grangewood Tollie's Natasha
2 – P A & S M Cade – Cade Fauna's Nina
3 – P Gunther – Fircovert Nancy
4 – Mrs H Clarke – Williams Ellie's Nelly
Heifer, born on or between 1 August and 31 December 2021
1 – R E & S H W Steggles – Scotland Hill Wisteria Miss Echo
2 – A S & Y A Leedham – Grangewood Tollie's Millie
3 – Mr & Mr L J Dowley – Theberton Morning Glory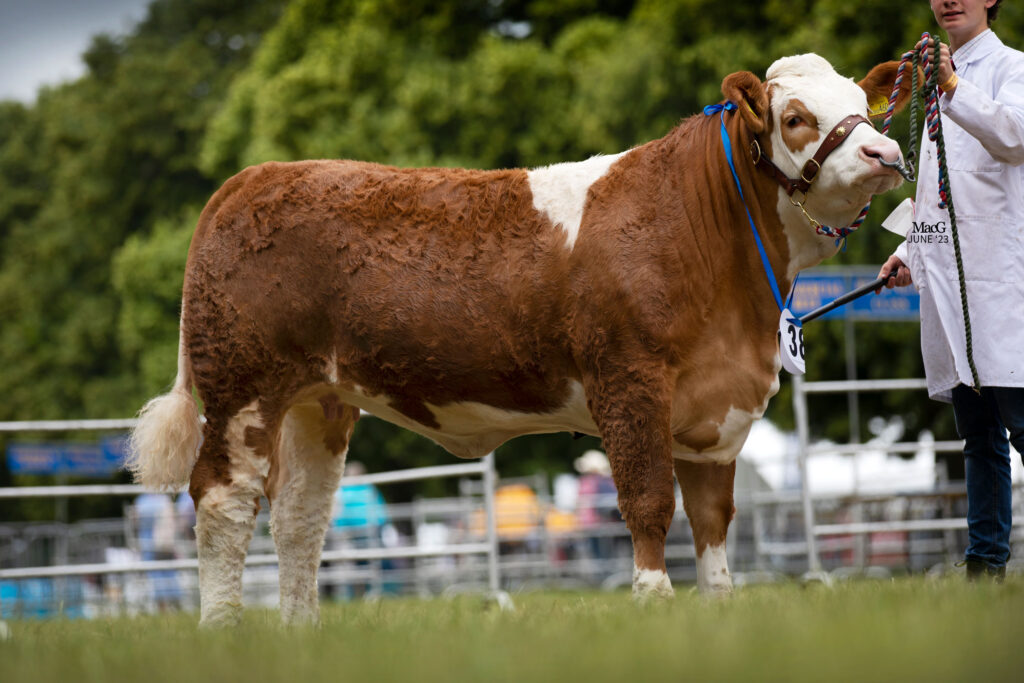 Heifer, born on or between 1 April and 31 July 2021
1 – Mr & Mrs L J Dowley – Theberton Mouse
2 – R E & S H W Steggles – Brandane Mint
3 – R E & S H W Steggles – Scotland Hill Ivy Molly
4 – R Grenham – Boars Head Karina 10th
5 – P Gunther – Fircovert Melanie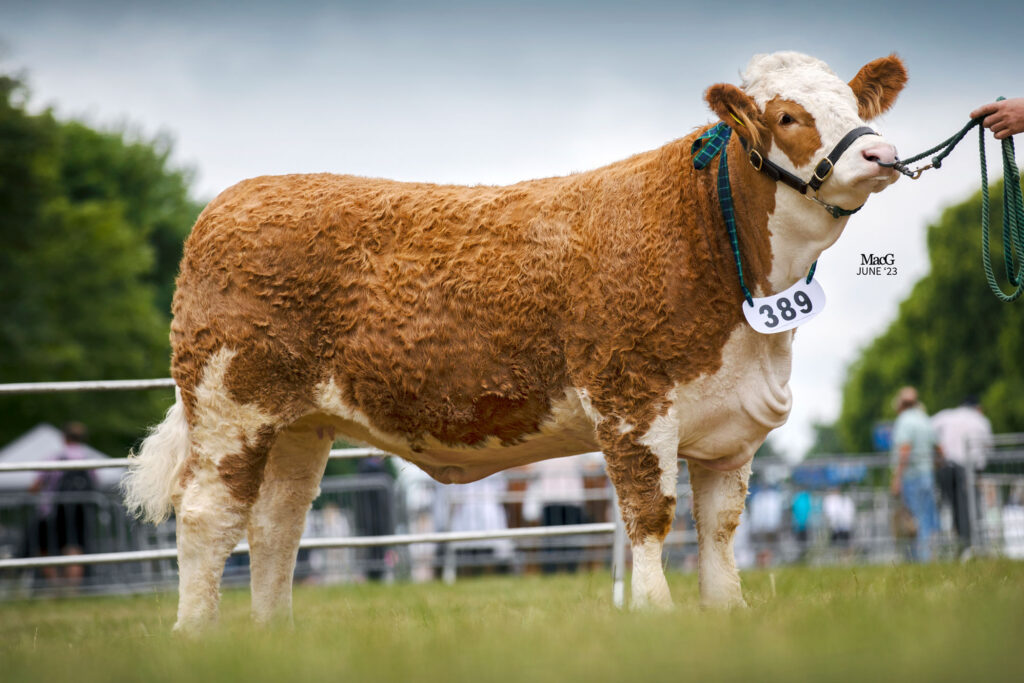 Heifer, born on or between 1 January and 31 March 2021
1 – R E & S H W Steggles – Denizes Eve's Beauty 7th
2 – Finlay Soutter – Brandane Millie
3 – J H & V G Wood – Popes Trixies Mikala
4 – James Griffin – Hemingford Madonna
5 – D A & LA Sapsed – Heathbrow Milky Way
Cow or Heifer, born in 2020 in-milk with calf at foot or certified in calf and due to calve before 3 years of age
1 – P Gunther – Fircovert Lizbet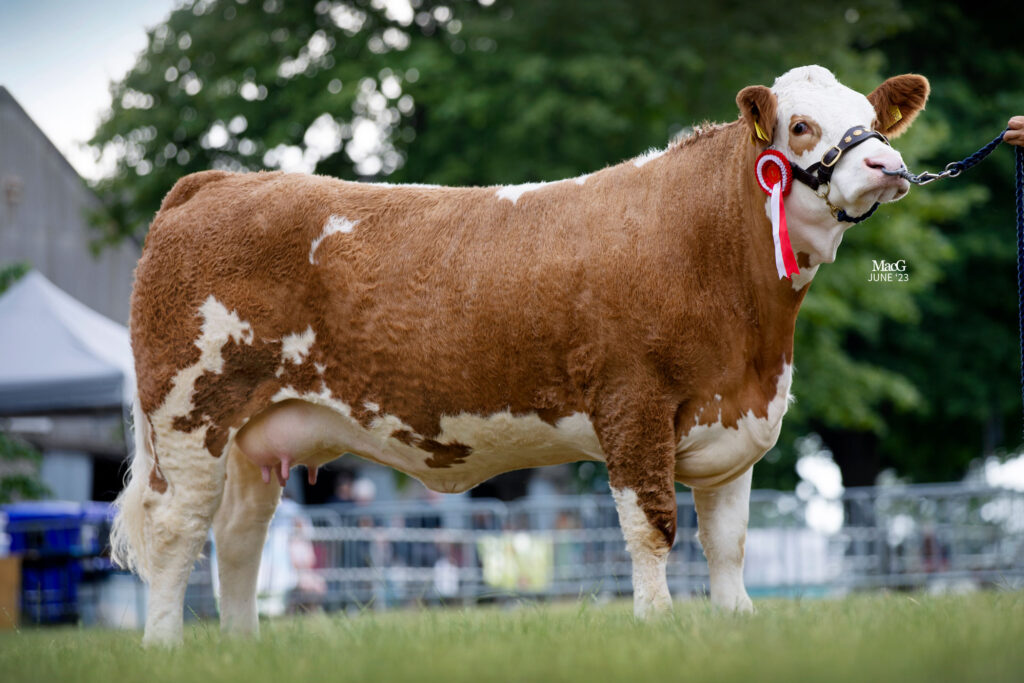 Cow, born in 2018 or 2019 in-milk or certified in calf at the time of the Show
1 – J McMillan – Brandane Kirsty
2 – D A & L A Sapsed – Heathbrow Jasmine
3 – Mr & Mrs L J Dowley – Theberton Joanne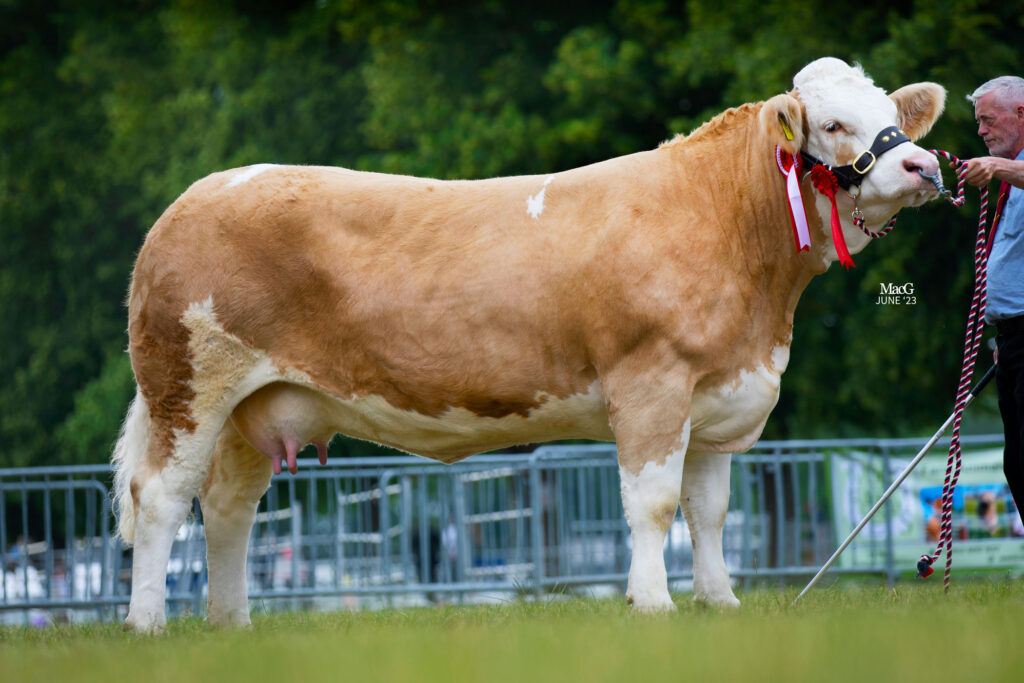 Cow, born before 1 January 2018 in-milk or certified in calf at the time of the Show
1 – J H & V G Wood – Popes Princess Immie
2 – P A & S M Cade – Sterling Celia's Fifi
3 – Mr & Mrs L J Dowley – Theberton Iris
Bull, born on or after 1 April 2022
1 – T Hill – Scotland Hill Napolen
2 – G D Key & Sons – Key Nicholas
3 – Mrs H Clarke – Williams Nicholas
4 – Miss K McCaig – St Trinians Noddie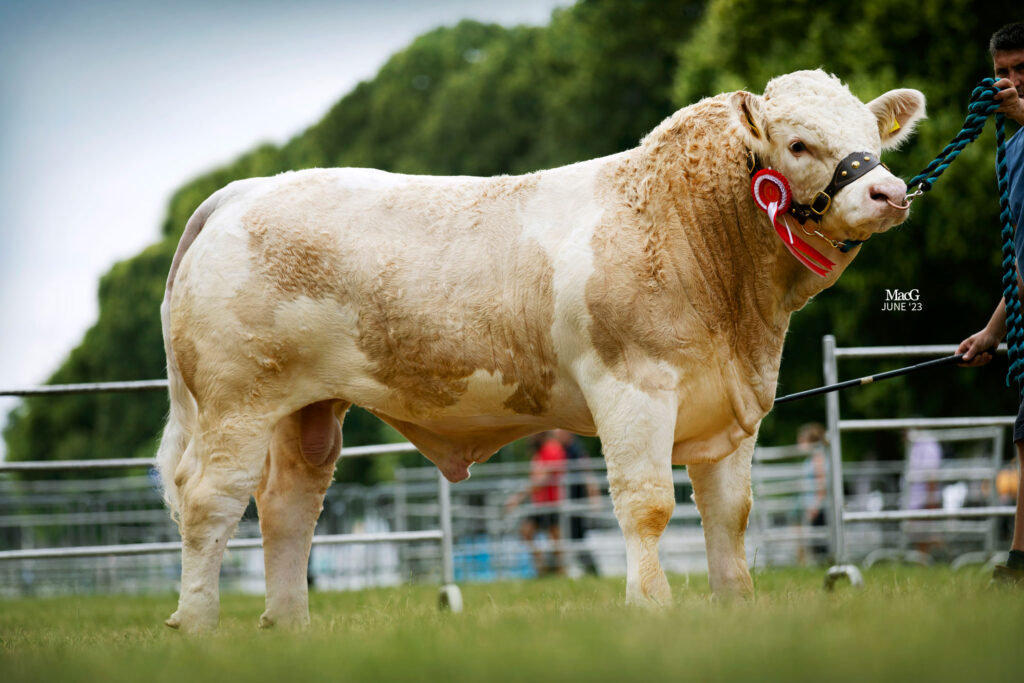 Bull, born or between 1 January and 31 March 2022
1 – Chris Curson – Cade Nugget
2 – A S & Y A Leedham – Grangewood Nobel
3 – Mr P Gunther – Fircovert Neptune
4 – D A & L A Sapsed – Heathbrow Nationwide
Pair of Animals of either sex entered in the above classes, the property of the same exhibitor
1 – R E & S H W Steggles
2 – A S & Y A Leedham
Group of Three – The best group of three to be owned or bred by the exhibitor
1 – A S & Y A Leedham – Grangwood Tollie's Millie, Grangewood Tollie's Natasha & Grangewood Nobel
2 – D A & L A Sapsed – Heathbrow Nancy, Heathbrow Nationwide & Heathbrow Nadia
Group of Four – The best group of four to be owned or bred by the exhibitor
1 – R E & S H W Steggles
2 – D A & L A Sapsed
Female Champion
J H & V G Wood – Popes Princess Immie
Reserve Female Champion
P A & S M Cade – Sterling Celia's Fifi
Junior Female Champion
J H & V G Wood – Popes Princess Noor
Reserve Junior Female Champion
A S & Y A Leedham – Grangewood Tollie's Natasha
Champion Bull
Chris Curson – Cade Nugget
Reserve Champion Bull
A S & Y A Leedham – Grangewood Nobel
Junior Champion
J H & V G Wood – Popes Princess Noor
Reserve Junior Champion
Chris Curson – Cade Nugget
Senior Heifer Champion
R E & S H W Steggles – Denizes Eve's Beauty 7th
Overall Champion
J H & V G Wood – Popes Princess Immie
Reserve Overall Champion
P A & S M Cade – Sterling Celia's Fifi