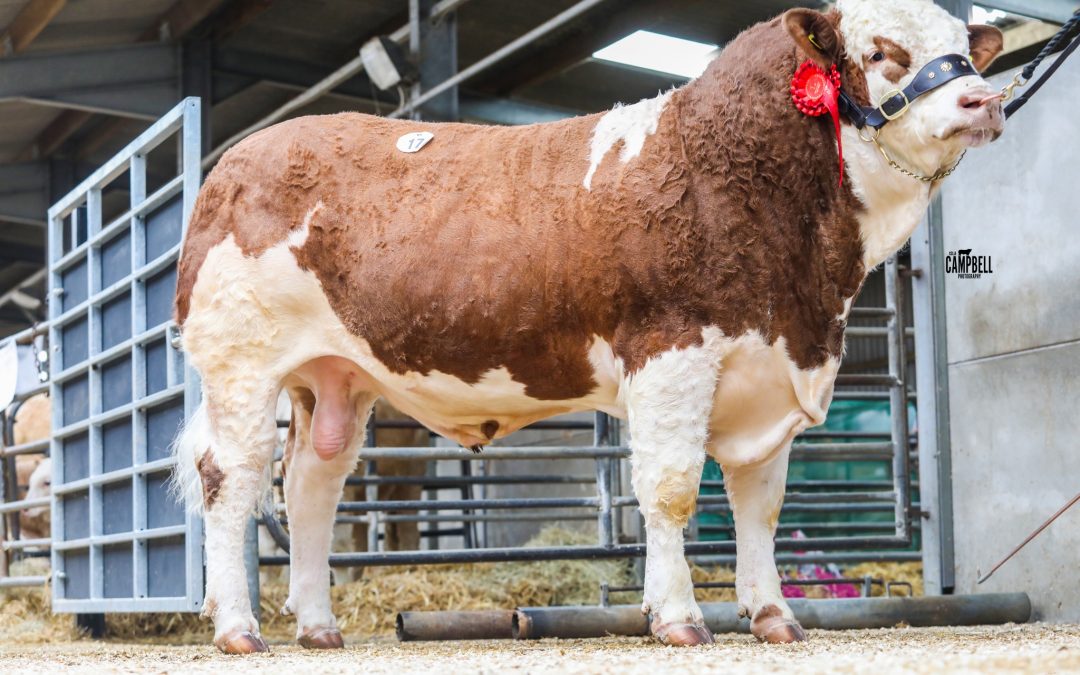 17 bulls sell, up 8 on the year, to average £3996
7 bulls sell at 4000gns and more
Popes herd lifts Champion & Reserve in the bulls
Fole Dispersal Sale tops at 3200gns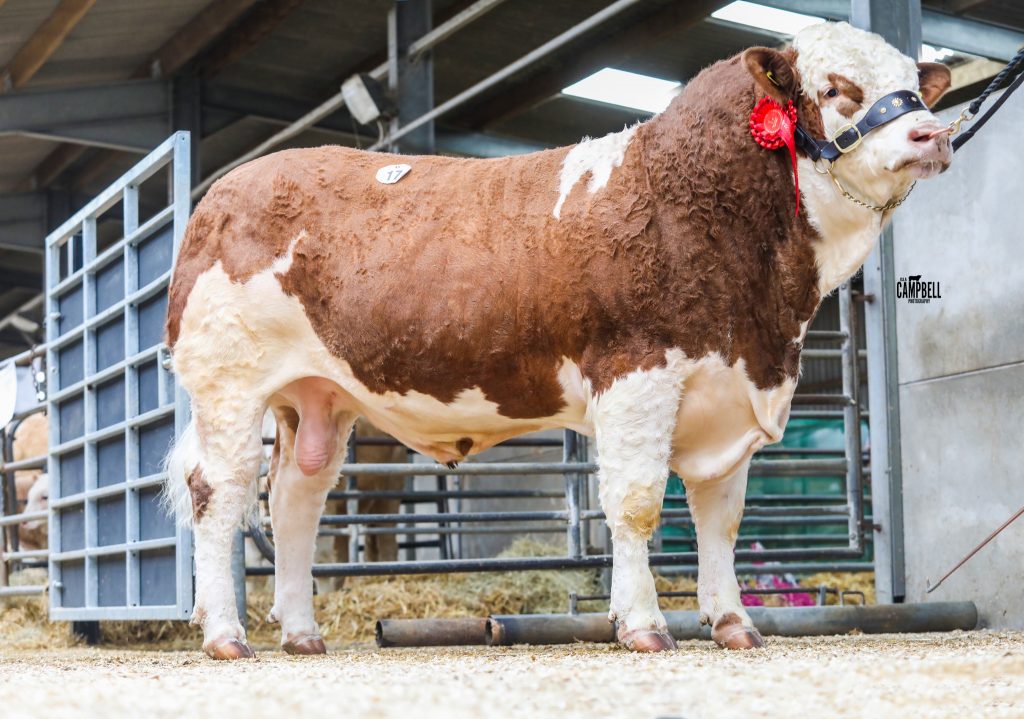 Grangewood Lucas from Mr & Mrs AS&YA Leedham, Rowan Farm, Lockton, Pickering, North Yorks sold for 5500gns to lead the British Simmental Cattle Society's May Sale at McCartneys Worcester Livestock Market on Saturday May 7th.
Fully homebred, this November 2020 born bull is by Grangewood Glenlivet and is out of Grangewood Faith's Imelda, a Grangewood Damascus daughter. Earlier in the day, Grangewood Lucas had stood first in his class in the pre-sale show judged by Anthony Davies of the Welston herd, Milton, Tenby Pembrokeshire. Purchasing the top price bull, who was +7.8 for Calving Ease Direct putting him in the top 1% for the breed, and +8 for Maternal (Milk), was Richard Bell for the 300-cow Bowley Herd of CM Mercer, Bowley Court Farms, Hope-Under-Dinmore, Leominster, Herefordshire, and who run up to 12 Simmental bulls.
Strong supporters of the Worcester Simmental Sale, this is the third Worcester Sale in a row that the Leedham's have topped the fixture and following on from the 7000gns Grangewood Keegan in 2021,who was also sired by Grangewood Glenlivet. Following hard on the heels of their top price was Grangewood Mastermind 21 who made 5000gns when selling to JW Fenten, Biggin Moor, Buxton.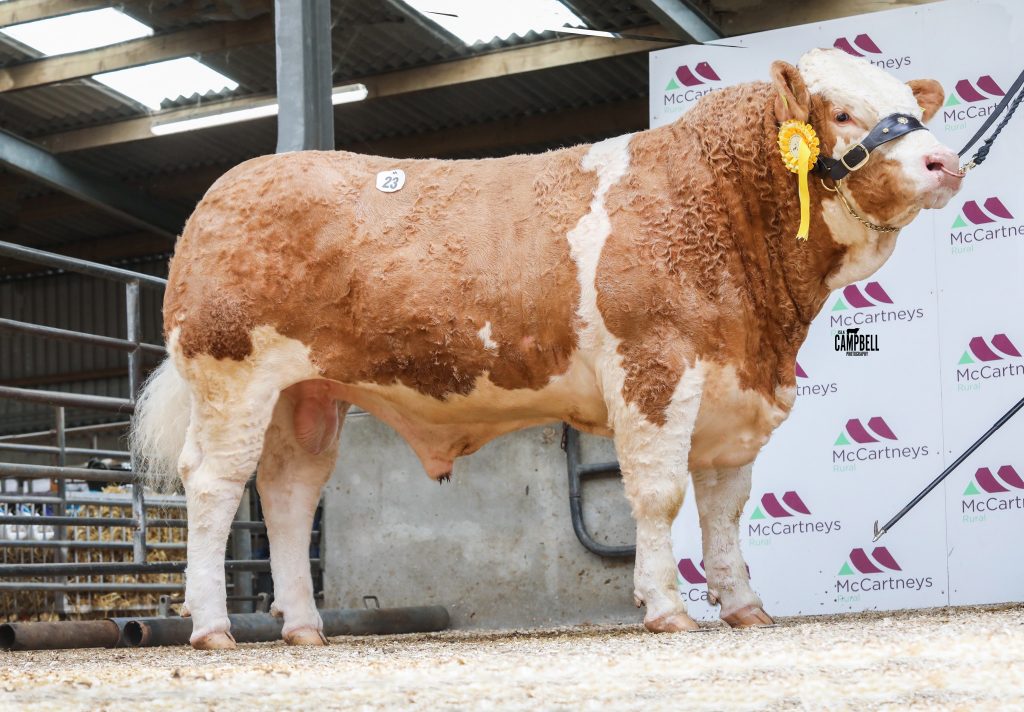 This third prize bull, January 2021 born, is by the 8500gns Ranfurly Impeccable 14 17, and is out of Grangewood Polly 4th, a Popes Laird daughter. A good sale at Worcester for the Leedhams followed on from the Stirling Simmental Sale in the previous week that saw them sell Grangewood Liberator for 7500gns.
The Worcester Simmental Sale fixture saw a solid demand for bulls with 17 out of the 21 forward selling to average £3996. Seven bulls sold at 4000gns or more and including three at the 5000gns mark.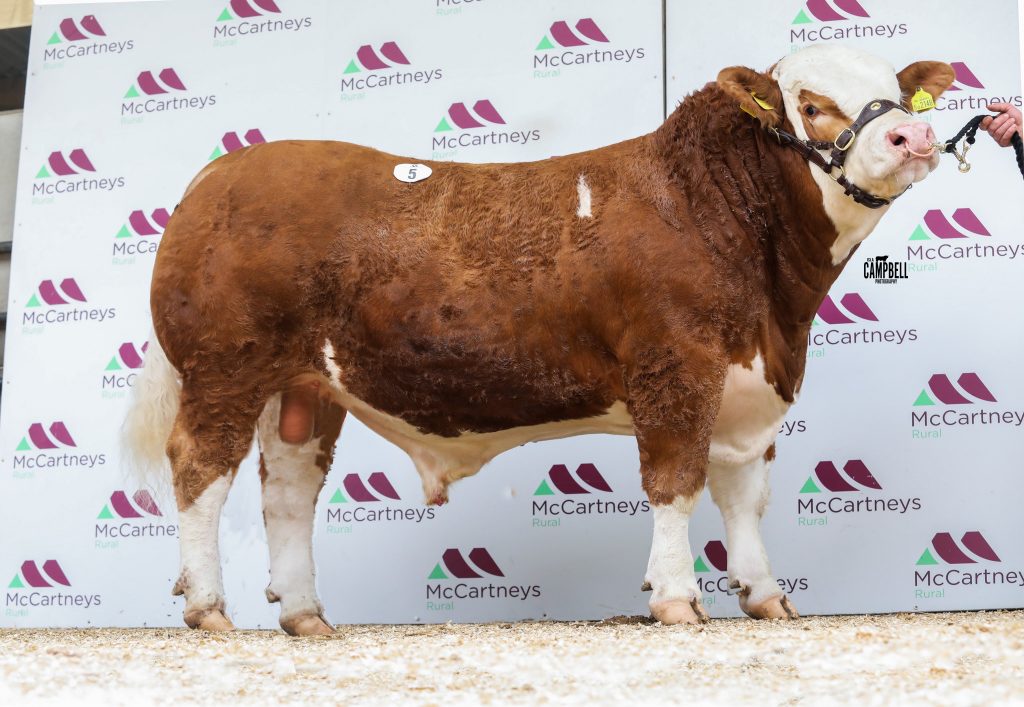 Also selling at the 5000gns mark was the September 2020 born Wroxall Lost Property 20 from long standing Warwickshire based Simmental breeders CH Evans & Son, Abbey Farm, Wroxall, Warwick. With polled genetics on either side of the pedigree, this calf is by Coose Gambler (P), and is out of Wroxall Hannah Patience, a Losning Iver (P) daughter. Purchasing this bull was WS Turner & Sons, Stone Acton Farm, Wall Under Haywood, Shropshire.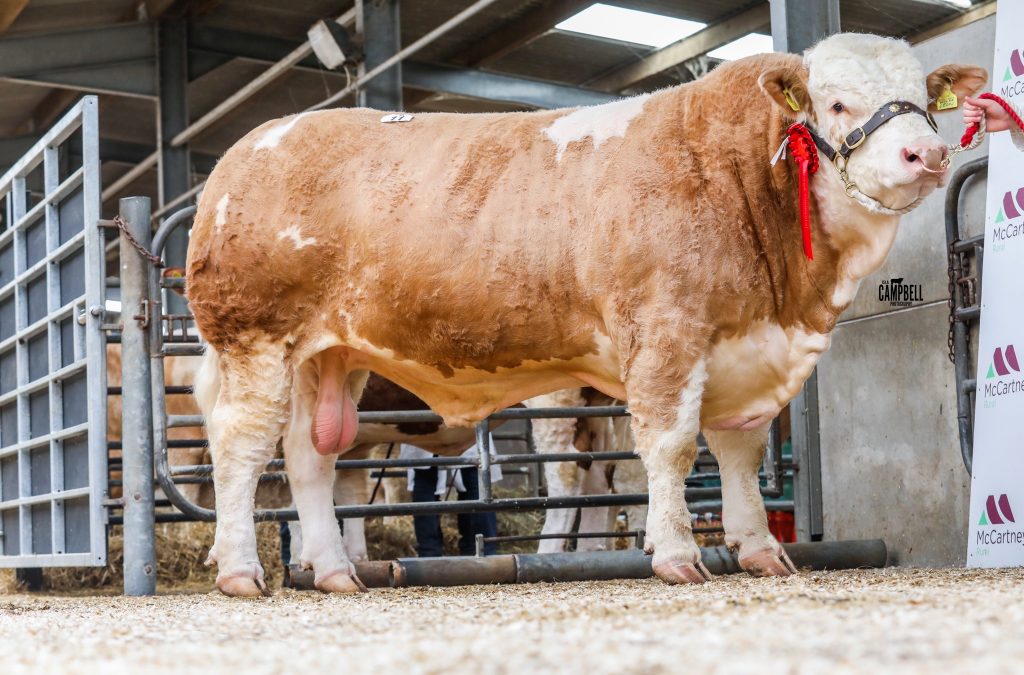 The third bull at the 5000gns mark was Beanhill Leon 20 from Mr & Mrs J&BE Kimber, Beanhill Farm, Chippenham, Wiltshire. A heifers calf, the October 2020 born Beanhill Leon is by the prolific AI sire Ballinalare Farm Galaxy, and is out of the Tilbrook Earl sired Beanhill Inca VG 86. With solid performance figures behind him, Beanhill Leon arrived at Worcester with a show record as well having been the Simmental Senior Champion at the 2021 Borderway Agri Expo, and Welsh Winter Fairs respectively. With a combination of pedigree and performance, this bull was snapped up by the Dewisland pedigree herd of Mr & Mrs Mark Evans, Upper Harglodd, St Davids, Haverfordwest, Pembrokeshire. Later in the sale, Beanhill Landmark 20, another Ballinalare Farm Galaxy son, sold for 3000gns to M&B Farms, Mulhampton Farm, Upton Bishop, Herefordshire.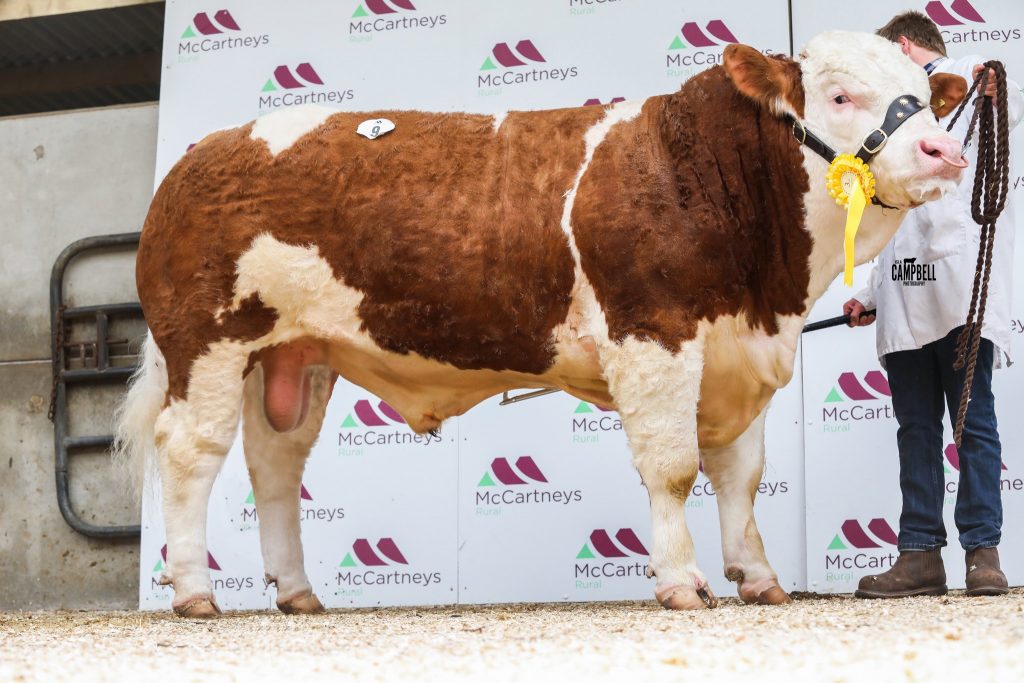 Selling at 4800gns was Storersmith Lister 20 from R&L Storer Smith, Spath House, Ashbourne Road, Uttoxeter. A heifers calf, and September 2020 born, this bull is by Curaheen Bandit and out of the Kilbride Farm Comber 11 daughter Storersmith Jumper. Purchasing Storersmith Lister was AW Francis who runs the Furzedown pedigree herd at Furzedown Farm, Okehampton, Devon. The very next lot Storersmith Lex Luther 20, another Curaheen Bandit son, made 3500gns in selling to DN Eynon, Gwern-Genny, Wormbridge, Hereford.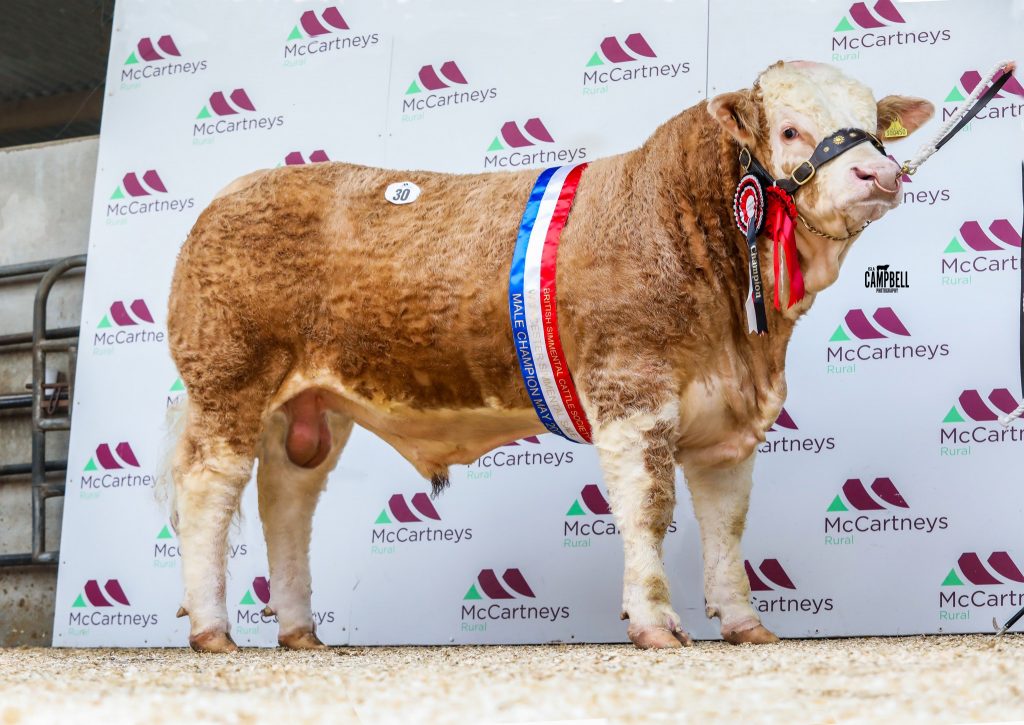 A first-time vendor at this Worcester Simmental Sale fixture was M/S JH & VG Wood who run the 130-cow Popes herd at Popes Farm, Dutton, Preston, Lancashire. In a successful show and sale debut, entries from the herd took both Champion and Reserve in the pre-sale show of bulls. Lifting the Championship and selling at 4200gns was the young February 2021 born Popes Marksman 21, a Denizes Impressive 17 son and out of the first time calver Popes Nellys Harmony. Commenting on his Champion the judge Anthony Davies said: "This is just my type of young bull who is very modern, carries a lot of style and with plenty of breed character. He's well put together and is a bull with a lot of potential." Purchasing the day's Champion, who carried an impressive Maternal (Milk) figure of +11, was Chase Farms (Gilmorton Ltd), The Chase, Gilmorton. Following through from the same class to take the Overall Reserve was Popes Maddox 21, who is also February 2021 born. This calf another by Denizes Impressive 17 and out of Popes Diamonds Hesta, was bought by RB Gough, The Gippols, Harley, Shropshire. The third bull from the Popes team, Popes Mowgli, a Camus Harold son, also sold for 3800gns when going to Scotland after being purchased by Gavin Dunbar, Firm of Hole O' Clean Farm, Ardgaith Farmhouse, Perth.
The final bull at the 4000gns mark was Killiworgie Lieutenant 20 from Cornish breeder Mr SA Gummow, Higher Killiworgie Farm, Newquay. This November 2020 born calf, who featured strong calving figures, is by Islavale Jerico 18 EX 93, and is out of the Dinton Nautical daughter Killiworgie Eliza EX 90, a classified Golden Cow. This bull was another to join the Bowley Herd of CM Mercer, Bowley Court Farms, Hope-Under-Dinmore, Leominster, Herefordshire.
In the sale of females in the Society section, the top price was the 2500gns paid for the polled heifer Cade Khloe (P) from PA&SM Cade, Paddock Farm, Buckden, East Anglia. This first calving heifer is by the Heathbrow Impulse 17 (P) a half brother to the noted show winning bull Heathbrow Important, and is out of one of the herd's foundation cows Thursford Debs 10th EX 90. This heifer was purchased by GD Swerling & Sons, Upper Bottom House Farm, Chalfont St Giles, Bucks.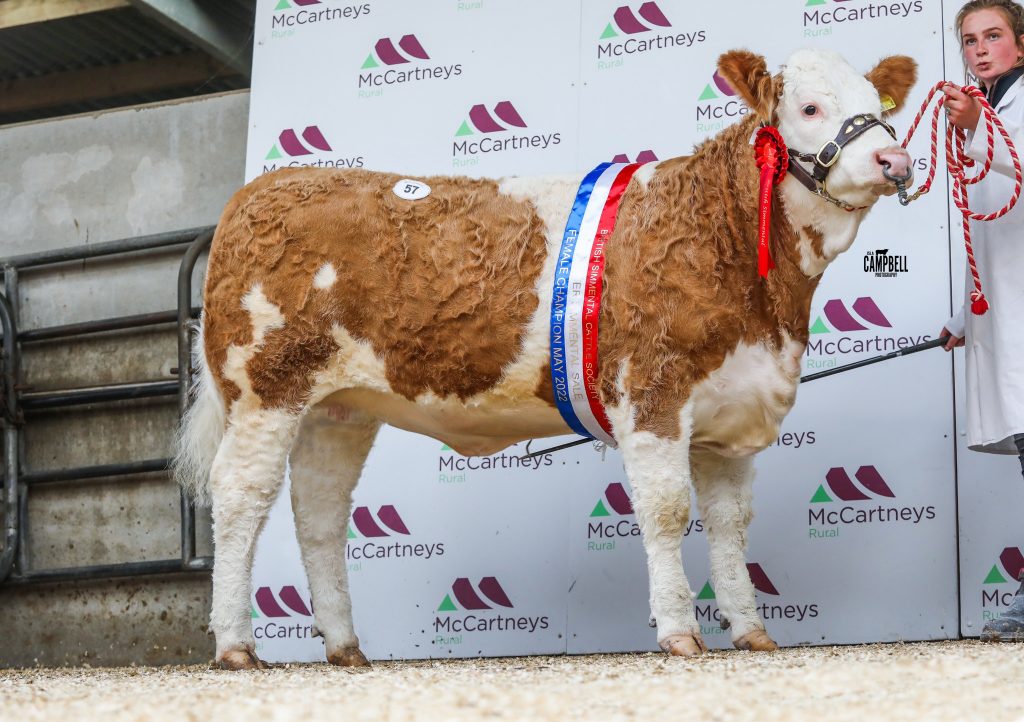 Lifting the Overall Female Championship in the pre-sale show was young Daisy Jones, Blencathra, Battlesbridge, Wickford, Essex with her stylish January 2021 born heifer Crouchvalley Mavis. This heifer is by the AI sire Sterling Herkules and is the first calf out of Brideland Kara. Making 2150gns, Crouchvalley Mavis was another purchased by the aforementioned GD Swerling & Sons. For Daisy Jones and her five breeding female Crouchvalley herd, it was a Championship win in her first time showing and selling at a Society sale.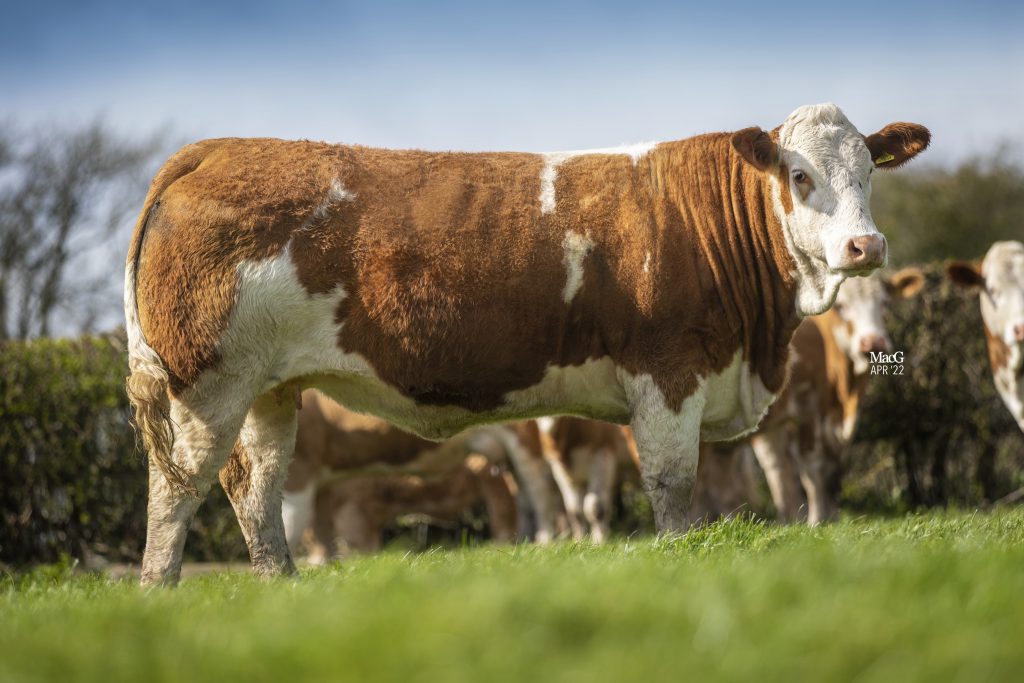 The Worcester Simmental Sale also saw the Dispersal Sale of the Fole herd of Joe & Rachel Ede, Stoneleys, Checkley, Stoke on Trent after over 30 years of breeding. The high health herd offered cattle with a depth of pedigree and performance behind them and met with a solid demand. Leading the way at 3200gns, and the top priced female across the sale, was the noted polled in-calf heifer Fole Vivian 89. Sired by the homozygous polled Lopemede Hawaii 16 (PP), and out of Fole Vivian 82, this quality heifer was bought by L Renshaw & I Brassington for their Dovefields pedigree herd at Church Broughton, Derbyshire. Also at 3200gns and from the same family was Fole Vivian 88 (P). Another by Lopemede Hawaii 16 (PP), and out of Fole Vivian 81, this in-calf heifer was snapped up by Daniel Warrington for his Follane herd at Godley Farm, Fole Lane, Uttoxeter.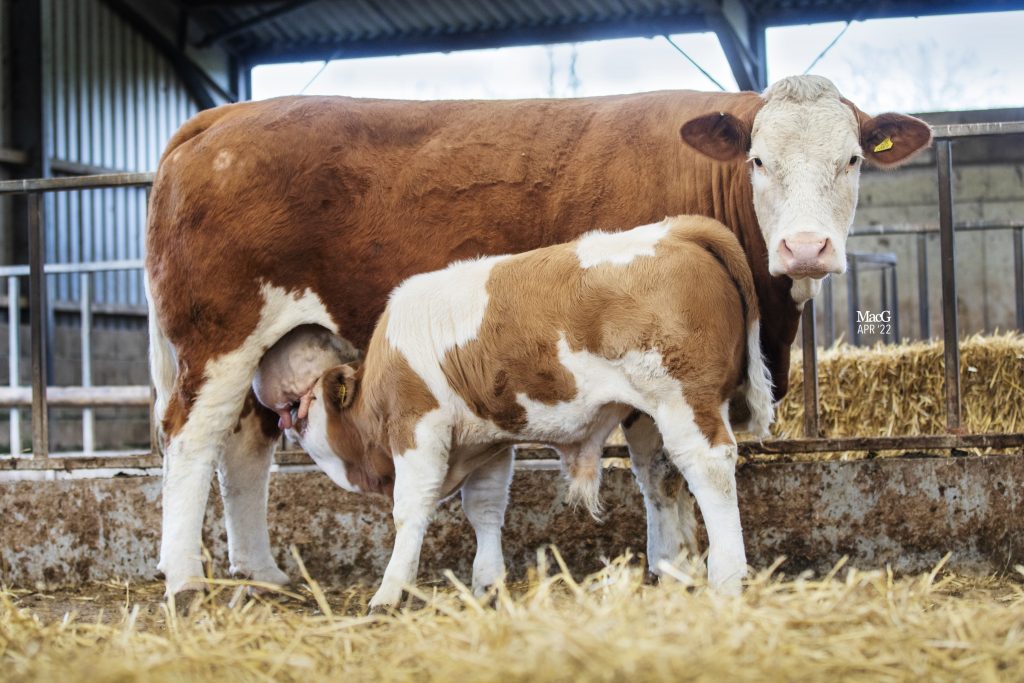 Selling at 2900gns was Fole Vivian 82, the dam of the top price Fole animal, and who was sold with her fourth calf at foot, the January 2022 born bull calf Fole Navigator 22, a Blackford Falcon son. Another to go to a pedigree herd this strong outfit was bought by Barry Harding for his Hallway herd at Cornerfields Farm, Denham, Uxbridge, Bucks.
At 2800gns was the polled Fole Nutwood Victoria 53 (P). January 2019 born and another by Lopemede Hawaii 16 (PP), this second calver had calved again on 15th April and was sold with her twin Blackford Falcon bull calves at foot to the Tarsmill herd of GR Greenow, Cilunow, Dinedor, Hereford.
AVERAGES:
Society Sale
17 Bulls £3996
6 Cows/Hfrs with calf at foot £2012.50
6 Maiden Heifers ££2003.75
Fole Herd Dispersal
8 Cows/Hfrs with calf at foot £2782.50
7 Heifers £2250
3 Young Bulls £1067.50
Auctioneers: McCartneys
Sponsors: Farmers Guardian (the Marts The Heart).