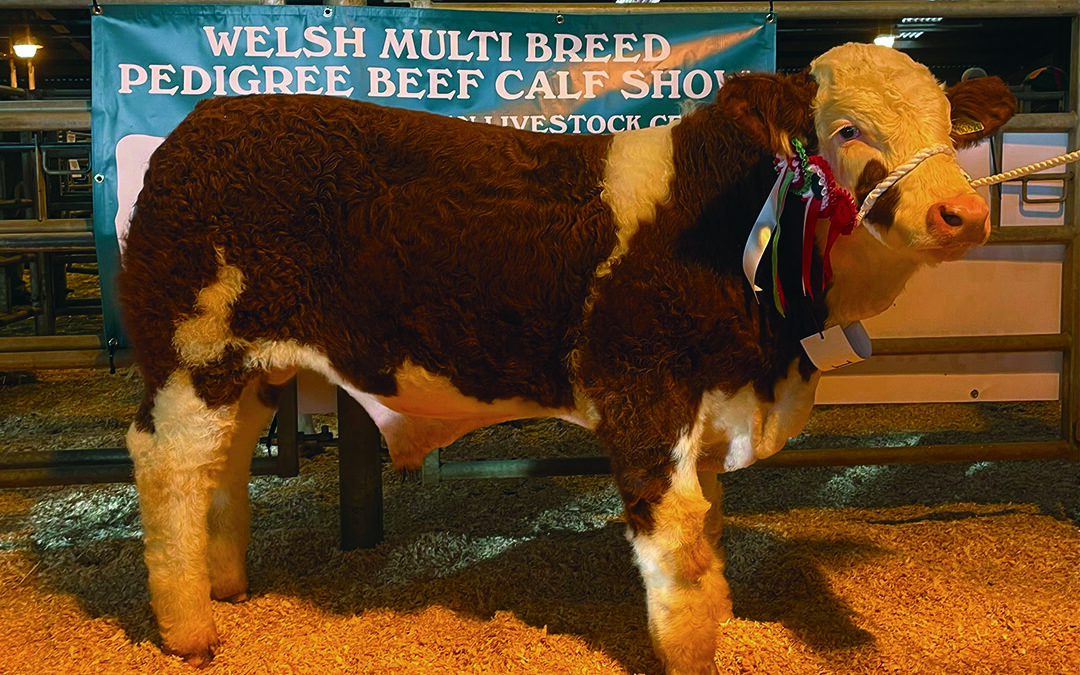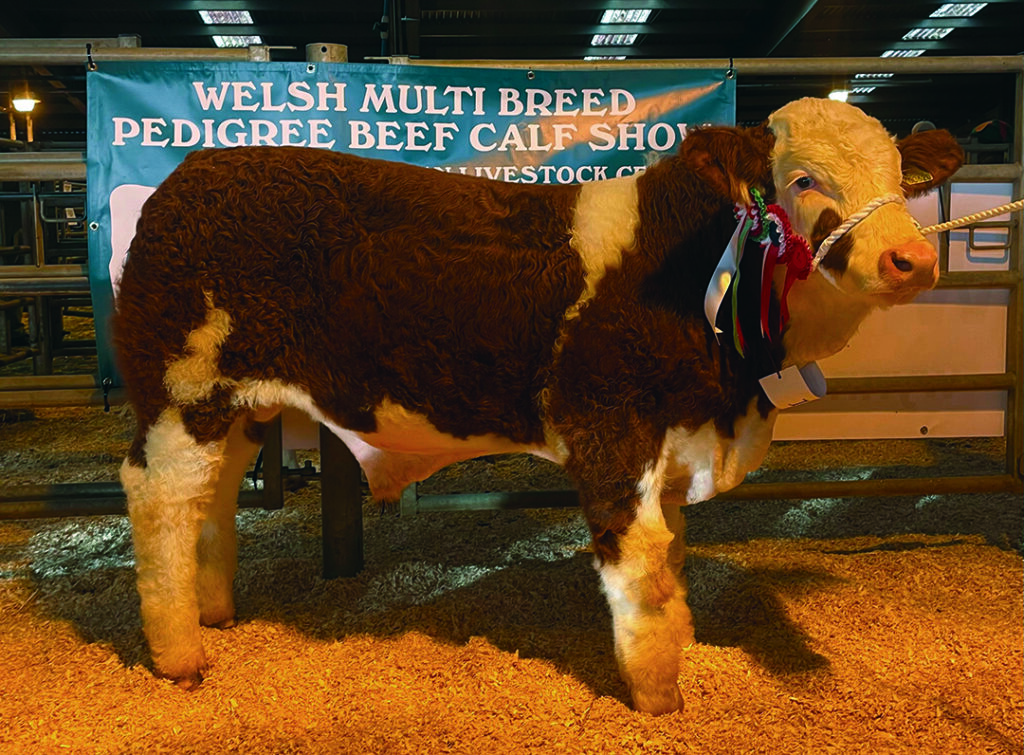 The Inaugural Welsh Multibreed Pedigree Beef Calf show was held at Carmarthen Livestock Market on Saturday 10th of December 2022. A great success, the show had 90 entries forward with 14 breeds represented and the Simmental classes saw 12 top notch entries.
The days Simmental Supreme Champion, Male Champion and winner of the Wynnstay Group Plc Perpetual Shield was an entry from the Pistyll herd of GA & HM Francis, Abergorlech, Carmarthenshire. Pistyll Nitro 22, is a May born bull by the popular AI bull Ballinalare Farm Galaxy and bred out of Pistyll Heledd, a daughter of the Irish bred herd's Stock bull Carbery Fintona. From one of the herds best Dam lines, his Granddam Celtic Glamour is a full sister to the 8,000gns Pistyll Sam.
Speaking to Mr Francis after the sale he said "We were delighted and taken aback to be tapped out as Champions, as there was such a good quality offering of calves forward. We have been breeding Simmentals for 30 years now and our 15 breeding females are doing well for us. We run them alongside our 45 strong sucklers herd on which we use our Simmental bulls, selling the resulting calves at Ludlow, bulls for beef at 10 months and heifers at 14 months. We also have a pedigree flock of 12 breeding ewes consisting Blue Texels, Dutch Spotted and Bletex sheep.
We will show Nitro through the summer next and bring him along to the Royal Welsh show, then he will be going to Stirling next October. His half brother Pistyll Major 21 is entered into the sale at Stirling in February".
The days judge was Anthony Eynon, Cwm Miles, Carmarthenshire, of the Barlo pedigree Simmental herd. A Simmental breeder for over 30 years, he runs his operation on a strictly commercial basis. Commenting on his pick for Champion he said "When choosing a bull, I'm looking for a bull which will leave good a commercial carcase. The champion stood out to me, he was the youngest and smallest calf there and I stuck my neck out a bit but I felt he was the calf with the most all round potential especially with the commercial conformation qualities".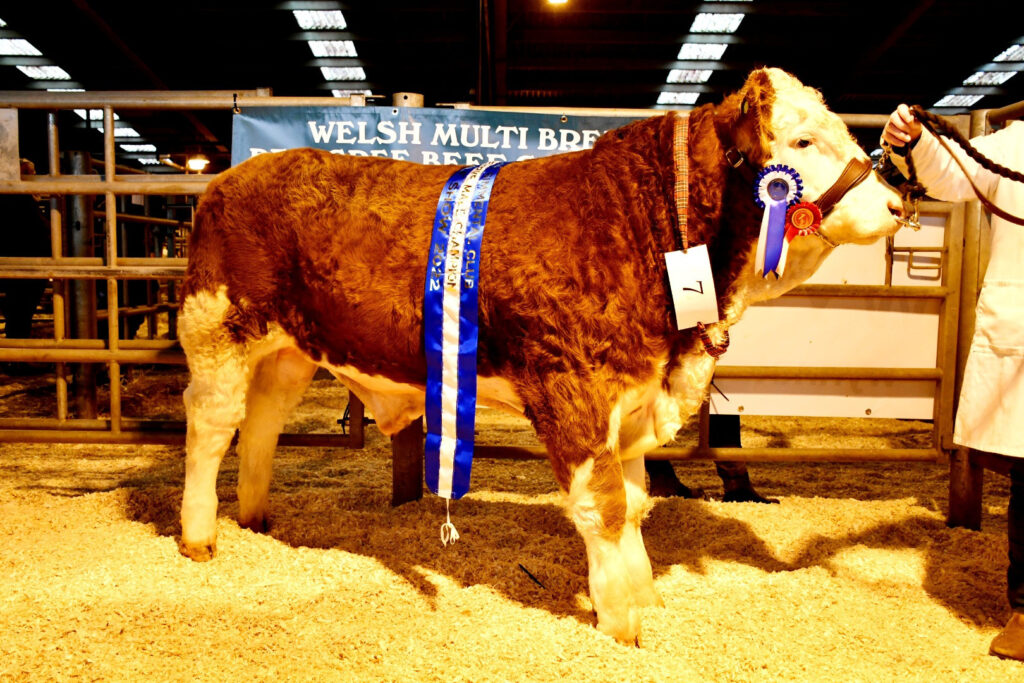 Standing Reserve Supreme Champion, was the April-born Hirwaun Nos Da 22 who had been tapped out as the Reserve Reserve Male Champion just moments before. A heifer's calf bred out of the Salisbury Challenger daughter Hirwaun Kitty VG86, he is sired by the popular AI bull Curaheen Bandit. Nos Da was bred and exhibited by the Davies family, Ponthirwaun, Ceredigion; Aled and Rachel, their two girls Catherine and Lilly and Aled's father Huw, of the five cow strong Hirwaun herd, which was established in 1996, and is run alongside their pedigree sheep enterprise of 50 breeding ewes consisting Blue and Badger Face Texels. Nos Da will be shown again in the summer and the family are planning to take him to Stirling next October.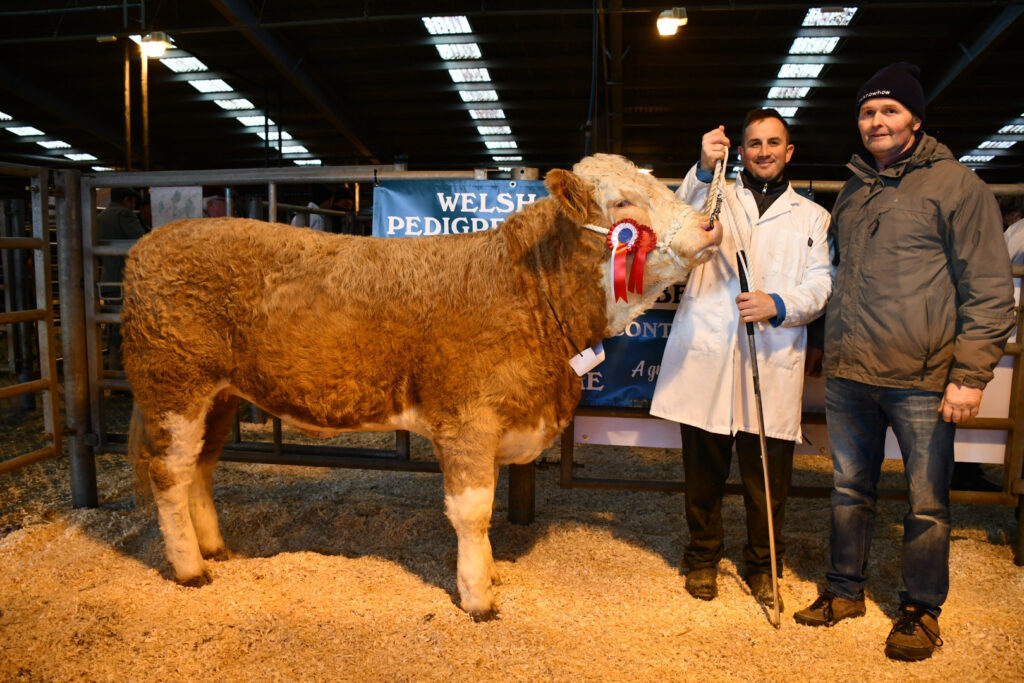 The Simmental Female Champion was Fole Vivian 93, an October 2021 born heifer who is sired by the 16,000gns Blackford Falcon. Vivian was purchased as a calf at foot at Worcester in May at the Fole Herd dispersal sale of Joe & Rachel Ede, Checkley, Stoke on Trent, and her Dam is the Dellfield Wyvis daughter Fole Vivian 69, who since her purchase has produced a second calf also by Blackford Falcon.
Vivian was exhibited by her new owners the Jones family's Willowgreen Simmental herd from Peniel Carmarthenshire. The family's – Richard and Jennifer and their sons Gareth and Robert – main business is their dairy, where they run 150 cows to produce milk for their first milk contact for Tesco, which is used to produce Pembrokeshire cheese. They purchased their first Simmental bull 10 years ago and are now producing cracking Simmental sired calves which they sell at 3 – 4 weeks old at Carmarthen & Whitland, and they hold the centre record of £460.00 for the top priced 3 week old calf at Carmarthen.
Showing the calf on the family's behalf were Richard and Jennifer's daughter and son in law Elin and Steven John, and commenting after the show Richard said "we are delighted that this calf has done so well on her first show outing. We intend to show her again in the Summer and time willing we are hoping to bring her to the Royal Welsh show in July".
The Reserve Female Champion was an entry from Merion Jones, Llanfynydd, Carmarthenshire. Mr Jones, whose Dyfed Simmental herd consists 20 cow and followers, has been a member of the Society for 40 years, a former Society Council member of 14 years and founder member of the Welsh regional club. Alongside his Simmental cattle, Merion also keeps a small herd of Welsh Black cattle and over 60 breeding ewes, consisting of Jacobs, Herdwicks and Dutch Spotted. His Reserve Champion was the 11 month old Dyfed Angharad 8, a polled heifer sired by the Irish bred Coose Jericho and out of Dyfed Angharad 6th who goes back to Losning Iver.
Show Results
Judge: Mr Anthony Eynon
Heifer Calf born in October to December 2021
1st: R Jones – Fole Vivian 93 – s. Blackford Falcon
Bull Calf born in January or February 2022
1st: M Jones – Dyfed Noblett 22 – s. Ballinalare Farm Galaxy
Heifer Calf born in January or February 2022
1st: M Jones – Dyfed Angharad 8 – s. Coose Jericho
2nd: D Cumming – Cwarre Naughty's Nettle – s. Clonagh Frosty King
Bull Calf born in March or April 2022
1st: A & R Davies – Hirwaun Nos Da 22 – s. Curaheen Bandit
2nd: R Jones – Fole Nordic 22 – s. Blackford Falcon
3rd: M Jones – Dyfed Nostalgia 22 – s. Ardo Figaro
Bull Calf born on or after 1st May 2022
1st: GA & HM Francis – Pistyll Nitro 22 – s. Ballinalare Farm Galaxy
2nd: A & R Davies – Hirwaun Neville – s. Hirwaun Rooney
3rd: GA & HM Francis – Pistyll Nightrider – s. Team Celtic 11
Heifer Calf born on or after 1st May 2022
1st: M Jones – Dyfed Fantasie – s. Sacombe Jack Daniels
Pairs
1st: A & R Davies
2nd: GA & HM Francis
3rd: M Jones
Supreme Champion & Male Champion
GA & HM Francis – Pistyll Nitro 22 – s. Ballinalare Farm Galaxy
Reserve Supreme Champion & Reserve Male Champion
A & R Davies – Hirwaun Nos Da 22 – s. Curaheen Bandit
Female Champion
R Jones – Fole Vivian 93 – s. Blackford Falcon
Reserve Female Champion
M Jones – Dyfed Angharad 8 – s. Coose Jericho