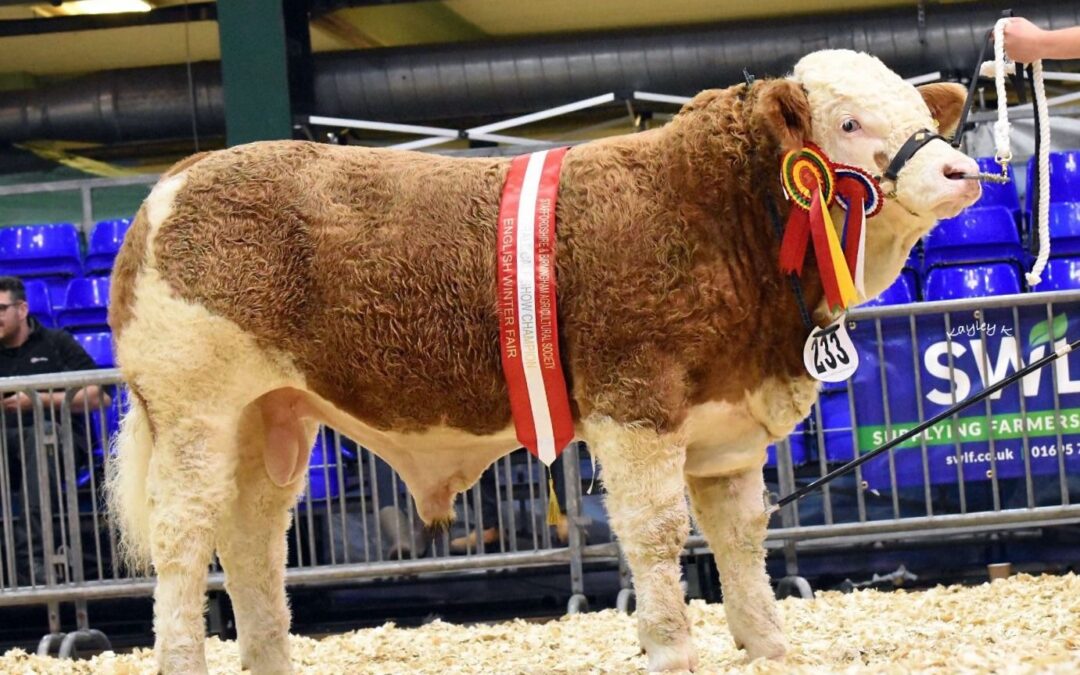 Fishpool Poppy wins Female Championship & Overall Reserve
Jack Heath wins Overall Young Handler with Tirley Natalie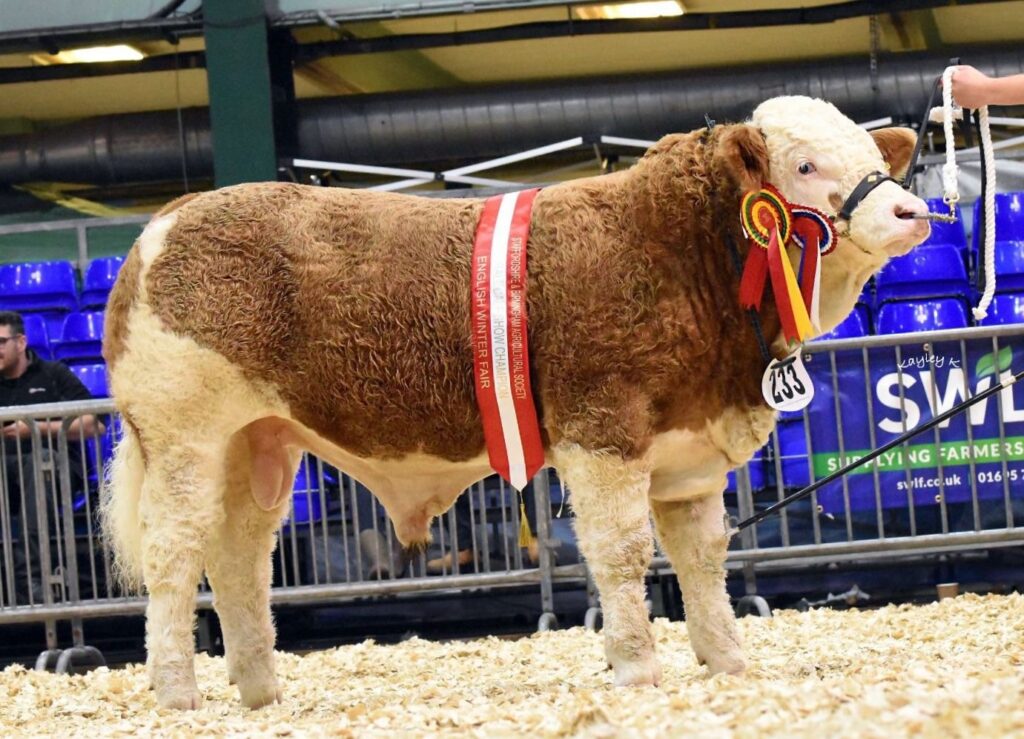 Popes Premier, Simmental & National Pedigree Calf Show Interbreed Champion
At the opening day of the 2023 English Winter Fair held at Staffordshire County Showground, the 30th January 2023 born bull calf Popes Premier, from Messrs JH & VG Wood, Popes Farm, Dutton, Preston, Lancs, won the Simmental Pedigree Calf Championship before moving on to win the National Pedigree Calf Show Interbreed, a first for the Simmental breed.
Sired by Popes Lethal Weapon, Popes Premier has been shown all summer as a calf at foot alongside his multi title winning mum, Popes Princess Immie, who amongst a welter of wins was the Overall Supreme Interbreed Champion at the Great Yorkshire Show, and was the Simmental Supreme Champion at the Simmental English National Show held within the Royal Norfolk. Premier's grand dam is the herd's famous, and much decorated cow, Popes Princess Cleo. Judging the Simmental section was Jim Goldie of the noted Newbiemains herd, Annan, Dumfriesshire, and who was full of praise for his Champion: "This calf had tremendous style about him, was long and clean, and very nice over his rump. He moved really well with good legs and feet, and is just a very modern young Simmental bull."
Judging the Interbreed was the well-known commercial producer John Hall, Penrith and who very much endorsed Jim Goldie when commenting: "This is a very smart calf, well grown, and beautifully brought out. Very modern he carried plenty of shape, had no gut to him, and had a lot of class and style. I just loved this young bull and felt he was an easy winner on the day."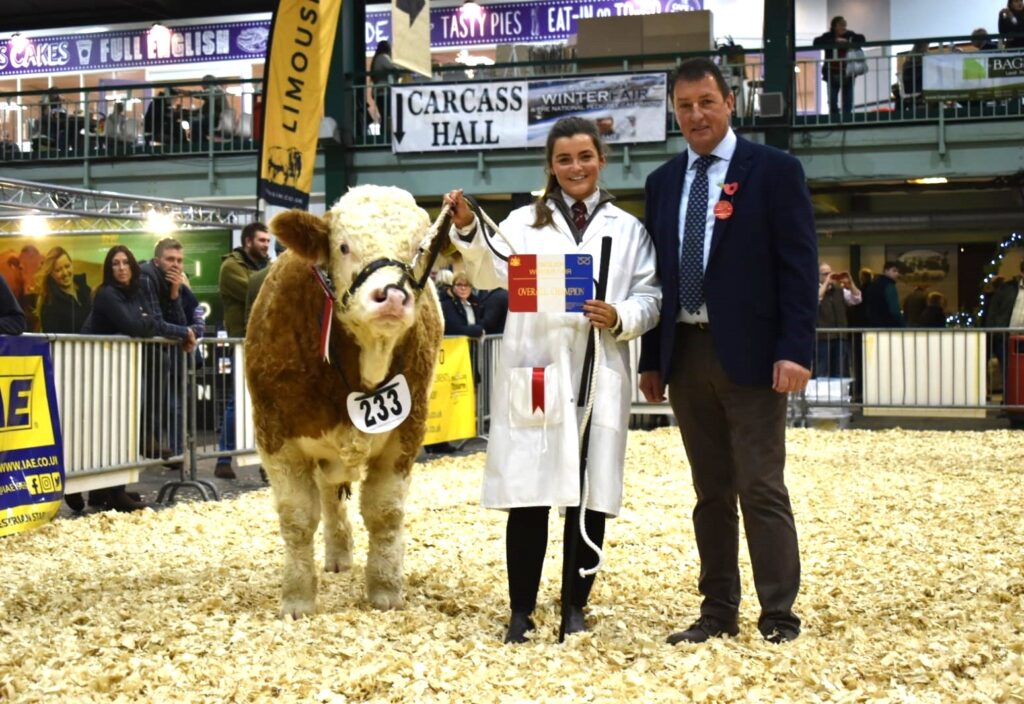 Popes Premier with Hannah Wood and Simmental judge Jim Goldie
Winning the Female Championship, and the Overall Reserve in the Simmental section, was the junior heifer calf Fishpool Poppy from Tom & Jennie Hassall.  January 2023 born, Fishpool Poppy is by Newbiemains Kalypso and is out of Kilbride Farm Eunice 277J.  From a noted female line, Kilbride Farm Eunice 277J was purchased privately from WH Robson & Sons, Ballyclare during Covid. This red ticket made it a notable double for the 12-breeding female Fishpool herd with Poppy also having a class win at the recent Simmental Youngstock Show held within the Borderway Agri Expo at Carlisle.  Of his Female Champion, Jim Goldie said: "Poppy was a lovely, feminine heifer, with great length and just full of breed character.  Again she was good on her legs, had tremendous locomotion and showed herself extremely well."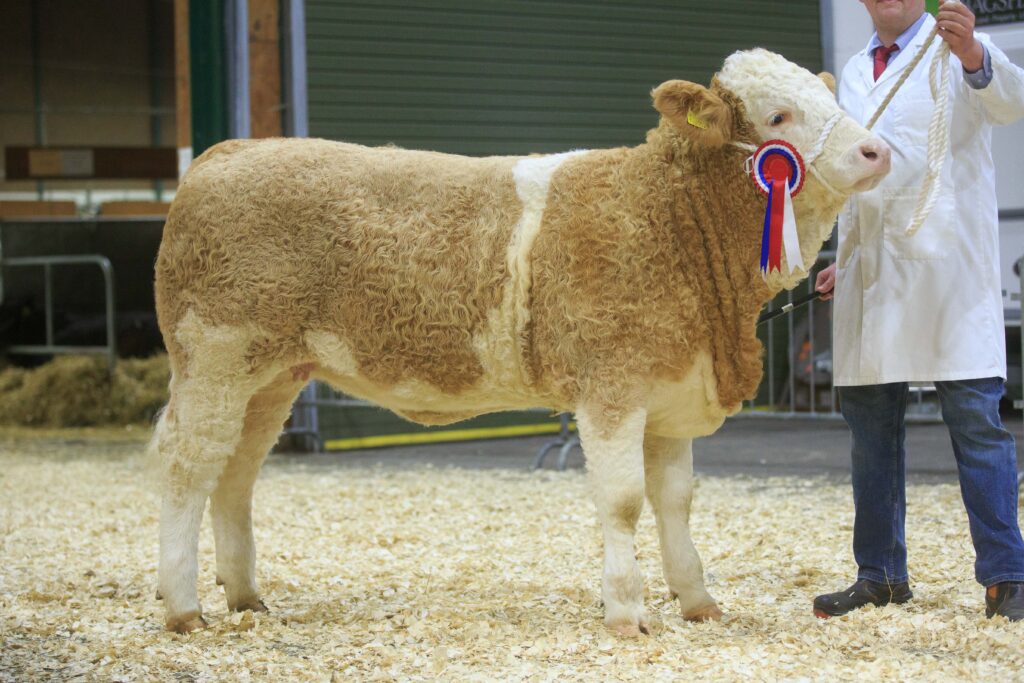 Taking the Reserve Male Championship, and first in class one, was Storersmith Navarone from local breeders R&L Storer Smith, Ashbourne Road, Uttoxeter. December 2022 born, Navarone is got by the AI sire Clonagh Latin Lover, and is out of Storersmith Havannah, a Popes Barclay daughter. Through the two days of the show Storersmith Navarone, along with his stablemate Storersmith Newton, a Ballinalare Farm Galaxy son, drew much attention as they featured on the Midlands Simmental Club's promotional stand.
Back in the females and taking the Reserve Female Championship was the smart young January 2023 born calf Newton House Posh from JW Gosmore Partners, Tattenhall Chester. Standing second in its class to the Female Champion, Newton House Posh is by Lissadell Mr Mullarkey VIP, a bull purchased at Roscommon Premier Sale, and is out of Clonagh Krystal Posh, a Bruchag Glenfiddich 15 daughter. Next stop for this young heifer will be the mucha anticipated Next Generation III Sale of Simmental Females & Weaned Calves due to be held at Borderway Mart, Carlisle on Friday 1st December.
In the fantastically supported Young Handlers Championships it was a 'big win' for fifteen-year-old Jack Heath, Sheaf Farm, Tarvin, Chester, who took the Overall Championship whilst showing the Simmental heifer Tirley Natalie of Steve White, Tarporley, Cheshire. With a little 'form' behind him Jack, who is a member of Beeston YFC, also recently won the Overall Young Handler title as part of the Youth Development Programme, and held at Rosemead Angus, Shackleford, Nr Godalming, Surrey.
A big well done also to the Midlands Simmental Club for putting on an informative and welcoming Simmental promotional stand over the two days. In the trade stands competition the Midlands Club was awarded a terrific second place.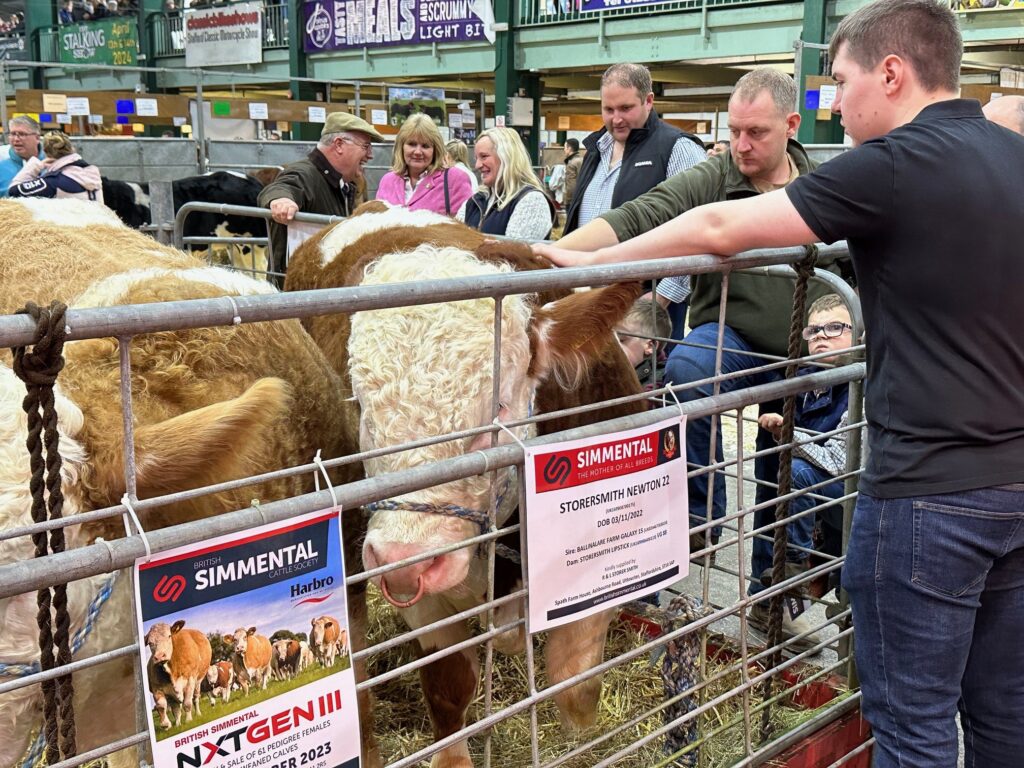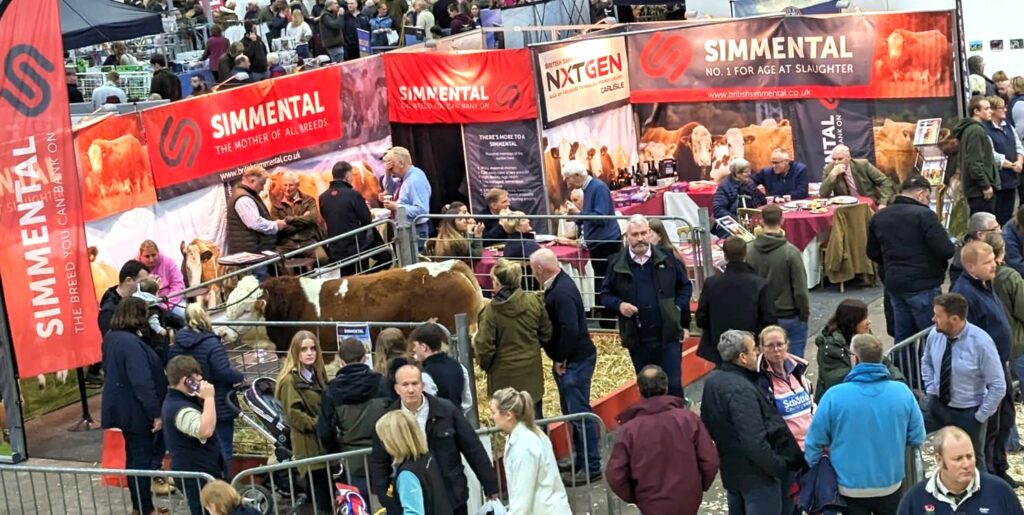 SIMMENTAL CLASSES AND CHAMPIONSHIP RESULTS AT THE 2023 ENGLISH WINTER FAIR
Class 78 Senior Bull Calf born between 1st October 2022 and 31st December 2022
1st – Lot 229: Storersmith Simmentals – STORERSMITH NAVARONE s. Clonagh Latin Lover
2nd – Lot 228: Storersmith Simmentals – STORERSMITH NEWTON. s. Ballinalare Farm Galaxy
Class 79 Junior Bull Calf born between 1st January 2023 and 30th June 2023
1st – Lot 233: VG Wood – POPES PREMIER s. Popes Lethal Weapon
2nd – Lot 235: S White – TIRLEY PATRICK s. Rathnastan Lobster Pot
3rd – Lot 236: Renshaw & Brassington – DOVEFIELDS PHOENIX s. Star Green Kenny
4th – Lot 234: VG Wood – POPES POWER s. Saltire Impressive
5th – Lot 232: Storersmith Simmentals – STORERSMITH PROVIDENCE s. Ballinalare Farm Galaxy
Class 80 Senior Heifer Calf born between 1st October 2022 and 31st December 2022
1st – Lot 237: S White – TIRLEY NATALIE s. Kilclaven Impulsion 17
2nd – Lot 238: J & T Gosmore – NEWTON NICE ONE s. Lissadell Mr Mularkey
3rd – Lot 239: J & T Gosmore – NEWTON HOUSE MAJESTY s. Lissadell Los Angeles
Class 81 Junior Heifer Calf born between 1st January 2023 and 30th June 2023
1st – Lot 243: T & J Hassall – FISHPOOL POPPY s. Newbiemains Kalypso 19
2nd – Lot 242: J & T Gosmore – NEWHOUSE POSH s. Lissadell Mr Mularkey
3rd – Lot 247: VG Wood – POPES TRIXIES PEARL s. Clonagh Lucky Explorer
4th – Lot 245: VG Wood – POPES TRIXIES PRUDENCE s. Saltire Impressive
5th – Lot 241: Storersmith Simmentals – STORERSMITH PUZZLE s. Ballinalare Farm Galaxy
Sp.2a. The Midlands Simmental Club kindly offer £75 to the Champion Bull calf
Lot 233: VG Wood – POPES PREMIER
Sp 2b. The Midlands Simmental Club kindly offer £50 to the Reserve Champion Bull calf
Lot 229: Storersmith Simmentals – STORERSMITH NAVARONE
Sp.3a. The Midlands Simmental Club kindly offer £75 to the Champion Heifer calf
Lot 243: T & J Hassell – FISHPOOL POPPY
Sp. 3b. The Midlands Simmental Club kindly offer £50 to the Reserve Champion Heifer calf
Lot 242: J & T Gosmore Ches – NEWTON HOUSE POSH
Sp.4a. For the Overall calf sired by a Pedigree Simmental Bull £100 offered by The Midlands Simmental Club
Lot 233: VG Wood – POPES PREMIER
Sp. 4b. For the Reserve Overall calf sired by a Pedigree Simmental bull £50 offered by The Midlands Simmental Club
Lot 243: T & J Hassell – FISHPOOL POPPY Sp.15 Overall Interbreed Championship For the overall Champion in the Pedigree Calf Show £1000 offered by Tithebarn Ltd.
Lot 233: VG Wood – POPES PREMIER