Please click here to view the schedule for this year's Scottish National Show.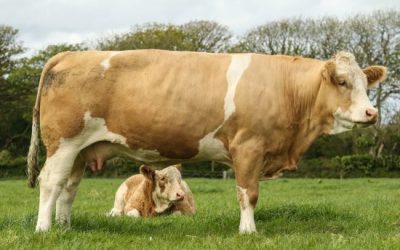 • Further cows and calves at 5500gns, and 5000gns• Cows and calves average £3382.50• Bulls sell to 4600gns• 27 lots gross £81,670 Cows and calves met with a strong trade and were led at 7000gns at the Reduction Sale of the noted Bosahan Herd of John & Bridget...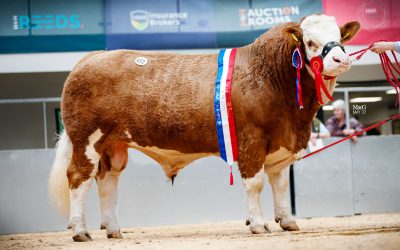 • 5000gns Tidkin Cow and Calf leads Tidkin & Jet Dispersal Sale• 15 Tidkin cows and calves average £3353• 28 Simmental lots in all gross £94,920• 4 Bulls average £5565 Bulls from the Chestermann herd of N&N Gwynne, Castlewigg Farm, Whithorn, Newton Stewart,...
Perth Spring Show and Sale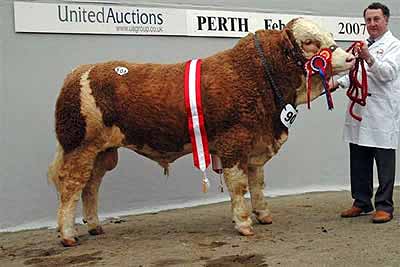 Simmental breaks all breed records
A packed ringside of buyers at Perth saw the Simmentals reach a New Breed Record of £22,000 and a Record Breed Average of £4487, an increase of £1084 on the year, with a clearance of 82%. There were no less than nine 5 figure prices. Commercial buyers looked to buy bulls to breed their own female replacements puting a sound base in an already buoyant market for the breed, following a good trade for females the previous day.
The pre sale Judge, Robert McNee, Woodend, Armadale, saw his Junior and Overall Champion Omorga Samson take the new breed record of £22,000 for H.J.W. & J.C. Moore, Ballinderry Rectory, Coagh, Co.Tyrone, Northern Ireland. A 15 month old son of Raceview King and out of Cleenagh Daffodil, he sold to Adrian Ivory, Strathisla Farms, Meigle, Perthshire.
A. J. Wilson, Westcroft, Kilwinning, Ayrshire, saw his Cairnview Snazzy, who stood second to the Champion in his class, go to Northern Ireland for 15,000gns when he was purchased by Messrs W.H. Robson & Sons, Kilbride Farm, Doagh, Ballyclare. He is by the famous Salisbury Challenger son, Popes Laird and out of Ravensworth Modesty.
The Senior Champion, Dirnanean Snowie from F.J.A. McGowan, Incheoch, Alyth, Blairgowrie, Perthshire, led an outstanding show of bulls from Dirnanean when he sold to Mr. W. J. Hollingsworth, High Midhope Hall Farm, Midhopestones, Sheffield, for 11,000gns. By Omorga Lennox and out of Dirnanean Merry by Dirnanean Jacob, he helped take the herd to an average of 6,400gns for the 5 forward. Another son of Lennox, Dirnanean Scott, sold to G.D. Proudley, Hall Farm, Kildale, Stoksley, Darlington, this time for 7,000gns.
W.H. Robson & Sons sold Kilbride Farm Saddam to Messrs R.T. & C.A. Bell, 18 Moygannon Rd, Donaghcloney, Craigavon, Northern Ireland, for 11,000gns. Saddam is a 19 month old son of the well known Carnkern Titan who had previously bred progeny to 9000gns. Saddam's dam, Kilbride Farm Lupin is by Milnafua Graduate, the sire of another 1st prize winner from the previous day, Ashland Super Boy, who also sold for 11,000gns. Adrian Ivory, from Strathisla this time joined forces with Gerald and Morag Smith, Drumsleed, to purchase this Graduate son from Mr. P. Kelly, Ballreagh, Temp, Co. Fermanagh, Northern Ireland, who is out of Ashland Lucy, the Northern Ireland Female of the year in 2006.
Four bulls realised 10,000gns. The first of these was the first prize Intermediate winner, Halenook Supercharger, from Messrs J. Telford and A. Rawcliffe, 15 Achairn, Shinness, Lairg, Sutherland. Supercharger is by Starline Decision out of Halenook Nikki by Dirnanean Jacob. He sold to Mr. N. McGeoch, Hazelden Simmentals, Easter Blacklaw, Stewarton, Ayrshire. The second prize bull in the same section, Samark Superman, from Mr. S.sF. and Mrs E.H. Watson, Beechbrook, 4 Craignageeragh Road, Cullybackey, Ballymena, Northern Ireland, also sold for 10,000gns in a joint bid from Smallburn Farms, Mayne Farm, Elgin and Messrs S.R. & N. Barclay, Harestone Farm Crathes, Banchory.
Mr. & Mrs A.S. & Y.A. Leedham justified their long trip from Gunby Lea Farm. Grangewood, Swadlincote, Derbyshire, when they sold Grangewood Storm, another son of Popes Laird and this time out of a cow by the well known Gretna House Supersonic. He continued his long journey north when he was purchased by Pitgaveny Farms, Pitgaveny, Elgin, Morayshire.
Messrs B.G. & L. Allan, Glenturk, Wigtown, Wigtownshire, had to wait until late in the day for their 10,000gns bid for the 15 month old Glenturk Supreme. A son of Whitemire King Kong, Supreme is out of Glenturk Natasha by Milnafua Keystone, the sire of last year's top price Glenturk Rolex. He sold to Courance Simmentals, Courance, Lockerbie, Dumfriesshire.
Mr. W.G. MacPherson sold Blackford Skyhawk, a son of Curlieu Knight for 9,000gns to Mr. G. Van Der Gucht, Apperley Court, Apperley, Gloucestershire, to join his Deerhurst herd. Skyhawk is out of Blackford Kittiwake by Rosten Barney. The MacPhersons' were again in the top money when they sold another son of Curlieu Knight, Blackford Soul Man to Messrs J. H. & V.G. Wood, Popes Farm, Dutton, Preston, Lancs, for 8,500gns to join their well known Popes herd. Garrel Farms added to their previous purchase when they bid 8,000gns for Hockenhull Socrates, from Mr. V.H.C. Arnold, Hockenhull Farms Ltd, Tarvin, Chester. Socrates is a son of Hockenhull Norman out of Hockenhull Giselle 3rd by Blackford Harvester.
The third 8,000gns bid of the day went to Messrs G.A. & H.M. Francis, Pistyll Uchaf, Abergorlech, Carmarthen for Pistyll Sam by Raceview King, the same sire as the new breed Record Holder. He is out of Celtic Glamour by Brinkton Sovreign. Messrs Francis' other bull Pistyll Sion, by the same sire had previously won the Intermediate & Reserve Overall Champion prize in the pre sale show and sold to Annandale Estates, Raehills, Lockerbie, Dumfriesshire for 7,500gns.
SIMMENTAL FEMALES A FLYER AT PERTH
Simmentals again saw their averages sore at Perth beginning with the female sale. 37 females averaged £1977 up £830 on the previous year.
Tillymaud Farms, Udny, Ellon, Aberdeenshire set the sale flying when the first lot in the ring made the top price of the day when Tillymaud Malvenas 53rd sold to Mrs. H. Clark, The Croft, 36 The Heath, Hevingham, Norwich for 4,200gns. Malvenas is a daughter of Blackford Lancer and out of Tillymaud Malvenas 42nd by South Park VIP. She was sold in calf to Dirnanean Reformer.
Another Lancer daughter again in calf to Dirnanean Reformer sold to Garrel Farms, Courance, Lockerbie. A bid of 3,500gns secured Tillymaud Malvenas 54th out of Tillymaud Malvenas 46th who is by Milnafua Extra.
Messrs C. Horrell, Podehole Farm Thorney, Peterborough, Cambridge, purchased 7 lots at the sale and secured Skerrington Tanya 26th for the next top price of 3,800gns from a good draft consignment of heifers from J.Young, Skerrington Mains, Hurlford, Kilmarnock. This heifer is by Sterling Nelson a son of the well known Sterling Flint and out of Skerrington Tanya 11th, a daughter of Dovefields Gallant. She was joined by Skerrington Sophia 5th from the same herd at 2,800, a daughter of Skerrington Legacy also by Dovefields Gallant.
Another Legacy daughter, Skerrington Sunset 19th out of Skerrington Sunset 7th a Brinkton Brilliant daughter went to the same home for 2,200gns. Garrel Farms added to their earlier purchase when they paid 3,500gns for another Legacy daughter, Skerrington Rosebud 44th out of Skerrington Rosebud 28th, by Holestone Jasper. She was joined by Skerrington Rebecca 28th a daughter of Sterling Nelson for a bid of 2,400gns. Philliphaugh Estates,Thirledean, Selkirk, also bought from this draft when they purchased two Nelson daughters, Skerrington Tanya 24th for 2,400gns and Skerrington Roxie 13th for 2000gns again with Gallant breeding on her dam side. The Skerrington draft averaged 2865gns for 7.All of the Skerrington heifers had been running with Corskie Proton.
Corskie Roxanne, from J. Green, Corskie, Garmouth, Fochabers, Aberdeenshire sold to Mr. R. McCulloch, Over Hill House, Armadale, West Lothian for 3000gns. A daughter of Burghbridge Lane, she is out of Corskie Wren J32 by Ballinalare Farm Gascoigne and had been running with Ballinalare Farm Nightrider. Corskie Request, this time by Popes Laird and out of Corskie Bloom 4th sold for 2,800gns to Mr. J. Mosford, Weaver Farm, Cholmondley, Malpas Cheshire. She had also been running with Ballinalare Farm Knightrider. The third entry from the Corskie draft, Corskie Roxy, another Burghbridge Lane daughter, sold to Mr. N. Shand, Cairnorrie Farm, Methlick, Aberdeenshire for 2,100gns. The three Corskie heifers averaged 2,633gns.
B.G & L. Allan, Glenturk, Wigtown, Newton Stewart, Wigtownshire realised 2,600gns for their heifer by Whitemire King Kong out of Milnafua Elga when she sold to Mr. J. Henderson, Ballyheather House, 50 Ballyheather Road, Strabane, Northern Ireland.
Top price from the Starline Draft, sold on behalf of R.H.Widdicome Ashprington Court, Ashprington, Totnes, Devon was 2000gns paid by Messrs Horrell for Starline Brigitt 25th. She is by Blackford Northern Light out of Starline Brigitt 12th, by Blackford Hawk. Messrs Horrell bought another three from this good consignment, namely Starline Orlane 20th for 1200gns, Starline Karina 27th for 1,500gns and Starline Karina 28th at 850gns. The Starline draft averaged 1219gns for 8 sold.
Judge: Mr Robert McNee
114 Bulls sold to a sales average of £4486.94
Prize
Lot No
Name
Sire
Dam
Vendor
Purchaser
Area
Prefix
(if applicable)
Price Gns
Overall Champion & Junior Champion
906
Omorga Samson
Raceview King
Cleenagh Daffodil
Mr H J W & J C Moore
Strathisla Farms
Perthshire
Strathisla
22000.00
Reserve Overall Champion & Intermediate Champion
804
Pistyll Sion
Raceview King
Pistyll Lili
M/S G A & H M Francis
Raehills Farms Ltd
Dumfries & Galloway
Raehills
7500.00
Senior Champion
765
Dirnanean Snowie
Omorga Lennox
Dirnanean Merry
Mr F J A McGowan
Mr W J Hollingsworth
Nr Sheffield
Midhope
11000.00
Reserve Senior Champion
745
Mayfield Supra
Mayfield Jupiter
Arkmill Henrietta
Messrs Whitehouse Farms
Mr C Thomson
Aberdeenshire
–
5500.00
Reserve Intermediate  Champion
820
Hockenhull Socrates
Hockenhull Norman
Hockenhull Giselle 3rd
Mr V H C Arnold
Garrel Farms
Lockerbie
Courance
8000.00
Reserve Junior Champion
919
Roma Supreme
Omorga Prince
Lisglass Petal
Mr R S & M E Weatherup
W Price & Son
Hereford
–
5000.00
Top Price Bulls
906
Omorga Samson
Raceview King
Cleenagh Daffodil
Mr H J W & J C Moore
Strathisla Farms Ltd
Perthshire
Strathisla
22000.00
–
857
Cairnview Snazzy
Popes Laird
Ravensworth Modesty
Mr A J Wilson
W H Robson & Sons
Ballyclare
Kilbride Farm
15000.00
–
765
Dirnanean Snowie
Omorga Lennox
Dirnanean Merry
Mr F J A McGowan
Mr W J Hollingsworth
Nr Sheffield
Midhope
11000.00
–
815
Kilbride Farm Saddam
Carnkern Titan
Kilbride Farm Lupin
W H Robson & Sons
R T & C A Bell
Co Armagh
Donaghcloney
11000.00
–
889
Ashland Super Boy (ET)
Milnafua Graduate
Ashland Lucy
Mr P Kelly
Mr G W Smith & Strathisla Farms
Scotland
Drumsleed/Strathisla
11000.00
–
779
Samark Superman
Cleenagh Flasher
Samark Glitter
Mr S F & Mrs E H Watson
R & N Barclay & Smallburn Farms
Scotland
Harestone
10000.00
–
850
Halenook Supercharger
Starline Decision
Halenook Nikki
M/S J Telford & A Rawcliffe
Hazelden Ltd
Ayrshire
Hazelden
10000.00
–
863
Grangewood Storm
Popes Laird
Grangewood Polly
Mr & Mrs A S & Y A Leedham
Pitgaveny Farms
Morayshire
10000.00
–
901
Glenturk Supreme
Whitemire King Kong
Glenturk Natasha
B G & L Allan
Garrel Farms
Lockerbie
Courance
10000.00
–
877
Blackford Skyhawk
Curlieu Knight
Blackford Kittiwake
Mr W H Macpherson
Mr G Van Der Gucht
Gloucestershire
Deerhurst
9000.00
37 Females sold to a sales average of £1977.97
Female Champion
671
Tillymaud Malvenas 53rd
Blackford Lancer
Tillymaud Malvenas 42nd
Tillymaud Farms
Mrs H Clarke
Norfolk
Williams
4200.00
Reserve Female Champion
680
Livetside Sadie
Livetside Kovu
Livetside Kiara
Mr R A Mackintosh
Mr R Mcculloch
West Lothian
–
1500.00
Top Price Females
699
Dirnanean Sarah S8
Starline Nelson
Dirnanean Karen
Mr F J A McGowan
Mr D Sapsed
Hertfordshire
Heathbrow
5100.00
–
671
Tillymaud Malvenas 53rd
Blackford Lancer
Tillymaud Malvenas 42nd
Tillymaud Farms
Mrs H Clarke
Norfolk
Williams
4200.00
–
713
Skerrington Tanya 26th
Sterling Nelson 2nd
Skerrington Tanya 19th
Mr J Young
C Horell Ltd
Peterborough
Pode Hole
3800.00
–
673
Tillymaud Malvenas 54th
Blackford Lancer
Tillymaud Malvenas 46th
Tillymaud Farms
Garrel Farms
Lockerbie
Courance
3800.00
–
703
Dirnanean Sylvia S14(P)
Arkmill Franklyn
Dirnanean Calypso
Mr F J A McGowan
Mr A King
East Lothian
Wolstar
3500.00
–
712
Skerrington Rosebud 44th
Skerrington Legacy
Skerrington Rosebud 28th
Mr J Young
Garrel Farms
Lockerbie
Courance
3500.00
United Auctions, Perth
Agricultural Centre, Huntingtower Park, Perth. PH1 3JJ
Tel. 01738 626183 Fax. 01738 636934
E-Mail. perth@uagroup.co.uk