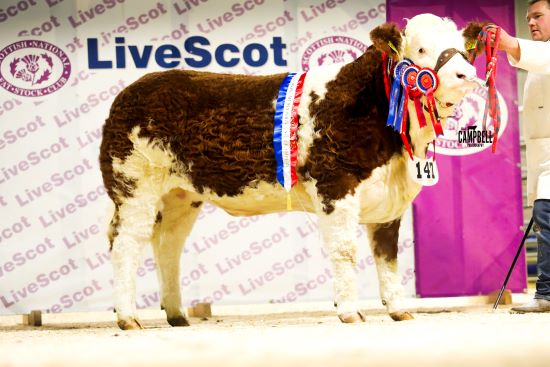 • Delfur Nifty and Delfur Weigela N12 win Reserve Interbreed Pairs
In what was a 'fantastic Friday' for Delfur Farms, Rothes, Aberlour, the November 2022 born Simmental heifer Delfur Nifty won the Simmental Championship and the Overall Individual Interbreed on the opening evening of the Scottish National Fatstock Club's Livescot Pedigree Calf Show on Friday 24th November at Lawrie & Symington's Livestock Market, Lanark.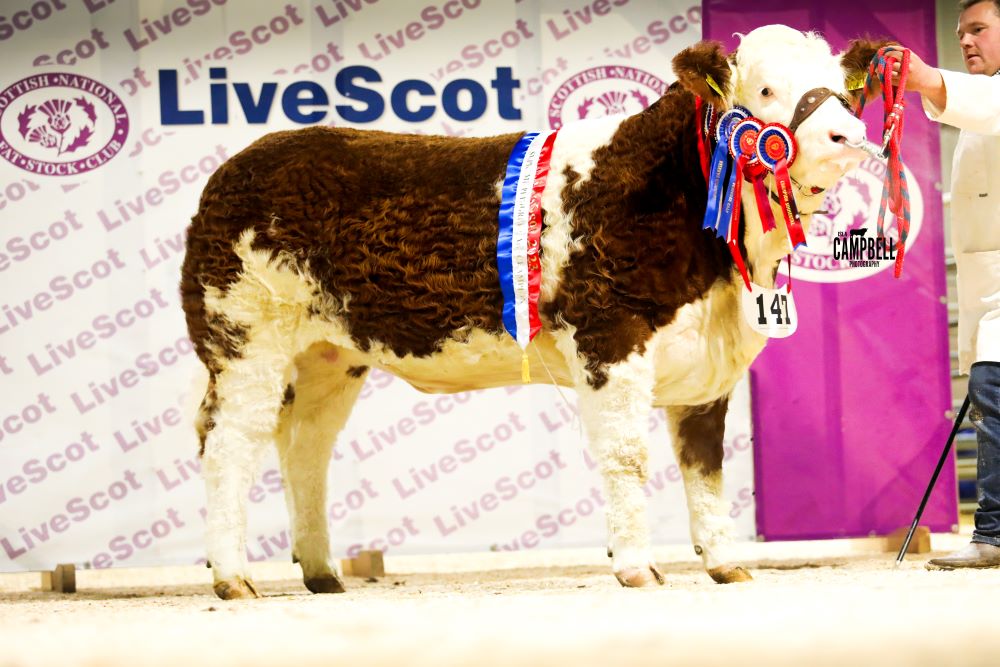 Initially put up as Simmental Champion by John Morton, Annan, in a show of some 29 Simmental entries, Delfur Nifty then went on to get the Overall Pedigree Championship tap from Interbreed judge Dennis Gall, Millhill, Stirling. Rounding off a cracking evening, Delfur Nifty then teamed up with her stablemate Delfur Weigela N12, to take Reserve in the Interbreed Pairs. Very much a 'Delfur dynamic duo', Delfur Weigela N12 had also been a class winner earlier and had placed Overall Simmental Reserve Champion.
Delfur Nifty is by Ballymoney Larry, a Saltire Impressive son, and is out of Delfur Joyful, an Islavale Cassius daughter. Delfur Weigela N12 is also a Ballymoney Larry daughter, and is out of Delfur Weigela E12, an Auchorachan ACDC daughter.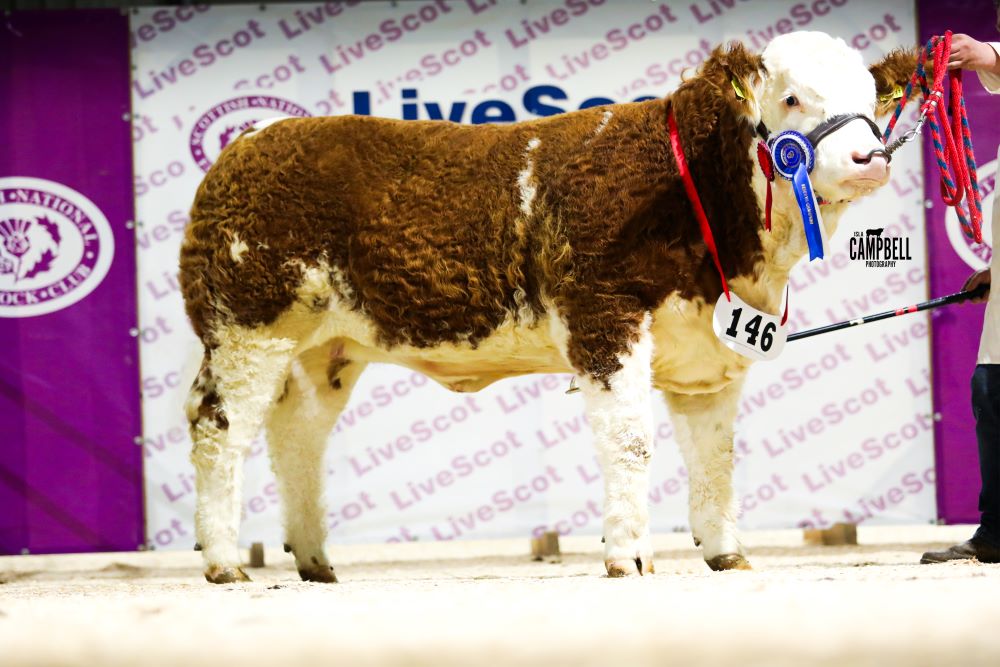 Very much a 'Delfur dynamic duo' this heifer combination also placed Champion and Reserve, in an entry of 60 Simmentals, at the recent Simmental Youngstock Show held within the Borderway Agri Expo event at Carlisle. Further success was achieved at the Stars of the Future Calf Show in Stirling where Delfur Nifty placed Reserve Senior Female, and with Delfur Weigela N12 winning her class.
Commenting, Delfur Simmental herd manager Garry Patterson said: "This Interbreed win has really capped a terrific run of pedigree calf shows for these two heifers. Across the three events, Simmental Youngstock, Stars of the Future, and now Livescot there really has been a tremendous strength in numbers and quality of Simmental calves shown. To meet with the success we have had, and now to win an Interbreed, is really beyond our expectation. The aim at the outset was very much just to build a little profile for Delfur Simmentals and to showcase the type of heifers we are looking to breed across the herd." The Delfur herd presently comprises of 120 breeding females.
Kicking off with the young bulls other Simmental class winners on the night included the November 2022 born Braegarrie Nightrider from Lindsay & Robert Currie, Pinclanty, Pinmore, Girvan. This calf is by Overhill House Link, and is out of Braegarrie Hannah, a Teviot Bouncer son.
Winning the second bull calf class was Newbiemains Pacquiao. Pulling no punches, the February 2023 born Pacquiao is by Auchorachan Kennedy 19 EX92, an Auchorachan Hercules EX92 son, and is out of Newbiemains Knockout VG88, a Skerrington Iceman 17 EX95 daughter. This young bull now heads to the Next Generation III Simmental Sale of Females & Weaned Calves due to be held on Friday 1st December at Borderway Market, Carlisle.
In the youngest female class of the day, it was a first prize red ticket for Castlewigg Empire Stella 3 from Frank Gwynne, Castlewigg Farm, Whithorn, Newton Stewart. February 2023 born, this young lady is a Sterling Empire 13 EX94 daughter, and is out of the herd's noted Castlewigg Stella Data.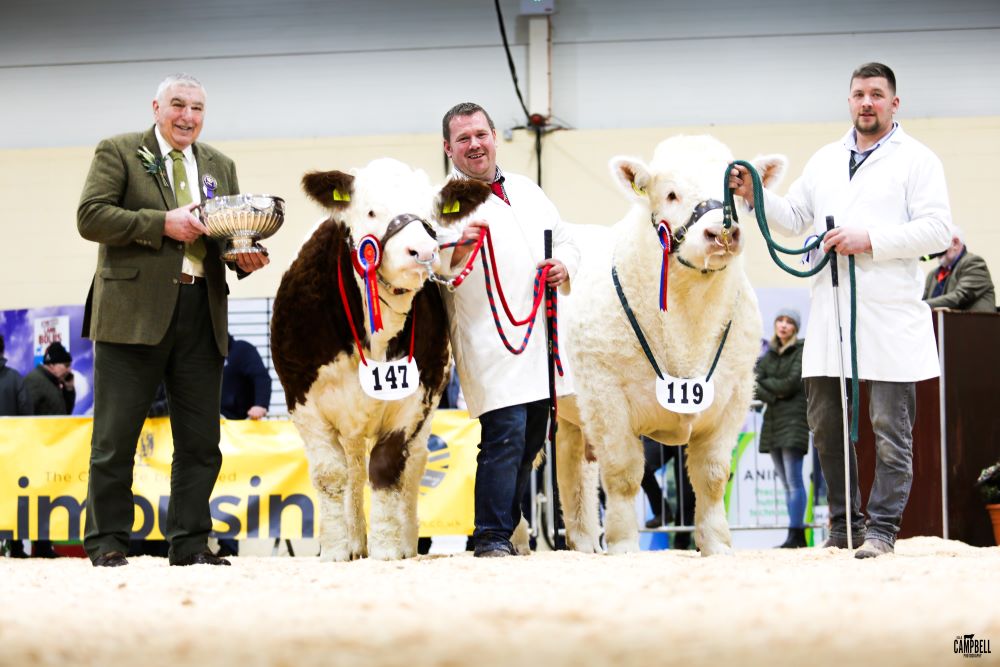 Simmental Results: Livescot 2023, Lanark Market
Class 1036 Bull born between 1st July 2022 and 31st December 2022
1st – Lot 133: DL & S Currie – BRAEGARRIE NIGHTRIDER s. Overhill House Link
2nd – Lot 134: J & E Dyet – MERKLAND NELSON s. Merkland Infinity
3rd – Lot 128: N & N Gwynne – CHESTERMANN NEYMAR s. Chestermann Gibble

Class 1037 Bull born after 1st January 2023
1st – Lot 138: Jim & Patricia Goldie – NEWBIEMAINS PACQUIAO s. Auchorachan Kennedy
2nd – Lot 136: Richard McCulloch – OVERHILL HOUSE PATRICK s. Corskie Lambe
3rd – Lot 139: Gavin Brown – SPRINGFIELD PERRY s. Islavale Jabba

Class 1038a Heifer born between 1st July 2022 and 31st October 2022
1st – Lot 146: Delfur Farms – DELFUR WEIGELA N12 s. Ballymoney Larry
2nd – Lot 141: Gavin Brown – SPRINGFIELD NEXT GENERATION s. Islavale Jabba
3rd – Lot 142: Gavin Brown – SPRINFIELD NIGHT SHADE s. Islavale Jabba

Class 1038b Heifer born between 1st November 2022 and 31st December 2022
1st – Lot 147: Delfur Farms – DELFUR NIFTY s. Ballymoney Larry
2nd – Lot 148: Jim & Patricia Goldie – NEWBIEMAINS NAP s. Newbiemains Daz
3rd – Lot 151: Richard McCulloch – OVERHILL HOUSE NIGELA s. pending DNA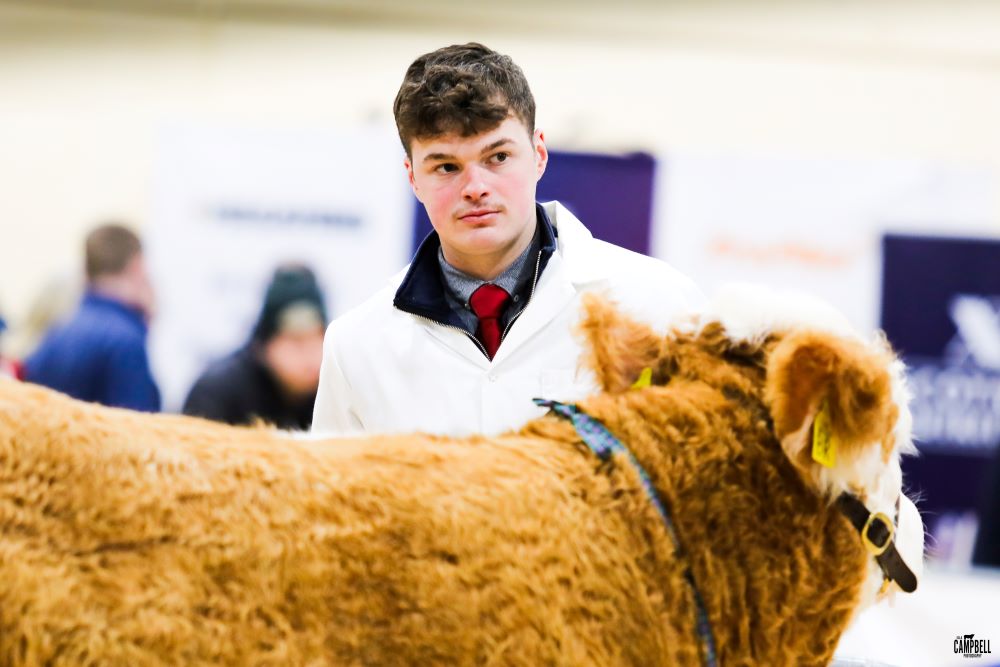 Class 1039 Heifer born after 1st January 2023
1st – Lot 153: Frank Gwynne – CASTLEWIGG EMPIRE STELLA 3 s. Sterling Empire
2nd – Lot 152: Jim & Patricia Goldie – NEWBIEMAINS POSH WAG s. Carbery Lightening
3rd – Lot 154: Jim & Patricia Goldie – NEWBIEMAINS PRETTY WOMAN s. Auchorachan Kennedy

Champion
Lot 147: Delfur Farms – DELFUR NIFTY
Reserve Champion
Lot 146: Delfur Farms – DELFUR WEIGELA N12

Interbreed Champion
Lot 147: Delfur Farms – DELFUR NIFTY