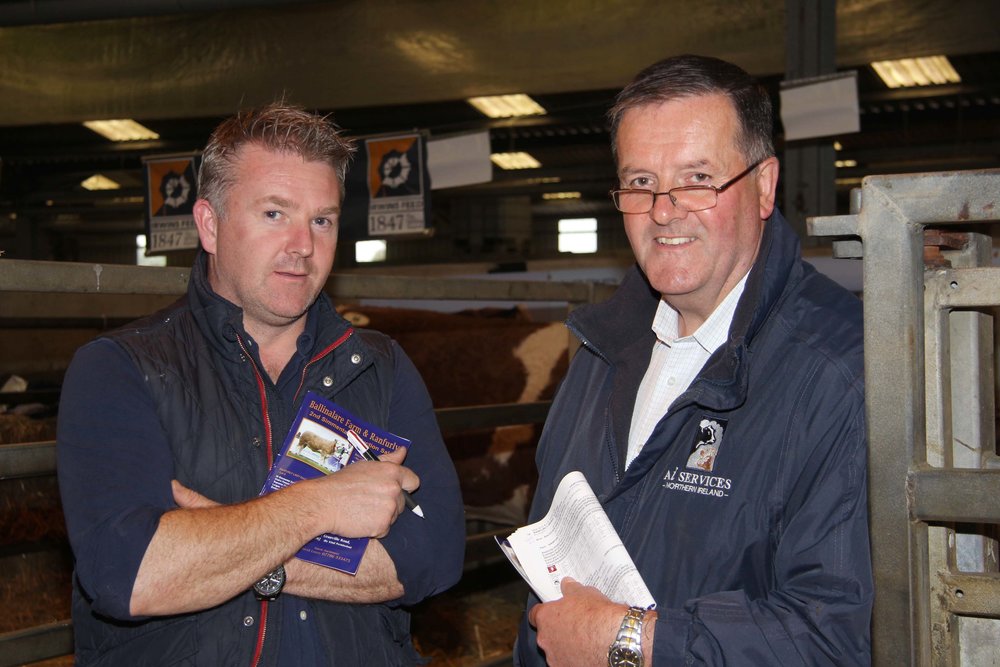 Ranfurly heifer tops Simmental
production sale at 8,800gns
Prices reached a ceiling of 8,800gns at the 2nd production sale from the noted Ballinalare Farm and Ranfurly Simmental herds, conducted by Taaffe Auctions at Dungannon.
Leading the entry from David Hazelton's Ranfurly Herd was the much-admired Ranfurly Lady Diana 24th, winner of numerous accolades throughout the show season, and recipient of the Danske Bank Female of the Year Award.
Born in April 2014 she is by Raceview King, and out of the Dovefields Gallant daughter Ranfurly Lady Diana 10th. Scanned in-calf to Omorga Murray she attracted an opening bid of 5,000gns from the packed ringside audience, and after a bidding frenzy guest auctioneer David Lowry brought his gavel down at 8,800gns, selling to telephone bidders Fovargue Bros for their Edroda Herd based at Coleorton, Coalville in Leicester.
Just minutes before the Whitemire King Kong daughter Ranfurly Blende 5th, secured a bid of 5,100gns from Jimmy and Vikki Wood, owners of the Popes Herd based at Dutton in Lancashire. This April 2014 born heifer is bred from the Raceview King daughter Ranfurly Blende 2nd. She is scanned in-calf to Omorga Murray.
Omorga Murray was behind the breeding of Ranfurly Lady Diana 26th which sold to Harry and John Moore's Beragh-based Omorga Herd at 5,800gns. Born in April 2015, her dam is the Cleenagh Flasher daughter Ranfurly Lady Diana 16th.
Also on Harry and John Moore's shopping list at 4,300gns was the seven-month-old heifer calf Ranfurly Weikel 19th ET. Sired by Carnkern Titan, and bred from the herd's prolific brood cow South Park King Kong Weikel 2nd, she is a full sister to the 15,000gns Ranfurly Formula 1 ET – supreme champion at Stirling in October 2015.
Following close behind at 4,250gns was the July 2014 born Ranfurly Weikel 14th. Also by Raceview King, she is bred from the Balist daughter Ranfurly Weikel 2nd. This one joins Seamus O'Kane's Dressogue Herd at Omagh, and is in-calf to the Cleenagh Fasher son Ranfurly Confederate – purchased by the Islavale Herd at the Dirnanean dispersal sale.
Jonny Hazelton's offering peaked at 4,500gns, realised by the 2016 Balmoral reserve junior champion Ranfurly Weikel 16th. This January 2015 Cleenagh Flasher daughter is bred from a dam by Hillcrest Champion. She sold to an undisclosed pedigree breeder in England.
The 12,000gns Dovefields Gallant was the behind the breeding of Ranfurly Lady Diana 25th. Bred from the Cleenagh Flasher daughter Ranfurly Lady Diana 14th, she sold for 4,200gns and is in-calf to Raceview King. This one joins Nigel Glasgow's Bridgewater Farm Herd at Cookstown, County Tyrone.
Topping Joe Wilson's Ballinalare Farm offering at 3,000gns was the Omorga Murray daughter Ballinalare Farm Favourite Lady. Born in June 2014, she is bred from Ballinalare Farm Chanel – a daughter of the herd's 20,000gns stock bull Auchorachan Wizard – supreme Perth champion in February 2010. In-calf to Hillcrest Valentine, this one joins Archie Reaney's Cladymore pedigree herd at Mowhan, County Armagh.
The youngest heifer in the catalogue, Ballinalare Farm Honey sold at 2,800gns to Kieran Mullarkey's Lissadell Herd at Ballinfull, County Sligo. Sired by Auchorachan Wizard, her dam is the Raceview Valintino Miracle S daughter Ballinlare Farm Allegra – first prize senior cow at Balmoral Show in May.
The nine-month-old Kilbride Farm Drennan daughter Ballinlare Farm Glamour Puss sold to Alan and Ann Kennedy's Lurgill Herd at Upper Ballinderry, Lisburn, for 2,300gns. She is out of a Wizard daughter bred from Kilbride Farm Eunice 26R.
Taaffe Auctions confirmed a 77% clearance, with 13 Ranfurly heifers selling to average £4,180 per head, and 19 Ballinalare Farm heifers selling to level at £2,111 each.