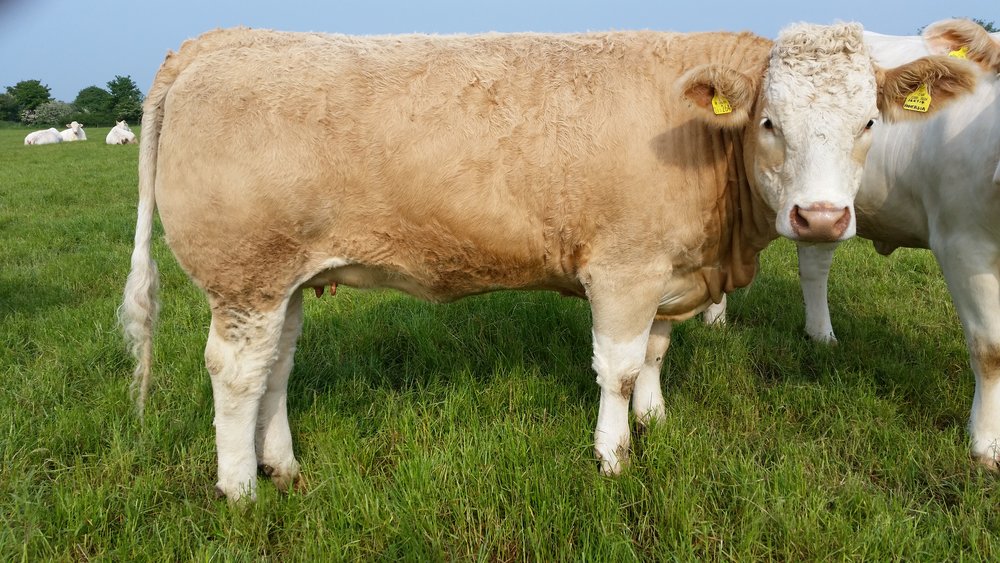 EBLEX
Improved Herds Awards 2016
Beanhill herd wins Improved Herd Award for the Simmental breed
The Beanhill herd, owned by James and Belinda Kimber from Christian Malford in Wiltshire, has been recognised by AHDB Beef & Lamb as the most Improved Herd of Simmental cattle in England for 2016. They have previously placed twice as reserve for this award with their Simmental herd in 2009 and their Charolais herd in 2011.
The award is presented by the AHDB Beef & Lamb Better Returns Programme (BRP) to the recorded herd that shows the greatest genetic gain for commercial characteristics over a 12-month period. There is a separate award for each of ten UK breeds.
After setting up an award-winning Jersey herd in West Wales, James moved to Beanhill Farm to start farming with Belinda in 1996. When they took it on, the 40 hectare lowland farm had been neglected for 40 years. The farm is located on the Dauntsey Vale at the edge of the Cotswolds. As they are on an area of heavy, clay soil, the cattle are housed in the winter to protect the ground. All cattle calve in the autumn, with heifers prepared for artificial insemination (AI) in November. Their target is to sell bulls at 18 months in the spring sales.
On moving to Wiltshire, they decided to concentrate on breeding high-quality, pedigree animals and while they developed the shed infrastructure required for their new cattle venture, they ran a flock of 1,000 commercial ewes plus followers. Seeing the dairy cross-bred calves available through the local market at Chippenham, they felt there was a demand in the area for Simmental bulls. James has bred Charolais cattle since his childhood so they decided to focus on developing two pedigree herds.
Some difficult years followed the Foot and Mouth Outbreak in 2001, when they sold the commercial sheep leaving only their pedigree Texel flock and a handful of pedigree cows. They worked freelance, clipping and washing cows for sales, before building up their pedigree Texel flock alongside establishing the Charolais and Simmental herds.
In 2004 they bought Celtic Noodle, a high-index, show champion Simmental cow. They bred up from there using AI. The cattle enterprise had built to 20 breeding females within each of the two pedigree herds but in recent years the Simmental numbers have reduced. Both herds have been performance recorded from the start. They run alongside a flock of 100 pedigree Texels and a small flock of Blue Texels which belong to their children; Joshua, Isabel and Richard.
They have an extra 40 hectares of grass keep and a flock of 400 Suffolk cross mules which they cross to their own Texel rams. Using an annual rotation between sheep and cattle, they manage a clean grazing system with different parcels of land being reseeded after six years.
James is keen to promote the value of using breeding traits to develop the beef industry and each year invites a group of Cirencester students to oversee the ultrasound scanning event taking place on his farm. He is encouraged by the enthusiasm and interest from the next generation of young farmers. He is also inspired by the work Neil Shand, Simmental breed secretary, is doing for the breed.
Mr Shand uses high and low-index Simmentals within the societies monitor herd and records subsequent calve performance from birth through to finish. He assesses full kill data, including retail meat yield, in order to demonstrate the advantage of using high-index bulls on a suckler herd.
James said: "The only way to monitor a herd's development is by recording performance and coming from a dairy background, this was a no brainer for me. It takes a few years to build up and to understand each individual's value within a herd.
"As a livestock producer you have a financial responsibility to provide good carcase value on an efficient rearing system.
"The muscle area must be assessed when recording to ensure you are promoting the development of length as well as conformation in your animals. There is high value in the loin of the carcase and this needs to be considered and developed rather than simply focusing on backend."
The herd tag line is "High index for a commercially profitable future" and they believe in producing bulls that will provide customers with the potential to make a profit. With this is mind, the Beanhill Simmental has reduced to ten cows in recent years, retaining only the most productive females.
"The Simmental benefits from being a maternal and a terminal breed so I am keen to promote easy calving combined with length and use the figures to guide my decisions.
"All cows retained have a self-replacing index (SRI) of over 100 which makes them one of the highest indexed herds in the country."
The last AI sire used was Dirnanean Bradley. At the time he had not been used massively but has gone on to produce a lovely group of calves at Beanhill. Bradley now stands as the number one bull in the country with 142 SRI points.
Showing acts as a shop window to promote their high-index cattle and they find the easy-calving attributes alongside their elite heath status assists sales. Recently his highest indexed heifer was sold to someone establishing their own herd.
Bulls are sold directly from home and also through pedigree sales with a focus to produce the best high index breeding they can manage to continue to drive the breed forward and appeal to the modern market.