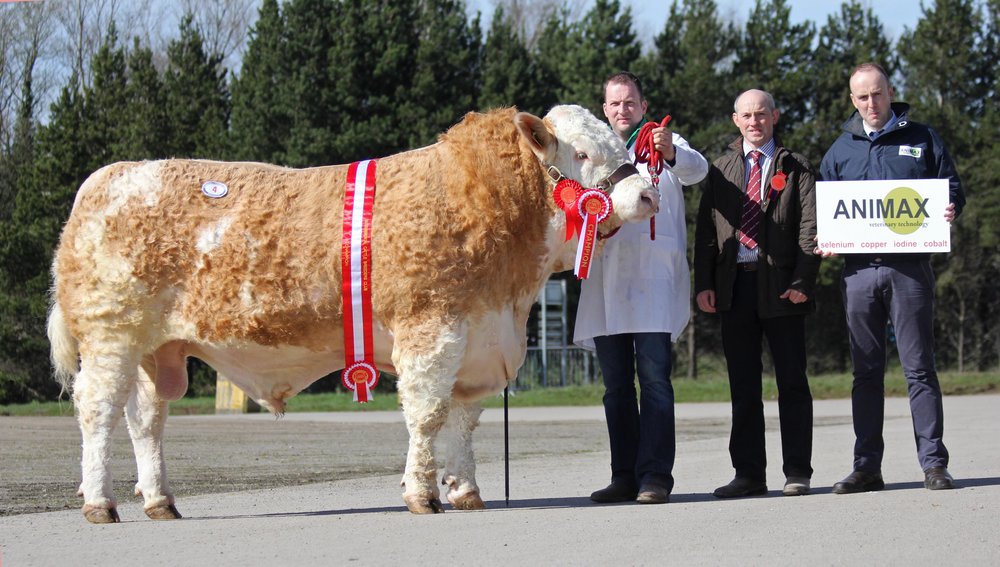 Simmental bulls to a top of 3,400gns at Dungannon
Cookstown breeder Nigel Glasgow topped the Northern Ireland Simmental Cattle Breeders' Club's Dungannon show and sale with bids of 3,400gns and 3,300gns.
Quality bulls with good conformation and above average Breedplan figures attracted a ready market from the packed ringside audience. Auctioneer Stephen Redmond confirmed that 15 bulls sold to level at £2,604 per head – a marginal increase of £14 on last year's average, but with a significant rise in the number of bulls finding new homes.
Securing the day's top bid of 3,400gns was the January 2016 born Bridgewater Farm Hector TSI+67 SRI+79. Sired by the 2014 and 2015 Balmoral breed champion Dermotstown Delboy, this second prize winner is out of the home-bred Anatrim Bodybuilder daughter Bridgewater Farm Phyliss.
In the breed's top 15% for calving ease +4, and top 25% for milk +7, he sold to Dermot Trainor from Kilkeel, County Down.
Following close behind at 3,300gns was herd mate Bridgewater Farm Gazza TSI+63 SRI+76. This first prize winner was born in November 2015 and is also by Dermotstown Delboy. His dam is the Samark Superman daughter Bridgewater Farm Simone. Boasting a calving ease score of +8.4 in the breed's top 1%, and a milk figure of +8 in the top 20%, he was snapped up by Peter Morris from Newtownstewart.
Judge Frank Kelly from the Ashdale Herd inTempo, awarded the Animax-sponsored supreme championship honours to the male champion Ranfurly Goodfellow TSI+60SRI+55 from David and Jonny Hazelton's herd in Dungannon. Sired by Omorga Murray, his dam is the Milnafua Graduate daughter Ranfurly Lady Diana 7th ET. Buyers at 3,000gns were suckler herd owners Messrs Edgar from Downpatrick.
The first prize winning Drumlone Hotrod TSI+64 SRI+89 sold at 2,900gns for Kenneth Veitch, Lisbellaw. Born in January 2016, and sired by the outcross sire Curaheen Apostle, he is bred from a Raceview King daughter carrying the Corbally prefix. With a calving ease score of +5.3 in the top 5%, he caught the eye of Ian Brown from Macken, Enniskillen.
Two lots came under the hammer at 2,800gns each.
First to sell was the October 2015 born Kilbride Farm Gary TSI+44 SRI+58 from the Robson family at Doagh. This second prize winner was sired by Curaheen Dickens, and is bred from the Crugmelyn Brenin daughter Kilbride Farm Jolly 13E. Buyer was G McAteer from Newry.
Also selling at 2,800gns was Cleenagh Handy Andy TSI+68 SRI+77, a fourth prize winner bred by Adrian Richardson, Maguiresbridge. Born in March 2016 he was sired by the herd's jointly owned 10,000gns stock bull Drumlone Anchor. His dam is the Dripsey Super King daughter Cleenagh Miss Daffodil. This one sold to Ian Thompson from Tempo.
The reserve male and reserve supreme champion Hiltonstown Giles TSI+66 SRI+76 sold at 2,400gns for Richard Rodgers, Portglenone. Born in September 2015, and sired by Mohona Dandy, he is out of a home-bred Auroch Amos daughter. Buyer was Joe Hughes from Dungannon.
Females peaked at 2,600gns, paid to Adrian Richardson for the female champion Cleenagh Gaynor. Sired by Drumlone Anchor, her dam is the Bridgemount Vixon daughter Stralongford Courtney. This maiden heifer sold to Robert Stinson from Spingfield, Enniskillen.
The same price was paid to club vice-chairman Conrad Fegan, and father Val, from Rostrevor, for the third placed Knockreagh Gail. This June 2015 born heifer is a daughter of Popes Barclay. Scanned in-calf to Kilbride Farm Comber, she sold to Thomas Stewart from Garvagh.
Duncan McDowell, Newtownards, realised 2,300gns for the reserve female champion Castlemount Cute. Born in January 2016, she is by Longhbeach Darius, and out of Drumagarner Cute. Buyer was David Carson from Garrison, County Fermanagh.
Results from the judging ring:
Bull, born between 14/06/15 and 13/08/15 – 1 and male champion, D and J Hazelton, Ranfurly Goodfellow ET by Omorga Murray; 2, M and D Frazer, Edenvale Gabriel by Sneumgaard Imperator.
Bull, born between 03/09/15 and 11/10/15 – 1 and reserve male champion, Richard Rodgers, Hiltonstown Giles by Mohona Dandy; 2, Robert Forde, Mullyknock Greg by Anatrim Bodybuilder; 3, WH Robson and Sons, Kilbride Farm Gala by Corskie Damario.
Bull, born between 23/10/15 and 14/11/15 – 1, Nigel Glasgow, Bridgewater Farm Gazza by Dermotstown Delboy; 2, WH Robson and Sons, Kilbride Farm Gary by Curaheen Dickens; 3, Kenneth Veitch, Drumlone Goliath by Delfur Decider.
Bull, born between 23/11/15 and 02/03/16 – 1, Kenneth Veitch, Drumlone Hotrod by Curaheen Apostle; 2, Nigel Glasgow, Bridgewater Farm Hector by Dermotstown Delboy; 3, D and J Hazeton, Ranfurly Goldstar by Kilbride Farm Warren.
Female, born between 24/06/15 and 15/11/15 – 1 and female champion, Adrian Richardson, Cleenagh Gaynor by Drumlone Anchor; 2, Michael and Eamon McCloskey, Drumagarner Gemma by Hirwaun Rooney; 3, Val and Conrad Fegan, Knockreagh Gail by Popes Barclay.
Female, born between 01/01/16 and 15/01/16 – 1 and reserve female champion, Duncan McDowell, Castlemount Cute by Longbeach Darius; 2, Harold Stubbs and Alan Burleigh, Derrycallaghan Hottytotty by Kilbride Farm Delboy; 3, W and S Stubbs, Rehall Helen by Omorga Baldwin.