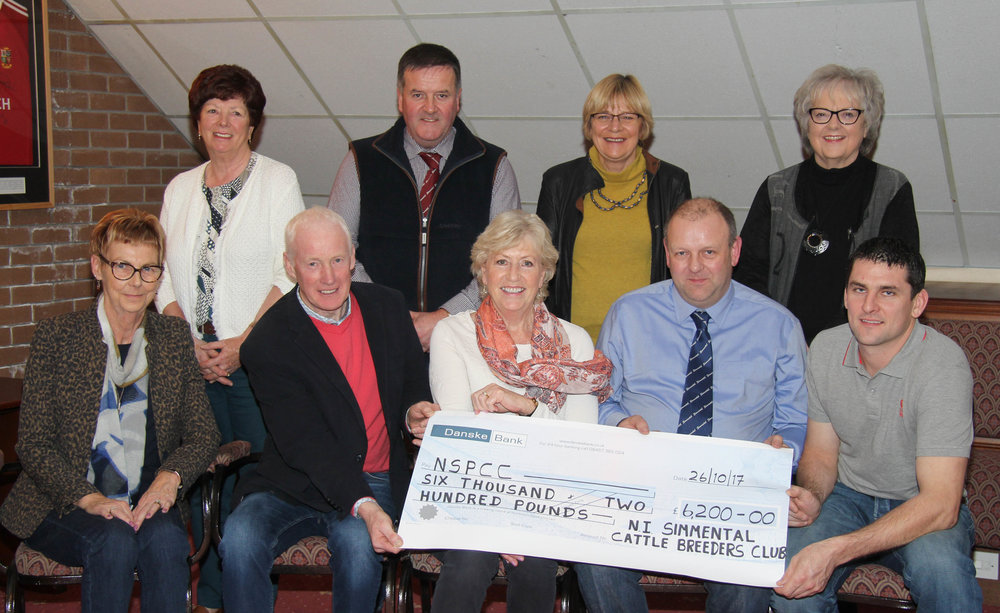 The Northern Ireland Simmental Cattle Breeders' Club has presented a cheque for £6,200 to the National Society for the Prevention of Cruelty to Children (NSPCC).
The money is the proceeds of the club's annual charity BBQ and auction held recently in Dungannon Rugby Club.
Jennifer Hobson, chairman, of the NSPCC's Dungannon fund raising committee thanked breeders for their generous support.
"We are overwhelmed! This is a tremendous amount of money and we can't thank you enough for your generosity. The money will benefit more than 3,000 primary school children from all over Northern Ireland. The NSPCC's volunteer-led 'Speak Out Stay Safe' programme is aimed at children aged 5 to 11 years old.
"Fully trained staff visit schools and conduct child-friendly interactive workshops aimed at providing children with the knowledge and understanding they need to stay safe from abuse and neglect. The programme has far-reaching effects and encourages children to speak out to safeguard themselves."
Concluding Mrs Hobson said: "On behalf of the Dungannon fund raising committee I would like to extend our condolences to the NI Simmental Club on the loss of its highly esteemed committee member Thelma Gorman. We were deeply saddened to hear of her passing. We had the pleasure of working with Thelma at the BBQ in August and she was a real inspiration. Thelma kept us organised in the kitchen and was the linchpin of a very enjoyable night which raised £6,200 for NSPCC."
Club chairman Matthew Cunning expressed his thanks to everyone who supported this year's BBQ and charity auction.