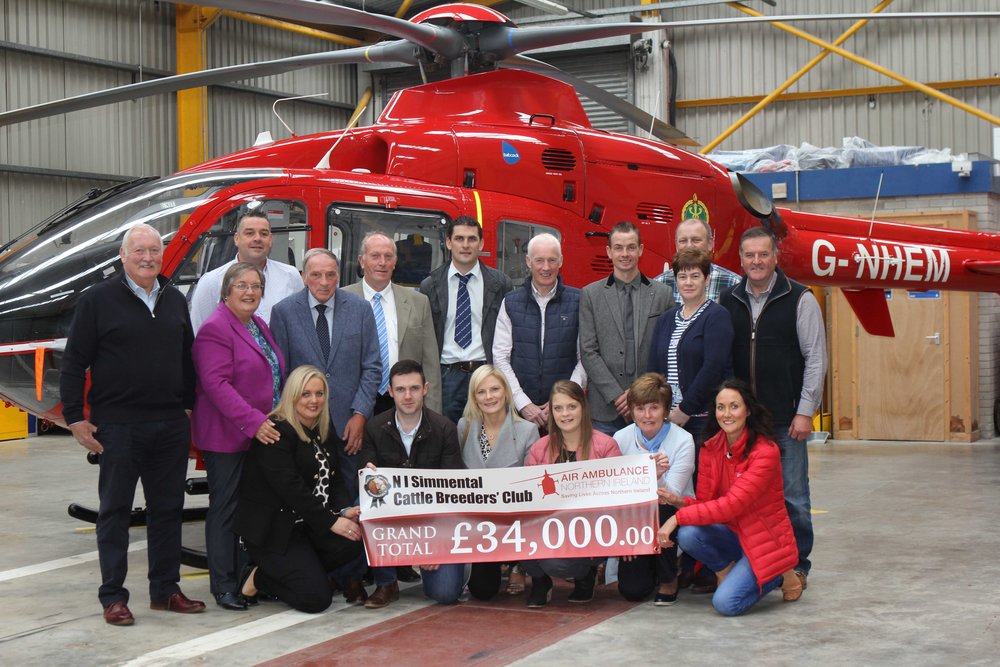 The Northern Ireland Simmental Cattle Breeders' Club has presented a cheque for £34,000 to Air Ambulance Northern Ireland.
Members of the club's committee were welcomed to the charity's Maze headquarters by AANI representatives Kerry Anderson, Breige Mulholland, Christine Armour, and trustee Rodney Connor. The event coincided with National Air Ambulance Week.
AANI head of fund raising Kerry Anderson expressed her gratitude to the NI Simmental Club and everyone who supported its campaign. "This is the largest single donation we have ever received. I am delighted to accept this cheque on behalf of Air Ambulance Northern Ireland. It is very much appreciated."
With running costs of £5,000 per day, the charity must raise £2m annually to remain operational.
The club's fund raising activities included a charity raffle, which featured a number of prizes including a pedigree Simmental heifer or £2,000. The in-calf heifer Drumbulcan Honeybee, was generously donated by County Fermanagh herd owners Kenneth and Avril Stubbs and family. Rounding off the club's 2018 fund raising campaign was its annual charity BBQ and auction in Dungannon which attracted 250 people.
Presenting the cheque club chairman Conrad Fegan thanked Simmental breeders and members of the public for their support and donations. "Air Ambulance Northern Ireland was our chosen charity for 2018. I am proud to present this cheque in memory of our long-standing committee member Thelma Gorman who tragically lost her life in a farm accident last year.
"As chairman of the NI Simmental Club I would like to thank everyone who contributed to this phenomenal total of £34,000. Thelma was a hugely popular person, and this amount is a fantastic tribute to her."
Kerry Anderson continued: "I am bowled over by this incredible amount of money, and I'd also like to thank the NI Simmental Club for the profile it has given Air Ambulance NI over the last number of months. You have really engaged with the local community, and everyone within the club should feel proud of its achievement."
These words were echoed by AAN trustee Rodney Connor. "We are grateful to the Simmental Club for its massive effort. Kenneth and Avril Stubbs deserve a special mention. They really put their heart and soul into raising funds for Air Ambulance Northern Ireland. As well as donating Honeybee, the Stubbs family took her to five agricultural shows, and put hours of work into selling tickets. "
Air Ambulance Northern Ireland was launched in July 2017. Speed is crucial and Air Ambulance can be in the air within four minutes of an emergency call. Its operational base is at the Maze, and the helicopter can reach anywhere in Northern Ireland within 25 minutes. With a highly skilled trauma doctor and paramedic on board it is effectively bringing the hospital to the patient.