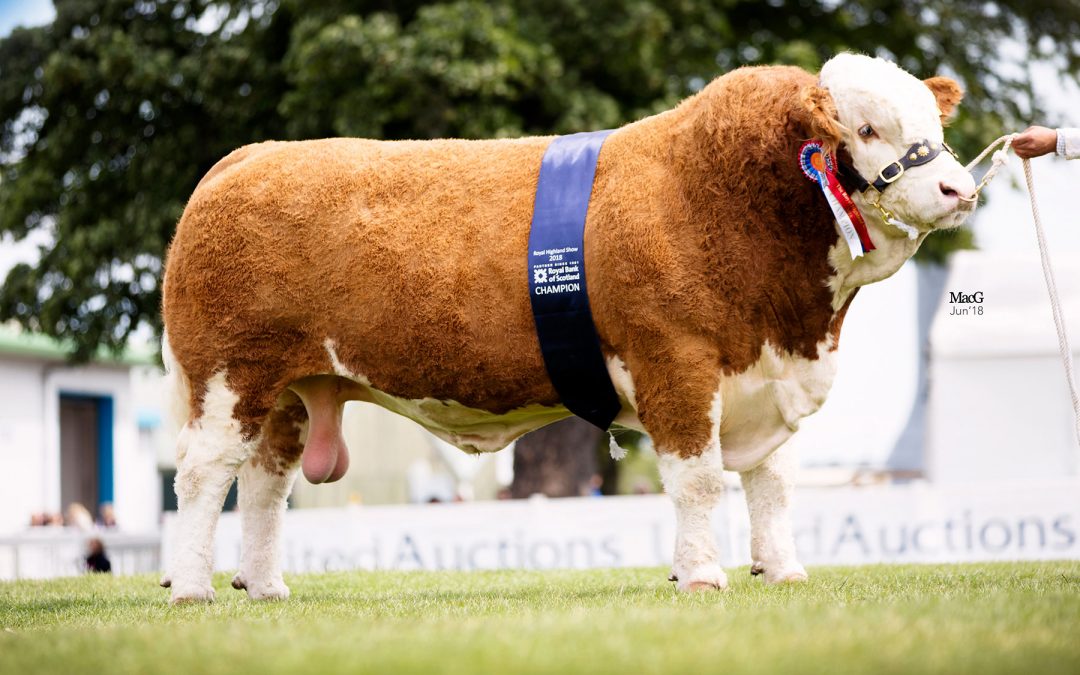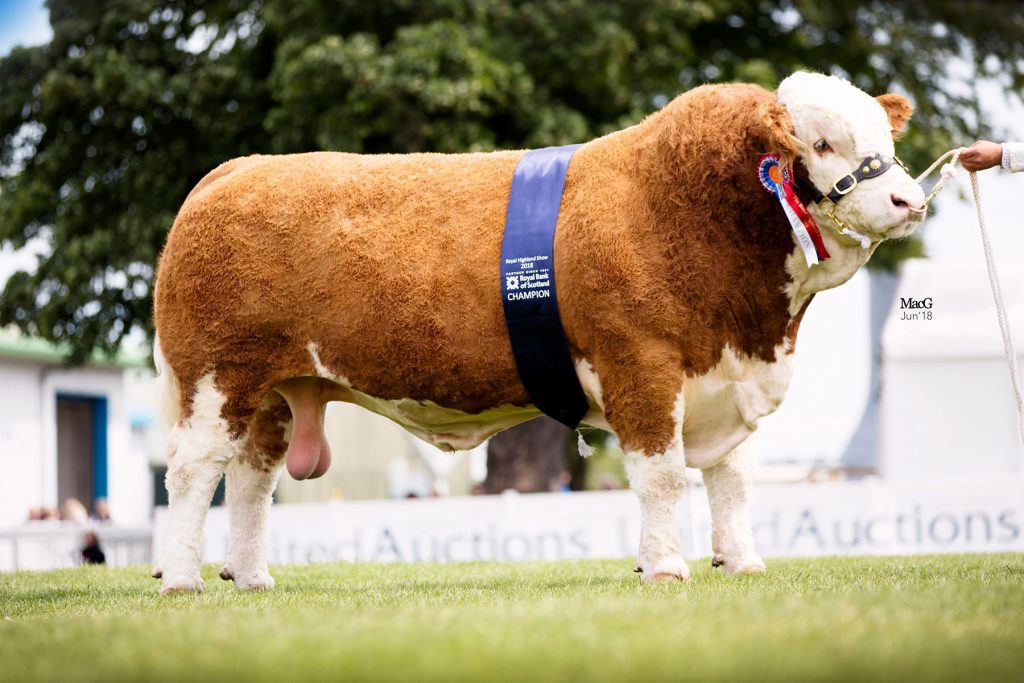 Judges Report, John Dykes
I was greatly honoured to be invited by the Royal Highland & Agricultural Society and the Simmental Society to judge the classes at the Royal Highland Show. To be invited by one's peers to place their entries at such a prestigious event is a great vote of confidence to any livestock breeder.
At the time of writing this report, our herd is in the process of being prepared for dispersal, but this in no way reduces my enthusiasm for the breed or confidence in a very exciting and progressive future for Simmentals and their breeders. After thirty-one years of involvement with this breed at all levels, placing the cattle at the Highland Show is indeed the icing on the cake.
As a breeder of commercial cattle for over fifty years, I have always been very conscious of the qualities that lead to ease of management and profitability. I hope that my placings of the many quality cattle paraded before me went some way to bear this out.
As always at the 'Highland', the eleven classes led off with the youngest female class, yearling heifers. There were nine heifers forward with the eventual first place going to Frank Gwynne's Chestermann Empire Stella. A very stylish young heifer who moved really well and has the potential to grow into a very impressive cow. Second was the Green's Corskie Inita and third was Richard McCulloch's Overhill House India.
The next age class was well supported with thirteen of the sixteen entries forward. The winner of this class was Jimmy McMillan's Sterling FCUK Impuls – a very long, clean, whole coloured heifer with lots of style and beautifully shown. Perhaps not quite perfect behind but nevertheless a worthy winner. Second was Heather Duff's Pitmudie Florin 2nd and third was Jim & Patricia Goldie's Newbiemains Impressive.
The July to December 2016 class was again well supported with twelve entries forward. The Green's Corskie Herlande came out top in this strong class, A very sound, good moving heifer who went on to be Best Junior Female and eventually Best Junior Animal of the breed. Second and Reserve Junior Female was Gerald Smith's Drumsleed Hilight. She also followed the first prize winner through to become Reserve Overall Junior Champion. Third in the class was Michael Durno's Auchorachan Letta H1.
The class for heifers born between 1st January and end of June 2016 was slightly smaller but of a very high standard. The eventual winner of a very close-run decision was Heather Duff's Pitmudie Havana, beating Jimmy & Vikki Wood's Popes Rhona. Havana showed more breed character through her head and front end and went on to be Female Champion and Reserve Overall in a very strong female section. Third in this class to these two impressive animals was Corskie Harp from the Greens.
Heifers born in 2015 was a strong class with the older animals nursing calves. The winner was Gerald Smith's Drumsleed Gretel. A well grown heifer with a tidy udder, making a good job of rearing her calf. Second was Andy Wilson's Cairnview Tilly 4th. Not quite as strong as the first prize winner but correct in every way and rearing a classy calf very well. This combination went on to win the prize for the Best Cow & Calf, judged as a pair. Third in the class was a younger heifer from Richard McCulloch, Overhill House Giggle.
The junior cow class had only three forward with Woodhall Erica in first place. A well grown dark coloured young cow from Richard McCulloch, nursing a good calf. A cow who will have a great future when she matures. Second was Gerald Smith's Drumsleed Farina and third was Tom Henderson's Annick Trixibelle 15th.
The senior cow class was the smallest in the female section with only two forward but was won by the very impressive Sterling Petra's Cairo. This seven-year old cow was nursing a well reared calf but is starting to show signs of age in her locomotion. She went on to be Reserve Female Champion. Second was Dargill Cassie, also seven years old and in her working clothes, nursing a bull calf very well.
The bull classes were not quite so well supported as the females. The junior class of bulls had seven forward out of thirteen entries and was won by Corskie Infinity, a yearling bull from the Greens. A very free moving and growthy bull with all the right attributes to be a good herd sire. Second was Frank Gwynne's Chestermann Imran and third was Skerrington Iceman from the Goldies.
Intermediate bulls was a little better filled class with twelve forward, to be led by Blackford Iolair. A red and white bull with exceptionally good fleshing and thickness throughout who went on to win the Interbreed Beefbreeder/Breedplan championship the following day. Second was Heather Duff's Pitmudie Inverurie and third was Gerald Smith's Drumsleed Iceman.
The first senior bull class had only two entries forward and was won by Camus Harold, a two-year old bull from the Woods. Very well fleshed, plenty of width and a great mover. Second was Overhill House Hercules from Richard McCulloch.
The last class of aged bulls only had two, but they were very impressive. Winner of the class was Blackford Galaxy from Michael Barlow. On his second visit to Ingliston under new ownership, he surpassed last year's successes and went on to win the Male Championship and the Overall Breed Champion. He is a big bull carrying a lot of condition but still moved actively and freely. The second bull was Richard McCulloch's Curaheen Drifter, an extremely thick, well fleshed bull also but did not move so freely as the first.
After placing all the seventy-two animals in the classes it was very satisfying to have all the first prize winners line up in a very pleasing show of top-class cattle. Blackford Galaxy making an outstanding Overall Champion with Pitmudie Havana a very worth Reserve.
I would just like to conclude by thanking and congratulating all the exhibitors for presenting such a fine show of cattle on a day when the weather was perfect for the event. Also, a big thank you to the directors, stewards and Scottish Simmental Club who, as always, excelled in their organisation of the judging, the welcome and the hospitality extended to Kate and myself on what will always be a memorable day.
Thank you.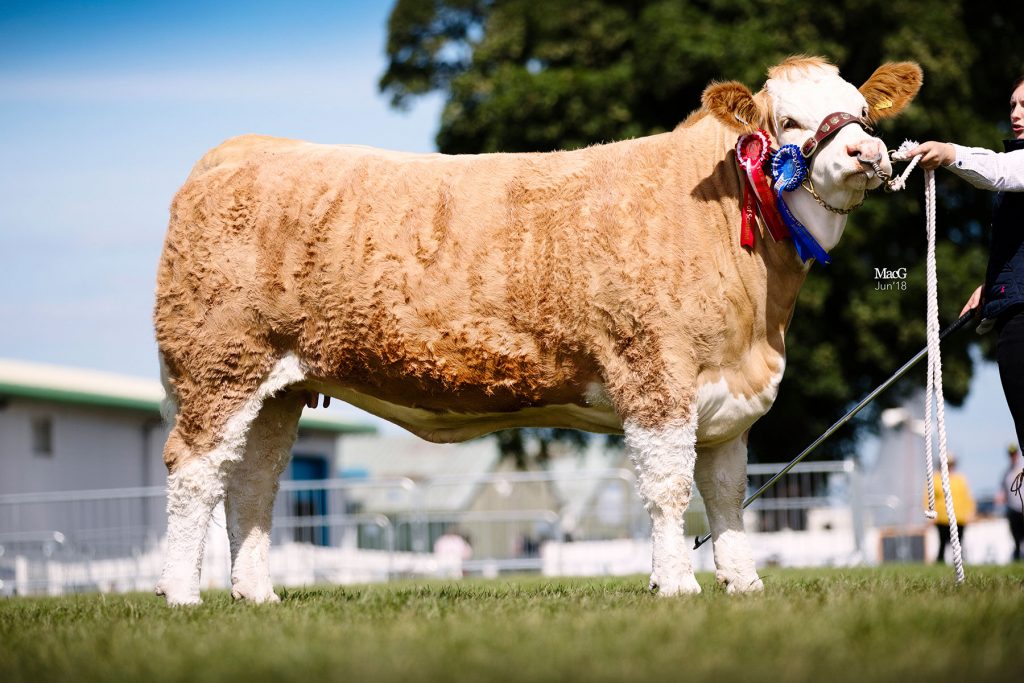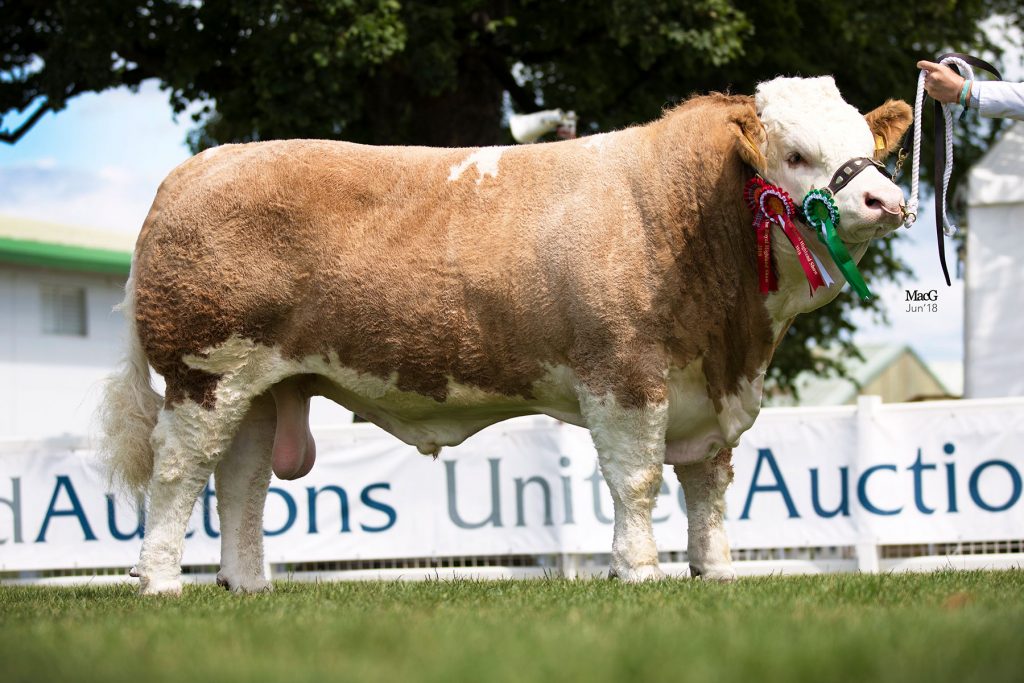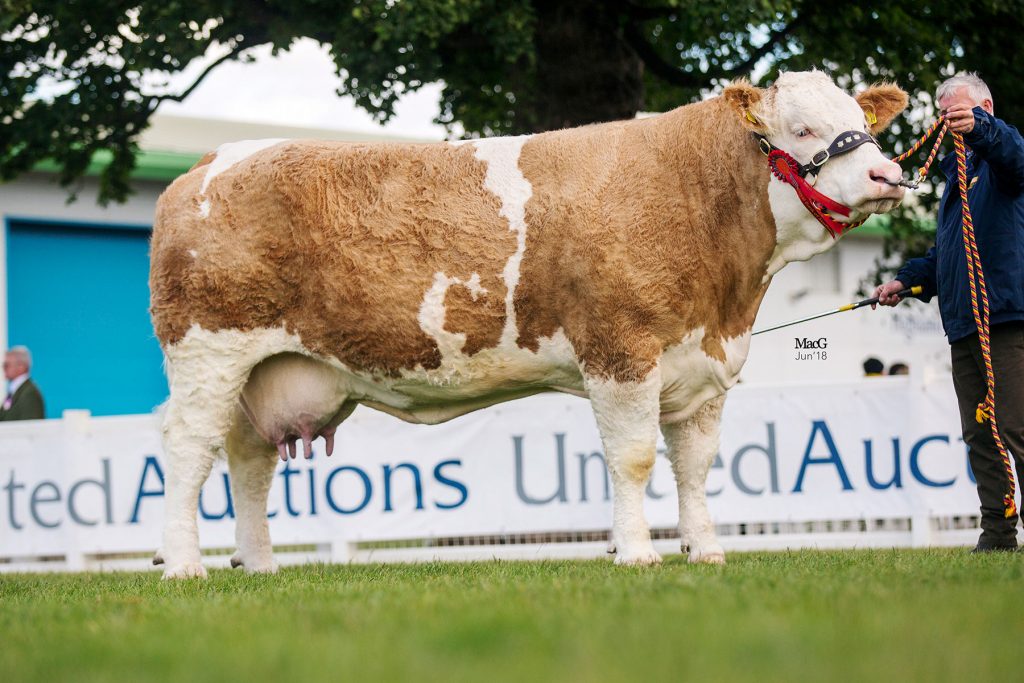 DATE: 21st June to 24th June 2018
JUDGE: Mr J Dykes
CLASS & POSITION
NAME OF ANIMAL
SIRE
DAM
EXHIBITOR
Best Bull, Breeder of Best Bull & Overall Champion
BLACKFORD GALAXY 15
CURLIEU KNIGHT
BLACKFORD AERO
MR M A BARLOW
Best Female, Reserve Overall Champion & Best Animal Bred by Exhibitor
PITMUDIE HAVANA
CORSKIE ELDER 13
DRUMSLEED CARINA 11
HEATHER DUFF
Best Junior Bull, Reserve Bull & Best Animal of Opposite Sex to the Junior Champion
CAMUS HAROLD 16
KILBRIDE FARM NEWRY
CAMUS EASTER
M/S J H & V G WOOD
Reserve Female Champion
STERLING PETRA'S CAIRO
DOVEFIELDS GALLANT
STERLING DOLORES PETRA
MR & MRS P B & J A BORLASE
Best Cow with Calf at foot, judged as a pair
CAIRNVIEW TILLY 4TH
WESTVIEW ELMO 13
CAIRNVIEW TILLY
MR A J WILSON
CAIRNVIEW ISMAN 17
WOODHALL FERRARI 14
CAIRNVIEW TILLY 4TH
MR A J WILSON
Best Junior Female & Best Junior Animal
CORSKIE HERLANDE
BEL DHU CAPERCAILLIE 11
CORSKIE ROLANDE
MR WJ & J GREEN
Reserve Junior Female & Reserve Junior Animal
DRUMSLEED HILIGHT 16
GRANGEWOOD WILLIAM
DRUMSLEED EVITA 13
MR G W SMITH
Reserve Junior Bull
CORSKIE INFINITY 17
BEL DHU CAPERCAILLIE 11
CORSKIE FOURTH STAR
MR WJ & J GREEN
Female, born on or after 01.04.17
1. CHESTERMANN EMPIRE STELLA
STERLING EMPIRE 13
CHESTERMANN RINGLEADER STELLA
MESSRS N & N GWYNNE
2. CORSKIE INITA
AULTMORE FRANCO 14
CORSKIE ANITA
MR WJ & J GREEN
3. OVERHILL HOUSE INDIA
CURAHEEN DRIFTER
WOODHALL CLAUDIA
RICHARD MCCULLOCH
4. GARMOUTH DUMANDY'S ISABELLA
BEL DHU CAPERCAILLIE 11
STERLING VERITY'S DUMANDY
LAURA GREEN
5. NEWBIEMAINS IRIS
WOODHALL FANTASTIC 14
NEWBIEMAINS FUCHSIA
JIM & PATRICIA GOLDIE
6. STRATHISLA INDIA'S TWIGGY
ISLAVALE DONALD 12
STRATHISLA ABBEY'S TWIGGY
STRATHISLA FARMS
Female, born between 01.01.17 & 31.03.17
1. STERLING FCUK IMPULS
STERLING GINO 15
STERLING CANDY'S F.C.U.K
MR J MCMILLAN
2. PITMUDIE FLORIN 2ND
CAIRNORRIE FERRARI 14
PITMUDIE FLORIN
HEATHER DUFF
3. NEWBIEMAINS IMPRESSIVE
WOODHALL FANTASTIC 14
NEWBIEMAINS EMPRESS
JIM & PATRICIA GOLDIE
4. AUCHORACHAN HILLY 6
KILBRIDE FARM DELBOY 12
AUCHORACHAN WENDY
D & R DURNO & SONS
5. DENIZES CADETTE 35TH
BOSAHAN DYNAMO 12
DENIZES CADETTE 28TH
MR M A BARLOW
6. POPES NELLYS ILIA
SWINGLETREE EMPOROR 13
POPES NELLYS DAZZLER
M/S J H & V G WOOD
Female, born on or between 01.07.16 and 31.12.16
1. CORSKIE HERLANDE
BEL DHU CAPERCAILLIE 11
CORSKIE ROLANDE
MR WJ & J GREEN
2. DRUMSLEED HILIGHT 16
GRANGEWOOD WILLIAM
DRUMSLEED EVITA 13
MR G W SMITH
3. AUCHORACHAN LETTA H1
TEAM FERGUS 14
AUCHORACHAN DYNASTY
D & R DURNO & SONS
4. CORSKIE HERB
BEL DHU CAPERCAILLIE 11
CORSKIE DILL
MR WJ & J GREEN
5. KENNOX ALICE'S HELENA
DIRNANEAN BRADLEY 10
ANNICK TARA'S ALICE
MR DAVID CRAIG
6. PITMUDIE HELENA
OVERHILL HOUSE ERAGON 13
NEWBIEMAINS EXCLUSIVE
HEATHER DUFF
Female, born on or between 01.01.16 and 30.06.16
1. PITMUDIE HAVANA
CORSKIE ELDER 13
DRUMSLEED CARINA 11
HEATHER DUFF
2. POPES RHONA
KILBRIDE FARM COMBER 11
SKERRINGTON RHONA 21ST
M/S J H & V G WOOD
3. CORSKIE HARP
CELTIC ROCK
CORSKIE ELECTRA
MR WJ & J GREEN
4. POPES PRINCESS HETTIE
KILBRIDE FARM COMBER 11
POPES PRINCESS CLEO
M/S J H & V G WOOD
5. STRATHISLA HERMES'S LUCY
DELLFIELD BRIGADIER 10
BLAIR LUCY
STRATHISLA FARMS
6. DEERHURST HATTI 16
STERLING COTSWOLD 11
DEERHURST EUNICE
MR & MRS P B & J A BORLASE
Female, having calved before 3 years of age or due to calve before 3 years of age, in milk or in calf, born in 2015
1. DRUMSLEED GRETEL 15
HAYSTAR CRACKER 11
DRUMSLEED BUTTERSCOTCH
MR G W SMITH
2. CAIRNVIEW TILLY 4TH
WESTVIEW ELMO 13
CAIRNVIEW TILLY
MR A J WILSON
3. OVERHILL HOUSE GIGGLE
CURAHEEN DRIFTER
WOODHALL EFFIE
RICHARD MCCULLOCH
4. NEWBIEMAINS GOLDIES BABE
BLACKFORD ALBATROSS 09
NEWBIEMAINS DREAM IN A FIELD
JIM & PATRICIA GOLDIE
5. OVERHILL HOUSE GOOSEY
BLACKFORD BEN MHOR 10
WOODHALL EDITH
RICHARD MCCULLOCH
Female, born in 2013 or 2014, in milk or certified in calf at time of Show
1. WOODHALL ERICA
RACEVIEW ALL-STAR KK
WOODHALL APRICOT 9
RICHARD MCCULLOCH
2. DRUMSLEED FARINA 14
CLONAGH BUCKAROONEY TRUELY
BOARS HEAD KARINA 2ND
MR G W SMITH
3. ANNICK TRIXIBELLE 15TH
ANNICK CLAYMORE 11
ANNICK TRIXI-BELLE 8TH
MR T A & E HENDERSON
Female, born on or before 31.12.12, in milk or certified in calf at time of Show
1. STERLING PETRA'S CAIRO
DOVEFIELDS GALLANT
STERLING DOLORES PETRA
MR & MRS P B & J A BORLASE
2. DARGILL CASSIE
BOSWELL WARRIOR
BLACKFORD NESSIE
J C MCLAREN & PARTNERS
Bull, born on or after 01.04.17
1. CORSKIE INFINITY 17
BEL DHU CAPERCAILLIE 11
CORSKIE FOURTH STAR
MR WJ & J GREEN
2. CHESTERMANN IMRAN 17
BLACKFORD RINGLEADER
CHESTERMANN HALE BOPP NELL
FRANK GWYNNE
3. SKERRINGTON ICEMAN 17
SOWENNA ARISTROCRAT 09 9
SKERRINGTON RHONA 32ND
JIM & PATRICIA GOLDIE
4. COXHILL INIS 17
LOPEMEDE GREGG 15
TEAM KASEY 19
JAMES MCKAY WIGHTMAN
5. DARGILL INROCK 17
KILBRIDE FARM DOUBLEACTION 12
PORTLOGAN BONNIE
J C MCLAREN & PARTNERS
6. SPRINGFIELD INVADER 17
SHILOH FREEDOM
SPRINGFIELD GOLDIE
GAVIN BROWN
Bull, born on or between 01.01.17 and 31.03.17
1. BLACKFORD IOLAIR 17
KILBRIDE FARM DOUBLEACTION 12
BLACKFORD WAXWING
MR W G MACPHERSON (A FIRM)
2. PITMUDIE INVERURIE 17
CORSKIE ELDER 13
NEWBIEMAINS ELIZABETH
HEATHER DUFF
3. DRUMSLEED ICEMAN 17
HAYSTAR CRACKER 11
DRUMSLEED CASSIE
MR G W SMITH
4. GARMOUTH ICEMAN 17
DIRNANEAN BRADLEY 10
CORSKIE CLOVER
LAURA GREEN
5. MANOR PARK IRVINE 17
KILBRIDE FARM BERRATOFT 10
MANOR PARK ALLANAH
MR D C HOULDEY
6. CHESTERMANN IFAN 17
STERLING EMPIRE 13
CHESTERMANN RINGLEADER LULU 2
FRANK GWYNNE
Bull, born on or between 01.01.16 and 31.12.16
1. CAMUS HAROLD 16
KILBRIDE FARM NEWRY
CAMUS EASTER
M/S J H & V G WOOD
2. OVERHILL HOUSE HERCULES 16
CURAHEEN DRIFTER
WOODHALL ERICA
RICHARD MCCULLOCH
Bull, born on or before 31.12.15
1. BLACKFORD GALAXY 15
CURLIEU KNIGHT
BLACKFORD AERO
MR M A BARLOW
2. CURAHEEN DRIFTER
CURAHEEN WARRIOR (ET)
CURAHEEN VIA
RICHARD MCCULLOCH
Best Group consisting of one Bull and two Females, all the property of one Exhibitor
1. POPES RHONA
KILBRIDE FARM COMBER 11
SKERRINGTON RHONA 21ST
M/S J H & V G WOOD
1. CAMUS HAROLD 16
KILBRIDE FARM NEWRY
CAMUS EASTER
M/S J H & V G WOOD
1. POPES PRINCESS HETTIE
KILBRIDE FARM COMBER 11
POPES PRINCESS CLEO
M/S J H & V G WOOD
Group of Three Animals, by the same sire, any age or sex
1. CORSKIE HERB
BEL DHU CAPERCAILLIE 11
CORSKIE DILL
MR WJ & J GREEN
1. CORSKIE INFINITY 17
BEL DHU CAPERCAILLIE 11
CORSKIE FOURTH STAR
MR WJ & J GREEN
1. CORSKIE HERLANDE
BEL DHU CAPERCAILLIE 11
CORSKIE ROLANDE
MR WJ & J GREEN
Interbreed – Beef Recorded Bull (Continental), born on or after 01.01.16
1. BLACKFORD IOLAIR 17
KILBRIDE FARM DOUBLEACTION 12
BLACKFORD WAXWING
MR W G MACPHERSON (A FIRM)
2. CAMUS HAROLD 16
KILBRIDE FARM NEWRY
CAMUS EASTER
M/S J H & V G WOOD
6. OVERHILL HOUSE HERCULES 16
CURAHEEN DRIFTER
WOODHALL ERICA
RICHARD MCCULLOCH
Interbreed – Beef Breeder Continental Champion
BLACKFORD IOLAIR 17
KILBRIDE FARM DOUBLEACTION 12
BLACKFORD WAXWING
MR W G MACPHERSON (A FIRM)