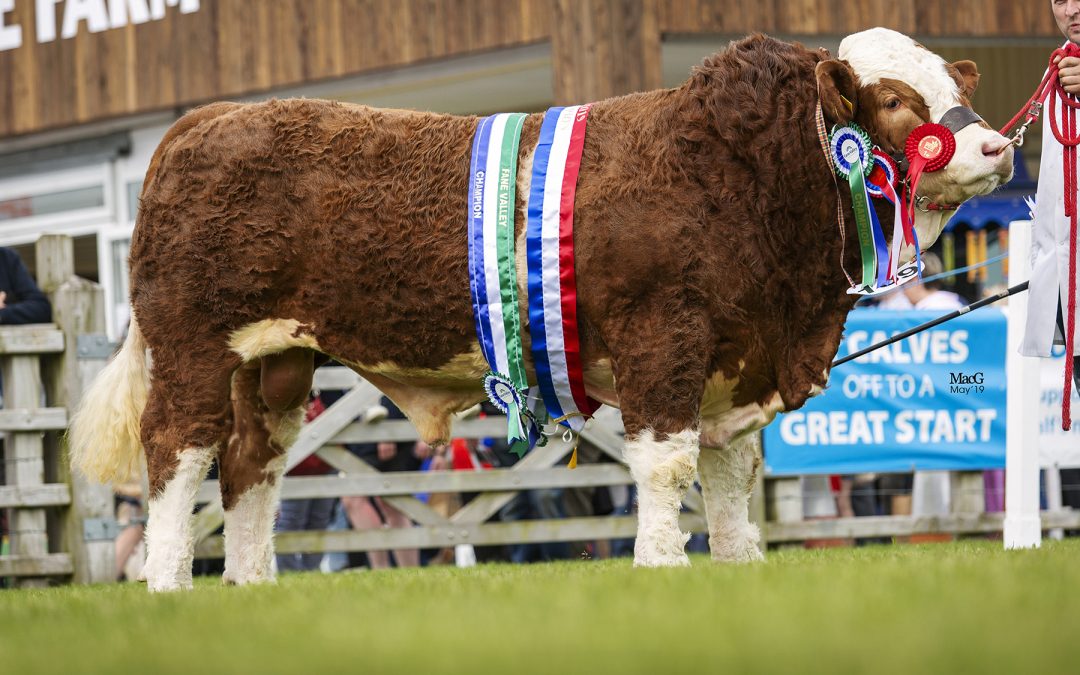 Judges report, Cecil McIlwaine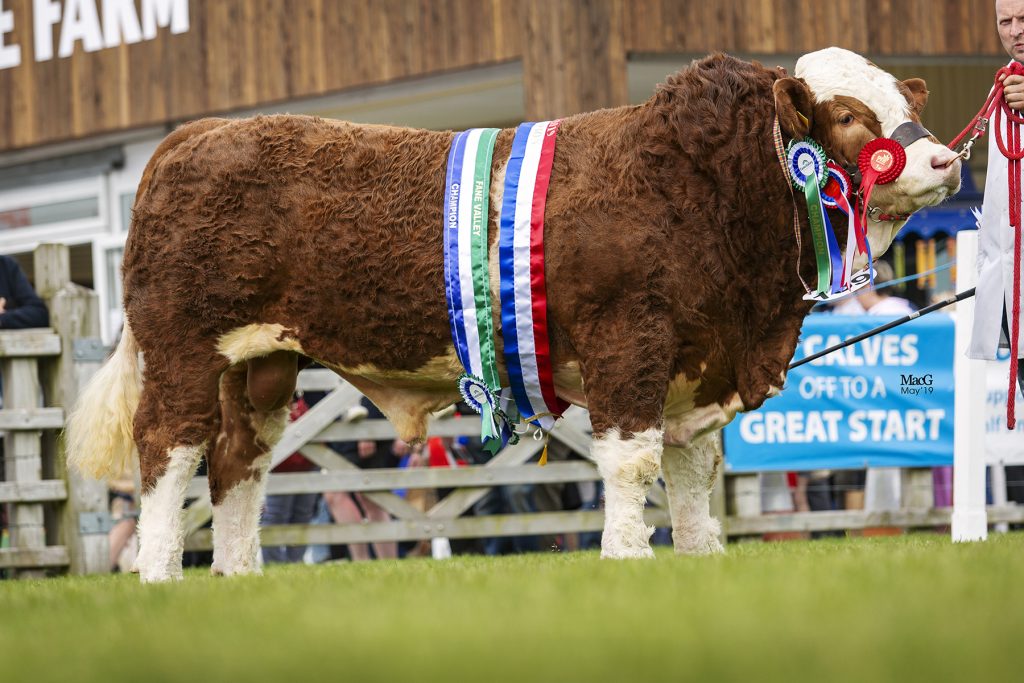 It was a great honour and privilege to judge the 151st Balmoral Show. I would like to thank the committee of the Royal Ulster Agricultural Society for inviting me. The weather was excellent, and this was a bonus for the exhibitors and spectators alike.
Due to the show being held early in the season and many part-time breeders the number of cattle forward was relatively small, but credit to the exhibitors, the quality was of a high standard.
With just two exhibits in the cow class, first place went to Ballinalare Farm Chanel followed by Guhard Dorothy. These were two useful cows.
As there was a single entry in the senior heifer class first place went to Ballinalare Farm Ivory. In the intermediate heifer class, pole position was held by Ranfurly Weikel 23rd followed by Breaghey Leading Lady and claiming the third ticket was Lisglass Isla. In the Junior Heifer class Cleenagh Jessica claimed first place followed closely in second place by Roscultan Jemina. These were two super heifers which should mature into excellent cows. In third position was another decent heifer namely Bannhill Farm Jinx.
With no entries in the Senior bull class the Junior Male section was led by Ranfurly Jameson J2 18, an outstanding young bull with tremendous power and scale. In second place was Bridgewater Farm Jed, this was another smart young bull with good potential followed by Bridgewater Farm Jenson from the same farm. Finally, in fourth place was Lisglass Jasper. The bulls in this class were all a credit to their breeders.
My Male and Overall Champion was undisputedly Ranfurly Jameson J2 18 and claimed reserve spot in the Interbreed Beef Recorder class. Reserve Male and Reserve Overall went to the Bridgewater herd with Bridgewater Farm Jed. Female Champion was Ranfurly Weikel 23rd I11 with Cleenagh Jessica in reserve position.
Finally, I would like to commend the exhibitors for presenting an excellent display of cattle and extend my sincere thanks to all the Stewards for carrying out their duties in a professional manner.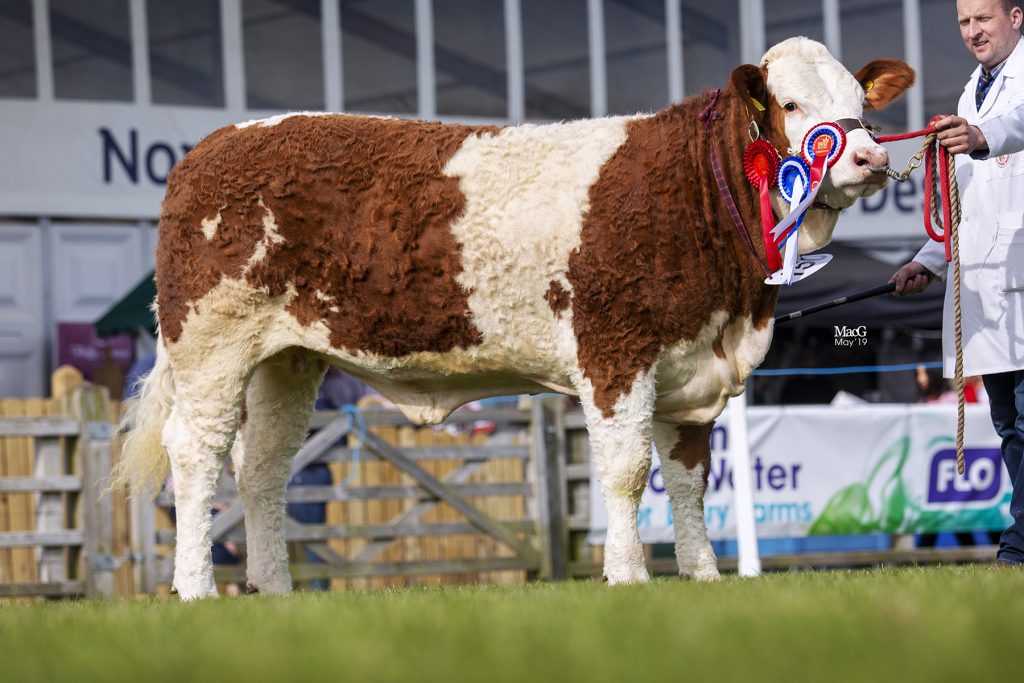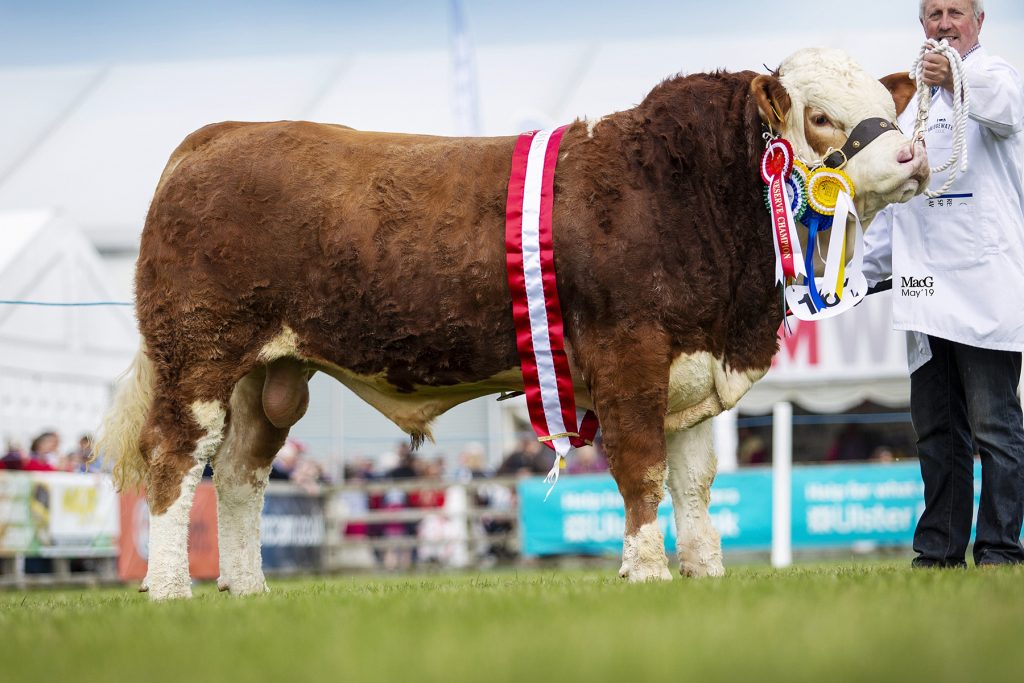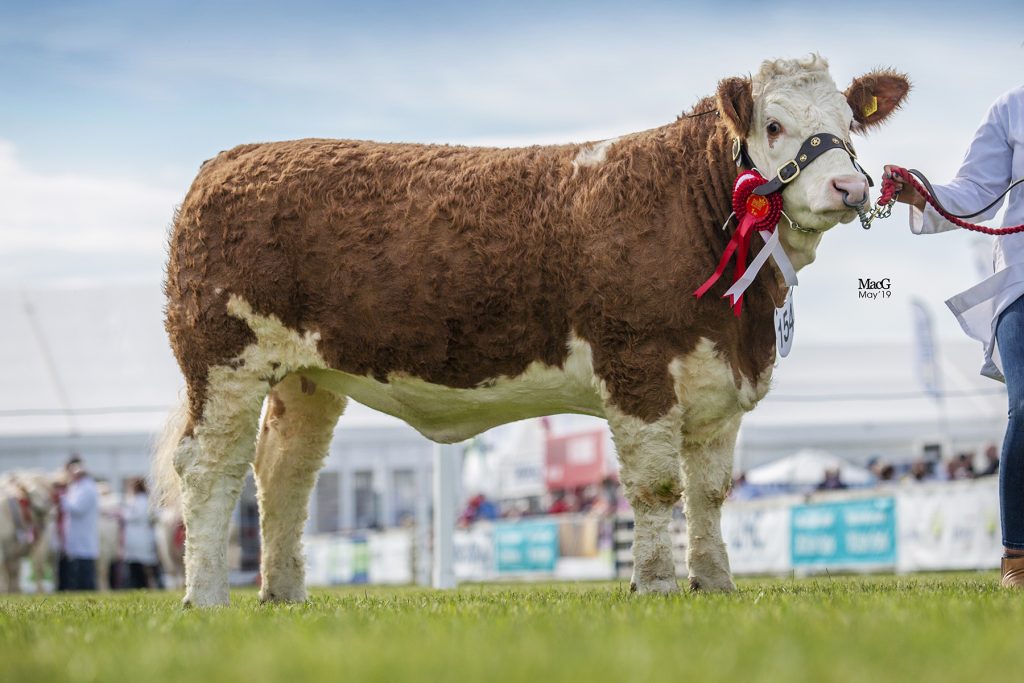 DATE: 15th May to 18th May 2019
JUDGE: Mr C Mcllwaine
CLASS & POSITION
NAME OF ANIMAL
SIRE
DAM
EXHIBITOR
Male Champion, Junior Champion & Overall Champion
RANFURLY JAMESON J2 18
RACEVIEW KING
RANFURLY WEIKEL 17TH G10 15
MR W D HAZELTON
Female Champion
RANFURLY WEIKEL 23RD I11
RACEVIEW KING
RANFURLY WEIKEL 11TH D3
MR W D HAZELTON
Reserve Male Champion & Reserve Overall Champion
BRIDGEWATER FARM JED 18
DERMOTSTOWN DELBOY
BRIDGEWATER FARM MEGAN
MR J N GLASGOW
Reserve Female Champion
CLEENAGH JESSICA
DERMOTSTOWN DELBOY
STRALONGFORD COURTNEY
ROBERT & JULIE STINSON
Cow, born before 1st January 2016, in calf or in milk having at least one calf
1. BALLINALARE FARM CHANEL
AUCHORACHAN WIZARD
KILBRIDE FARM EUNICE 26R
MR J & MR A WILSON
2. GUHARD DOROTHY
CURAHEEN APOSTLE (ET)
KILTEAN TARA
ESTHER O'NEILL
Heifer, born on or after 1st January 2017, and on or before 30th June 2017
1. BALLINALARE FARM IVORY
DENIZES FANTASTIC 14
BALLINALARE FARM VERITY
MR J & MR A WILSON
Heifer, born on or after 1st July 2017, and on or before 31st December 2017
1. RANFURLY WEIKEL 23RD I11
RACEVIEW KING
RANFURLY WEIKEL 11TH D3
MR W D HAZELTON
2. BREAGHEY LEADING LADY
WOODHALL EVERHART 13
MIDHOPE GEM
ANDREW W CLARKE
3. LISGLASS ISLA
RANFURLY CONFEDERATE C24 11
LISGLASS FABULOUS
J L & C J WEATHERUP
Heifer, born on or after 1st January 2018
1. CLEENAGH JESSICA
DERMOTSTOWN DELBOY
STRALONGFORD COURTNEY
ROBERT & JULIE STINSON
2. ROSCULTAN JEMIMA
DERMOTSTOWN DELBOY
CLEENAGH GAYNOR
ROBERT & JULIE STINSON
3. BANNHILL FARM JINX
RACEVIEW KING
BALLINALARE FARM FLEUR
ALAN WILSON
Bull, born on or after 1st January 2018
1. RANFURLY JAMESON J2 18
RACEVIEW KING
RANFURLY WEIKEL 17TH G10 15
MR W D HAZELTON
2. BRIDGEWATER FARM JED 18
DERMOTSTOWN DELBOY
BRIDGEWATER FARM MEGAN
MR J N GLASGOW
3. BRIDGEWATER FARM JENSON 18
RANFURLY CONFEDERATE C24 11
SLIEVENAGH CARA
MR J N GLASGOW
4. LISGLASS JASPER 18
MULLYKNOCK GALLANT 15
SLIEVEROE CAROLINE
J L & C J WEATHERUP
Pair of Animals
1. MR W D HAZELTON
2. MR J N GLASGOW
3. J L & C J WEATHERUP
Best Exhibit Bred in NI
1. RANFURLY JAMESON J2 18
RACEVIEW KING
RANFURLY WEIKEL 17TH G10 15
MR W D HAZELTON
2. BRIDGEWATER FARM JED 18
DERMOTSTOWN DELBOY
BRIDGEWATER FARM MEGAN
MR J N GLASGOW
Interbreed – Beef Recorded Heifer, continental breed, born on or after 1st July 2017
3. RANFURLY WEIKEL 23RD I11
RACEVIEW KING
RANFURLY WEIKEL 11TH D3
MR W D HAZELTON
Interbreed – Beef Recorded Bull, continental breed, born on or after 1st January 2018
2. RANFURLY JAMESON J2 18
RACEVIEW KING
RANFURLY WEIKEL 17TH G10 15
MR W D HAZELTON
Interbreed – Reserve Champion Inter Breed Performance bull
RANFURLY JAMESON J2 18
RACEVIEW KING
RANFURLY WEIKEL 17TH G10 15
MR W D HAZELTON