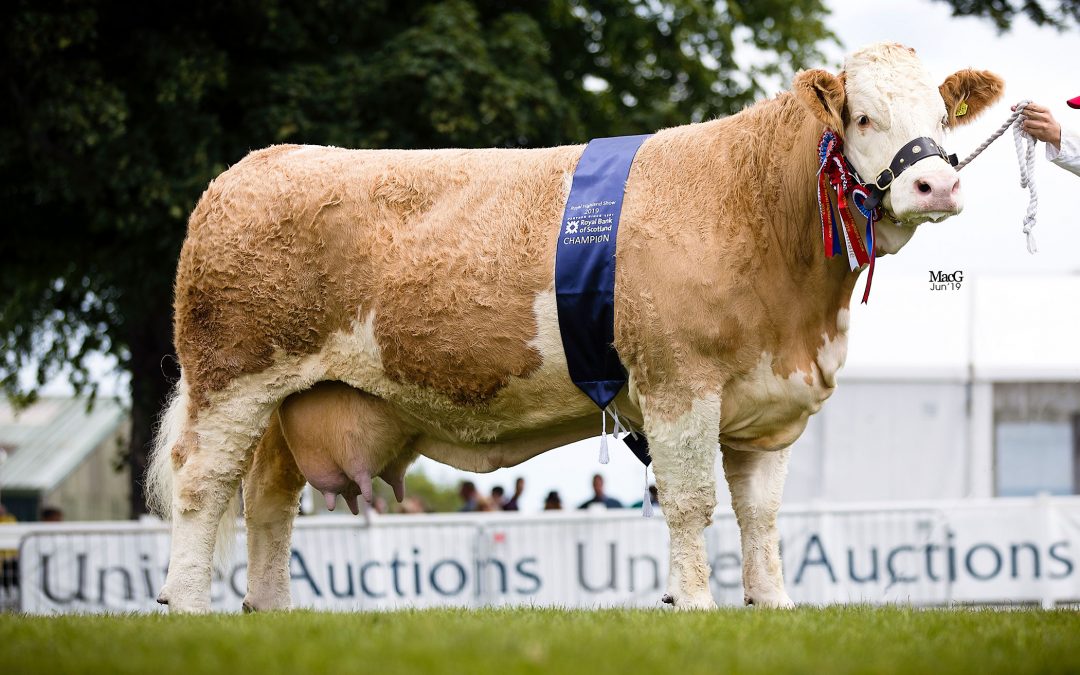 Judges Report, Stewart Stronach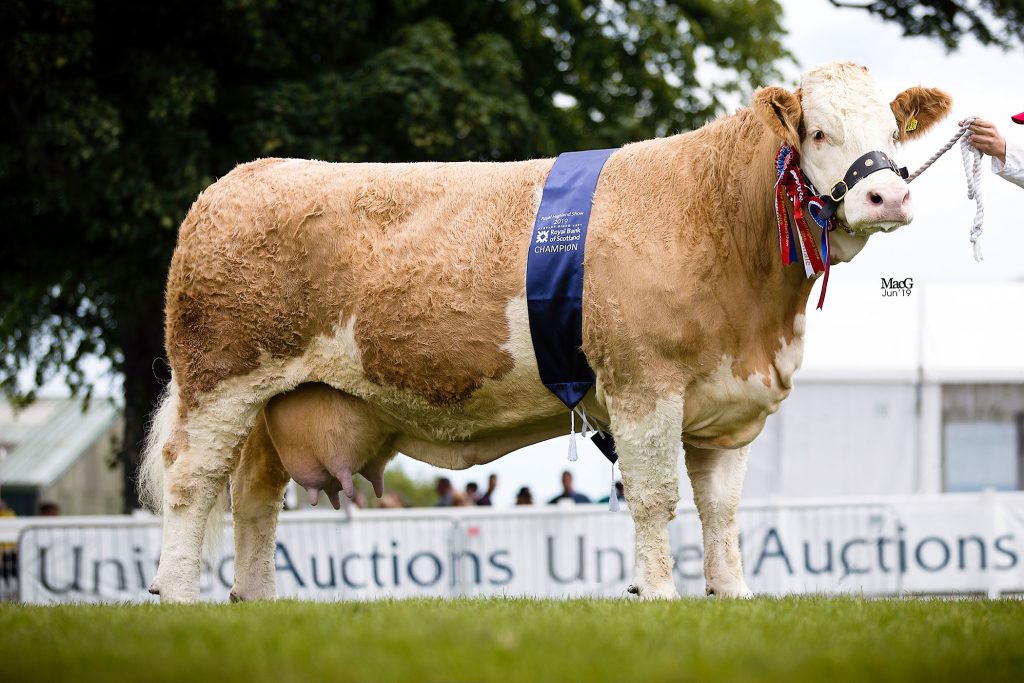 Firstly I would like to thank RHASS for their kind invitation to judge the 2019 Simmental classes at the Royal Highland Show. It was a great honour and privilege and definitely one off the bucket list. It was a cool, dry and blustery day, so good conditions for showing cattle. As I waited in the ring for the first class I can honestly say I had butterflies in my stomach, excited with anticipation for what the morning ahead had in store for me!
There were 12 heifers in the first class which all looked stunning entering the ring. I placed the youngest heifer 1st from Michael Barlow, Ashland Lucy Jezebel, a long heifer with great style. 2nd was Pitmudie Jamaica who was of a similar type to the 1st place heifer. 3rd went to Sacombe Hawaii Jessica, a different style of heifer carrying more flesh. Cairnveiw Rea took 4th, another good heifer with a great top.
The second class kept up the standard and my first pick was Frank Gwynne's Brandane J-Lo, a very correct heifer with length, power and great locomotion. Standing next to her in 2nd was Corskie Joanna, another good female however was carrying more condition and not the same power as my 1st place. 3rd was Garmouth Glory's Jessica from Laura Beattie, 4th came from Richard McCulloch with Overhill House Joon and Perrywood Jasmine was 5th.
The next class of females, born between July and the end of December 2017 presented me with an easy first, Corskie Illusion, who I thought at this stage would probably go further on the day. In 2nd was a really fleshy heifer from Heather Duff, Pitmudie Irish Mist, followed closely in 3rd place by Overhill House Ice Maiden. 4th went to a very well presented Newbiemains Isla.
The fourth class of heifers was very well supported with 9 animals forward. There was an obvious first in this class, Sterling's FUCK Implus, from Reece and Andrew Simmers. A very eye catching animal, with an abundance of breed character, very fleshy but moving well round the ring. 2nd was Garmouth Dumandy Isabella, 3rd Pitmudie Florin 2nd, 4th Corskie Inita and Jim and Patricia Goldie collected the 5th and 6th rosettes.
I found the next class extremely hard to judge, comparing in calf heifers and heifers with a calf at foot is always a difficult task I find. After some serious deliberation I placed 1st a very sweet and milky heifer from Michael Durno in the form of Auchorachan Letta H1 . She was working very hard and making a grand job of her little heifer calf. 2nd and 3rd went to the Green family from Corskie with Corskie Herb and Corskie Harp . Harry Houldey took 4th with Clonagh Honey Cream.
There was only one entry in the next class, Cairnview Tilly 4th, she walked round the ring, moving very well and with a great calf at foot.
The oldest cow class, born before 2013 only had one animal forward also, Corskie Disco. She immediately owned the ring with her twin calves. At 7 years old her locomotion was excellent moving gracefully with impressive style and breed character. I was looking forward to how she would stand up later in the day and thinking she was going to be hard to beat.
The junior female championship was next on the list to judge and I was very pleased with my 1st prize junior heifers as the returned to the ring. The Junior Female Championship went to Corskie Illusion, she had tremendous length, width and locomotion, a great cow in the making. Reserve went to Newbiemains I'm a Gem.
The Overall Female Championship was next and the powerful, elegant Corskie Disco was an easy winner with Sterling's FUCK Implus from the Simmers boys an obvious reserve.
Moving onto the first of the male classes, where I feel more at home judging, there were 7 bulls forward. The red ticket in this class went to Lynfield Joseph, a long well grown bull who moved well. 2nd went to the Smith family from Drumsleed in the form of Drumsleed Jura and 3rd to Nick and Nadia Gwynne with Chestermann Jimmy.
The bull class aged between January and March 2018 had a large entry on 9. Greencap Jaeger was my pick, a long dark red bull showing great style and potential. 2nd went to a real muscle machine, Cargill JJ from D C McLaren & Partners followed by Chestermann Jupiter in 3rd and a close 4th for Drumsleed Jaeger.
The senior bull class had two entries, both Denizes Hamish and Drumsleed Hivy showed great breed character however it was Hivy that took the red rosette on the day as he carried himself well, moved effortlessly around the ring with an outstanding presence.
My Junior Male Champion went to Greencap Jaeger from Colin Inglis. A very eye catching bull in the ring and I remember thinking he should go on to become a future pedigree stock bull. Jaeger also went onto become the Overall Junior Champion, with the reserve going to Corskie Illusion. Both great examples of the Simmental breed, Illusion a modern and well-rounded heifer however Jaeger just had more style and show character on the day.
Drumsleed Hivy returned to the ring to compete against Greencap jaeger for the Overall Male Championship. I really liked Colin's young bull but the sheer power of Hivy made him my worthy Champion.
I was very happy as my male and female champions entered the ring for the final time. Two tremendous animals which had left me with a very hard decision to make. But the gracefulness of Corskie Disco had won me over, she was a stunning cow and a true matriarch of the breed and I was delighted to award her and the Green family the RHS 2019 Championship. Sterling's FCUK Impuls took the reserve Champion, a heifer who I'm sure will have plenty of success at shows in the future!
As I reflect on my judging, I'd like to take the opportunity to say how very proud I am to be part of the Simmental breed. I was very impressed by the presentation and quality of the animals paraded in front of me and I would like to congratulate every exhibitor for taking part and showcasing the breed for all to see.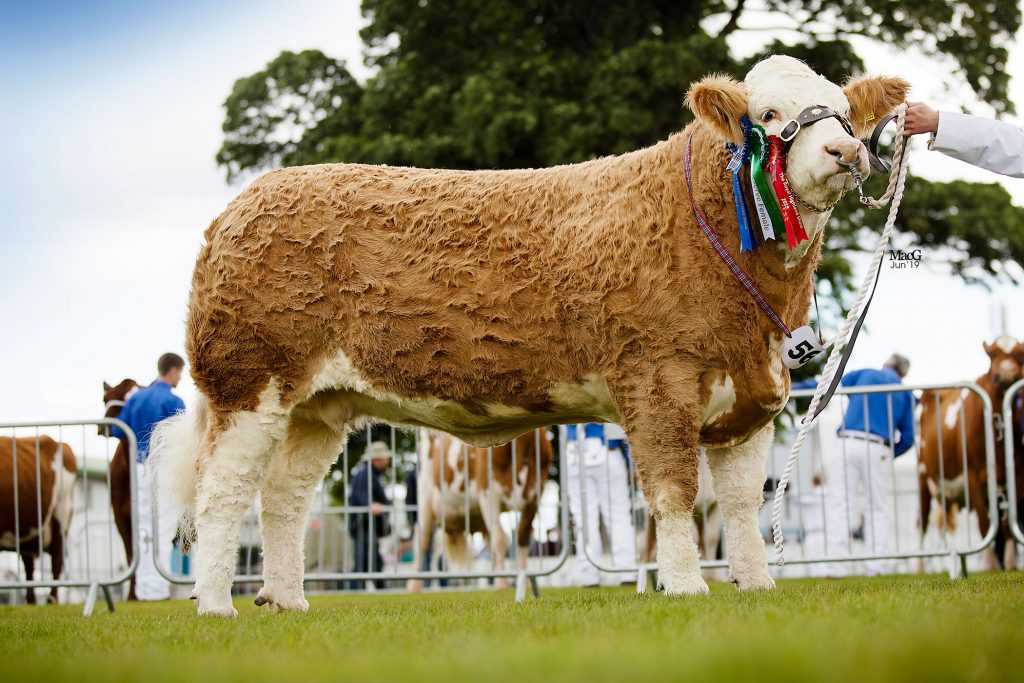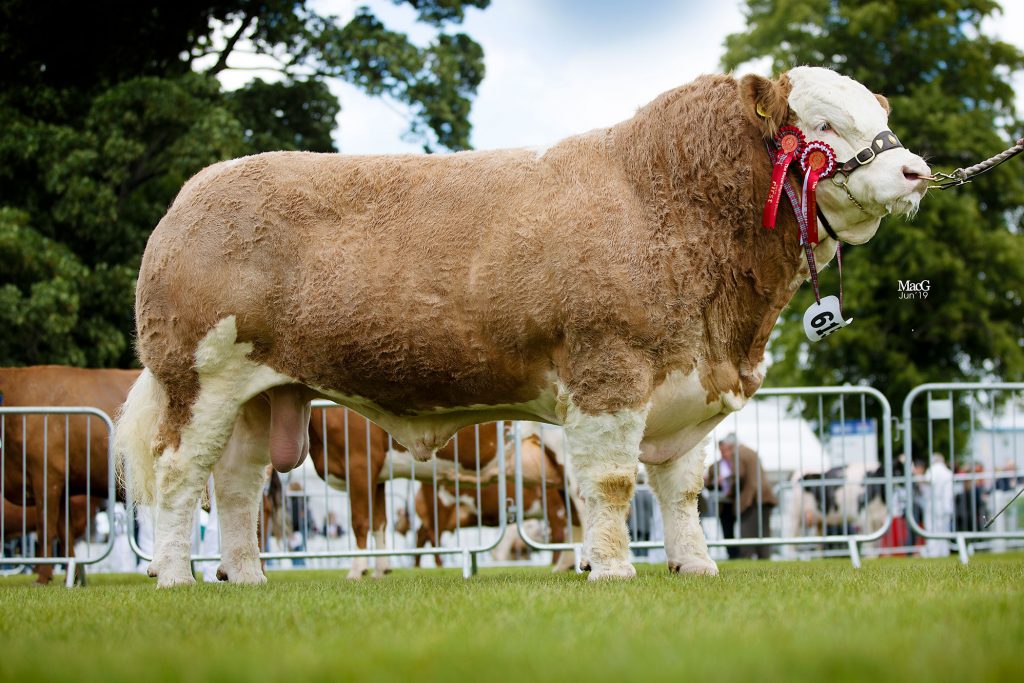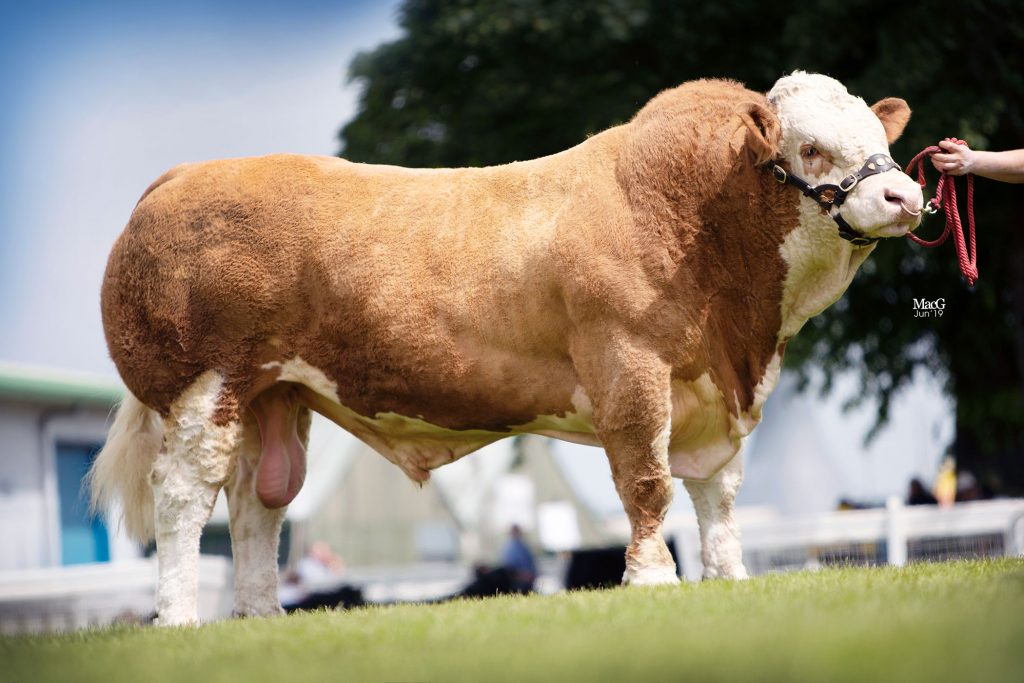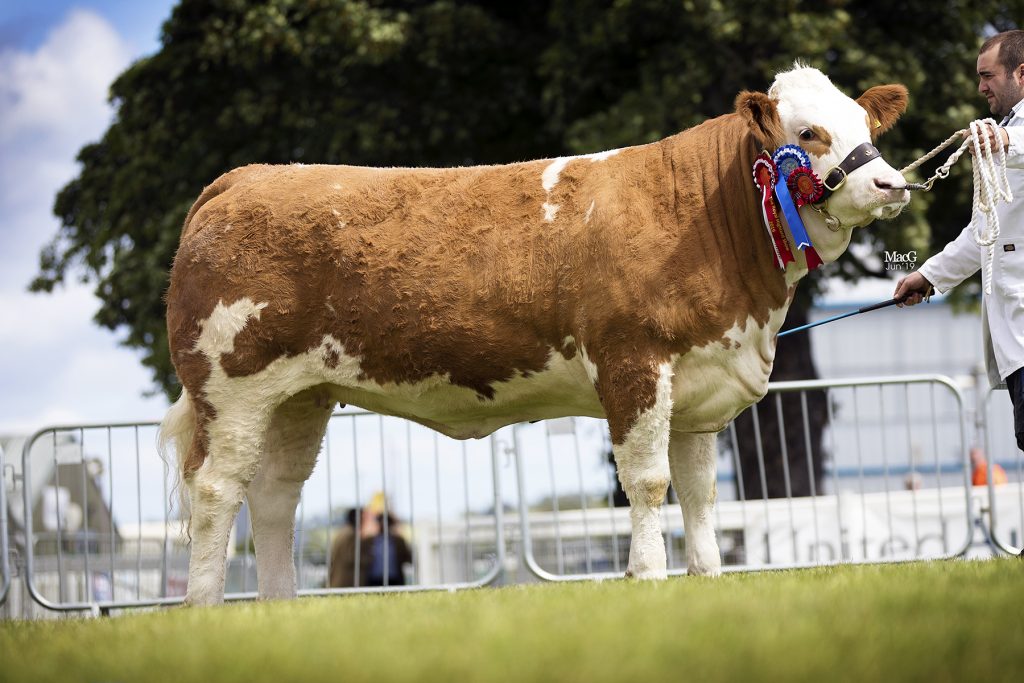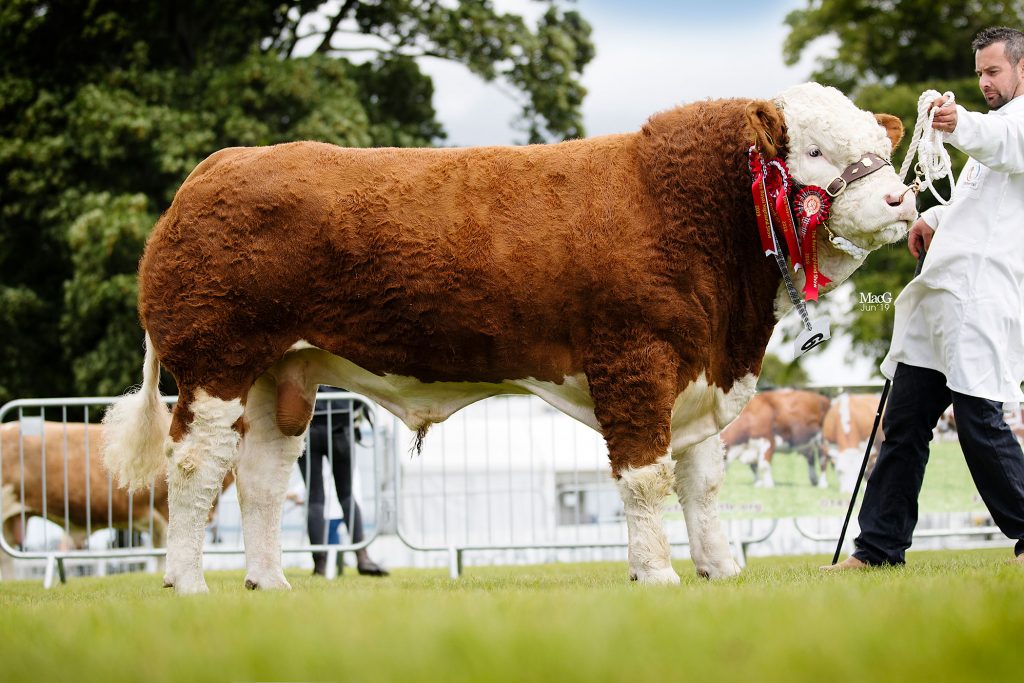 DATE: 20th June to 23rd June 2019
JUDGE: Mr S Stronach
CLASS & POSITION
NAME OF ANIMAL
SIRE
DAM
EXHIBITOR
Best Female, Best Animal Bred by Exhibitor, Best Cow with Calf at Foot (judged as a pair) & Overall Champion
CORSKIE DISCO
ISLAVALE SABRE
CORSKIE SWIRL
MR WJ & J GREEN
Reserve Best Female & Reserve Overall Champion
STERLING FCUK IMPULS
STERLING GINO 15
STERLING CANDY'S F.C.U.K
REECE & ANDREW SIMMERS
Best Bull & Breeder of Best Bull
DRUMSLEED HIVY 16
HAYSTAR CRACKER 11
DRUMSLEED VALONIA
MR G W SMITH
Best Junior Female, Reserve Junior Champion & Best Animal of Opposite sex to the Junior Champion
CORSKIE ILLUSION
AUCHORACHAN FARMER 14
CORSKIE CHAMPAGNE
MR WJ & J GREEN
Junior Champion & Best Junior Bull
GREENCAP JAEGER 18
DENIZES FABIO 14
GREENCAP FEE
COLIN INGLIS
Reserve Junior Female
NEWBIEMAINS I'M A GEM
NEWBIEMAINS GOLDEN EYE 15
NEWBIEMAINS GEM
JIM & PATRICIA GOLDIE
Reserve Junior Bull
DARGILL J J 18
KILBRIDE FARM DOUBLEACTION 12
DARGILL CASSIE
J C MCLAREN & PARTNERS
Reserve Bull
DENIZES HAMISH 16
DINTON NAUTICAL
AUROCH EVE
MR M A BARLOW
Female Born on or after 1st April 2018
1. ASHLAND LUCY JEZEBEL
TEAM CELTIC 11
ASHLAND LUCY 5TH
MR M A BARLOW
2. PITMUDIE JAMAICA
OVERHILL HOUSE ERAGON 13
DELFUR MARGARET C32
HEATHER DUFF
3. SACOMBE HAWAII'S JESSICA
STERLING HAYMAKER 16
STERLING BACARDI'S HAWAII
MR & MRS P B & J A BORLASE
4. CAIRNVIEW REA 7TH
WOODHALL FERRARI 14
CAIRNVIEW REA 1ST
MR A J WILSON
5. CHESTERMANN EMPIRE MABLI 3
STERLING EMPIRE 13
CHESTERMANN RINGLEADER MABLI 4
MESSRS N & N GWYNNE
6. CORSKIE JASMINE
BEL DHU CAPERCAILLIE 11
CORSKIE WILLOW
MR WJ & J GREEN
Female born between 1st January & 31st March 2018
1. BRANDANE J-LO
TEAM CELTIC 11
STERLING BACARDI'S FUNKY
FRANK GWYNNE
2. CORSKIE JOANNA
STERLING VIKING 2ND
STERLING NAOMI'S DANA
MR WJ & J GREEN
3. GARMOUTH GLORY'S JESSICA
BEL DHU CAPERCAILLIE 11
STERLING DUMANDY GLORY
LAURA GREEN
4. OVERHILL HOUSE JOON
OVERHILL HOUSE FADDEN 14
WOODHALL DANIELLE
RICHARD MCCULLOCH
5. PERRYWOOD JASMINE
DERRYCALLAGHAN GAMBLER 15
PERRYWOOD WISPA
MISS B A BORLASE
Female born on or between 1st July & 31st December 2017
1. CORSKIE ILLUSION
AUCHORACHAN FARMER 14
CORSKIE CHAMPAGNE
MR WJ & J GREEN
2. PITMUDIE IRISH MIST
HILTONSTOWN FERRARI 14
DELFUR BOBETTE C27
HEATHER DUFF
3. OVERHILL HOUSE ICE MAIDEN
CURAHEEN DRIFTER
RACEVIEW EUREKA VELVET 630
RICHARD MCCULLOCH
4. NEWBIEMAINS ISLA
WOODHALL FANTASTIC 14
NEWBIEMAINS GRACIOUS
JIM & PATRICIA GOLDIE
5. JENNALYN JELLYBEAN NORA
CLONAGH WORLD CLASS
JENNALYN FLORA NORA
MR D C HOULDEY
6. SPRINGFIELD ICONIC
SHILOH FREEDOM
HAZELDEN JINGLE 40TH
GAVIN BROWN
Female born on or between 1st January & 30th June 2017
1. STERLING FCUK IMPULS
STERLING GINO 15
STERLING CANDY'S F.C.U.K
REECE & ANDREW SIMMERS
2. GARMOUTH DUMANDY'S ISABELLA
BEL DHU CAPERCAILLIE 11
STERLING VERITY'S DUMANDY
LAURA GREEN
3. PITMUDIE FLORIN 2ND
CAIRNORRIE FERRARI 14
PITMUDIE FLORIN
HEATHER DUFF
4. CORSKIE INITA
AULTMORE FRANCO 14
CORSKIE ANITA
MR WJ & J GREEN
5. NEWBIEMAINS I'M A GEM
NEWBIEMAINS GOLDEN EYE 15
NEWBIEMAINS GEM
JIM & PATRICIA GOLDIE
6. NEWBIEMAINS ICANDY
WOODHALL FANTASTIC 14
NEWBIEMAINS FLORA
JIM & PATRICIA GOLDIE
Female, having calved before 3 years of age or due to calve before 3 years of age, in Milk or in Calf, born in 2016
1. AUCHORACHAN LETTA H1
TEAM FERGUS 14
AUCHORACHAN DYNASTY
D & R DURNO & SONS
2. CORSKIE HERB
BEL DHU CAPERCAILLIE 11
CORSKIE DILL
MR WJ & J GREEN
3. CORSKIE HARP
CELTIC ROCK
CORSKIE ELECTRA
MR WJ & J GREEN
4. CLONAGH HONEY CREAM
KILBRIDE FARM DRAGOON 12
CLONAGH EXPENSIVE CREAM
MR D C HOULDEY
Female, born in 2014 or 2015 in Milk or Certified in Calf at time of Show
1. CAIRNVIEW TILLY 4TH
WESTVIEW ELMO 13
CAIRNVIEW TILLY
MR A J WILSON
Female, born on or before 31st December 2013, in Milk or Certfiedin Calf at time of Show
1. CORSKIE DISCO
ISLAVALE SABRE
CORSKIE SWIRL
MR WJ & J GREEN
Bull born on or after 1st April 2018
1. LYNFIELD JOSEPH 18
DENIZES EXCLUSIVE 13
LYNFIELD PRECIOUS 5
M/S A E & C BISHOP
2. DRUMSLEED JURA 18
KILBRIDE FARM BENONE 10
DRUMSLEED VALTINA
MR G W SMITH
3. CHESTERMANN JIMMY 18
OVERHILL HOUSE DATA 12
CHESTERMANN BASTION HILARY
MESSRS N & N GWYNNE
4. SACOMBE JUGGERNAUT 18
DERRYCALLAGHAN GAMBLER 15
SACOMBE DANDELION-OMA
MR & MRS P B & J A BORLASE
5. PITMUDIE JOSKIN 18
DELLFIELD GOLDENEYE 15
MANOR PARK BABE
HEATHER DUFF
6. DRUMSLEED JIGSAW 18
WOLFSTAR GORDY 15
DRUMSLEED FIESTA 14
MR G W SMITH
Bull born on or between 1st January & 31st March 2018
1. GREENCAP JAEGER 18
DENIZES FABIO 14
GREENCAP FEE
COLIN INGLIS
2. DARGILL J J 18
KILBRIDE FARM DOUBLEACTION 12
DARGILL CASSIE
J C MCLAREN & PARTNERS
3. CHESTERMANN JUPITER 18
ATLOW DIXON 12
DEERHURST GI-GI 15
MESSRS N & N GWYNNE
4. DRUMSLEED JAGGER 18
WOLFSTAR GORDY 15
DRUMSLEED CARRIE
MR G W SMITH
5. DARGILL JABA 18
KILBRIDE FARM DOUBLEACTION 12
KINNINMONTH ABBY
J C MCLAREN & PARTNERS
6. PITMUDIE JEFFERY 18
ISLAVALE GOLDEN BOY 15
PITMUDIE FLORIN
HEATHER DUFF
Bull born on or before 31st December 2016
1. DRUMSLEED HIVY 16
HAYSTAR CRACKER 11
DRUMSLEED VALONIA
MR G W SMITH
2. DENIZES HAMISH 16
DINTON NAUTICAL
AUROCH EVE
MR M A BARLOW
Best Group consisting of one bull and two females, al the property of one Exhibitor
1. GARMOUTH GLORY'S JESSICA
BEL DHU CAPERCAILLIE 11
STERLING DUMANDY GLORY
LAURA GREEN
1. GARMOUTH DUMANDY'S ISABELLA
BEL DHU CAPERCAILLIE 11
STERLING VERITY'S DUMANDY
LAURA GREEN
1. CORSKIE HERB
BEL DHU CAPERCAILLIE 11
CORSKIE DILL
MR WJ & J GREEN
Interbreed – Beef Interbreed Team Competition
5. CORSKIE DISCO
ISLAVALE SABRE
CORSKIE SWIRL
MR WJ & J GREEN
5. CORSKIE HARP
CELTIC ROCK
CORSKIE ELECTRA
MR WJ & J GREEN
5. AUCHORACHAN LETTA H1
TEAM FERGUS 14
AUCHORACHAN DYNASTY
D & R DURNO & SONS
5. DRUMSLEED HIVY 16
HAYSTAR CRACKER 11
DRUMSLEED VALONIA
MR G W SMITH
Interbreed – Beef Recorded Bull (Continental) breeds – Class A
6. PITMUDIE JEFFERY 18
ISLAVALE GOLDEN BOY 15
PITMUDIE FLORIN
HEATHER DUFF
Interbreed – Beef Recorded Bull (Continental) Breeds – Class B
3. PITMUDIE JOSKIN 18
DELLFIELD GOLDENEYE 15
MANOR PARK BABE
HEATHER DUFF
5. DRUMSLEED JURA 18
KILBRIDE FARM BENONE 10
DRUMSLEED VALTINA
MR G W SMITH
6. LYNFIELD JOSEPH 18
DENIZES EXCLUSIVE 13
LYNFIELD PRECIOUS 5
M/S A E & C BISHOP