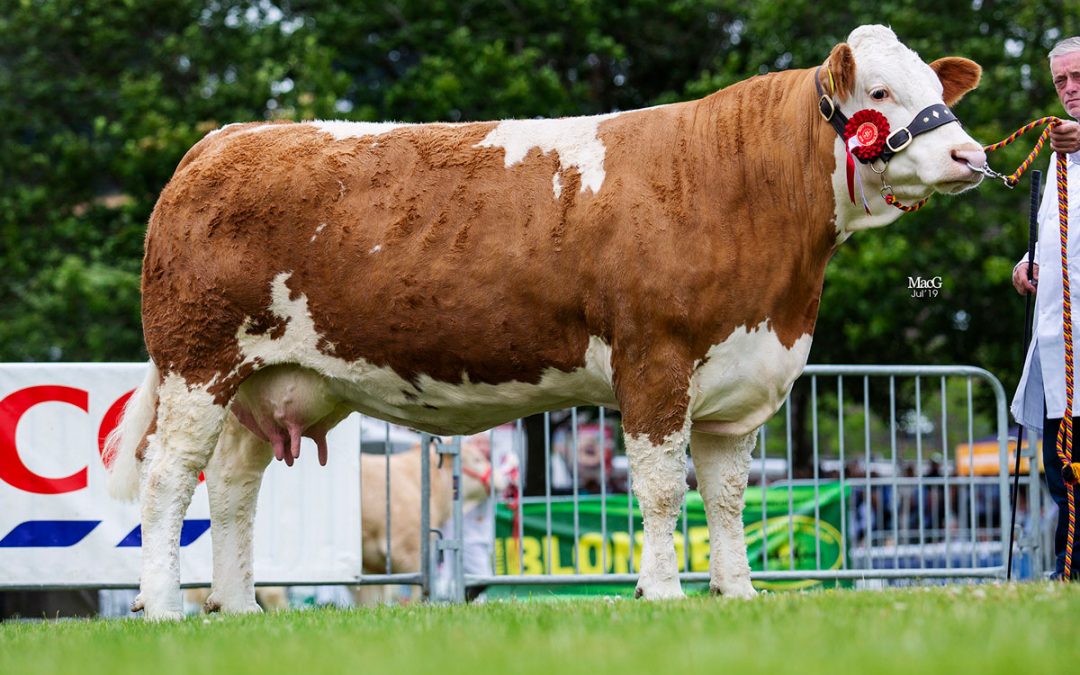 Judges Report, David Donnelly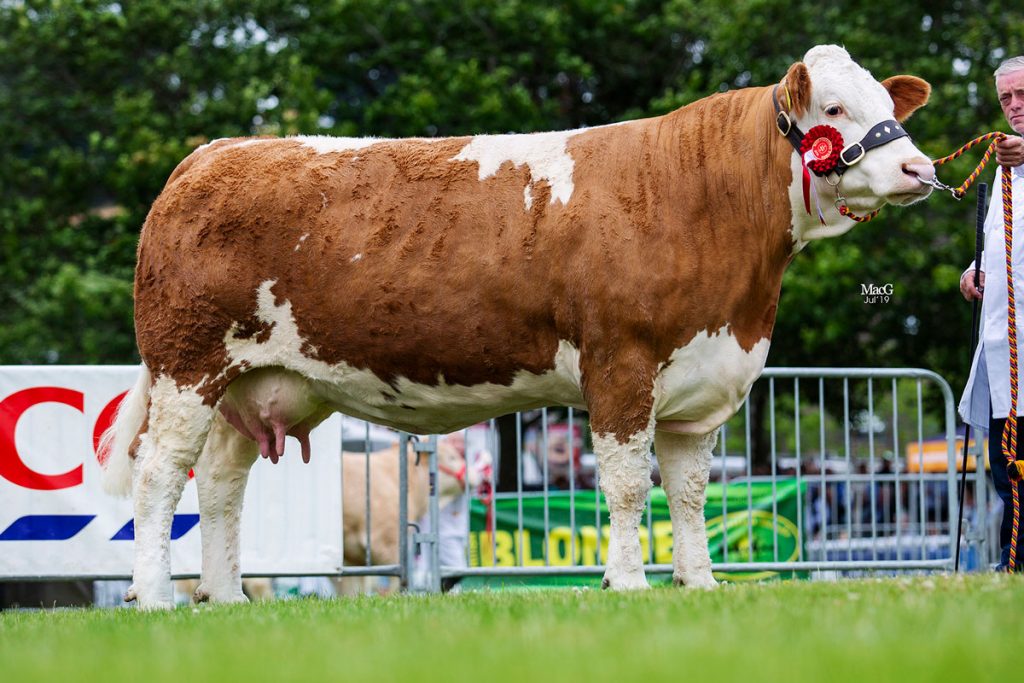 When asked to judge your own breed at a show it is and will always remain an honour and something you never forget.
When that request is to Judge a ROYAL SHOW your hopes and expectations move to another level.
Although honoured and grateful to be asked to Judge the ROYAL WELSH SHOW my hopes of having large numbers of quality cattle paraded with classes being contested by 6 or more in each class, all looking to receive the red card never materialized with only 2 members from Wales (2 animals), 1 member from Scotland (1 animal), 1 member from England (5 animals) attending bringing an overall total of 8 animals to contest all of the classes.
As a society I think the time has arrived when we along with others provide money to members to help cover entry costs/time, especially if we want to be seen promoting our breed at certain large shows to try and halt this downward trend of animals forward.
The Highland/English National clearly don't need the same kind of input, however clearly the Welsh and possibly Balmoral along with other more local well-known venues could be looked at as requiring special support.
The animals forward were of great credit to their owners who had taken the time and trouble to attend, especially those from England and Scotland as without these numbers we would have been in a terrible position.
It would be wrong of me to start a report without highlighting the outstanding animal on the day from the Borlase family, Sacombe Dandelion-Oma who I placed Female and Overall Champion and who then went on to become the Supreme Interbreed Champion of the ROYAL WELSH SHOW, from such a low number of animals forward the Simmental breed/members had still managed to present/receive the top award and my/our thanks must go to the Borlase family for supporting our breed and hope they continue with Jimmy bringing their cattle out as only he can.
The young bull class had the most entered (4) with the red card going to Sacombe Joker (F) a very nice well-balanced bull closely followed by the two Welsh members entries from the Jones/Davies families.
There was only one animal in the 2017 Heifer Class: –
Overhill House Ice Maiden from the McCulloch family.
There were 2 animals in the 2018 Heifer Class: –
1st Perrywood Jasmine (Miss B Borlase)
2nd Sacombe Jenna-Laube (Mr & Mrs P.B and J.A Borlase)
Initially although disappointed with regards numbers forward, this changed in the afternoon, where we were all excited especially yours truly to see our Champion going on to receive the top Interbreed honours.
Well done and thank you to those of you who attended/paraded animals and provided a welcome for everyone on the members stand.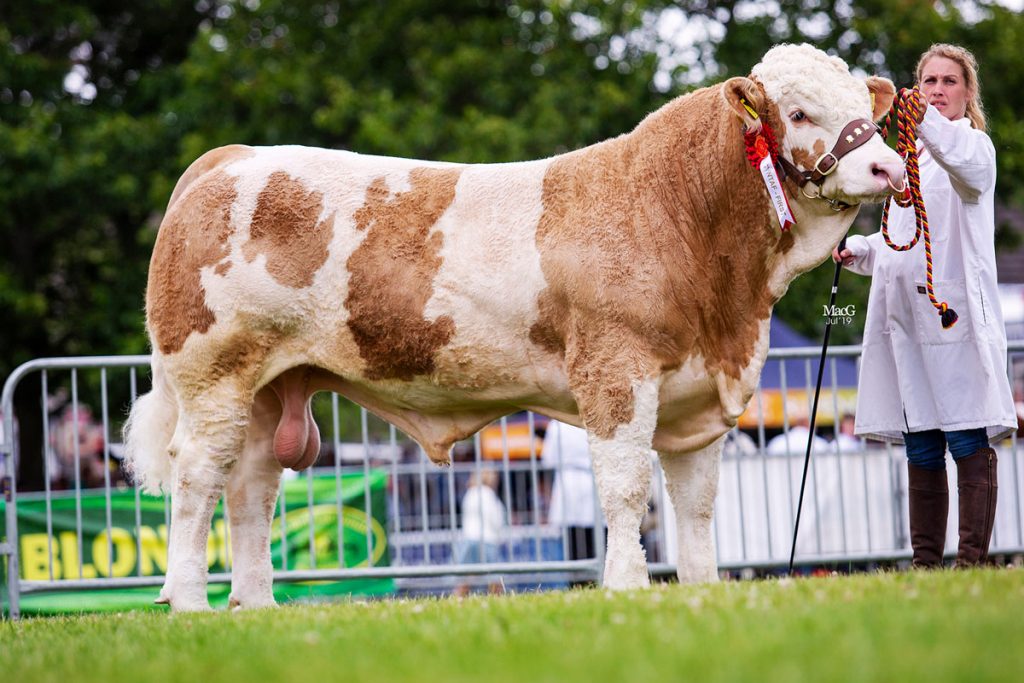 DATE: 22nd July to 25th July 2019
JUDGE: Mr D Donnelly
CLASS & POSITION
NAME OF ANIMAL
SIRE
DAM
EXHIBITOR
Overall Breed Champion & Interbreed Beef Champion
SACOMBE DANDELION-OMA
CLONAGH WORLD CLASS
SACOMBE VIVIENNE-OMA
MR & MRS P B & J A BORLASE
Reserve Overall Champion & Reserve Junior Interbreed Beef Champion
SACOMBE JOKER P 18
LANGMOSE LUDVIG
SACOMBE FOXY-BOUQUETTE
MR & MRS P B & J A BORLASE
Bull born on or after 1st April 2018.
1. SACOMBE JOKER P 18
LANGMOSE LUDVIG
SACOMBE FOXY-BOUQUETTE
MR & MRS P B & J A BORLASE
2. BANWY JACKPOT 18
CLONAGH TIGER GALLANT
BANWY DIOR
MR R E JONES
3. HIRWAUN JIMMY-MAC 18
PENWERN AMBER 09
DEERHURST DARLING
MR A DAVIES
4. SACOMBE JUGGERNAUT 18
DERRYCALLAGHAN GAMBLER 15
SACOMBE DANDELION-OMA
MR & MRS P B & J A BORLASE
Cow, in calf or with calf at foot, born on or before 31st December 2014
1. SACOMBE DANDELION-OMA
CLONAGH WORLD CLASS
SACOMBE VIVIENNE-OMA
MR & MRS P B & J A BORLASE
Heifer, born on or between 1st September 2017 & 31st December 2017
1. OVERHILL HOUSE ICE MAIDEN
CURAHEEN DRIFTER
RACEVIEW EUREKA VELVET 630
RICHARD MCCULLOCH
Heifer born on or after 1st January 2018
1. PERRYWOOD JASMINE
DERRYCALLAGHAN GAMBLER 15
PERRYWOOD WISPA
MISS B A BORLASE
2. SACOMBE JENNA – LAUBE
DERRYCALLAGHAN GAMBLER 15
SACOMBE WAIKIKI- LAUBE
MR & MRS P B & J A BORLASE
Reserve Champion of Champions
SACOMBE DANDELION-OMA
CLONAGH WORLD CLASS
SACOMBE VIVIENNE-OMA
MR & MRS P B & J A BORLASE