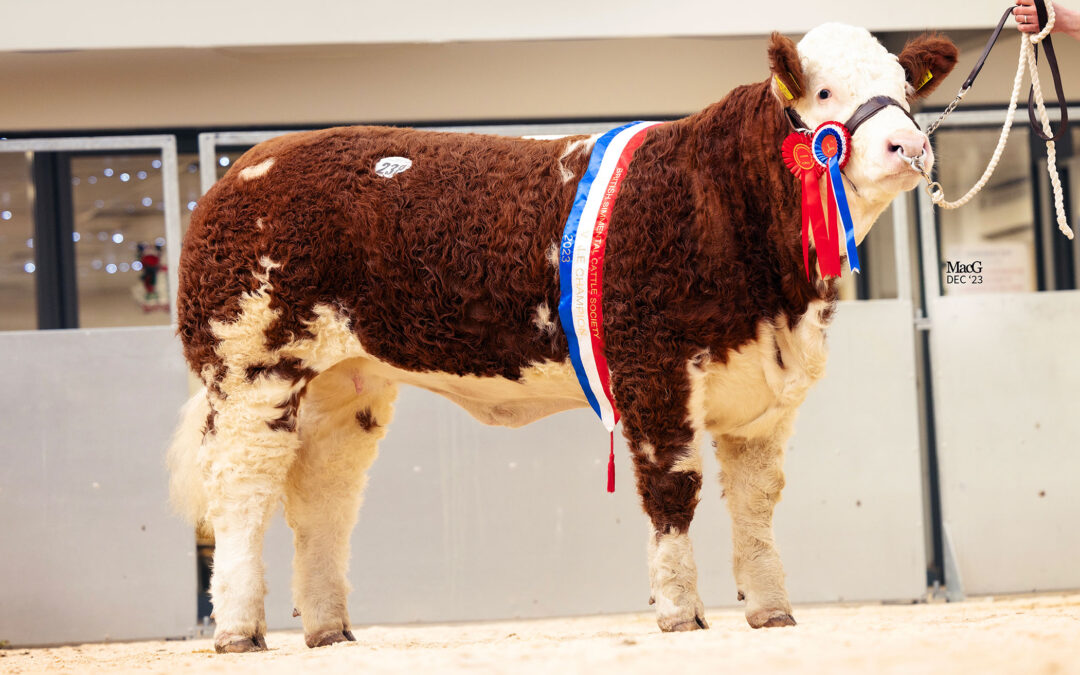 • 26,000gns a record for a NI Simmental female, and a sale centre record
• 34 heifers average £5583.53, a sale record average and up by +£363
• Denizes sell two heifers at 10,000gns
• Islavale Peaches, Weaned Calf Champion, makes 9000gns
The classy October 2022 born heifer Coolcran Heidis Noreen from Shane and Paul McDonald, Coolcran, Tempo, Co Fermanagh, sold for 26,000gns to lead the third staging of the Next Generation Sale of Simmental Females & Weaned Calves at H&H's Borderway Mart, Carlisle, held on Friday 1st December.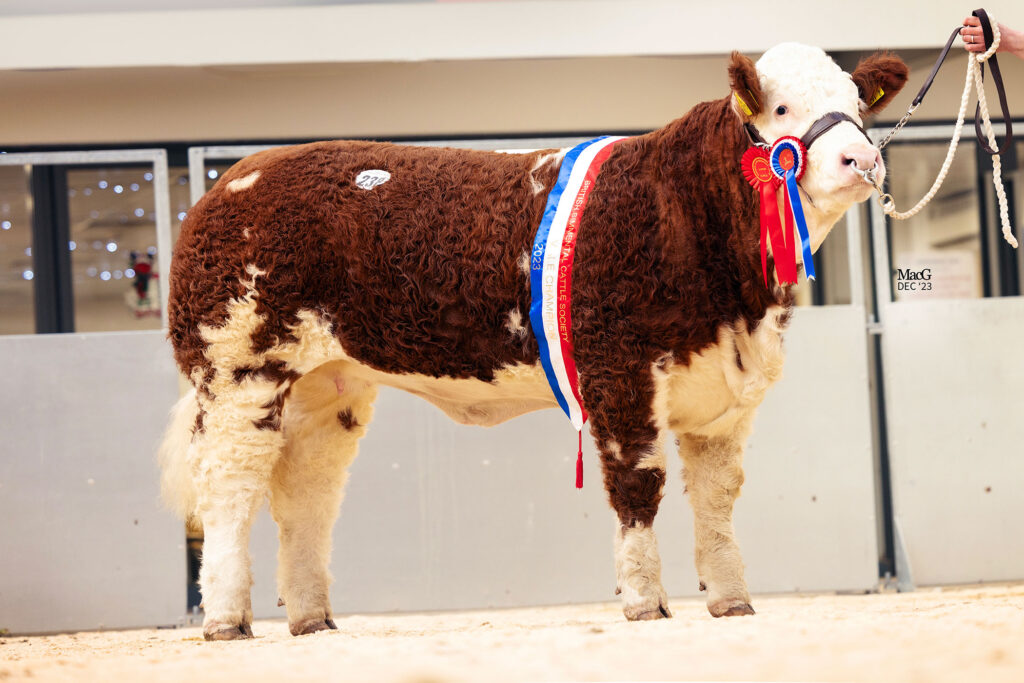 Earlier in the day Coolcran Heidis Noreen had won the Overall Supreme Female Championship in front of the judge Reece Simmers from the noted Backmuir herd, Keith, Banffshire. Come sale time the opening bid of 10,000gns set the tone for some spirited bidding and with Reece Simmers backing up his judging by purchasing the Champion. Coolcran Heidis Noreen, who had secured a number of show titles through the summer in Northern Ireland, is by the AI sire Saltire Impressive, and is out of Coolcran Ellas Heidi.
Commenting afterwards Reece Simmers said: "This was just a tremendous heifer with great style, presence, and quality. She is long and clean with a great top line and good plates. Every angle you looked at her she was just full of class and very feminine. Coming to the sale we had no real thought to buying but this was just a complete Simmental heifer of a quality that you don't see very often, she was a clear Champion in my eyes, and we're delighted to have been able to buy her."
The 26,000gns was a new record for a NI Simmental female, and was also a new Next Gen Sale, and Simmental centre record. With four animals on the day making over 10,000gns, the 34 served/maiden heifers sold averaged £5583.53 up by +£363 on the year, and again a new record average for the sale. Three weaned heifer calves averaged £5180, and the one cow and calf in the catalogue made £6300. The sale saw some strong bidding for the quality lots on offer from a combination of existing and new breeders.
For Shane and Paul McDonald, Friday 1st December 2023 was a "special day we will always remember for the rest of our lives." Speaking after the sale Shane McDonald said: "Coolcran Heidi's Noreen was just a stand-out calf from birth, and from one of the main family lines in the herd. She was a calf that had the potential to develop into something special and she always caught the eye of any visitors to the herd. Following attending the first Next Gen Sale in 2021, we had liked the format and the idea behind it. As such we were very keen to support it if we could and with something top drawer. After a very successful summer show season, and very strong interest in Noreen, we decided to enter her. For her to make 26,000gns and to set a new NI Simmental female is just something we could never have anticipated. We're delighted that she's gone to such a noted herd as Backmuir and we wish them every success with her."
The Coolcran herd was established in 2006 and presently comprises of 20 breeding females. The herd's previous top price had been 7000gns for Coolcran Dazzler the Intermediate Champion at Stirling in February 2014.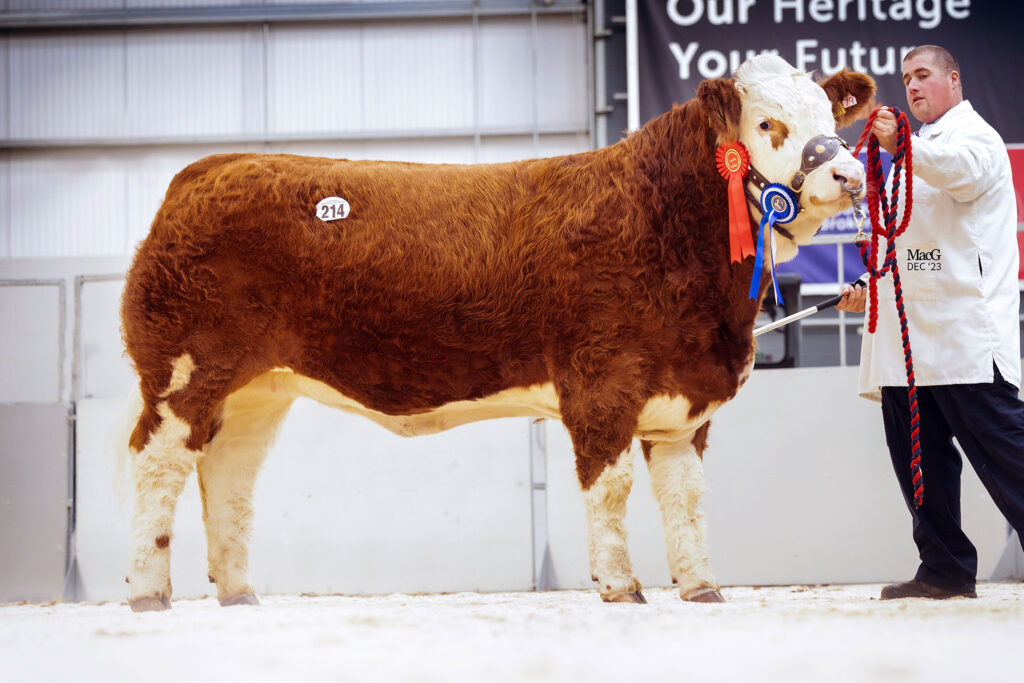 Lifting the Overall Reserve Female Championship and taking the second top price of 18,000gns was the April 2022 born Overhill House Neva from Richard McCulloch, Armadale, West Lothian. This heifer is the first female to be offered at sale by Pistyll Kingsman, the sire of the herd's record breaking 46,000gns bull Overhill House Neo, and is out of Overhill House Kitty Kat, an Aultmore Goliath daughter. Purchasing this heifer for his establishing Towiemore pedigree herd was the commercial producer Ryan Smith, Towiemore, Keith, Banffshire who is recognised for buying bulling heifers and taking top end Simmental heifers with calves at foot in numbers to the breeding cattle sales at Aberdeen and Northern Marts Thainstone Centre in May and October each year. Commenting on his purchase Ryan Smith said: "We have been looking for a heifer with that bit of class and star quality, and with the genetics to build the herd around. This Overhill House heifer is I think an absolute prime example of the modern Simmental. She has great depth and length, tremendous width across her plates and shoulders, and is just full of breed character, style and presence. I liked the breeding on both sides of her pedigree and of course with Pistyll Kingsman as the sire. She really looks the part but also has a good Maternal Milk figure of +10, and with her Terminal Sire Index, and Self Replacing Index both being over +100." The Towiemore pedigree herd presently comprise of fifteen cows and the Smith family are looking to grow this to around 25 breeding females.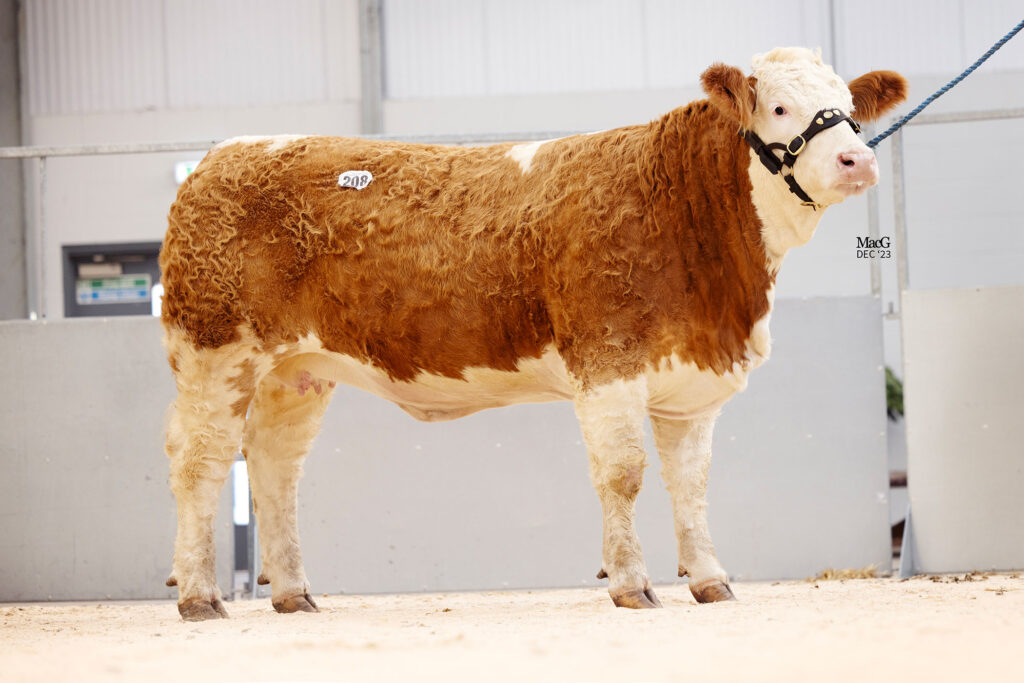 It was a terrific day for Lancashire breeders MA Barlow & Sons, Four Oaks, Ulnes, Nr Leyland, with a top team of ten from their noted Denizes herd averaging a fantastic £5754 and including two animals at 10,000gns. The first of these was the winner of Class Three, Denizes Melody 48 who was purchased at the 10,000gns price by AJ Bulmer for his Habton pedigree herd at Coultas Farm, Malton, North Yorkshire. January 2022 born, Denizes Melody 48 is sired by Blackford Galaxy 15, a previous Royal Highland Show Champion, and is out of Denizes Melody 31st, a Denizes Hamish sired animal. The purchase was one of seven made on the day by Alex Bulmer with others including Lot 220 Skerrington Faith 4th (P) at 5500gns; Lot 219 Denizes Cadette 44th at 4500gns; Lot 202 Newbiemains Miss Flo at 4000gns; Lot 209 Denizes Trixi Belle 22 at 4000gns; and Lot 212 Blackford Nalla at 4000gns.
Commenting after the sale Alex Bulmer said: "Denizes Melody 48 is exactly what we were looking for to add style, quality, and new blood into our Habton herd. She's a long, wide heifer with great breed characteristics, and just what we need to keep improving. Still new to the Society, we bought seven heifers on Friday from the Denizes, Blackford, Newbiemains and Skerrington herds respectively, and to add to our foundation heifers all acquired from the Corskie herd. These new purchases will add a depth of new bloodlines as we aim to grow the herd. As well as the pedigrees we run a herd of fifty suckler cows, and the Simmental really suits our system, both pedigree and commercially. I think the sale average and the interest on Friday really shows the breed has a very bright future."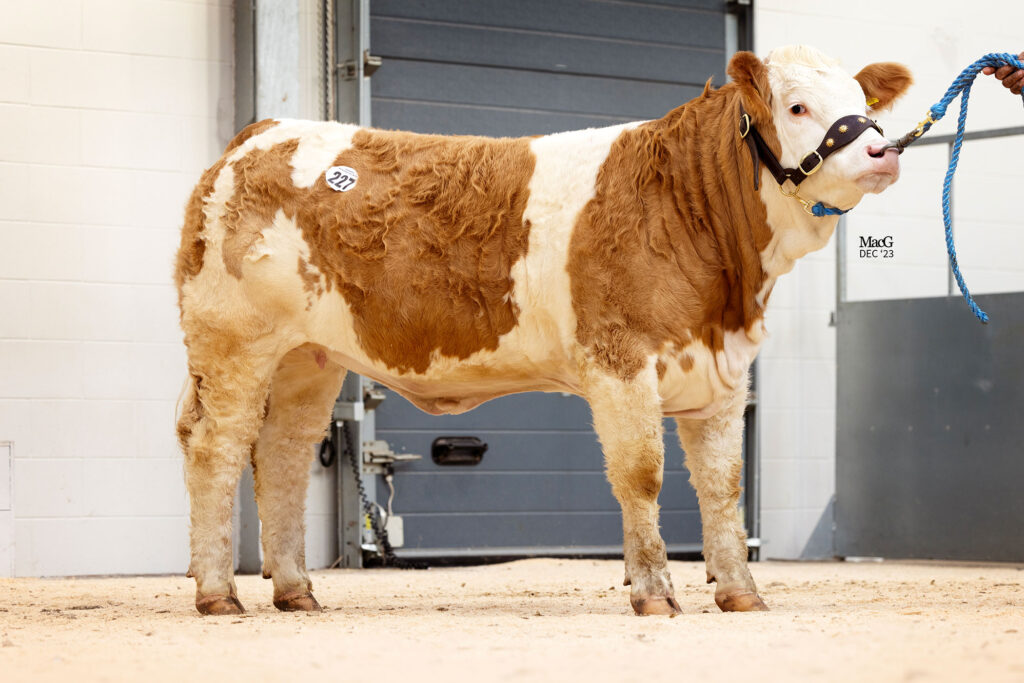 The second Denizes animal at 10,000gns was another from the Melody family in the shape of Denizes Melody 52. This August 2022 born heifer is by the herd's prolific Denizes Hamish and is out of the Ashland Tornado daughter Denizes Melody 18th. A maternal sister to Denizes Hero, who sold for 7000gns to Smallburn Farms, Denizes Melody 52 was bought by RE & SHW Steggles for their fast-establishing Wacton pedigree herd at Honingham, Norfolk. It was repeat custom as at last year's Next Gen II Sale, the leading maiden heifer price on the day was the 8000gns paid for Denizes Eve's Beauty 7th which was also purchased by the Steggles. Commenting, Sam Steggles said: "The photographs of Denizes Melody 52 really caught my eye and obviously the breeding in the pedigree is renowned going back to Stuartslaw Melody. In the flesh she was a very sweet heifer just full of quality and I'm delighted to get her to join the Wacton herd of 20 pedigree Simmentals. It was a terrific sale in general with a brisk trade and lots of competition for the quality lots on offer."
Getting the sale off to a cracking start, the June 2020 born Denizes Rosie 3, a Denizes Hamish daughter, sold with her heifer calf at foot Denizes Rosie 5 by Grangewood Baron, for 6000gns to local breeders Messrs Airey, Little Urswick, Ulverston, Cumbria. Other Denizes animals on the day sold for 6000gns; 4500gns; 4000gns; 3800gns; and 3500gns x 3.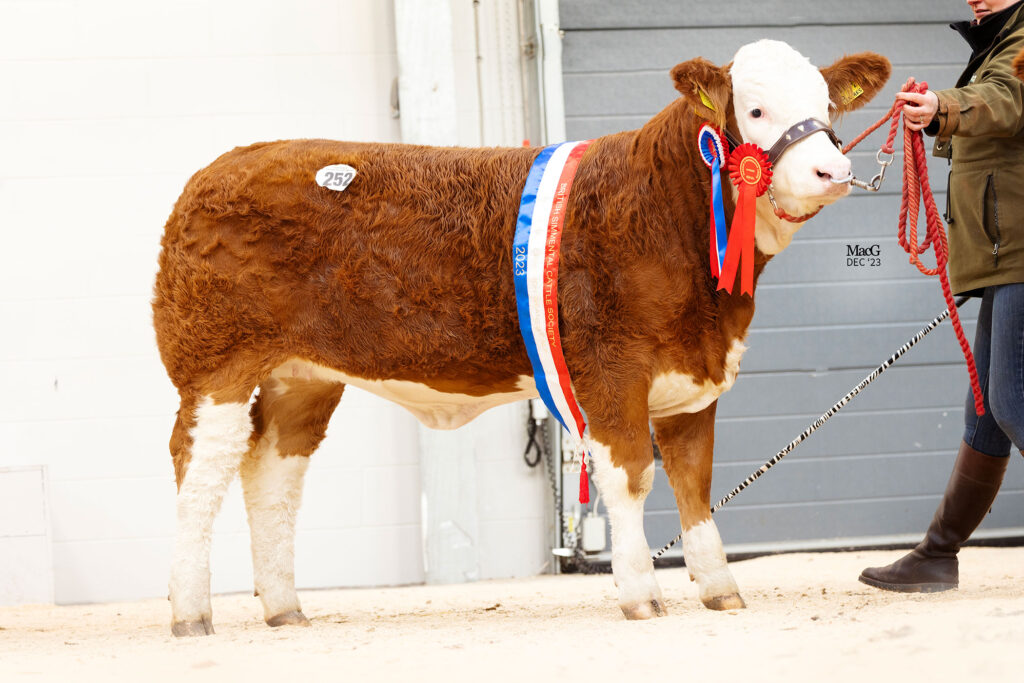 Selling at 9000gns was the youngest animal in the catalogue, the weaned heifer calf Islavale Peaches from the prolific Islavale herd of WS Stronach, Berryleys Farm, Keith, Banffshire. Earlier in the day this April 2023 born heifer had won the Overall Weaned Calf Championship, and with the Islavale herd having also won this title last year with the 6500gns Islavale Nestle. At the recent Stars of the Future Calf Show at Stirling, Islavale Peaches was the Junior Simmental Female and Overall Junior Champion. Entirely homebred, Peaches is the first heifer to be sold Islavale Lucifer 20 EX93, and is out of Islavale Honeypot VG 86 the mother of the 10,000gns Islavale Lord. Of Islavale Peaches the judge Reece Simmers said: "This a tremendous Simmental heifer calf, full of style and with a lovely head. Similar in type to my Female Champion she's a calf with a very bright future ahead of her. Again she has great length with a tremendous top and plates, and has a good end with easy muscling." Buying the Overall Weaned Calf Champion was the Burns Family for their establishing Tippetcraig pedigree herd at High Bonnybridge, Stirlingshire. Earlier in the day the Burns had also purchased the winner of Class Five, Springfield Night Shade from Gavin Brown, Springfield Farm, Penicuik for 5000gns. This August 2022 born heifer is by the herd stock bull Islavale Jabba, and is out of Springfield Imogen. A further purchase at 4000gns was the weaned heifer calf Newton House Posh for 4000gns from JW Gosmore & Partners, Tattenhall, Chester. January 2023 born this calf is by Lissadell Mr Mullarkey VIP, and is out of Clonagh Krystal Posh.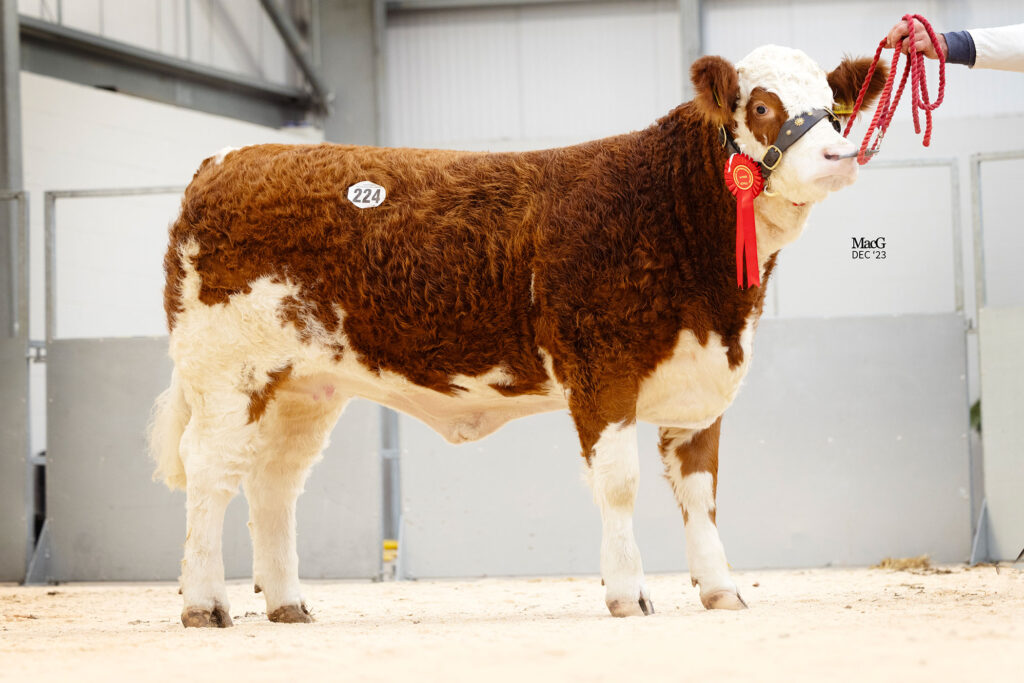 Speaking afterwards George Burns said: "Islavale Peaches is a tremendous showy heifer, full of style with a pretty, feminine herd, and had a powerful body for a young calf, and with great conformation. We presently only have two cows but are looking to increase the herd numbers with good quality heifers to breed and show in due course. As such we're delighted with the three purchases we made on the day."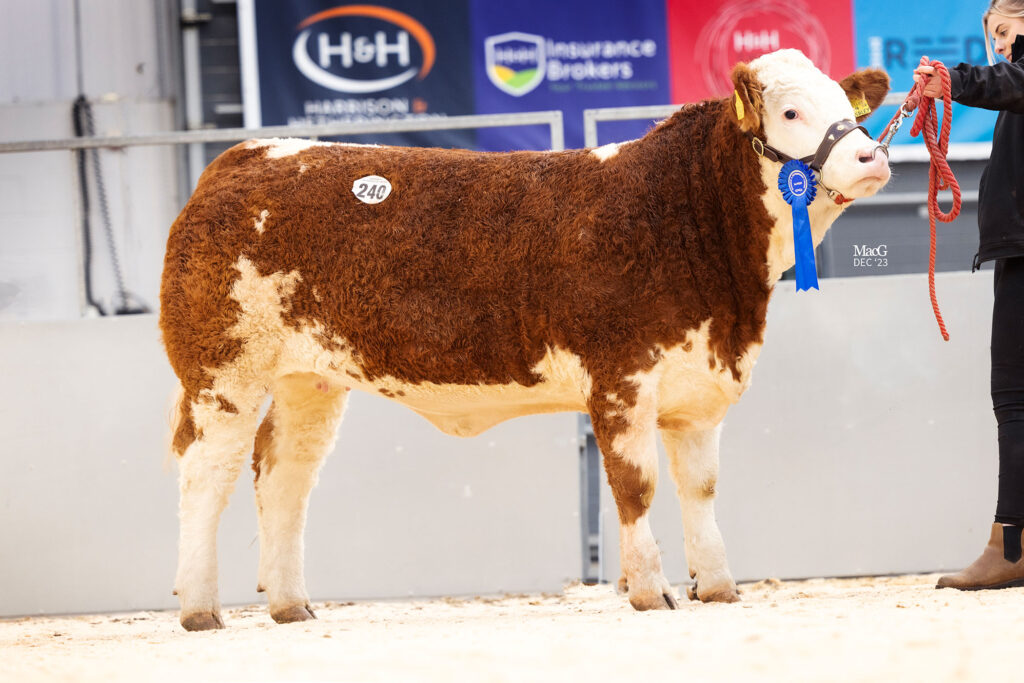 The Islavale herd had two entries in the catalogue and with their October 2022 born heifer, Islavale Ashley 9, making 7000gns when selling to the Lammermuir herd of James Anderson & Son, Headshaw Farm, Oxton, Lauder, Berwickshire. In the pre-sale show, Islavale Ashley 9 had stood second in her class to the day's Overall Female Champion and sale top price. By Coose Lincoln (ET) EX90, and out of Islavale Ashley 3 EX91, Islavale Ashley 9's parents are both classified EX and her dam is EX95 (EX2), the highest classification for a female in the Simmental breed. Commenting Mr Anderson said:  "The pictures of Islavale Ashley in the pre-sale publicity caught our eye and at the sale she was a very stylish, correct animal.  She also has good figures which is a bonus." A further purchase on the day at 2200gns was Auchorachan Nicole Hilly, an Auchorachan Hercules 16 daughter from D&R Durno & Sons.  The Anderson's have a small pedigree herd presently which they are planning to grow using good quality, select cattle.  The pedigree herd is run alongside a 130-cow commercial her of Simmental and Limousin cross cows.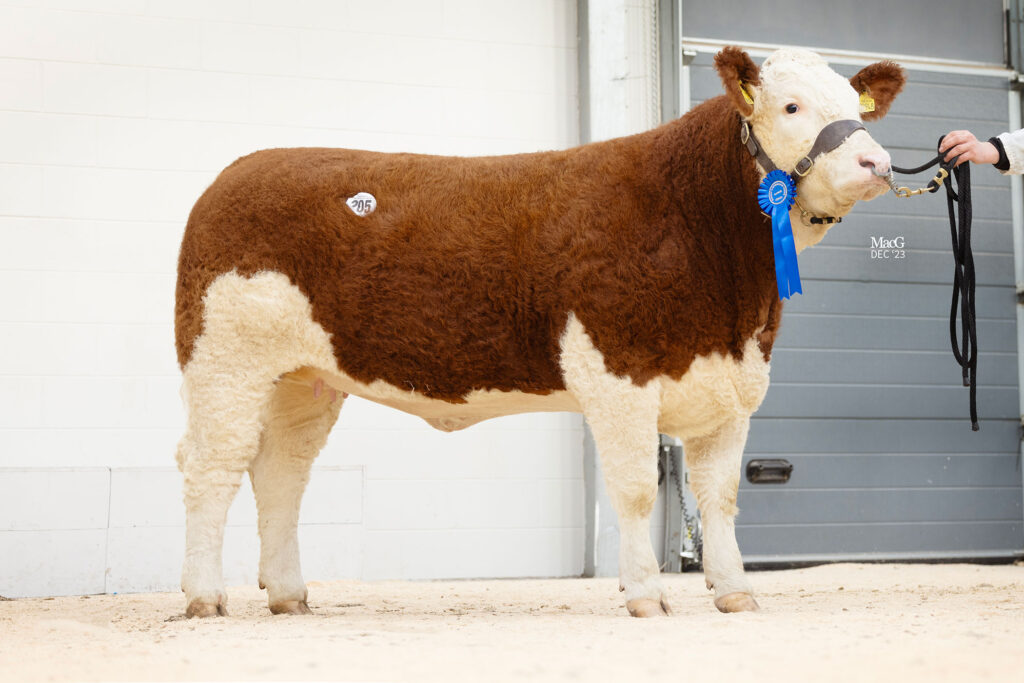 Strong supporters of the Next Generation Sales, the Newbiemains herd of Jim & Patricia Goldie, Newbiemains Farm, Annan, Dumfriesshire again featured in the top prices when selling Newbiemains Mariah for 7000gns to the Dovefields pedigree herd of L Renshaw & I Brassington, Church Broughton, Derbyshire. This September 2021 born in-calf heifer is by Newbiemains Jetset 18, and is out of Woodhall Fidelity (P) EX93. Of Newbiemains Mariah Lorraine Renshaw said: "We are delighted to have purchased Newbiemains Mariah and the fact that she is in-calf is just that bit of added value. We feel she has a lot of quality and with her now settled at home it's clear she has a super temperament. We were looking to maintain and bring a bit of size into the herd and we think Mariah will be perfect for that." The Dovefields herd presently comprises of 30 head and is run alongside a flock of 100 sheep.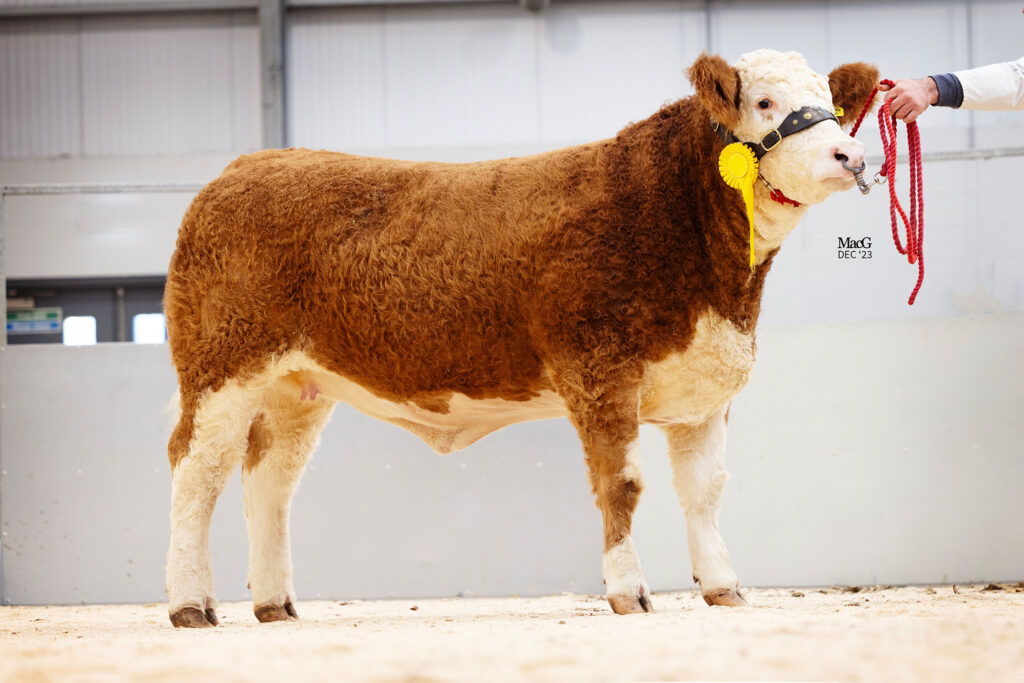 A first time vendor at the Next Generation Sale, Gavin Brown, Springfield Farm, Penicuik enjoyed a terrific debut when selling Springfield Nita to the herd's top price on the day of 6000gns. Nita is by the herd sire Islavale Jabba and is out of Springfield Goldie, a Woodhall Beautiful daughter and described as the best breeding line in the herd. This animal was one of three purchases on the day by Philliphaugh Estate, Selkirk. On the day, three Springfield females sold for 6000gns; 5000gns; and 3000gns respectively. The herd's bull calf Springfield Perry, again by Islavale Jabba, also won the Male Weaned Calf Class and placed Overall Reserve Weaned Calf.
Father and son team Lindsay and Robert Currie, Pinclanty, Pinmore, Girvan also made 6000gns when selling their September 2022 born heifer Braegarrie Nigella who was a first prize winner in Class Six. With a depth of breeding behind her, Braegarrie Nigella is sired by Overhill House Link, an Islavale Heston son, and is out of Braegarrie Helga, a Teviot Bouncer daughter. With a little track record behind her, Braegarrie Nigella headed to Next Gen with a class win behind her from the recent Simmental Youngstock Show held within Borderway Agri Expo at the same venue in October. Buying this animal was Richard McCulloch, Armadale, West Lothian for his noted Overhill House pedigree herd.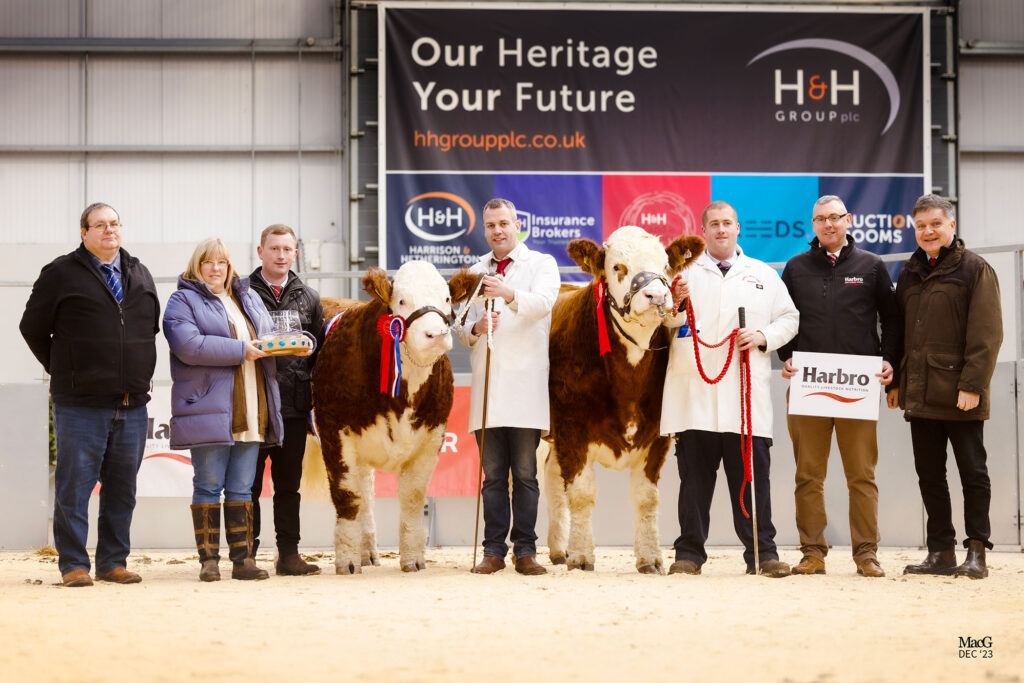 OTHER LEADING PRICES
5,500gns – Lot 220 Skerrington Faith 4th (P) sold to R Bulmer, Great Habton, North Yorks
5,500gns – Lot 244 Overhill House Ness sold to J W Gosmore, Tattenhall, Chester
5,000gns – Lot 203 Boars Head Karina 10th sold to R & A Simmers, Keith, Banffshire
5,000gns – Lot 224 Springfield Night Shade sold G & F Burns, High Bonnybridge, Stirlingshire
4,500gns – Lot 219 Denizes Cadette 44th sold to R Bulmer, Great Habton, North Yorks