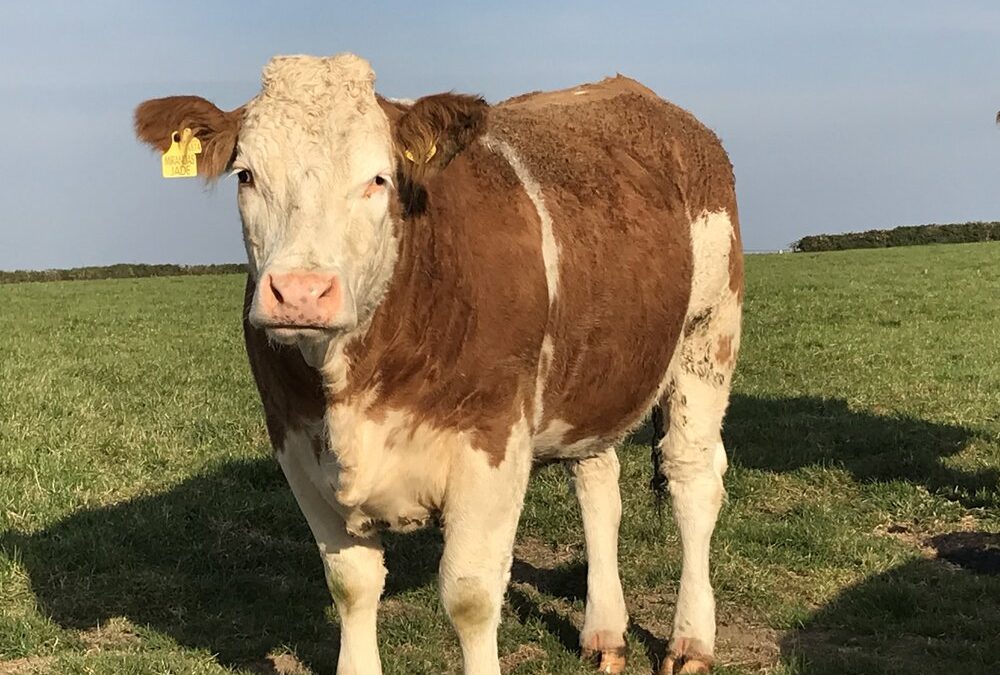 The Killiworgie Simmental herd of Steve & Gill Gummow, Higher Killiworgie Farm, Newquay, Cornwall have sold two pedigree heifers to buyers in Northern Ireland and the Republic of Ireland respectively.
First up, Killiworgie Gabbys Joy has sold to the Innisrooske herd of Mr Michael Reihill, Enniskillen, Co Fermanagh, Northern Ireland.  Entirely homebred this April 2018 born heifer is by Killiworgie Hornblower 16, and is out of Killiworgie Gabby, a Killiworgie Emperor 13 daughter.  A past Male Champion at the Royal Cornwall Show, the only occasion on which he was shown, Killiworgie Hornblower was put to one cow before being sold privately, with Killiworgie Gabbys Joy being the resulting calf. Killiworgie Gabbys Joy features some Irish breeding in the pedigree with the Southern Irish bull Seaview Prince Charming on the sire side and the N Irish bred Ballinlare Farm Buttercup 2nd being on the dam line.
Heading further south is Killiworgie Mirandas Jade who was sold to Mr Maurice Darcy for his Boyerstown herd in Navan, Co. Meath, Republic of Ireland.  This February 2018 born heifer is by the Auchoracan Wizard sired Killiworgie Emperor 13 and is out of Boars Head Miranda EX 90.  Killiworgie Mirandas Jade was sold in calf to Dinton Imperial, a son of Bel Dhu Capercaillie 11.  A bull with a strong show record, and a prolific stock bull in the herd, Killiworgie Emperor 13 has sired some 60 registered Killiworgie pedigree calves. The bull's mother Ballinalare Farm Buttercup 2nd was purchased at sale from the breeder Mr J & Mr A Wilson, Newry, County Down whilst carrying what was to be Killiworgie Emperor 13.
These respective sales to Ireland came about after both animals had been seen on the online Simmental Market (www.simmentalmarket.co.uk) which has been set up by the British Simmental Cattle Society to promote breeders' stock available for sale during the ongoing Covid-19 situation.
Commenting on the sales for the Killiworgie herd which was established in 1998 and comprises of twenty breeding females,  Gill Gummow said: "Beyond them seeing the animals online we spoke on the telephone to the breeders about the heifers, discussed their breeding, and forwarded further pictures and videos.  We are delighted to have made these sales and very much look forward to seeing these heifers go on to do well for their new owners."
These further sales follow the recent export of two pedigree Simmental maiden heifers to the Republic of Ireland from the Chestermann pedigree herd of Messrs N&N Gwynne, Castlewigg Farm, Newton Stewart.