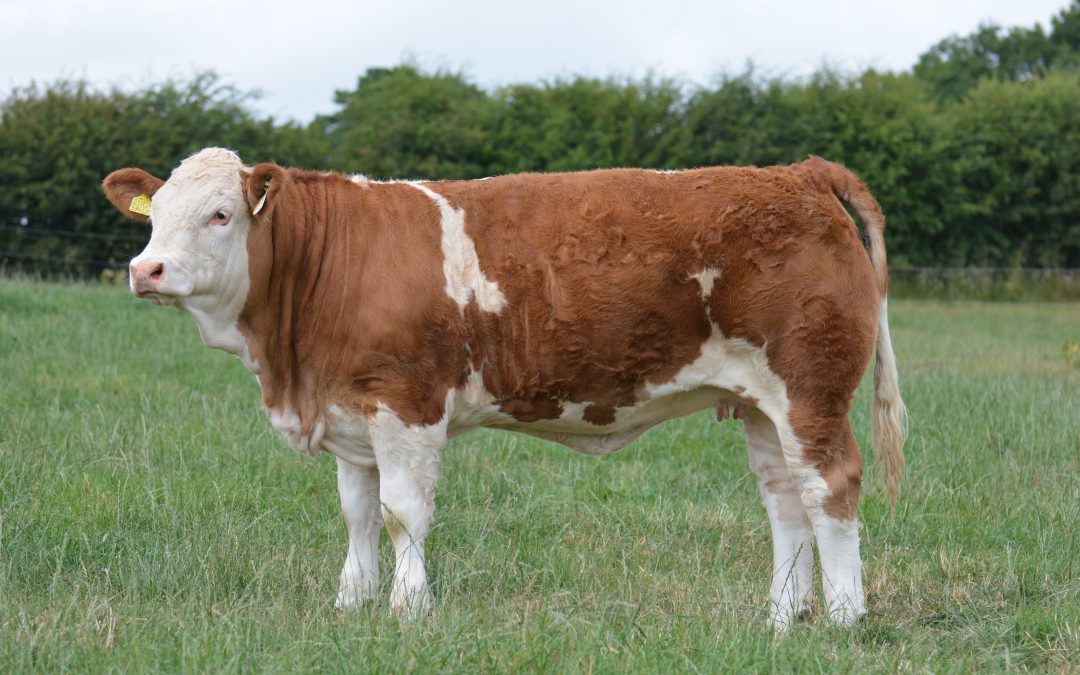 Top price heifer sells to Australia
Two heifers sell to Germany
Four heifers head to Scotland
Six heifers sell to Republic of Ireland
Fifteen heifers average £4886
A strong export trade was the theme of the day at the much anticipated premier heifer sale of WH Robson & Sons, Doagh, Ballyclare, Co. Antrim. Held as a timed on-line auction over three days, 19th to 21st August, this export qualified sale celebrated the fiftieth anniversary of the noted and prolific Kilbride Farm pedigree Simmental herd.
On offer was a select high-quality catalogue of yearling and in-calf heifers from the herds main and prolific cow families. In the run up to the sale the Robson family had imaginatively and extensively promoted and marketed the sale through social media with in-depth picture and video content of the animals for sale, and with details of their breeding lines. A number of potential buyers also viewed the animals on-farm. The hard work paid off with the sale, held in conjuction with Ballymena Market and the online MartEye, raising worldwide interest. The top priced heifer was purchased by an Australian buyer, with two further heifers heading to buyers in Germany. Four heifers headed to Scotland, with six going south to the Republic of Ireland, and two remaining with buyers in Northern Ireland. Fifteen heifers sold in all to average a very healthy £4886.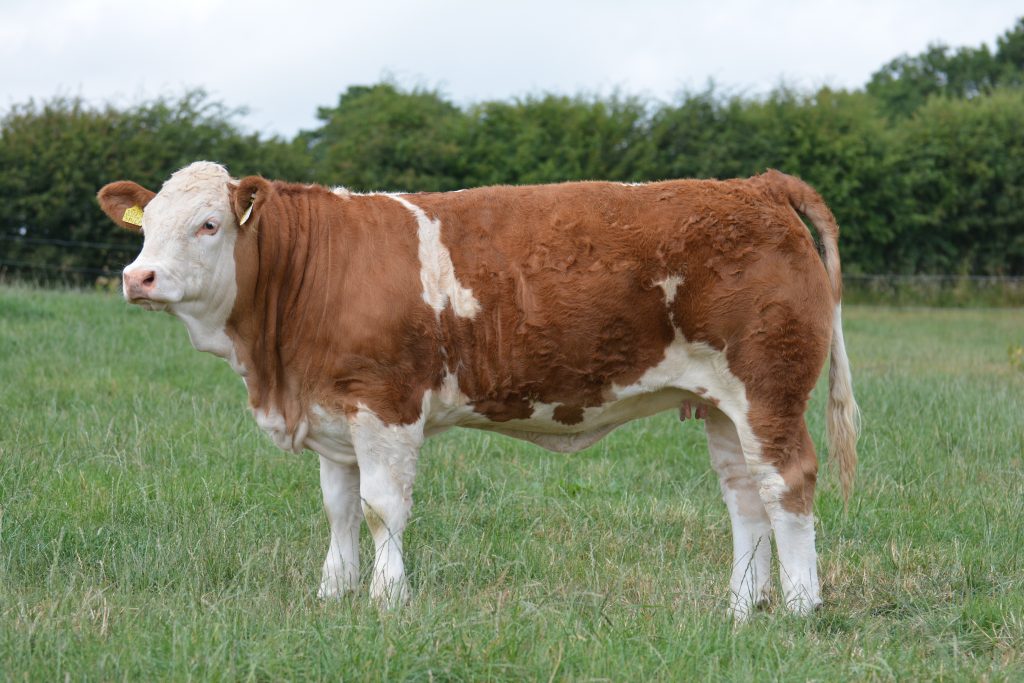 Leading the way at 6000gns was the August 2020 born Kilbride Farm Eunice 314L (P) who went 'down under' when being purchased by Jeff Knox, Crookwell, New South Wales. Out of Kilbride Farm Eunice 191F, this heifer goes back to the Milnafua Graduate daughter, Eunice 34S. Her sire, Kilbride Farm Hans PP, goes back to Kilbride Farm Fanni 9V who also bred the 12,000gns Kilbride Farm Bantry. As recently as last year, Mr Knox imported 32 embryos from the Kilbride Farm herd and from which he now has pregancies. From here, agreement has been reached that Kilbride Farm Eunice 314L (P) will be kept at Kilbride Farm where she will be flushed, and with embryos being exported to Mr. Knox thereafter.
Commenting following the sale, Billy Robson said: "We are delighted to have held this sale to mark 50 years of Kilbride Farm Simmentals. As the herd has progressed in that time, we've exported Simmental genetics around the world. It's very fitting therefore to have seen such an export theme to this sale. The sale represented an opportunity for purchasers to buy animals from our best breeding lines and we very much trust they go on to do well for their new owners." One of the longest established British Simmental herds, Kilbride Farm have been prolific sellers privately and at both the Perth and Stirling bull sales over many years.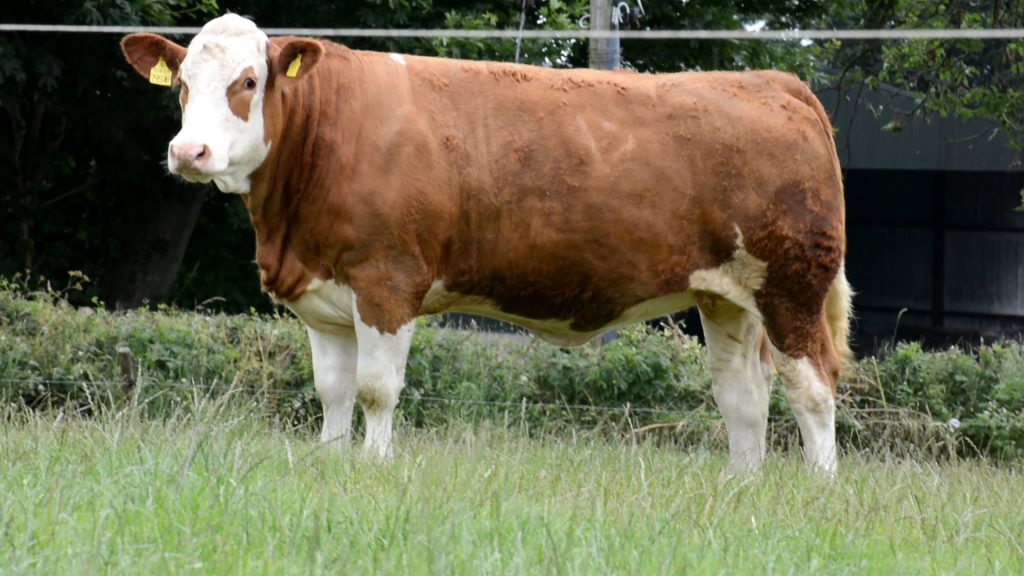 Selling at 5100gns was Kilbride Farm Eunice 295K (P) who was one of three heifers purchased by Eoin Coogan, Co Wicklow, Republic of Ireland. August 2019 born, this heifer is by the homozygous polled bull Sneumgaard Imperator, a herd sire imported from Denmark. Again with a depth of breeding and performance, Eunice 295K (P), is out of the powerful Crugmelyn Brenin daughter Kilbride Farm Eunice 149D and with her grand dam Eunice 45T being a full sister to Kilbride Farm Titan who was a Champion at the Stirling Bull Sales. This heifer was sold in-calf to Curaheen Gunshot (P).Mr Coogan was back in action when purchasing Kilbride Farm Eunice 306K for 4400gns. Again with a connectivity in breeding, Eunice 306K is one of the few Crugmelyn Brenin heifers in the herd to ever have been offered for sale. November 2019 born, she is out of the prolific Cairnview Snazzy daughter, Kilbride Farm Eunice 103B. Making it a hat trick of purchases, the August 2019 born Kilbride Farm Jolly25K (P), also headed to the newly establishing herd of Mr Coogan in Co. Wicklow when she was purchased for 4100gns. Jolly 25K (P) is by the Crugmelyn Brenin son Kilbride Farm Gruffalo 15 (P) and is out of Kilbride Farm Jolly 17G (P). The Jolly family has produced some of the highest priced bulls from the herd and up to 22,000gns. Kilbride Farm Jolly 25K was sold in calf to Kilbride Farm Jetstream P.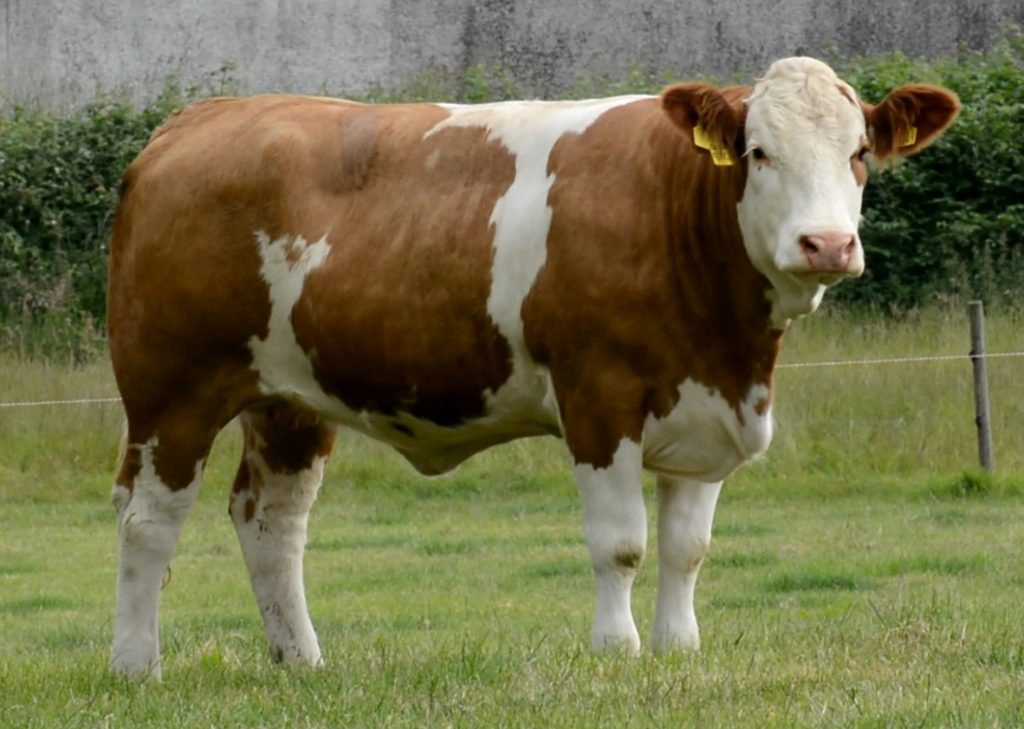 Two heifers sold at 4700gns. The first of these Kilbride Farm Dora 97K (P), headed to Scotland when being bought by Mike Morrice for the Boharm pedigree herd at Mains of Newton, Craigellachie, Moray. The August 2019 born Dora 97K (P), is the first heifer to be offered at sale sired by Islavale Harvest 16, the Ranfurly Confederate C24 11 son. She is out of Kilbride Farm Dora 75F (P), a daughter of the homozygous polled Ardadoney VIP (PP), and was sold in-calf to Kilbride Farm Jetstream P.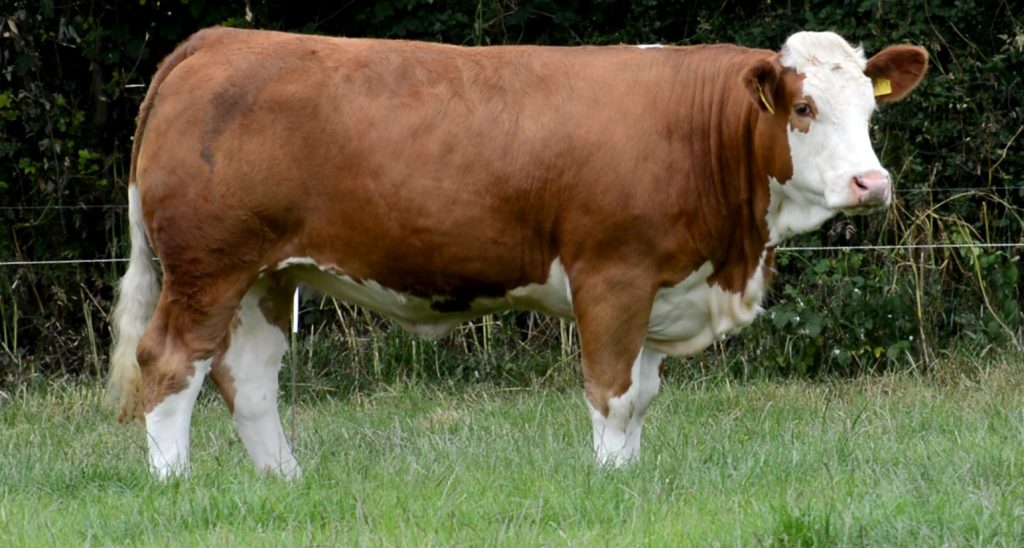 Another selling to Scotland, and again at 4700gns, was the October 2019 born Kilbride Farm Eunice 305K who was one of two purchases by Kate & Alan McNee, Over Finlarg Farm, Tealing, Dundee to join their Finlarg herd. A further heifer by Kilbride Farm Gruffalo 15 (P), Eunice 305K is out of Kilbride Farm Eunice 245I (P), a Sneumgaard Imperator PP heifer going back to Seaview Prince Charming and Dovefield Gallant. Also heading to Over Finlarg at 3900gns was the youngest heifer in the catalogue, the August 2020 Kilbride Farm Eunice 315L (P). Again full of breeding, Eunice 315L (P) is by Curaheen Gunshot (P), and is out of Kilbride Farm Eunice 274J (P). Speaking after the sale Hazel McNee, who had viewed the cattle on farm prior to the sale, said: "These heifers offer a different type of breeding to what we presently have in the herd. The depth of breeding in the Kilbride Farm herd is well known and we have always admired the Kilbride Farm bulls forward at Stirling sales. The sale offered a good opportunity to buy into proven bloodlines and we are very pleased with the heifers bought."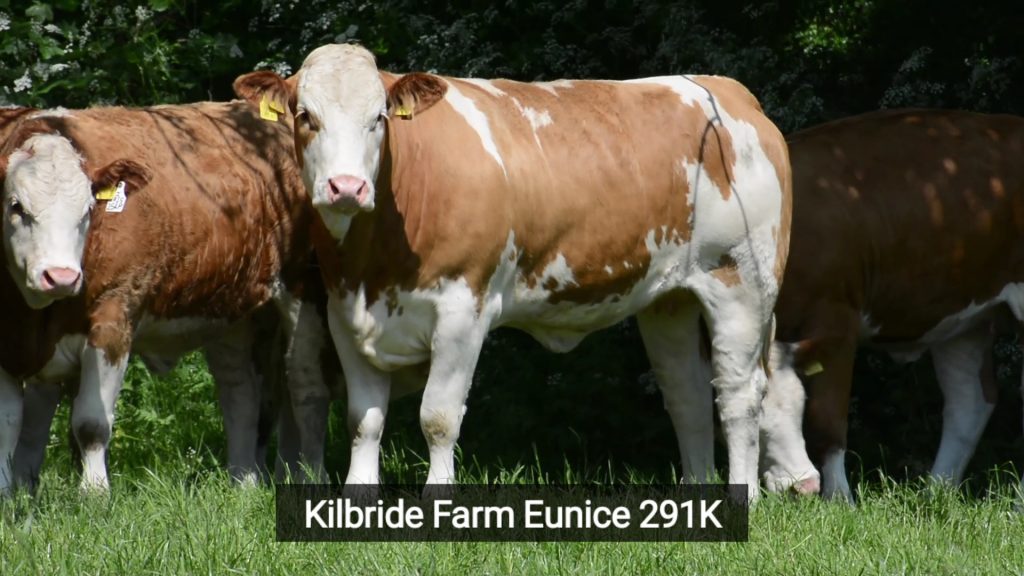 The very first lot in the catalogue, Kilbride Farm Eunice 291K made 4500gns when selling to the Killultagh herd of Connor Wilkinson, Killultagh Road, Co Antrim, Northern Ireland. Getting the sale off to a strong start, this April 2019 heifer, a full sister to Kilbride Farm Gruffalo, is a Crugmelyn Brenin daughter out of Kilbride Farm Eunice 92A (P). Eunice 291K's granddam was noted as being 'a tremendous breeding polled Milnafua Graduate cow on whom a lot of the herd's polled breeding was based.' Kilbride Farm Eunice 291K was also sold in calf to Kilbride Farm Jetstream P.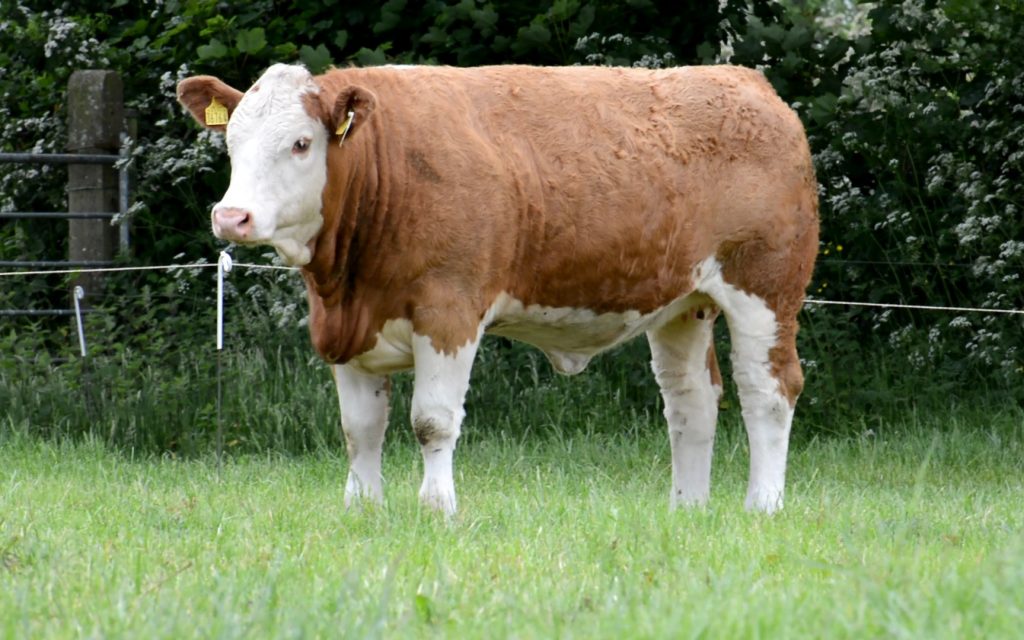 The final animal hitting the 4000gns mark was the March 2020 born Kilbride Farm Iris 25L (P). Another daughter of the homozygous polled Sneumgaard Imperator, Iris 25L (P) is out of Kilbride Farm Iris 17F who placed third Best Cow in the the 2020 European Simmental Virtual Show.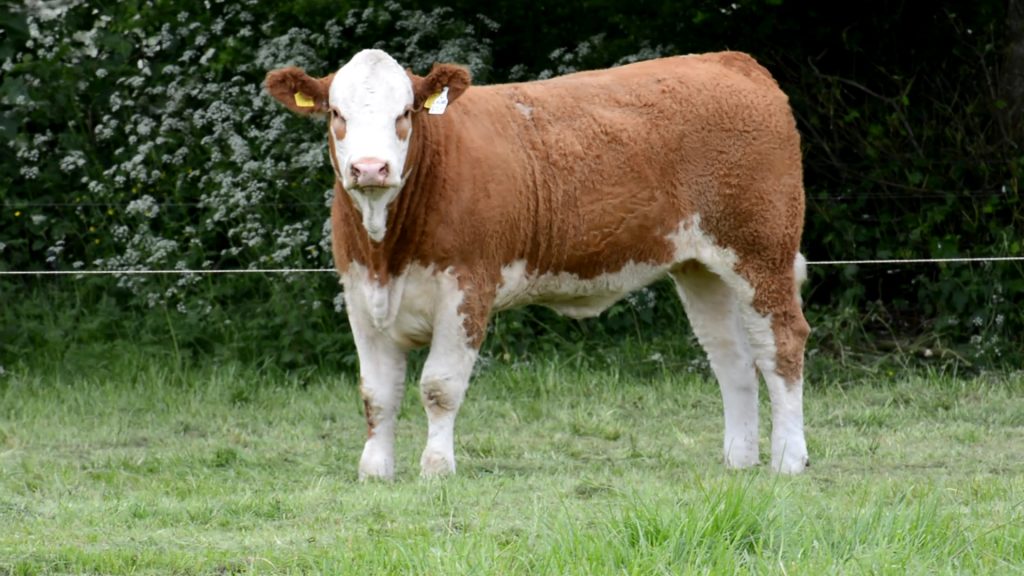 Continuing the export theme, two animals made 3900gns and both sold to Simmental breeders from Germany. The first of these was Kilbride Farm Laura 37L (P), an Islavale Harvest 16 daughter, and out of Kilbride Farm Laura 20H (PP), an Imperator daughter. This heifer heads back to one of the breed's homelands, Germany, and Mario Walther, Erlinbacher Stadtweg 52, Frankfurt. No stranger to British Simmental, Mr Walther bought a female from the Omorga herd of John Moore, Co Tyrone in 2020. Also at 3900gns was Kilbride Farm Laura 39L (P) who was purchased by Thomas Eydner, Frohburg, Germany. April 2020 born, Laura 39L (P) is by Kilbride Farm Gruffalo 15 (P), and is out of Kilbride Farm Laura 22H (P). Mr Eydner who had contacted the Robsons prior to the sale to express an interest, has previously bought semen from the Kilbride Farm herd.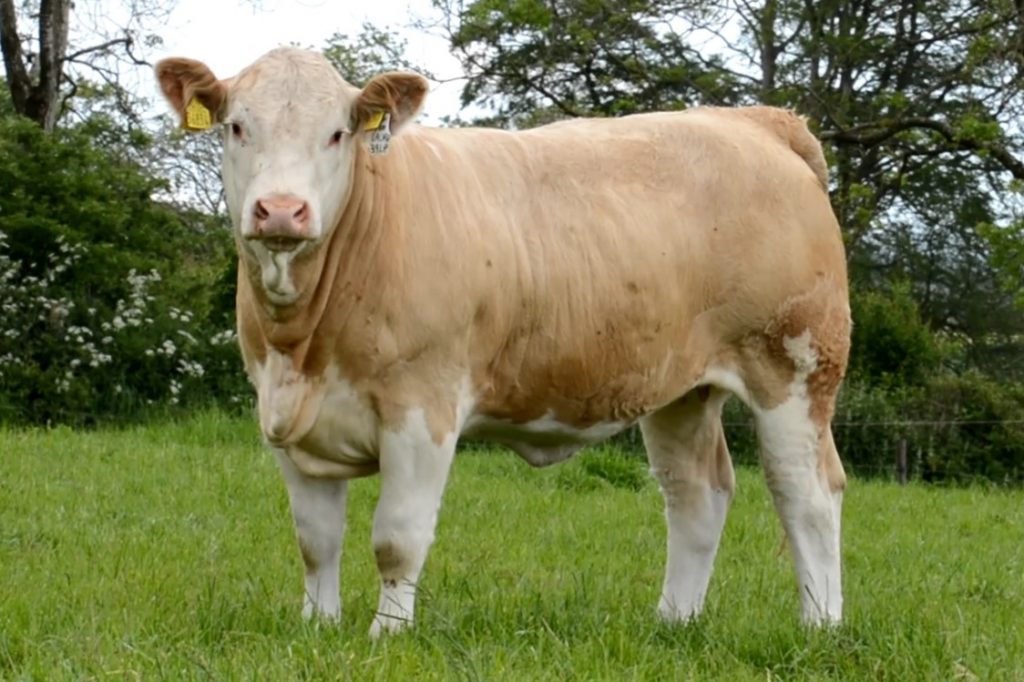 Average:
15 Heifers £4866
Auctioneers:
Ballymena Livestock Mart and in conjunction with MartEye